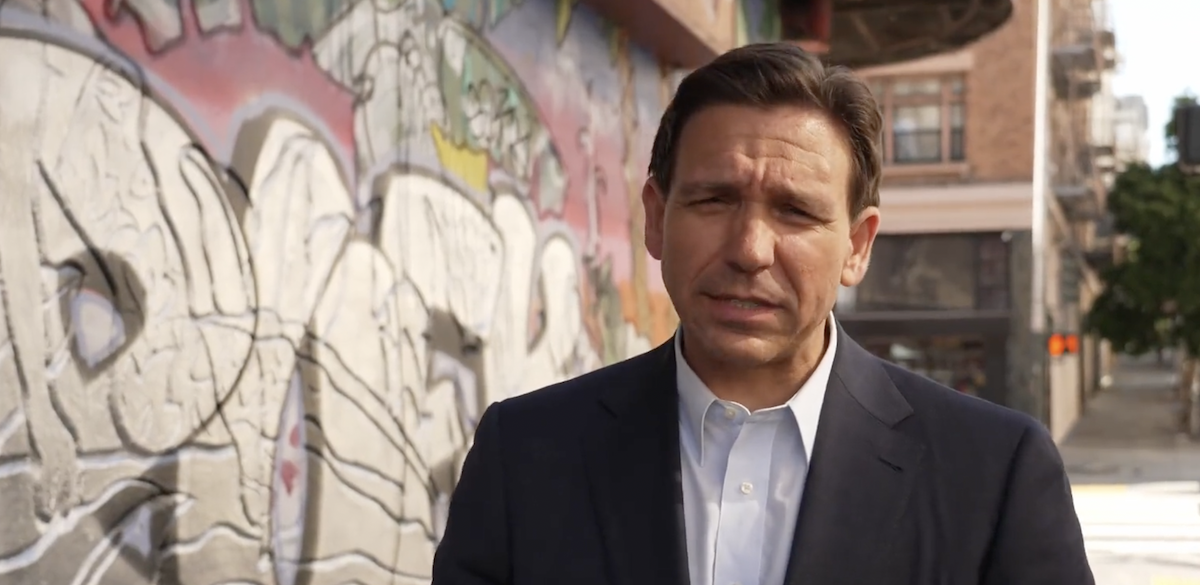 The Governor is headed to Salinas this week.
Gov. Ron DeSantis won't be in Salinas, California until Thursday, but protesters will make their feelings known this weekend.
On Sunday afternoon (and again on Wednesday afternoon), the United Farmworkers, the Salinas Coalition, and Building Healthy Communities will participate in "Cruise en contra DeSantis," reports the Monterey County Weekly.
"Community resistance to Ron DeSantis' brunch invitation is not simply about political opposition; it's about ensuring our business leaders and elected officials are prioritizing and representing our community voices and values. As the Salinas Coalition, we will continue to voice our concerns, ask tough questions, and work toward a more inclusive and equitable future," wrote Salinas Coalition member Corina De La Torre in an op-ed in that same paper.
DeSantis thus far has struggled in polling of Golden State Republicans.
In a survey released by Berkeley's Institute of Government Studies, DeSantis trails Donald Trump, 55% to 16%. California's delegate apportionment rules grant all of the state's 169 delegates to a candidate above 50%. That means if Trump holds this level of support next year, the former President will take all the delegates unless changes to the formula are made at the GOP Convention.
Both Trump and DeSantis will deliver keynote speeches at that event.
DeSantis' gripes about the Golden State have been a recurring theme of his campaign up until now, including cautionary tales about San Francisco.
"Don't tell me it doesn't affect people's lives. I was just in San Francisco. I saw — in 20 minutes on the ground — people defecating on the sidewalk. I saw people using fentanyl. I saw people smoking crack right there in the open, right there on the street. It was a civilization in decay," the Governor said at a Faith & Freedom Coalition event in June.
During remarks to the Concerned Women for America, the Florida Governor and 2024 presidential candidate offered a "contrast" between the Sunshine State and the Golden State, which has a different view about the rights of minors than DeSantis' Florida.
"Look at the contrast we have between a state like Florida, which honors parents' rights, versus a state like California that is now doing legislation that says if you as a parent have a child — maybe like a 10-year-old son — and the son comes to you and says that they think that they're really a girl, if you say no, you could lose custody of your own kid," DeSantis said.
"That is an assault on parents' rights, that is an attack on the American family and in the state of Florida, those policies are dead on arrival."
DeSantis' ire was inspired by California's just-passed Assembly Bill 937, which compels judges to consider a "parent's affirmation of the child's gender identity or gender expression as part of the health, safety and welfare of the child."
The Governor, while at a Never Back Down bus tour stop in Iowa, said his presidential administration would not "let California regulate how farmers in Iowa conduct their business on things like, you know, these pork producers have to follow California law to do this stuff."
"It doesn't even make any sense," DeSantis said.
Earlier this year, in a 5-4 decision, the U.S. Supreme Court ruled in favor of a California law called Proposition 12, which mandates more room for breeding pigs. The Court sided with the state against the National Pork Producers Council and the American Farm Bureau Federation, industry groups that contended California law would impose unreasonable burdens on pig farmers.
The California law holds "no person shall knowingly engage in a commercial sale within the state of whole pork meat for human food if the whole pork meat is the product of a breeding pig, or the product of the immediate offspring of a breeding pig, that was confined at any time during the production cycle for said product in an enclosure that fails to comply with all of the standards set forth in Chapter 10, Article 3, regarding Breeding Pigs."