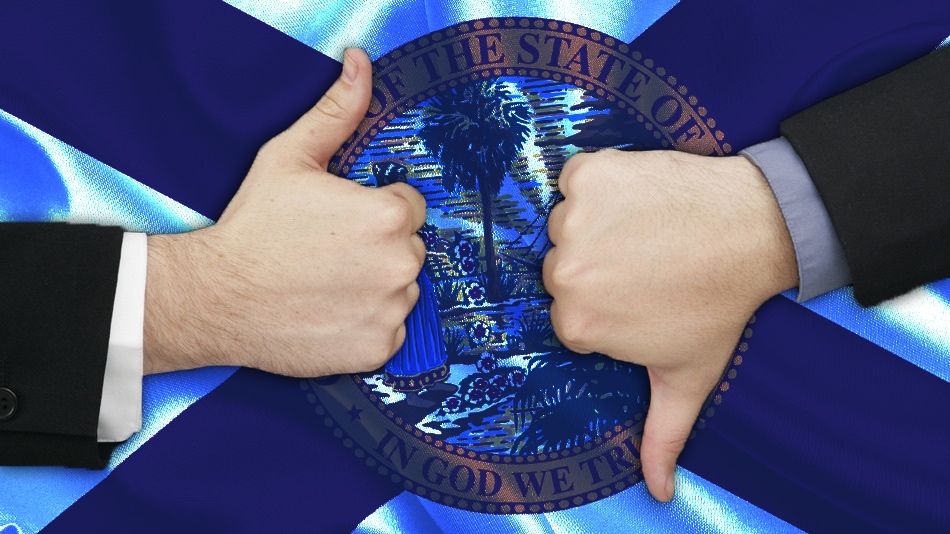 Matt Gaetz is continuing to run circles around Kevin McCarthy. And are the latest U.S. News & World Report rankings a bad sign for Florida's higher ed institutions?
The Tampa Bay Rays are here to stay.
Leaders in Pinellas and St. Pete reached an agreement with the team on a $1.3 billion stadium right near the current Tropicana Field. But that's one-fifth of the money set to be spent on the surrounding Historic Gas Plant District, which will undergo a 20-year, $6.5 billion renovation project to provide more housing, office space, hotels, parking and more.
St. Petersburg Mayor Ken Welch, and his predecessors, pushed to redevelop the area, which many Black residents called home before being displaced to make room for Tropicana Field. Now, he'll get his wish.
The stadium will seat around 30,000 fans. The team has agreed to pay about half the stadium price and to cover any cost over-runs. Pinellas County and the city of St. Petersburg will split the remaining half.
The team's lease runs through 2027. Construction on the new park is set to start in 2024, with a target opening date of 2028, just after the Trop lease expires and just in time for a new season.
The deal ends years of the team flirting with other cities and means the small-market darlings will stay put in the Tampa Bay area.
The deal comes during a season where the Rays had a historically dominant start and are ready to wrap one of their best seasons of all time. They are atop the Wild Card standings and are battling with the Baltimore Orioles to win the division outright as the regular season's final week begins.
It remains to be seen how far this team can go in the postseason. But thankfully, they won't be going far in the long-term now that the Rays have a new permanent home.
Now, it's on to our weekly game of winners and losers.
Winners
Honorable mention: State employees. Gov. Ron DeSantis and the Cabinet approved guaranteed paid leave of up to nine weeks for pregnant mothers working full-time in state jobs for at least six months.
That makes Florida the most generous state in the Southeast when it comes to paid leave for state employees, topping states like South Carolina (six weeks) and Georgia (three weeks).
Some have criticized GOP lawmakers for speaking out about family values while pushing more strict abortion laws, but at the same time neglecting to provide early child care services. The Florida Cabinet's move shows decisive action to implement policy that helps families, rather than just talking about it to shout down opponents.
"When I became Governor, I made it a priority to champion policies that support families and empower parents," DeSantis said. "As a father of three, I know how instrumental those first weeks are for new parents and their children."
The state is offering seven weeks of paid maternity leave up to a year after the child is born or adopted. The state will also offer two weeks of paid parental leave, available to both parents, during the same time frame.
That means women who give birth have access to up to nine weeks of paid leave, while fathers or their partners can take two weeks off. The move is seen as a way to attract new workers.
Almost (but not quite) the biggest winner: Daniel Perez. It's been years in the making, but Perez is officially House Speaker-designate after a ceremony this week.
Florida Cabinet members were on hand Monday to watch Perez's speech, as were several of Perez's predecessors.
"I believe in limited government because history has taught us what happens when people with power begin to think they know more than the people who gave them their power," Perez said in his speech. "I don't believe our state government should be at the center of people's lives. But that doesn't mean we don't have a role to play."
Perez represents parts of Miami-Dade County, as did former Speaker José Oliva, who served as Speaker from 2018-2020. The two have had friction in the past, so Oliva's tenure may not say much about Perez's. But the two serving just a few years apart does show how much influence the region has in the state's political scene.
Republicans managed to flip the longtime Democratic county red in 2022. This upcoming cycle will show whether that was a blip or a permanent new reality, but Perez will be able to bring benefits to the region during his tenure, which could boost GOP fortunes.
Perez will also serve as Speaker during the final two terms of DeSantis' tenure as Governor (unless, somehow, DeSantis miraculously turns around his 2024 presidential bid).
DeSantis and Perez, both Republicans, are likely to agree on most issues. But the Legislature has been unusually deferential to the Governor in recent years. Will Perez operate the House more independently? Or will DeSantis continue to get his way even on his way out of the Governor's Mansion?
Perez's tenure will garner attention for those and many more reasons. He's earned the position, beating out Rep. Will Robinson in the battle for the Speakership and serving with dignity as a relatively young member of the Legislature. Of course, Republicans must maintain control of the House for Perez to serve as Speaker. But with a current supermajority, that's all but guaranteed.
The biggest winner: Matt Gaetz. Gaetz was our winner last week, given his pressure leading to an impeachment inquiry of President Joe Biden and his role seemingly serving as the backseat driver to House Speaker Kevin McCarthy's efforts to navigate a possible government shutdown.
This week, Gaetz jumped into the front seat and took the wheel.
McCarthy lost two rules votes this week to bring up a defense funding bill at the center of the struggle to fund the government ahead of the Sept. 30 deadline. These votes are typically locks, as they are simply procedural votes to begin debate on the bill. But enough GOP defectors blocked McCarthy from even getting the bill to the floor.
Surprisingly, Gaetz voted with McCarthy on those procedural votes. But as POLITICO Playbook recapped in a section titled "Speaker Gaetz," the Florida Congressman sensed McCarthy's increased desperation and met with fellow Republicans to try to force McCarthy to give in to his demands.
"Gaetz told his Republican colleagues that McCarthy should bring single subject appropriations bills to the floor one at a time," POLITICO reported Friday.
"He dictated his list of the first four: Defense, Homeland Security, State-Foreign Operations, and the Agriculture-FDA bill. A few hours later, the Rules Committee put out notice that it would be taking up four bills today at 1 p.m.: Defense, Homeland Security, State-Foreign Operations, and the Agriculture-FDA bill."
Is McCarthy running the House, or is Gaetz?
His rebellion of the past few weeks may not end with Gaetz getting what he wants. Lawmakers can use procedural moves to pass a continuing resolution to fund the government. But that too could end in a win for Gaetz, as he and others have said such a move would lead to a motion to vacate in an attempt to remove McCarthy as Speaker.
It's depressing that Washington is so dysfunctional that we are again staring a possible shutdown in the face because lawmakers can't agree on basic rules of how to operate the government. A shutdown hurts employees affected, and can hurt the entire nation, as it threatens a downgrade in America's credit rating.
So we aren't celebrating what is happening here. But the reality is that Gaetz is running the show right now. And McCarthy seems stuck between a rock and a hard place in figuring out a potential solution that allows him to stay on as Speaker.
Losers
Dishonorable mention: Tiffany Carr, Patricia Duarte. The two former leaders of the Florida Coalition Against Domestic Violence are facing felony charges, per the Florida Department of Law Enforcement (FDLE).
The two are accused of "a scheme to fraudulently award themselves personal time off (PTO) using funds provided through grants intended to help fund domestic violence shelters across Florida," according to the FDLE.
The Miami Herald has reported over the past year and a half about the organization's suspect spending habits. Per a state settlement in 2021, former CEO Carr was forced to pay $2.1 million after being accused of fraudulently inflating her salary. Duarte, the former Chief Financial Officer, paid $600,000 as part of the settlement, as did former Chief Operating Officer Sandra Barnett.
But now, Carr and Duarte have been hit with criminal charges, facing one count each of organized scheme to defraud, grand theft and official misconduct. All of those are felony counts.
"These officials were entrusted to run an organization to assist those seeking a safe haven from abuse," said Attorney General Ashley Moody, whose Office of Statewide Prosecution will handle the case.
"Instead of ensuring state funds went to help those in need, they schemed together to steal more than $3.7 million for grossly inflated salaries and vacations. We previously took civil action to rid the organization's bad management, and now we are filing criminal charges against these former officials."
It's a disgraceful fall for leaders who should have been serving victims of domestic violence. But sadly and stunningly, it's not the only news of improperly treating domestic violence victims in Florida this week.
Almost (but not quite) the biggest loser: Tom Wright. We featured state Sen. Wright on our losers list earlier this month when his visit to the Beacon Center, a shelter for domestic violence victims, ended with police issuing a trespass warning to the Senator.
Some of the details remained unclear at the time, but as we noted then: "You have to wonder what could be going through a Senator's head to make him act in a way that nets him a trespass warning at a domestic violence shelter, of all places. We expect that more on this will likely emerge in the weeks and months ahead."
Boy, are things getting worse for the Senator given this week's headline: "Sen. Tom Wright was banned from women's shelter after allegedly flirting with survivor."
Sorry, what now?
That story from Mark Harper of The Daytona Beach News-Journal details comments from Shelby Dunlap, a domestic violence survivor who had been staying at the Beacon Center but was evacuated during Hurricane Irma.
Wright, not yet then a state Senator, was on a bus with Dunlap. She recalls Wright paying for the trip as part of his philanthropy, but also says Wright offered to fly her to Las Vegas while discussing "prostitutes in Cuba" and "topless women on a boat," according to the report.
"It's kind of embarrassing to say, but whenever you're going through that, especially I was only, like, 20 years old, but you feel like, OK, there's this rich guy, like, that could help me out of my problems," Dunlap said. "But now I realize, you know, he was a creep."
Former Beacon Center CEO Angie Pye, with whom Wright has feuded, said the comments at the time weren't "anything egregious." But she added: "It was flirty or grooming type of behavior. So I put a stop to him coming on the property. He got really angry."
Add to that a report detailing more about this month's incident from Jeffrey Schweers of the Orlando Sentinel. Jessica Rivers, the Beacon Center's former CEO of the Beacon Center who is also a domestic violence survivor, gave more information about the incident that led to the trespass warning.
"The physical contact from him was a warning shot," Rivers said. "It was enough force to make a sound but not leave a mark. He came at me. It wasn't a friendly touch, but the touch of a parent or authority type striking me to get my attention."
Conservatives are now instinctively against cancel culture and are increasingly resisting efforts to remove problematic members of their tribe from public life. But reports of Wright's behavior are becoming increasingly disturbing. At what point does Senate President Kathleen Passidomo need to step in?
The biggest loser: Florida's universities. U.S. News & World Report released the newest batch of college and university rankings. And while the news wasn't all bad for Florida's higher ed institutions, there were red flags that show the state's reputation for having strong postsecondary options could be in trouble.
The most notable drop was the University of Florida (UF) losing its Top 5 public university ranking, falling to No. 6. Florida State University (FSU) and the University of South Florida (USF) also dropped in rankings of the nation's public universities. FSU dropped four spots, from No. 19 to No. 23. USF fell to No. 45 from No. 42.
And New College of Florida, a poster child for the Governor's effort to remake Florida's educational system, dropped 24 spots in the ranking of U.S. liberal arts schools, falling into a tie for No. 100.
Not all was negative, however. While UF, FSU and USF fell in the rankings of public universities only, they also gained ground when private universities were included. In those overall rankings, UF went up one spot (No. 29 to No. 28), FSU gained two spots (No. 55 to a tie for No. 53) and USF moved up eight spots to a tie for No. 89.
But those overall rankings also had bad news for the University of Miami, which fell 12 spots to No. 67.
Yes, some lower-ranked schools like Florida International University, the University of Central Florida, Florida A&M University and Florida Atlantic University made significant gains in the overall rankings. But for several of Florida's most high-profile higher ed institutions, it was a mixed bag at best.
We aren't quite ready to set in stone that Florida's reputation is completely doomed. U.S. News shifted around its metrics this year, and that may help account for some of the changes.
But Republicans' efforts to reshape Florida's colleges and universities is also in its infancy, and it's possible as more of those changes take effect, it could ding Florida among analysts. Given the GOP's outsized involvement in recent years, leaders are set to take increased credit or blame, depending on which way the rankings shake out in the coming years.
Surely, GOP officials' response would be to dismiss any possible fall. They'll blame it on faulty metrics, or default to allegations of "wokeness."
But like it or not, these and other rankings matter to parents and students looking for their best options. Seeing UF fall out of the Top 5 and watching other public schools move ahead of Florida's top options isn't going to help recruitment.
So this wasn't a great set of rankings for Florida. Republican lawmakers should hope this was a blip and not a sign of more severe falls to come.