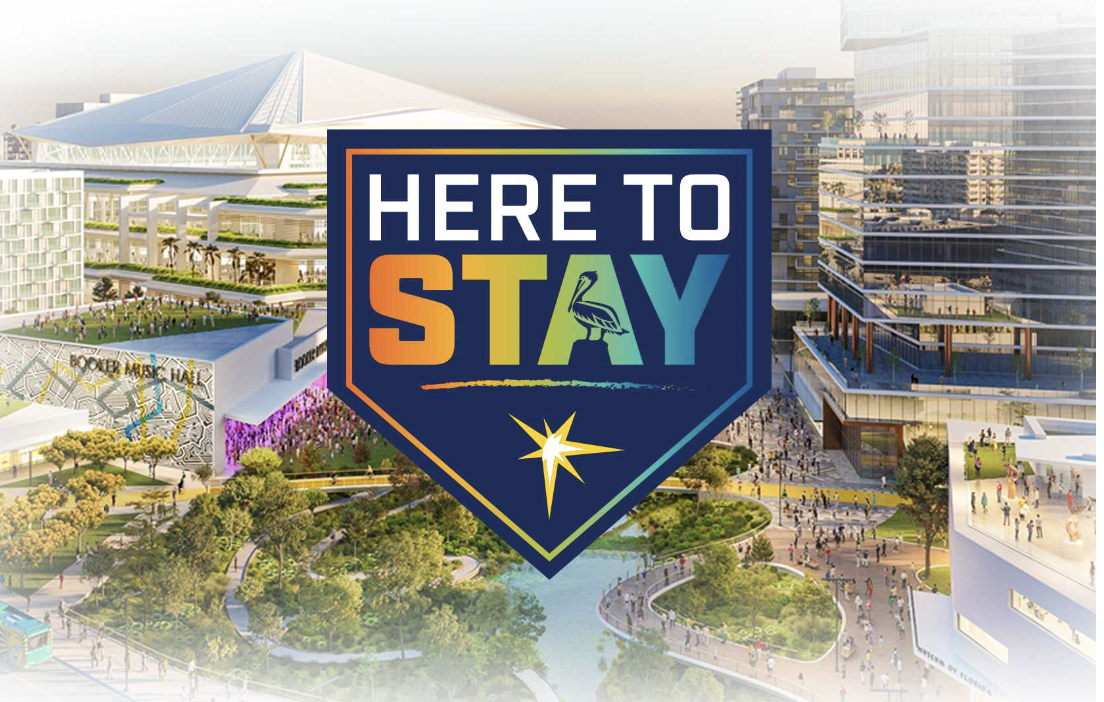 The deal includes more affordable housing, equity commitments and, of course, a new ballpark.
The Tampa Bay Rays have reached a historic agreement with the city of St. Petersburg to move forward with plans to build a new ballpark as part of a sweeping redevelopment plan for the Historic Gas Plant District, home to the current Tropicana Field.
"Major League Baseball is here to stay right here," Rays principal shareholder Stu Sternberg said during a press conference at Tropicana Field. Sternberg did add that, technically, the Rays' future home is somewhere in the existing stadium's parking lot.
The deal includes many of St. Pete Mayor Ken Welch's priorities, and builds on the Hines/Rays proposal Welch selected for the redevelopment project in January.
Those features include more affordable housing, affordable housing for seniors, and a $50 million commitment to intentional equity initiatives in South St. Pete, including affordable housing funding, employment and business support, education programs and minority and women-owned business enterprise hiring commitments.
Welch lauded the deal during brief remarks Tuesday, calling it a "day of celebration" for the St. Pete community.
"This is a step toward honoring the promises made to the gas plant community some 40 years ago," Welch said.
Since announcing he was restarting the development proposal process in June of 2022, Welch has been committed to fulfilling what he has long-described as broken promises to the city's Black community, which was displaced from the Historic Gas Plant District to make way for a stadium, a plan hatched before Major League Baseball had even delivered a team to the city.
At the time, displaced residents and business owners were told they would reap the benefits from a new, thriving development through access to jobs, housing and economic activity and vitality — things that never materialized for that community.
That changes now, Welch said.
"The jobs, housing, office space, along with the opportunities for partnering with businesses that drive our economy, as well as the new businesses that will be attracted to this world class development will fuel our economy, create inclusive business opportunities and be a catalyst for progress in St Petersburg and Pinellas County for decades to come," said the Mayor, who grew up in the Gas Plant.
Specifically, the new deal on the development will include:
— 4,800 residential units.
— 1,200 affordable/workforce residential units (on and off-site).
— 600 senior living units.
— 1.4 million square-feet of office, medical and commercial space.
— 750,000 square-feet of retail.
— 750 hotel rooms.
— 100,000 square-feet of entertainment space.
— A concert venue with space for 4,000.
— 50,000 square-feet of civic space, including a new home for the Carter G. Woodson African American History Museum.
— At least 90,000 square-feet of conference, ballroom and meeting space.
— 14 acres of public open space.
— 14,000 parking spaces.
The ballpark itself will, as anticipated, have capacity for approximately 30,000 fans, with capacity for up to 35,000 for other events such as concerts. The city described the ballpark as providing "the most intimate fan experience in Major League Baseball."
The stadium is expected to cost $1.3 billion, with the Rays committing to half of the price tag and any potential cost overruns. Pinellas County and the city of St. Petersburg will contribute about $600 million for the project, in equal amounts.
Construction is expected to begin in late 2024 and will span two phases. The team will continue playing at Tropicana Field through the 2027 season, which also marks the end of its current lease with the city. Phase 1 of the development, which will include the new ballpark, is expected to be complete and ready for the Rays' Opening Day in 2028.
Pinellas County and the city of St. Petersburg are scheduled to begin the public approval process this fall.
"This will be a transformative project for the Rays, St. Petersburg, and Pinellas County. We have proudly served as Tampa Bay's Major League team for 25 years, and we are thrilled to be in position to do so for decades and generations to come," Sternberg said of the deal.
The new stadium debate has been ongoing for well over a decade, and it has included many starts and stops. For years, the feasibility of the Rays continuing play in St. Pete was under heavy scrutiny, with conventional wisdom — and a population study — showing the team would draw bigger crowds in Hillsborough County.
But repeated attempts for a Tampa stadium proved untenable, with financing plans never materializing. St. Pete already has the land, and because of robust bed tax dollars, has a more workable financial incentive for the team.
Yet, it was St. Pete's booming progress Sternberg praised Tuesday.
"This region, and especially this city, are growing up around us and better equipped to support an MLB, Major League Baseball team," Sternberg said.
The downtown area surrounding the current Trop site is booming with high-end real estate, including a luxury condo tower under construction, The Residences at 400 Central where units start at nearly $1 million and go perhaps to more than $5 million.
An influx of young professionals to the city is expected to help with fan attendance. Whether that plays out won't be clear until well after the Rays begin playing ball in a new stadium, but for now leaders are focusing on a win that was years in the making.
"I've never doubted this day would come," Welch said. "I believe in our community and in the quality and vision of our leadership and our partners. We are so much stronger when we can work together."