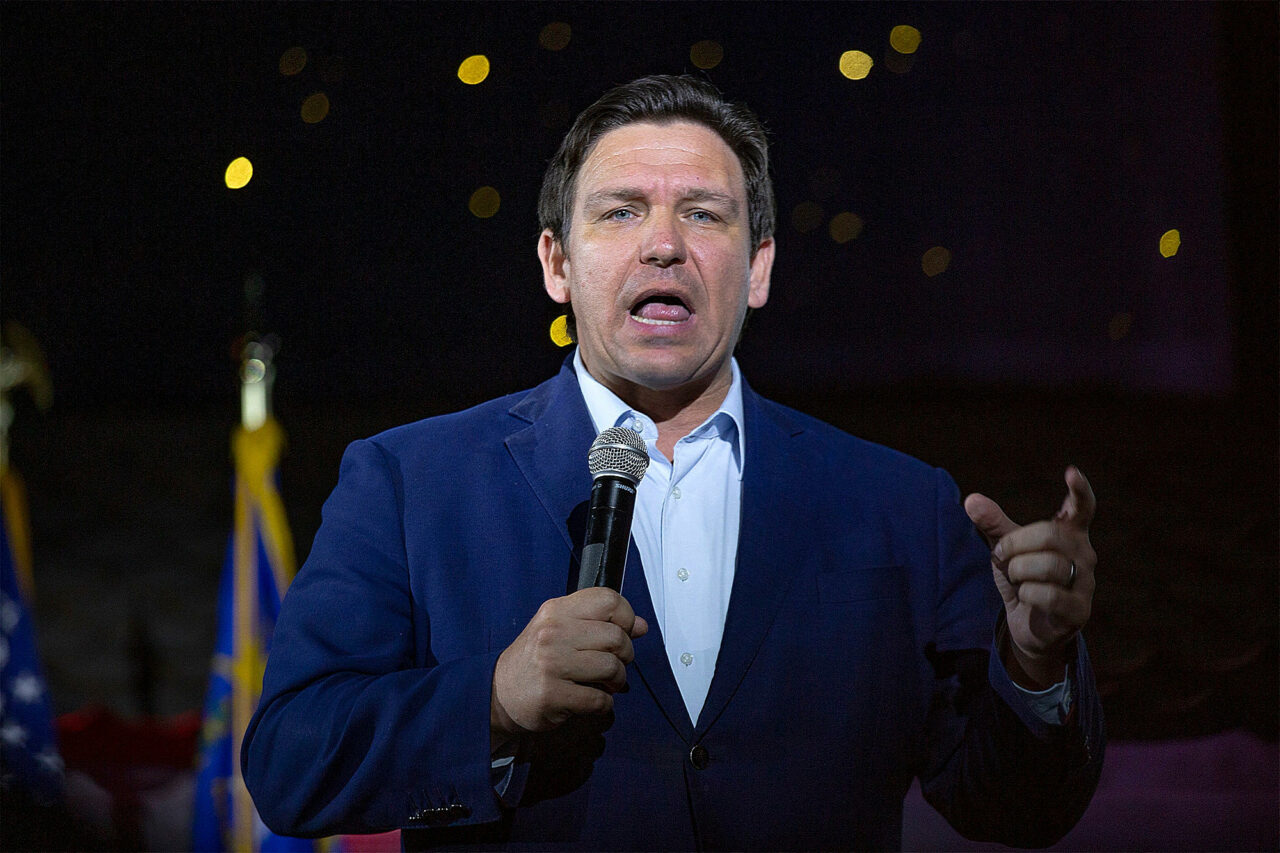 Nikki Haley is now in 2nd place in the Empire State.
New York has been one of Ron DeSantis' weakest states this cycle in Republican Presidential Primary polls, and he is continuing to lose ground.
Polling conducted by Siena College between Sept. 10 and Sept. 13 finds the Governor at a new low, in third place for the first time with just 5% support. This puts him behind Nikki Haley's 6% and former President Donald Trump's 63%.
To put the lack of enthusiasm for the field in perspective, the same amount of voters saying they don't know who they are supporting is equal to the amount who support Haley and DeSantis combined.
DeSantis spent much of the period during which this poll was conducted in New York. He visited a 9/11 commemoration then did an interview on Hannity where he blasted President Joe Biden for not being in NYC for the event.
Monday night saw the Governor interviewed on the Ingraham Angle, where he mocked the President for "struggling" and "stumbling around the world stage."
On Tuesday, the Governor met Timothy Cardinal Dolan, the Archbishop of New York, to discuss "issues important to the Catholic community," including "religious freedom, education choice, promoting a culture of life, and more."
On Wednesday, the Governor had at least one fundraising event in Greenwich, Connecticut. He also had an official roundtable criticizing COVID-19 vaccines, which he participated in via Zoom, seemingly live.
On Thursday, the Governor started off his day with a fundraising breakfast, followed by a lunch event also devoted to fundraising.
Despite this attention to the state, the latest Siena poll continues to show a slide for the Governor. He was at 6% and in second place back in August. Before that, he was at 11%.
DeSantis has attempted to tailor the socially conservative brand he uses as Governor of Florida for the New York market, listing the state as an example of why he says he doesn't back a nationwide six-week abortion ban like the Legislature passed this year.
"I think that in states where you've had the ability to make improvements and to add pro-life protections, I applaud states that have done that, but we have a big, diverse country. I acknowledge that and I'm not suggesting that somehow New York is necessarily going to follow Iowa's lead on that. I think you're going to see differences," DeSantis said in July on "Fox & Friends."
Despite the abortion equivocation, the Governor has used New York as a punching bag when courting support elsewhere.
The Governor used NYC drag queens as a rhetorical target on the campaign trail this summer, for example.
"You know, there was a thing, I think it was in New York City. Some of you may have seen it," DeSantis said. "It was some type of demonstration and they had like these drag queens saying, the chant was, 'We're coming for your children.'"
"Let me tell you this, you know, like people, adults, you know, they do. It's a free country, right? I mean, like, I kind of just, like, you know, mind my own business. But you start coming for our kids, we've got problems. And we are going to stand up for our kids," he continued.
DeSantis has made trips to the New York City metropolitan area this year, though they don't seem to have helped.
At a book tour stop, protesters and critics supportive of Trump greeted DeSantis in New York.
"Wait until '28, Ron; wait until '28," one jeered.
DeSantis also addressed police officers at an outer borough catering hall in Staten Island. The former President lambasted DeSantis for poor attendance at an event later that day.
Meanwhile, former New York gubernatorial candidate Lee Zeldin has endorsed Trump, despite DeSantis campaigning with him last year.
"The GOP is filled with amazing talent to save our country from the failed policies of the (Joe) Biden Admin. Our nominee in 2024 will be the 45th & 47th POTUS, Donald Trump. Our economy will be stronger, our streets will be safer, & our lives will be freer," Zeldin tweeted. "He has my full support!"