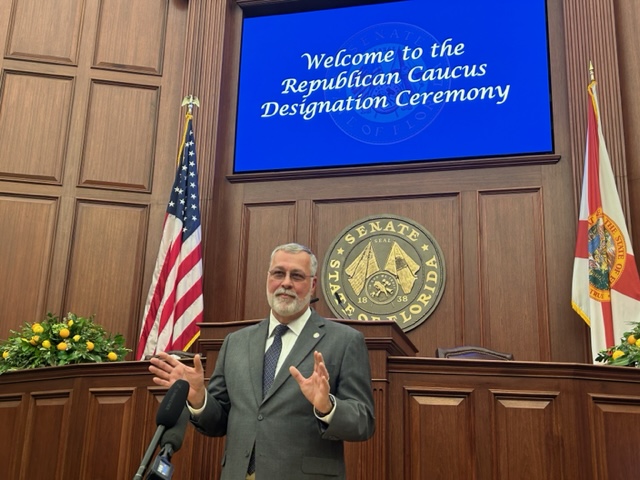 'Remember, if you eat, you are involved in agriculture.'
Sen. Ben Albritton is making it clear that agriculture will be a top focus once he takes over as Senate President in 2024.
The Wauchula Republican was formally designated on Tuesday by the Senate Republican caucus during an one-hour ceremony that was attended by Gov. Ron DeSantis, members of the Florida Cabinet as well as House GOP leaders and former Senate Presidents.
During his remarks, Albritton touched on faith, family and experience working in his family citrus groves, including recounting how he and others would work all night to try to protect their crops when the weather dipped into freezing temperatures.
"I know, firsthand, what it takes to produce the food that feeds our state, our country and the world," Albritton said. "If you really stand back and think about it, the fact is, the survival of agriculture is the survival of humanity. We can't lose sight of that."
He added: "We must continue to support and defend our farmers, our food supply chain, and support every part of the system that puts food on our tables for our families. Remember, if you eat, you are involved in agriculture."
Albritton is scheduled to become Senate President in November 2024 if Republicans, as expected, maintain their majority. He will ascend to leadership at the same time that Rep. Daniel Perez, a Miami Republican, will become House Speaker. House Republicans designated Perez as the next Speaker last month.
While he did not delve into any specifics, Albritton told reporters after the designation that he planned to focus on agriculture, water quality and the state's child dependency system when he takes over.
But he added that affordable housing and property insurance also remain items that the Legislature needs to continue to spend time working on.
Albritton did thank DeSantis during his remarks, calling him a "focused and principled fighter" and said "I value highly your partnership with the Legislature."
The comments are notable because DeSantis in 2022 vetoed a water quality bill that was sponsored by Albritton and was a top priority for then-Senate President Wilton Simpson, who is now Florida's Agriculture Commissioner.
After his speech, Albritton praised DeSantis for using Florida tax money to help pay for charter flights to bring Americans back from Israel. During his remarks, he said "thousands of innocent people have died at the hands of extremists. It's tragic, it's terrible. I pray for the people of Israel and that they find a sure path to victory and peace."