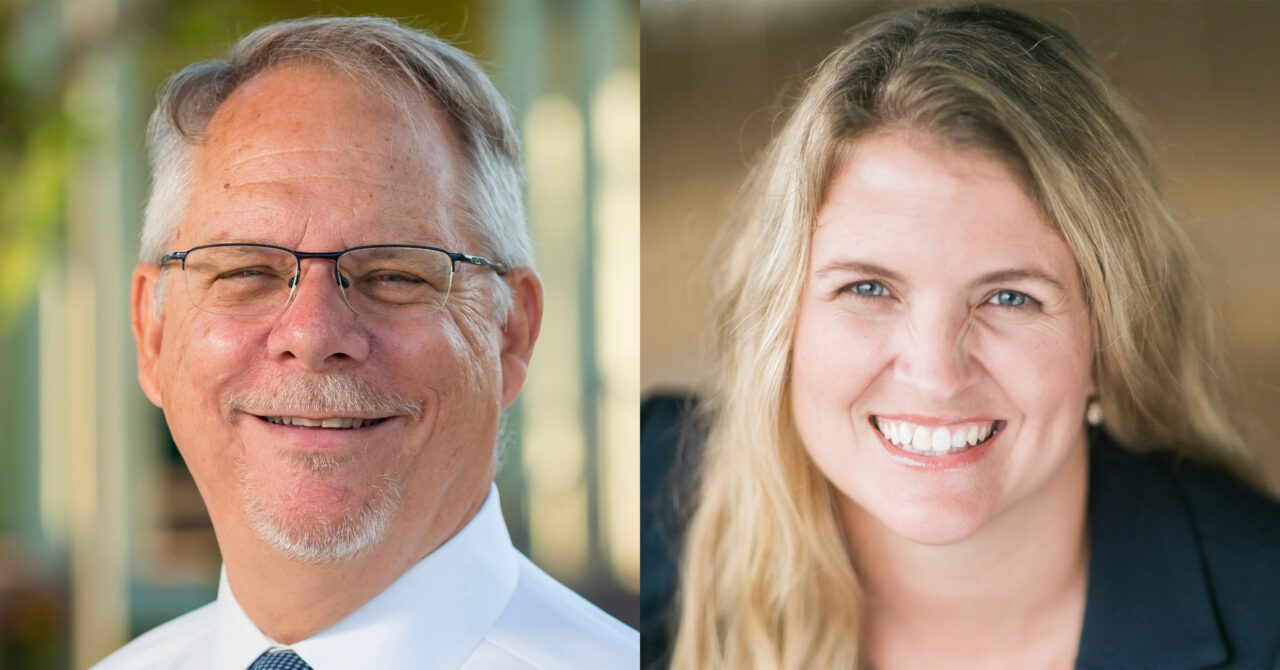 Democrats and Republicans both have reasons to believe they can win the seat on Jan. 16.
Primaries held Tuesday set the stage for the hottest Florida legislative race of the year. Now, both Republicans and Democrats feel confident they can win House District 35, where voters favored Joe Biden for President in 2020 but Ron DeSantis for Governor in 2022.
Republicans picked Osceola School Board member Erika Booth as a nominee. Democrats tapped aviation entrepreneur and veteran Tom Keen to carry the party banner.
Through Nov. 2, six candidates spent about $490,000 combined in the fight for the nomination. That's likely a fraction of what will be poured into the Central Florida contest in the 10 weeks leading to a Jan. 16 Special Election.
The winner of that election will succeed former state Rep. Fred Hawkins, a St. Cloud Republican who resigned his seat to take over as the new President of South Florida State College.
The message
Booth feels it's critical that the seat remain in the red column, and she feels the economic climate in Central Florida makes clear why. Inflation in the costs of goods and services under Democratic President Joe Biden has made it harder for everyday families to survive.
"I really see it working in our schools, but just putting food on the table, driving to and from work, affording gas, it all costs more and it's crippling our economy," she said.
"We are living it. I've got three teenagers in the house, and we're blessed to work hard but it's tough on everybody every day in Central Florida and statewide. People come to Florida to live free, but they also need the freedom to grow their businesses and to afford to live in our communities."
Keen, for his part, said the high cost of living has exposed to voters the Republican policies in Tallahassee have failed under Gov. Ron DeSantis.
"All we have are these culture wars, and they are tired of it," the Democrat said. "People want to be able to keep their property, and they care about property insurance. I spoke to someone who just bought a home and his insurance doubled in one year. I don't know how long voters will listen to the Governor say we just need a couple more years."
The candidates will share these economic messages with voters, and both have already focused on social issues themselves like parental rights and women's reproductive health.
But the election ultimately will be determined by voters. Anthony Pedicini, Booth's campaign manager, suggested turnout will be a top priority. He has confidence Booth and the GOP campaign team will outperform Democrats in January.
"I have a commitment from the Florida House Republican Campaign Committee (FHRCC) that to win this race, every resource will be made available to the Booth campaign," Pedicini said. "We were lucky to have the best candidate. She did not stop working."
That did show in fundraising as well. Booth, the choice nominee of the FHRCC and state House Speaker-designate Daniel Perez, collected substantially more money than any other candidate in the field.
Unofficial final results show Booth received 3,708 votes compared to 2,419 for Keen. Part of that difference is due tp her lopsided victory. She took almost 49.7% of the Republican vote to Scotty Moore's 33.5% and Kenneth Davenport's 16.8%. Democrats effectively split three ways, with Keen winning 33.8%, besting Rishi Bagga by just 141 votes, and coming ahead of third-place finisher Marucci Guzmán by only 366 votes.
But Republican voters altogether outnumbered Democratic ones in the Primary. In total, 7,467 Republicans cast a ballot compared to 6,750 Democrats for Tuesday's nomination contests. Indeed, Moore received 87 votes more than Keen despite losing his Primary by 16 percentage points.
In Tallahassee, though, Democrats consider this a blue district, and believe they will win the day in January. As of book closing before the Primary, registered Democrats outnumber Republicans 37,152 to 36,612.
Voters in the district favored Biden by roughly 5 percentage points in 2020, even as Republican Donald Trump won the state. But a Republican wave in Florida in 2020 saw Hawkins win the seat by 10 percentage points, as DeSantis and U.S. Sen. Marco Rubio also won the district.
"This is our seat," said state House Democratic Leader Fentrice Driskell, "and I want it back."
Unlike her Republican counterparts, Driskell remained neutral in the Primary. That makes it easy now, she said, to marshal the party's full resources behind Keen and amplify only his positives. "Tom Keen is a great guy," she said. "He's a veteran who dedicated his life to service. It's a thread throughout his life."
What happened Tuesday?
Of note, not every Democratic lawmaker stayed out of the race. Keen scored some endorsements like local state Sen. Victor Torres, an Orlando Democrat. But Bagga seemed to rally progressives like former state Rep. Carlos Guillermo Smith, and many Tallahassee figures like state Rep. Allison Tant, a former Florida Democratic Party Chair, backed Guzmán.
Keen also raised far less than either of his opponents. Through the final reporting period, Keen spent under $39,000 on the race, while Bagga plunked down nearly $97,000 and Guzmán spent upward of $63,000.
How did the race pan out with Keen on top? Bagga beat Keen for the nomination in HD 35 in 2022, but by a mere 57 votes. He feels Keen did a better job holding the coalition from last August. Driskell saw it as a matter of pure hard work. Keen knocked on 3,000 doors personally, with his team tapping on more porch doors.
Keen feels the secret to his success involved a lot of work and maybe some luck. The aviation authority said pilots often discuss airpaths like lines of Swiss cheese, where if every hole isn't lined up, there's no safe path through. But he notes his campaign banked on the most low-cost ways to fly to victory.
While every candidate did mailers, Keen focused on putting frequent updates on his social media pages. And he made door-knocking — by himself and volunteers — a central part of his canvassing. While all candidates strived to keep an online and physical presence, Keen believes he simply outhustled them.
Booth also takes pride in the work she personally put in, including personal interactions with 18,000 voters. Her outcome seemed more a foregone conclusion by the time polls closed, though. Her campaign spent more than $193,000 leading to the vote, more than double Moore's spending of around $96,000. That doesn't count the support provided by the FRHCC.
Walking neighborhoods in Bithlo and Yeehaw Junction while turning out supporters in her home turf of Osceola County, Booth eventually had perfect strangers stopping her at an Orange County grocery store to wish her luck in the election.
Bringing voters home
Now, the candidates face the task of unifying the party. While the HD 35 Primaries were hardly the dirtiest in Florida history, each side had their shares of accusations and divisiveness. But neither candidate feels worried about bringing in opponents' supporters.
Bagga on Wednesday endorsed Keen. "I have a LOT more to say, but wanted y'all to know I called and congratulated Tom Keen this morning and gave my full support," he posted on X.
Guzmán issued a lengthy thread on social media thanking supporters and promising to continue the fight. It made no mention of Keen. But she later posted she would help Florida Democrats win the seat. "We'll Flip HD 35 and work towards other seats in the Fall," she posted. "With the right message, Florida voters will be with us."
The Florida Democratic Party, and party leaders in Osceola and Orange counties, endorsed Keen on Tuesday night.
Booth, of course, already had the support of the party. Perez congratulated her on social media as results came in Tuesday. "Onward to victory in January!" he posted on X, referring to the date of the Special General Election.
"Erika is a passionate advocate for her community and classroom with deep roots in Central Florida," Perez said in a statement to Florida Politics. "Armed with a servants heart and a desire to help improve the lives of her neighbors, Erika will be a fierce and tireless fighter for her district."
Moore called to concede the election Tuesday. While he has yet to formally endorse his Primary opponent, the campaign viewed the phone call as a positive sign, and are hopeful he will help unify the party behind Booth in January.
Davenport, in contrast, said the Primary experience — which included him being sued as opponents tried to kick him off the ballot — has soured him on politics. "The party picked the one they want," he told Florida Politics. "We don't stand a chance, the people come second."
The Primaries turned out to be high-turnout affairs. Osceola County reported 21.6% of eligible voters cast ballots. Orange County, which also administered city elections in Orlando, reported a turnout of 16.2%.
That's fairly high considering the election took place in an odd-numbered year when few other races took place. But the candidates now must sustain voter interest through Thanksgiving, Christmas and New Year's before reaching an Election Day just over two weeks into 2024.
Driskell sees high stakes for the party, which sank in all statewide races last year amid low Democratic turnout. The party will deploy a field operation in HD 35 that she said will serve as "proof of concept" and should provide a winning path for more Democrats in the fall.
Meanwhile, Republicans in recent elections have made inroads in Osceola County, and hope those continue. Christian Ziegler, Republican Party of Florida Chair, said the party during the Primary pushed for more Republicans to make vote-by-mail ballot requests, which will carry over into January. Efforts will only step up as the election nears.
"Yesterday, the Republicans out-turned-out Democrats big time, not just raw numbers, but by percentage in an even larger way when you look at the voter registration discrepancy," he said.
"We feel very good. The Democrats say they are going all in. That's something I welcome. Let's roll."
Of course, the candidates now need to win over voters outside their party for the first time. The district is home to 37,421 voters registered without any party affiliation, a number larger than either Democratic or Republican totals.
The race in many ways harkens back to a 2018 contest for a Sarasota House seat that became a referendum on Trump before his first Midterms. Then, Democrat Margaret Good defeated Republican James Buchanan, drawing national attention and setting the stage for a blue wave.
Could that happen again? Democrats would love the race to be a referendum on Trump's or DeSantis' most controversial policies as Republicans feud in a divisive Presidential Primary. But Republicans note that for this election, it's Biden playing the role of an unpopular President in the White House.
Both sides would love to win and send a message about Florida in a Presidential Election year.