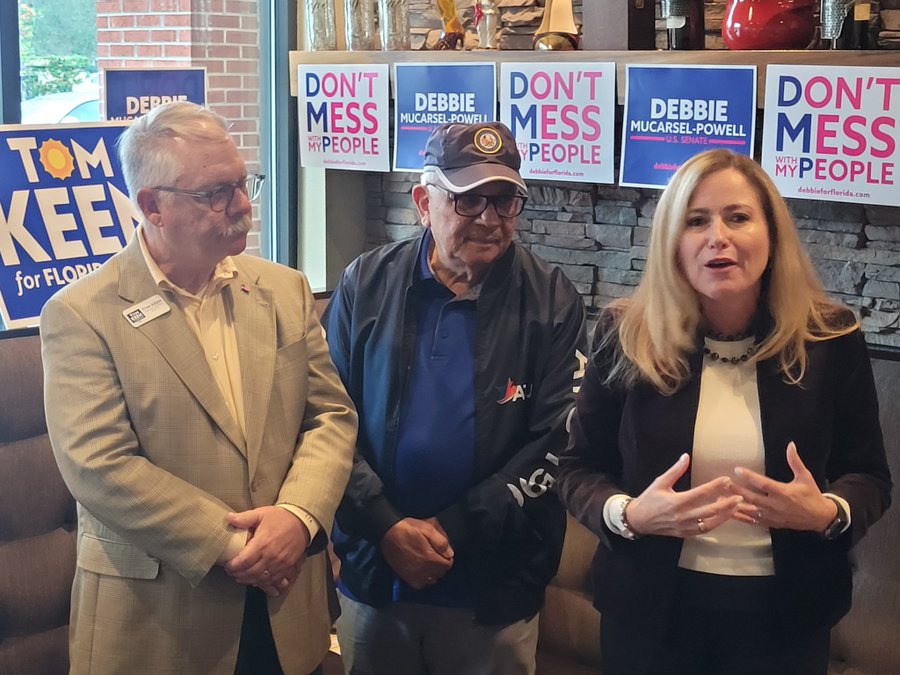 Democrats hope to flip the seat blue on Jan. 16.
Senate candidate Debbie Mucarsel-Powell is stumping alongside Tom Keen, the Democrat competing in a highly anticipated Jan. 16 Special Election in House District 35.
The Miami Democrat joined Keen in Lake Nona Thursday to discuss the importance of the contest for Democrats.
"These are the type of races that everyone is watching," Mucarsel-Powell said. "We cannot continue to see the voter suppression or allow the apathy we've been seeing and people not turning out."
Keen won the Democratic nomination in the Central Florida district. The veteran and businessman now faces Osceola County School Board Erika Booth, the Republican nominee. The winner of the January contest will succeed state Rep. Fred Hawkins, a St. Cloud Republican who resigned from the seat to become the new President of South Florida State College.
Mucarsel-Powell, also a Democrat, is unsurprisingly backing Keen over Booth. Keen welcomed the support of Mucarsel-Powell, the most prominent Democrat seeking to challenge U.S. Sen. Rick Scott next year.
Keen acknowledged the hurdles any campaign will face in raising awareness of a Special Election, and implied in a speech to supporters that's by design. He said Gov. Ron DeSantis, a Republican candidate for President, wants low interest in the race.
"Our Governor decided he didn't want to be embarrassed the day before, when he's going to be in Iowa for the Iowa caucuses," Keen said. "So he made this Special Election follow the Iowa caucus. So we need to send him a signal and show that Democrats can actually turn out and win this seat."
The Iowa caucuses take place on Jan. 15, one day before the HD 35 Special Election.
Keen believes he won the nomination — where he was outspent by two other Democrats — by focusing on knocking on doors throughout Orange and Osceola counties. He said there's been an influx of resources since he won the nomination. Mucarsel-Powell's support could help in that arena as well.
As far as Mucarsel-Powell's interest in the race, she said a political victory will show political observers in the state and nation that Florida Democrats still can mobilize.

"This race matters because Floridians have been abandoned by Republicans in Tallahassee," she said. "They can't afford to pay their bills. That's all I'm hearing when I'm on the campaign trail. And they need to understand that this is not coming from the federal government. This is coming from the failed policies that have come out from Tallahassee that started under Rick Scott."
Before winning election as U.S. Senator in 2018, Scott served two terms as Florida Governor.
Republicans also hope to send a message about Florida's political sentiment, and note President Joe Biden has polled poorly in the state.
Keen, though, sees Biden as an asset. He notes most voters in HD 35 voted for Biden over Republican Donald Trump in 2020.
"I'm happy with President Biden, I think he's doing a great job," he said. "So absolutely, I think we're going to be helped by President Biden here."