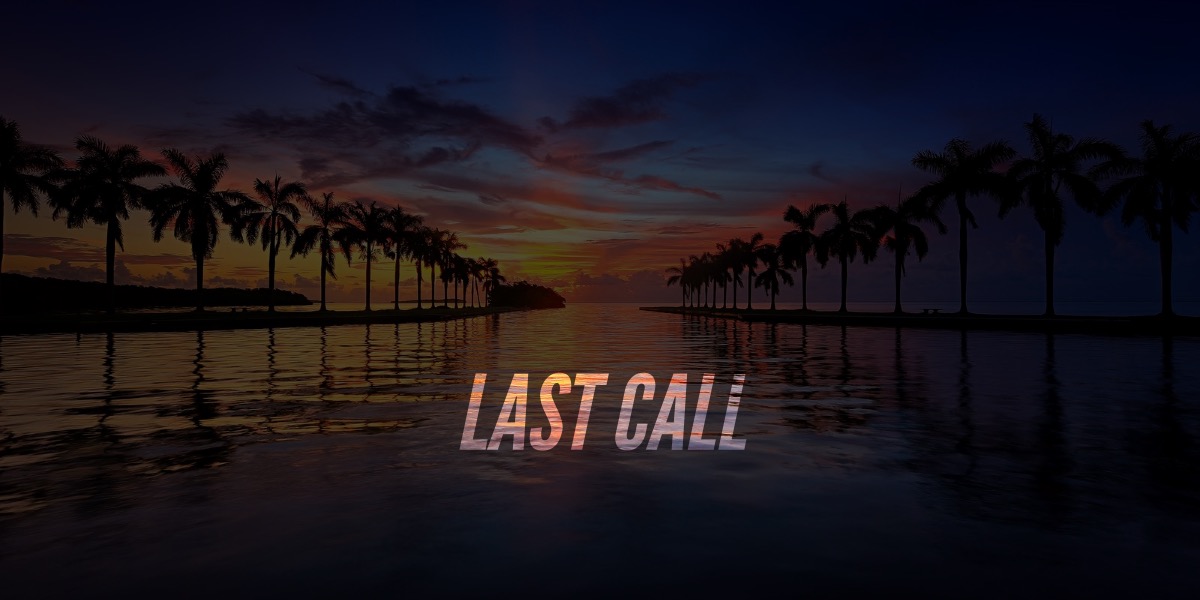 A digest of the day's politics and policy while the bartender refreshes your drink.
Last Call — A prime-time read of what's going down in Florida politics.
First Shot
Former President Donald Trump carried Florida twice, and a new survey suggests he'd likely go three for three if he were the GOP nominee in 2024.
A new poll from Florida Atlantic University asked Floridians whether they'd vote for Trump or President Joe Biden next November, finding the current GOP front-runner with a 10-point edge, 49%-39%. FAU noted that the margin mirrors the results of their July survey, indicating stability in voter preferences that may persist until Election Day.
Unsurprisingly, Biden's low support was coupled with a low approval rating — only 36% of those polled say the President is doing a good job compared to 62% who say he's not presidential material. By contrast, 43% of Floridians have a favorable view of Trump despite the numerous legal cases he's facing.
"The continued interest in Trump by voters isn't just staying power of a celebrity candidate," said Robert Gutsche Jr., Ph.D., an associate professor in FAU's School of Communication and Multimedia Studies who researches Trump's presidency. "Seemingly, he is just the kind of candidate these voters want in how he talks, what he talks about, and how he sees the world."  
Trump is especially popular among men, who favor him by an 18% margin. White and Hispanic Floridians are also more supportive of Trump than their Black counterparts. Regionally, the Panhandle is a Trump stronghold — nearly two-thirds of area residents (65%) support him there, while Palm Beach County is his vulnerable spot at 41%.
Most respondents consider Trump's legal issues important to their vote choice, the poll shows. However, a marginal 3% difference between the two candidates suggests that, as of now, legal issues are unlikely to significantly sway voter preferences in Florida.
"Trump's legal challenges appear to have little bearing on his electoral prospects in the state," said Dukhong Kim, Ph.D., an associate Professor of Political Science at FAU.
Evening Reads
—"Why the most hated man in Israel might stay in power" via Graeme Wood of The Atlantic
—"Terror on repeat" via Silvia Foster-Frau, N. Kirkpatrick and Arelis R. Hernández of The Washington Post
—"Ron DeSantis directive to disband pro-Palestinian student groups met with federal lawsuit" via Douglas Soule of the USA Today Network-Florida
—"DeSantis talks tough on China, takes cash from China-backed company" via Ben Wieder, Theo Hockstader and Amelia Winger of the Miami Herald
—"In new brief, Ashley Moody claims abortion amendment would let providers self-regulate" via Michael Moline of the Florida Phoenix
—"Conservative Supreme Court could deny Floridians a say on abortion rights" via Skyler Swisher of the Orlando Sentinel
—"How lawmakers in Texas and Florida undermine COVID vaccination efforts" via Amy Maxmen of KFF Health News
—"The secrets Google spilled in court" via Sara Morrison of Vox
Quote of the Day
"Nikki Haley and Ron DeSantis seem to be running against each other for second place. Good for them. But you know, when Nikki Haley stands on the stage … and says Donald Trump was the right President for the right time — when Ron DeSantis continues to defend Donald Trump — you cannot beat someone unless you run against them.
— Former New Jersey Gov. Chris Christie, on DeSantis' and Haley's GOP Primary strategy.
Put It on the Tab
Gov. Ron DeSantis could use a Flatliner after the latest Iowa State University/Civiqs poll showed Iowa Gov. Kim Reynolds' endorsement hasn't moved the needle.
SCOTUS said it won't unblock the drag ban — order a trayful of Drag Queens for the Hamburger Mary's legal team.
DeSantis says the state's latest tourism numbers prove Florida is a "beacon of freedom." If so, VISIT FLORIDA CEO Dana Young deserves a Lighthouse.
Broward Sheriff Gregory Tony's would enjoy a Union Club after his re-election campaign landed endorsements from three sizable unions in the county.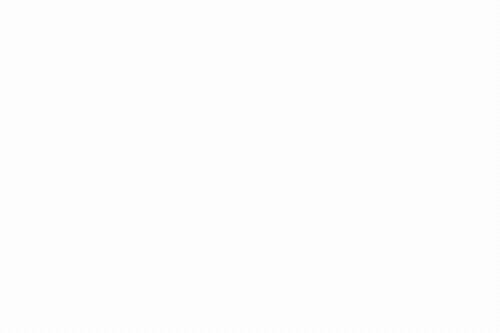 Breakthrough Insights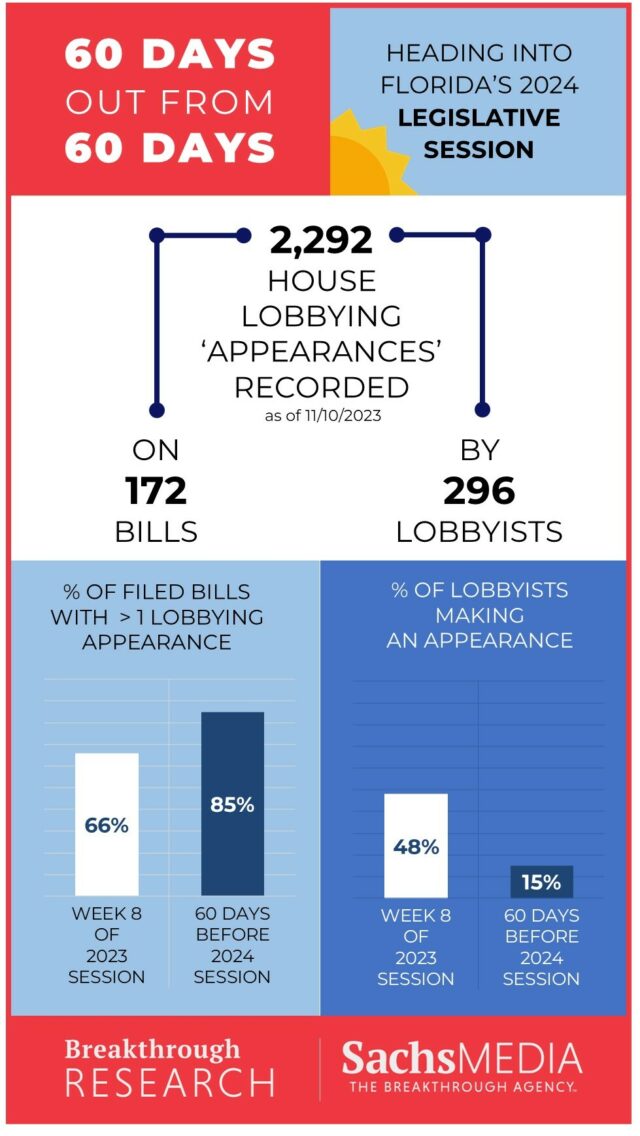 Tune In
7 p.m. — NCAAM: Cal State Fullerton Titans @ UCF Knights
7:30 p.m. — Brooklyn Nets @ Miami Heat
8 p.m. — Tampa Bay Lightning @ Chicago Blackhawks
10:30 p.m. — Edmonton Oilers @ Florida Panthers
FRIDAY
3:30 p.m. — NCAAM: Miami Hurricanes @ Georgia Bulldogs
7 p.m. — NCAAM: Florida State Seminoles @ Florida Gators
8 p.m. — Orlando Magic @ Chicago Bulls
9 p.m. — NCAAFB: USF Bulls @ UTSA Roadrunners
10 p.m. — Florida Panthers @ Anaheim Ducks
SATURDAY
Noon — NCAAFB: Tulane Green Wave @ Florida Atlantic Owls
3:30 p.m. — NCAAFB: Bethune-Cookman Wildcats @ Florida A&M Rattlers
4 p.m. — Edmonton Oilers @ Tampa Bay Lightning
5 p.m. — NCAAFB: UCF Knights @ Texas Tech Red Raiders
6 p.m. — NCAAM: Bryant Bulldogs @ Florida Atlantic Owls
6:30 p.m. — NCAAFB: North Alabama @ Florida State Seminoles
7:30 p.m. — NCAAFB: FIU Panthers @ Arkansas Razorbacks
7:30 p.m. — NCAAFB: Florida Gators @ Missouri Tigers
8 p.m. — Miami Heat @ Chicago Bulls
SUNDAY
1 p.m. — Oakland Raiders @ Miami Dolphins
1 p.m. — Tennessee Titans @ Jacksonville Jaguars
4:05 p.m. — Tampa Bay Buccaneers @ San Francisco 49ers
5 p.m. — Orlando Magic @ Indiana Pacers
5 p.m. — NCAAM: Northern Iowa Panthers @ USF Bulls
7:30 p.m. — NCAAM: FIU Panthers @ Akron Zips
___
Last Call is published by Peter Schorsch, assembled and edited by Phil Ammann and Drew Wilson, with contributions from the staff of Florida Politics.