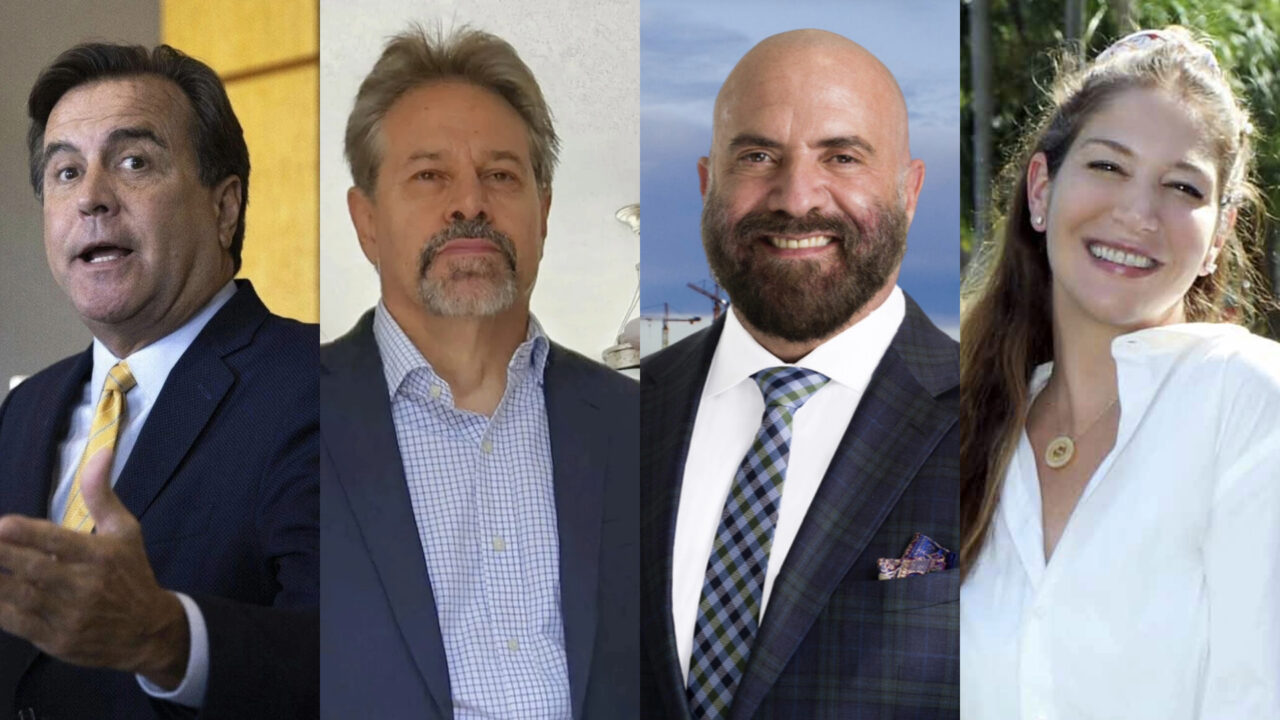 The incumbents dwarfed their challengers in fundraising.
Two incumbent Miami Commissioners — one sitting, the other sidelined after being arrested on numerous corruption charges — will take on an opponent each in Tuesday runoff races to decide who will represent Districts 1 and 2 through 2027.
In District 1, suspended Commissioner Alex Díaz de la Portilla is taking on former Miami Zoning Board member Miguel Gabela in a rematch four years in the making.
Meanwhile, incumbent District 2 Commissioner Sabina Covo will try to deflect a challenge from certified financial planner and longtime community activist Damián Pardo just eight months after winning her seat in a Special Election.
None of the four received a large enough percentage of the vote earlier this month to win outright. Díaz de la Portilla and Gabela outpaced three additional candidates with 36.6% and 28.8% shares of the vote, respectively.
Covo and Pardo took 39% and 26% shares to knock five others out of contention.
The election comes at a tumultuous time for Miami. Three of the city's six elected officials are under investigation for misusing their positions for personal benefit or vendetta. Housing prices are at crisis levels. Flooding, already a significant problem, is worsening.
Those and other issues may factor into residents' decisions as they cast ballots.
The winners Tuesday will join Commissioners Christine King, Joe Carollo and Manolo Reyes, who trounced a long shot challenger on Nov. 7 to win a third term representing District 4.
Carollo is being investigated for allegations he weaponized employees and departments to harass a pair of business owners in the city. In June, a Broward jury found him liable for violating the business owners' First Amendment rights, awarding the plaintiffs $63.5 million in compensation.
Miami Mayor Francis Suarez also faces federal and state scrutiny into whether he improperly accepted payment and gifts.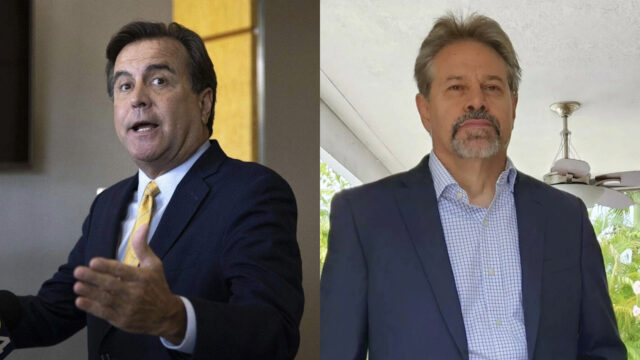 District 1
Díaz de la Portilla, a former state lawmaker and career politician, is running to win back the seat from which Gov. Ron DeSantis removed him on Sept. 15. The day before, state law enforcement agents arrested him on felony charges of corruption, bribery, money laundering and criminal conspiracy, among other counts.
He has denied all wrongdoing and declared the charges as a partisan "work of fiction" meant to remove him from power.
Some of his key contributions while in office include his sponsorship of an expansion of COVID-19 relief gift cards, a push to regulate motorized scooters in the city and a successful effort last year to end Miami's opposition to medical marijuana facilities.
Since winning in 2019 to represent District 1 — which covers the neighborhoods of Allapattah, Grapeland Heights, the Health District and parts of Little Havana — Díaz de la Portilla amassed nearly $2.8 million between his campaign account and political committee (PC), Proven Leadership for Miami-Dade County PC.
A third of the $1.6 million the PC collected between January and October came from 13 developers; most have active projects in the city, according to an analysis by The Real Deal.
Gabela, an auto parts salesman, raised a comparatively paltry $74,000 this cycle. More than a quarter came from his bank account. Another $9,000 came from lobbyist and former state lawmaker Manny Prieguez, a one-time Díaz de la Portilla ally. Prieguez is now suing the suspended Commissioner for an alleged "shakedown" scheme involving the city's Rickenbacker Marina.
Díaz de la Portilla said no such thing happened.
Gabela had to fight to stay on the ballot this year after Miami's reshaped voting map cut his home from District 1. He sued. The city countersued. In late September, a judge ruled he was qualified to run in the district.
If elected, Gabela's priorities would include hiring more police officers, improving resident benefits and services, enhancing public transportation, and creating more affordable housing options.
Díaz de la Portilla, who lost his family home in a foreclosure sale Tuesday, did not create a campaign website and has been largely uncommunicative with the media.
In their 2019 showdown, also a runoff, Díaz de la Portilla took nearly 61% of the vote.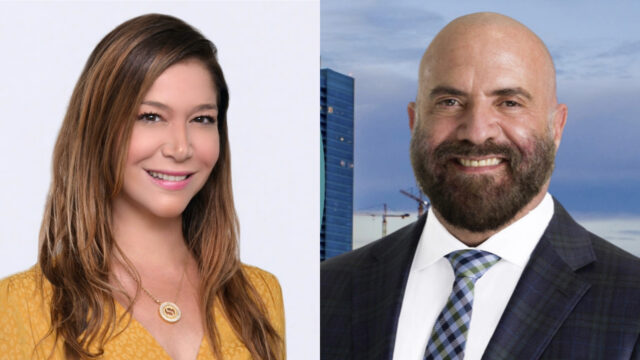 District 2
During her brief tenure at City Hall, Covo, a TV journalist-turned-public relations pro, established an "ECO Squad" to handle drainage issues in her flood-prone district and secured $3.5 million for affordable housing.
She also sponsored legislation to create a heat-mitigation plan for the city.
Before winning in February, she worked for a year as the Florida Department of Agriculture and Consumer Services spokesperson under former Agriculture Commissioner Nikki Fried, who is backing her campaign now as Chair of the Florida Democratic Party.
She leads Pardo, the founding Chair of the LGBTQ advocacy group SAVE, in fundraising by a sizable margin. Since her victory earlier this year, Covo collected more than $630,000 between her campaign account and political committee, Dream Miami, to stay in office.
Well over half that sum came from land use attorneys, marina operators, architects and builders, including two Miami development firms with projects in the city for which Covo did public relations work, The Real Deal first reported.
Pardo raised $256,000 through Nov. 2, including more than $165,000 in self-loans. Almost everything came through personal checks from mostly South Florida residents.
The two Democratic candidates share some priority overlaps. Both placed improving public safety, housing affordability and infrastructure high on their lists.
Covo said she wants to add more environmental protections, fight overdevelopment and end "dysfunction and broken promises" at City Hall.
Pardo, while never before an elected official, would bring ample leadership and administrative experience to the job. After helping to found SAVE, he served as President of the region's largest AIDS service organization, Care Resource, and led what later became the Miami-Dade Gay and Lesbian Chamber of Commerce.
In 2015, he cofounded 4Ward Miami, a nonprofit group that launched the annual Gay8 Festival. He's also served on the boards of the Stonewall National Museum and Archives in Fort Lauderdale and SAGE, which serves LGBTQ elders.
He said he would fight to increase opportunities for all residents if elected. He singled out those living in Miami's historic Black neighborhoods like West Grove as being particularly affected by "rampant development and gentrification."
He wants to upgrade Miami's public spaces and shore up its protections against sea level rise, including expediting projects funded through the $400 million Miami Forever Bonds and creating a collaborative task force with the county.
A victory Tuesday would make him the first openly gay person elected to the Miami Commission.
Covo's tenure as an elected official hasn't been unblemished. At her first Commission hearing in mid-March, she could not recite the Pledge of Allegiance when asked to lead the chamber. The incident drew national headlines.
Another District 2 candidate, James Torres, also accused Covo of offering him a $120,000 contractor job with the city in exchange for his endorsement. Torres told documentarian Billy Corben during an episode of the podcast #BecauseMiami that he turned down the offer and instead endorsed Pardo.
Pardo later released a video claiming Covo was plotting a fake endorsement from Carollo to sabotage his campaign.
Covo has called Torres' claims "categorically and unequivocally false."
She also netted a nod from Pardo's former organization, SAVE, after the group's endorsement panel uncovered "troubling support" he showed for the state's Parental Rights in Education law that opponents labeled "Don't Say Gay."
SAVE Executive Director Todd Delmay cited minutes from a February 2022 meeting of Miami's LGBTQ+ Advisory Board in which Pardo called the measure a "political ploy" and said, "We may miss an opportunity to express the values they want to be fostered at home."
The Miami Herald first reported on the issue Thursday. Pardo told the Herald the SAVE board misinterpreted his comments and that he has never taken a position against "any LGBTQ issue that helps the community or the community is backing."
He said he was and remains against the bill and voted, along with every other member of the advisory board, for a resolution opposing it. He said his comments were to warn the board against using reactionary rather than strategic language in trying to sway the City Commission to take an official position on the bill — which it didn't.