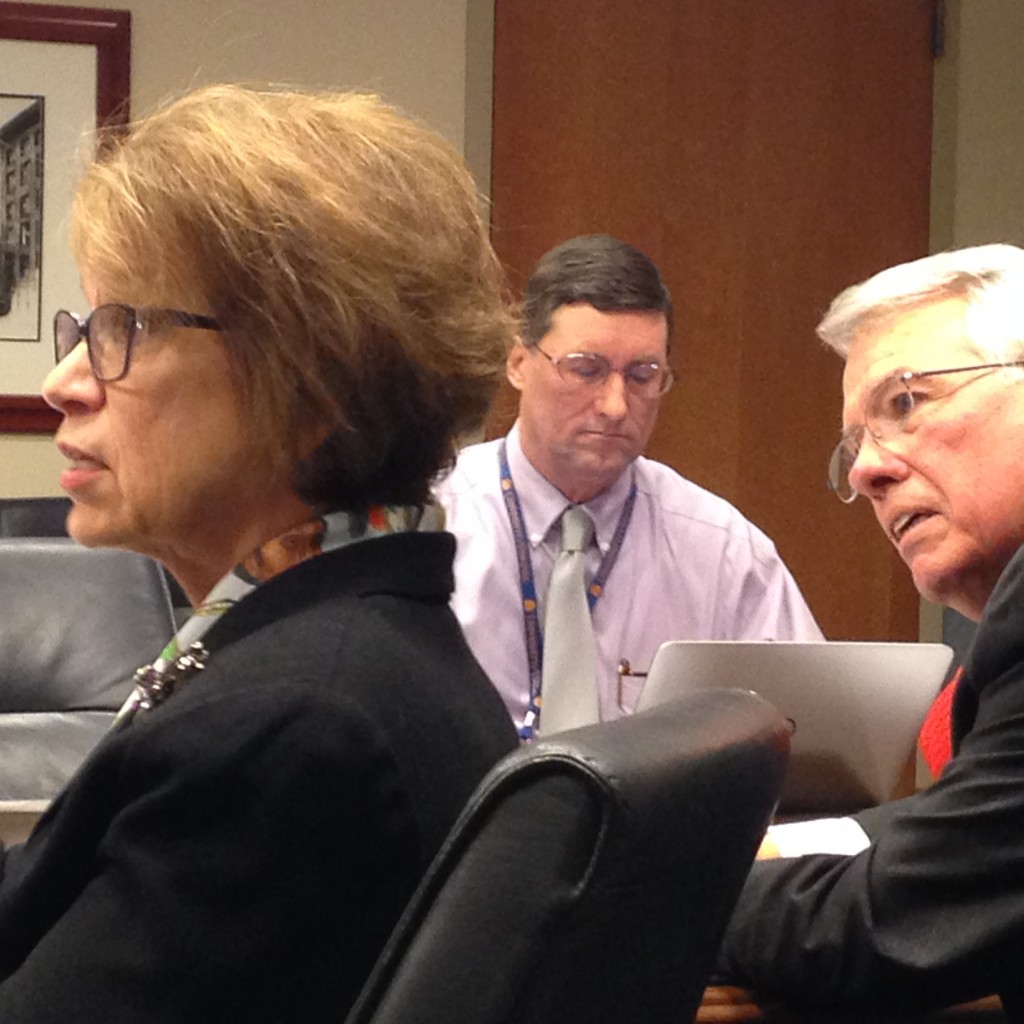 The second of two big public notice meetings of Jacksonville City Council members Thursday involved a familiar subject: the subpoenas of Police and Fire Pension Fund material, requested last year as part of the "forensic audit" of the pension fund that some on Council regard as gospel, and that others outside of Council regard as blasphemy.
The PFPF maintains that their investments and practices have been sound, and that the issues are rooted in the city not holding up its end of the bargain. Council, meanwhile, disagrees, saying that the fund was wastefully and poorly managed.
Though the fund has a new Executive Director, questions about the PFPF's transparency still remained going into the meeting. And afterwards.
Anna Brosche, who chairs a three-person subcommittee that includes John Crescimbeni and Danny Becton, came out of the hour long meeting wanting more information than what the PFPF provided, saying at one point that "we know that… things weren't happening in a transparent fashion."
The question the subpoena posed, in Brosche's mind: "how would you communicate… to someone outside the fund" investment practices.
Brosche, and the rest of the Finance Committee, wants the "total picture," and they will keep pressing until they get that.
"There's work to be done on the part of the fund in response to the subpoena," Brosche said.
Specifically, Brosche wants any and all agreements regarding recapture service contracts, as commissions recapture data was nonexistent from 1987 to 1997.
Info on checks and deposits related to commissions was also desired, as was documentation of how the funds were credited.
As well, information on how service contracts were approved, and evidence of a consistent policy, were desired, for the period surrounding the documentation already provided.
An issue, and a primary motivator of why this subcommittee was necessary, was Council's dissatisfaction with the missing decade of commissions recapture data, as well as a missing three year period of market value yields, and what the Council Auditor described as apparent "evidence that the fund spent more on Management Fees each year than the amounts recaptured.
There are, of course, caveats.
Some records are not available because they are not in possession of the fund, said Executive Director Beth McCague.
"Nothing has been destroyed," McCague said. "The records we weren't able to give you are in the city archive."
And given the fact that much of the meeting was spent trying to get to a specific charge, questions like that of PFPF Trustee Bill Scheu bear mentioning.
"What are we trying to accomplish? Who's going to pay me to get my staff to get this info?"
Scheu hinted that, perhaps, there were thoughts among some that money was going into "somebody's pocket."
This led Crescimbeni to quip: "I'm not going to rule anything out," he said, as he was "longing for more cooperation" from the fund.
Scheu asserted that "the notion that something improper" happened "wasn't fair."
Meanwhile, the city's Chief Financial Officer, Mike Weinstein, had his own doubts, expressed during the meeting.
"They had the authority to make deals," regarding kickbacks to the fund from commissions recapture money.
The meeting between PFPF representatives and Council members boiled down to questions about what evidence there was, what evidence could be provided, and how far the fund could go back to reconstruct a record of its practices since 1987, with changes in accounting companies, changes in platforms, and changes in record keeping requirements.
On Friday, McCague will give Brosche a time frame regarding when the information requested will be provided to Finance.
What is clear is this:
Despite the end of the John Keane era, and the "breath of fresh air" McCague has been characterized as, it is evident that McCague has stepped into a historic grievance between the Police and Fire Pension Fund and Council.
There also is some doubt that the Curry administration is as committed to this process of leaving no stone unturned as members of the Council Finance Committee are.
Meanwhile, the "forensic audit," which has been termed a "forensic investigation," seems to have validated certain preconceptions, yet in reality hasn't shown Council much that it didn't know/suspect already.
This process is far from over.
The question is, however, what can be provided that hasn't been.
And can Council use that to "prove" the malfeasance and mismanagement that underscores so much of the public narrative about this embattled fund.