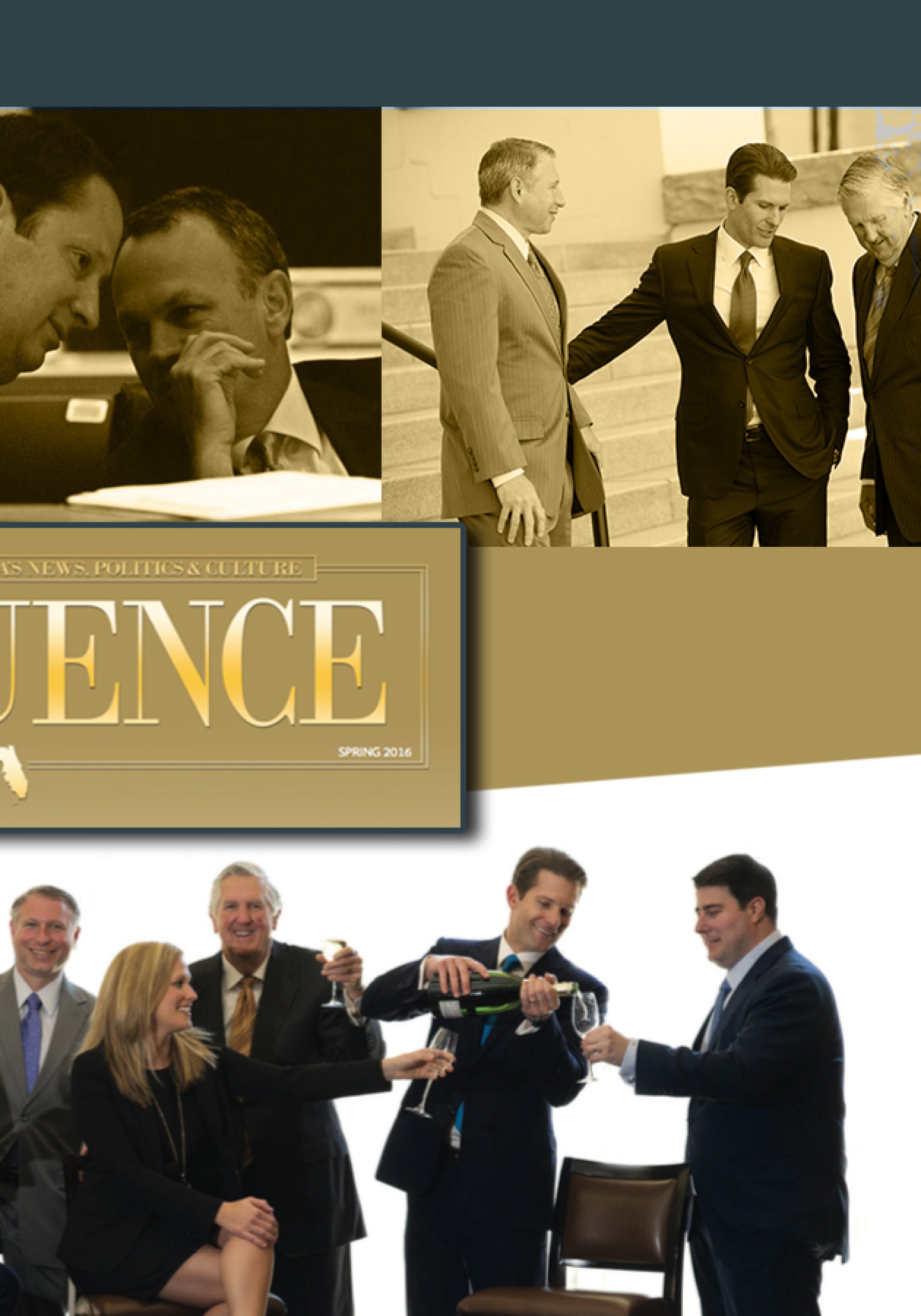 The fourth edition of INFLUENCE Magazine (We've made it a year!) went live Thursday and will arrive in subscribers' mailboxes later this month.
If you would like to receive a hard copy of this inside view into Florida's news, politics, and culture, please subscribe here. If you would like to view the digital version now, please click here.
As you can imagine, I've read everything in INFLUENCE several times, backwards and forwards. Going through it one more time on a lazy Sunday, underlining the sentences and paragraphs I really liked, here are 13 things I especially enjoyed about the latest issue of INFLUENCE Magazine:
— Mary Beth Tyson's cover shot of the Capital City Consulting team looks like it was a lot of fun to shoot, although this is the second cover concept that involves alcohol (the cover of the second issue was shot at the bar inside the Biltmore Hotel). Hmmm, is there a trend here?
— The reporting in the "Political Aficionado" section by Mitch Perry and Jenna Buzzacco-Foerster on tax incentives for the film industry and the burgeoning VR industry presence in Florida, respectively, is the type of researched, topical content you'll see more of in upcoming issues. The plan is to include as much solid reporting as there are glossy features.
— Welcome to Rochelle Koff, formerly the restaurant critic for the Miami Herald, as our new gourmand.
— Uber fundraiser Kris Money, smiling like the Cheshire Cat on page 43.
— The kind words of Shannon Colavecchio, Amy Center, Loranne Ausley, and Electra Bustle about their friend, the late (and certainly missed) Stacey Webb.
— Designer Fred Piccolo's sharp infographics; this issue features Joe Negron's orbit and a breakdown of what the Top 10 lobbying firms earned in 2015.
— Rebecca De La Rosa's 4th Floor File; Sen. Jack Latvala introduced us by challenging me to profile people I didn't know. Thank you, Senator, for the connection.
— The feeling you get that you are a lot smarter after reading the columns of Ryan Cohn, Steve Vancore and Blake Dowling.
— Our rundown of the Winners & Losers emerging from the 2016 Legislative Session totals more than 8,000 words, making it the most comprehensive such list you'll find anywhere in Florida political journalism.
— Buzzacco-Foerster's story about the unique bond of Negron and Richard Corcoran bodes well for a productive two years while they are leading the Florida Legislature.
— Pretty much my favorite story in this quarter's edition is Rosanne Dunkelberger's "Angels of Adams Street," because it runs counter to any criticism that the magazine is just about the Gucci loafer crowd.
— The Golden Rotundas speak for themselves (…although I'll write more at a later point about how they were determined. There appeared to be some very interesting politics at work in the voting.)
— The picture of Governor Lawton Chiles with his "flack," Ron Sachs.