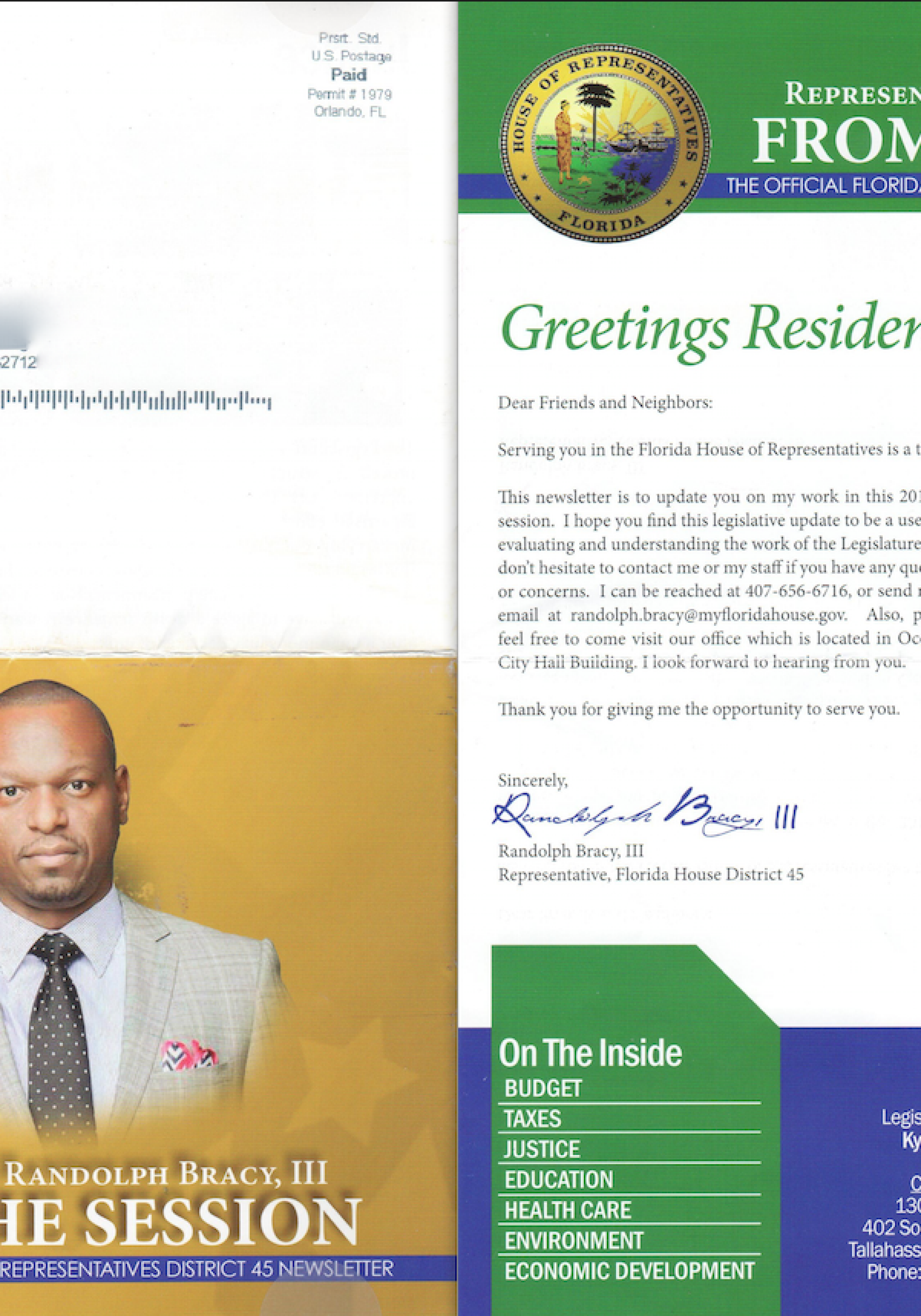 A recent official House of Representatives mailing from state Rep. Randolph Bracy has one of his Florida Senate Democratic primary election opponents crying foul because the newsletter went beyond the House district.
Last week Bracy sent out an Official Florida House of Representatives Newsletter for Spring 2016, containing  all the usual positive reports and handsome photographs any house member might share with constituents. The newsletter has all the appropriate and required information that a House member's newsletter should have.
But the mailing went out throughout the Senate District 11 area where Bracy is running this year, not just within the House District 45 area he currently represents. It contains no references to nor disclosures from his state senate campaign.
Bracy said he believes he did everything properly.
But one of his opponents, Chuck O'Neal, said that if that is so, there still is a problem in his eyes, claiming that Bracy, "violated the public's trust, if not the law" by using the House newsletter to raise his profile outside his district.
No one has filed any official complaints.
Bracy has three opponents in the Aug. 30 Democratic primary for SD 11, O'Neal, former state Sen. Gary Siplin and former state Rep. Bob Sindler. O'Neal and Sindler live outside HD 45, and they both said they received Bracy's newsletter at their homes.
"If this is legal, then Florida voters need to understand that their tax dollars are being used to provide incumbent legislators with an advantage over their challengers," O'Neal said.
Bracy said he was careful to not use tax dollars for letters mailed outside his district, and sought counsel on how to handle the newsletter appropriately. The expenses for the rest of the mailing that went beyond HD 45, he said, came out of his own pocket. He said he was advised he could have his campaign reimburse him if he wished, but he has not done so yet.
"I got everything approved by the House [General Counsel's Office] attorneys and the Florida Division of Elections. So I was told to send it out the way I did," Bracy said.
Neither the House General Counsel's Office nor the Florida Division of Elections would comment about the matter to FloridaPolitics.com.
O'Neal responded, "Our understanding is that Bracy can send his official House newsletter outside his House district using his own funds. Yet it appears he has used his campaign account to reimburse his House account for the cost of the mailer. [Which Bracy denied.] In that case, why does the mailer not indicate "Paid for by Randolph Bracy for Florida Senate?"
Florida law does not necessarily stipulate between campaign expenses paid by a campaign fund or by the candidate himself. The law requires "any political advertisement that is paid for by a candidate" to include the written disclaimer, "Political advertisement paid for and approved by [name of candidate, party affiliation] for [office sought.]"
The newsletter contains no references to Senate District 11, nor to Bracy's campaign. It offers his assessments of the 2016 Legislative Session, with reports on issues relating to such issues as his constituency services, the environment, education, economic development, taxes and the state budget.
"This is not campaign related," Bracy replied.
Siplin once had a similar issue, and was the subject of an ethics complaint in 2012. The resolution of that might have set precedent for allowing for Bracy's newsletter to go beyond his House district.
Siplin was term-limited out that year. But his wife, Victoria Siplin, was running in a Democratic primary to succeed him. [She lost that election, though she was since elected to the Orange County Commission.] Gary Siplin's House newsletter that summer included prominent pictures of her. It also went out to residents who did not live in the district Sen. Siplin was representing, but who did live in within the redrawn district in which Victoria Siplin was running. One key difference: Gary Siplin paid for it entirely with House funds. And so the complaint against him alleged he had misused taxpayers' money by sending the newsletter to people who should not receive it.
The Florida Commission on Ethics found his "use of public resources to communicate with constituents in his existing and newly drawn Senate district would not constitute a violation," and dismissed the complaint.
Siplin declined to comment on Bracy's newsletter.
Sindler said he did not want comment negatively on the newsletter, but added, "It's not something I would do; that's for sure."