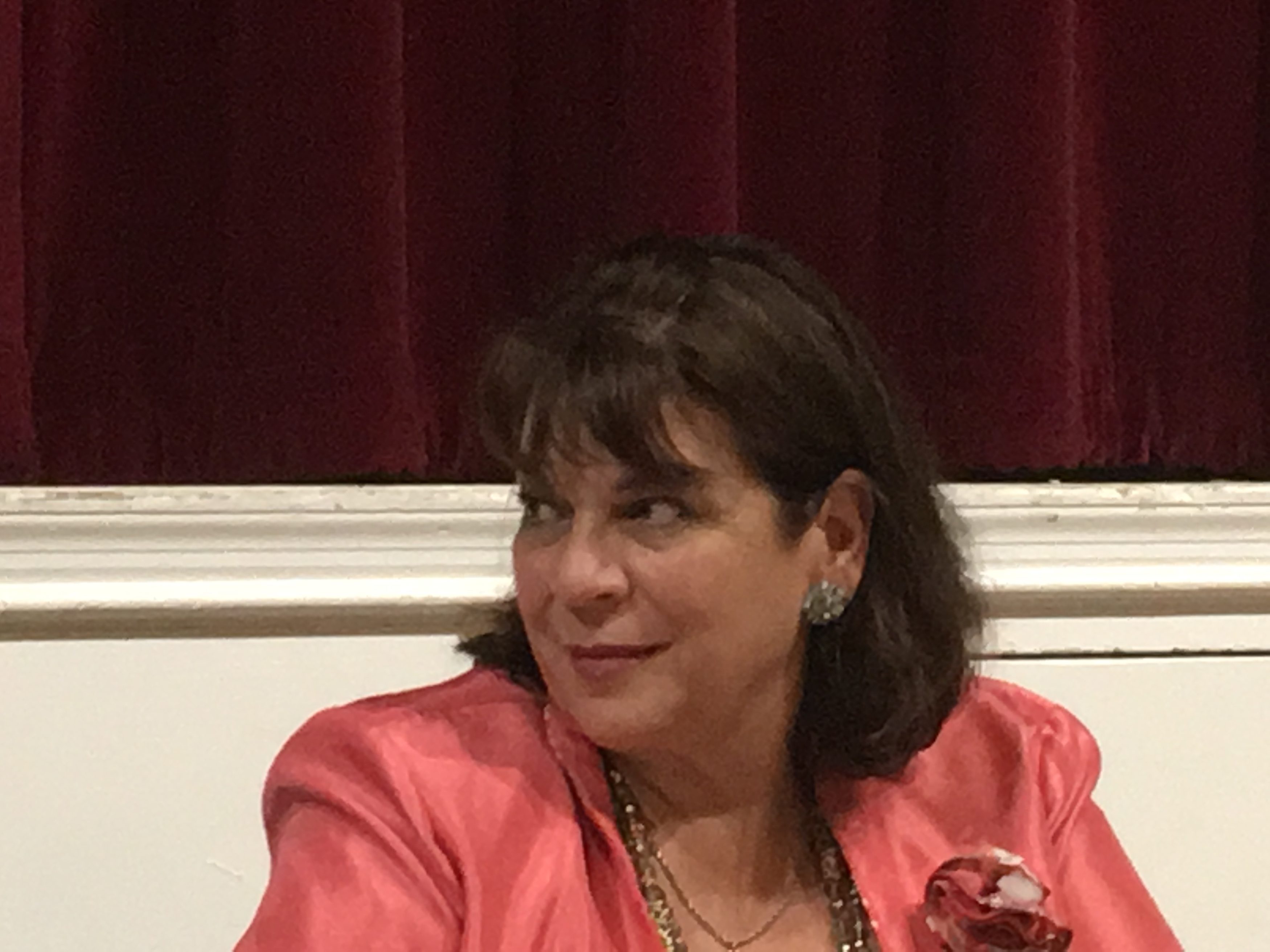 The Mandarin Community Club in Jacksonville held a forum Thursday evening including two of the three candidates for 4th Circuit State Attorney in a 140-year-old building off Brady Road.
The air conditioning? Insufficient.
But given the heat between State Attorney Angela Corey and one of Corey's challengers, Wes White, no amount of AC would have been enough.
The two candidates, who have been sparring in public forums since last summer, have become used to each other's lines of argument.
But with as much shared history as Corey and White have, there are always new and exciting tropes to explore.
On this occasion, there were police shootings, Melissa Alexander, gangs, the Allied Veterans of the World internet cafes, and mental health treatment becoming a province of jails.
And yes, Kenny Leigh and his write-in candidacy was an issue as well.
Corey's open hit the familiar "tough-on-crime" themes, billing her work with first responders as that of a "team," before trumpeting the endorsements of police and fire.
"We are getting justice every day," Corey said, adding that she's been "teaching law enforcement to make better cases, so that when we take them to the courtroom, they stick."
Corey also noted that $1 million will be dedicated to 15 diversion programs, "diverting those who deserve a chance."
White's opening statement addressed his reasons for running, noting that the state attorney must "jealously guard each and every freedom" guaranteed in the Constitution.
"There are sections of this town where you cannot experience life, liberty, and the pursuit of happiness," White said.
White went on to say he was the most qualified candidate in the race, touting his 37 years in the law with a variety of cases, including death penalty cases, adding that he currently is "litigating against Obama's transgender policy" in schools, which "goes against common sense."
"I believe, respectfully, that Ms. Corey's shelf life has expired," White said, citing the disenfranchisement of 440,000 voters and calling George Zimmerman a "murderer after he has been exonerated by a jury."
From there, questions from the audience.
The first regarded the impartiality of the state attorney's office.
White: "It's up to the state attorney's office to flesh out … what has happened."
Regarding wayward youth, White said "if we can pull them out of the criminal justice system … we are serving society."
Then again, some "monsters … simply have to be removed from society."
Corey noted she is "one of the few state attorneys to sit with defendants," noting that in certain circumstances, she is willing to mitigate cases based on available evidence.
"We take what's probable cause, and if we can't prove it beyond a reasonable doubt," Corey said, her office doesn't follow through with the case.
White rebutted.
"Judgement plays a huge part in what's going on … and I think there's been a history with this state attorney where there's been exceptionally poor judgement," White said, alluding to the 60-year sentence pursued against Marissa Alexander.
Corey called that "misinformation," noting that the legislature establishes minimum mandatories.
From there, a question regarding the "revolving door" of "useless" restraining orders.
Corey said this was a tough issue, given they are often issued by civil courts.
"If there are criminal charges," Corey said, "we try to add that on."
"Part of the problem with our homicide rate," Corey added, is "our domestic violence rate."
"Our office does not issue restraining orders," she continued.
White agreed these weren't in the "purview" of the SAO, adding that he didn't know how to "break the cycle" of "marital discord turning into domestic abuse."
Often, White said, abused women, for a variety of reasons, refuse to testify.
"It's just another area where the moral fabric of our society is coming untied," White said.
The next question: how to be crime-free in all neighborhoods?
White said "the process needs to start early on," ensuring quality health care and education for "every child."
"There are portions of this community that are divided … we can change that," White said, by urging children to "behave themselves, be nice, and the promise of America will unfold."
However, the gang problem is hard to deal with; White suggests that there may be a correlation between gangs and a terroristic influx.
"There's other cities our same size that don't have one-fifth the problem we have."
Corey, meanwhile, said "we stopped babying these violent criminals and we sent them to state prison for such long sentences … that the crime rate has come down."
Corey quoted a recorded, unnamed criminal saying "I ain't coming to Jacksonville. That woman don't play."
The incumbent then noted some people from "good neighborhoods" made the choice to embrace the gang life.
"The homicide rate isn't nearly as high as it was in the early '90s when we weren't going hard and tough on these people, and the crack cocaine hit," Corey added, noting that one year Jacksonville was up to 190 homicides.
White then countered, saying "I'm simply not satisfied with 100 or more homicides in Jacksonville," adding that "prison is a sign of human failure."
"I think we're facing Armageddon in our community because in five years these children are going to be out, and they're going to be educated criminals," White said.
Corey then countered, saying those sent to prison are the most violent criminals, some who have committed "murder or sexual battery, as young as the age of 12."
The conversation then turned to businesses shut down by DART.
White contended "we don't spend time" looking at illegal establishments, noting the internet cafes run by the Allied Veterans of the World, associated with former police union head Nelson Cuba.
Corey noted that "it breaks my heart to tell you there are some people I've had to prosecute who wore a badge and worked with me on cases."
White then noted a conversation with Corey about an "internet gambling place in Yulee that needed to be shut down."
White didn't know, he said, that the head of the FOP owned the place.
He implied, however, that Corey did.
Onward, to transgender school bathrooms.
Would White bring his opposition to them to the SAO?
White noted that he simply took the case, advocating for the parent of students, who is very uncomfortable with sharing bathrooms and locker rooms with people of different biological genders.
"This country has decided, in cases such as Roe v. Wade, that women have a privacy right … these girls believe they have the privacy right to changing facilities."
White then said that "their rights were being accommodated before the Obama administration changed the game," despite DCPS having a policy that predated the Obama decision.
Corey, for the first time, went personal.
"He and the other person in this case, Ms. Nelson, said you've read about these cases and we would have done them differently."
"Some of these cases … the information out there has been outright lies," Corey said, saying that Marissa Alexander "fired a shot at a 9-year-old and a 13-year-old, saying get the hell out of this house."
"The only people who supported [the 9-year-old] are the state attorney and the police," Corey said.
White alluded to a case of a "disabled veteran who filed warning shots and got 20 years."
"My quarrel was not that Marissa Alexander was charged," White said, but that 60 years was pursued because she wanted a trial.
Corey countered, of course.
"I know how to try a case. I'm a board certified trial lawyer, and I've tried 70 homicides, as opposed to the two that Mr. White has tried," Corey said, noting that it wasn't her sentence, but the mandatory minimum that was in play.
The question to Corey: regarding JSO shootings being classified as justifiable homicides.
The threshold, to her: "when a law enforcement officer shoots in the line of duty … those laws are designed to protect them in the use of deadly force."
Just as there's a "special statute" for civilian shootings in self-defense, there is one for law enforcement, who come "face-to-face with danger" presented by violent criminals.
Corey has offered to do a forum on "justifiable homicide," noting "an affirmative defense so compelling" that her office doesn't charge.
White countered that "the problem is that various portions of the community do not trust Angela Corey. They see a woman disenfranchising 440,000 people," and those people are "people of color."
"The community does not have faith in Angela Corey; she hasn't earned it," White said.
White noted, meanwhile, that in law enforcement shootings, "the tie goes to the runner," and that law enforcement "deserves the benefit of the doubt."
Then Corey countered, noting that "liberal Democrat" Harry Shorstein, her predecessor, never arrested a law enforcement officer under those circumstances.
"I have the experience to review these cases and make sure we are spot on with the law and the facts," the incumbent said, citing her 34 ½ years of experience.
White took the next question: what would he do differently?
He would hire "mature lawyers" who would be "ministers of justice," preserving the "torch of freedom."
He would also have a law enforcement officer in charge of special prosecutions.
And he would go to the governor and the Legislature and ask for more funds.
"One hundred homicides, 300 drug deaths are unacceptable," White asserted, saying that he wants Jacksonville to be the "safest city in the South."
Corey, in response, came back to her "experience and knowledge."
"You can't take funds designated to a scoreboard and put them in the criminal justice system."
Corey also noted that she has managed funds so well that she was able to give salary enhancements to quality employees to keep them on staff.
Corey added, meanwhile, that "it's not disenfranchisement to close a primary," a decision affirmed by the Court of Appeals Thursday.
Then, she endorsed the pension-tax referendum, saying that "our city employees deserve their pension."
White then noted that "only a career politician" can say there are monies for bonuses, but not to "process rape test kits."
"Hundreds and hundreds of women were denied their right to closure," White said, vowing to "speak to those issues."
"Women, you can bet that I'll find the money to test these rape test kits."
Corey noted that her office got a $2 million federal grant to test those kits, adding that she's not often in the JSO evidence room going through what's there.
"We also funded two positions at JSO," Corey said, to help deal with the backlog.
On to assault rifles.
Corey doesn't believe that "assault rifles in themselves are a problem," adding that the solution is to go "hard and tough on these gun crimes, only waiving the minimum mandatory when it's the right thing to do."
Corey then defended her office's actions in the Marissa Alexander case again, noting that "the JSO Swat Team had to come and get her out of her house to arrest her."
Meanwhile, Corey said, more people have been hammered to death and knifed to death than shot to death.
White, meanwhile, has an AR-15.
"I don't think these so-called assault rifles need to be banned," White said, before pivoting to the preponderance of people with mental health issues in 4th circuit jails.
"Until we bring back some of these institutions that have been demonized in the past," White said, these problems will remain.
"We need to provide these mental health facilities, and when law enforcement drops the ball, we need to be able to say 'hey, you screwed up.'"
Kenny Leigh was next.
Corey: "I did not use a proxy to close out the primary, and that's why I wasn't a defendant in the case … I'm not trying to keep the voters out … I did not participate in that, but I am not going to pass judgement on the people who did," Corey said of her two former consultants.
"I didn't see the Democrats for the past 18 years worried about their primaries being closed," Corey said.
"I don't see the face of the Democrats as being any race, gender, or anything else," Corey said, noting that people could change parties in five minutes.
White: "there were more whoppers in that answer than Burger King."
White said Corey's answer was "unbelievable" and that "it was fundamentally wrong to work the system," noting that his belief is that Corey knows everything that goes on with people under her employ.
If White wins, he pledged to change his party identification to NPA.
Corey countered.
"Maybe when you went out and filed this lawsuit about bathrooms," Corey said, "you could have filed a lawsuit on this issue."
Corey noted her previous statement on this issue was consistent, addressing White, asking "why he has Pastor Reginald Gundy by his side working on his campaign."
"I think what's upsetting Mr. White is that these Democratic votes aren't coming his way."
White stood his ground, asserting that Corey, Matt Justice, and Alexander Pantinakis "engineered this coup."
White may not "agree" with everything his consultants say, he said, but none of them disenfranchised 440,000 voters, he added.