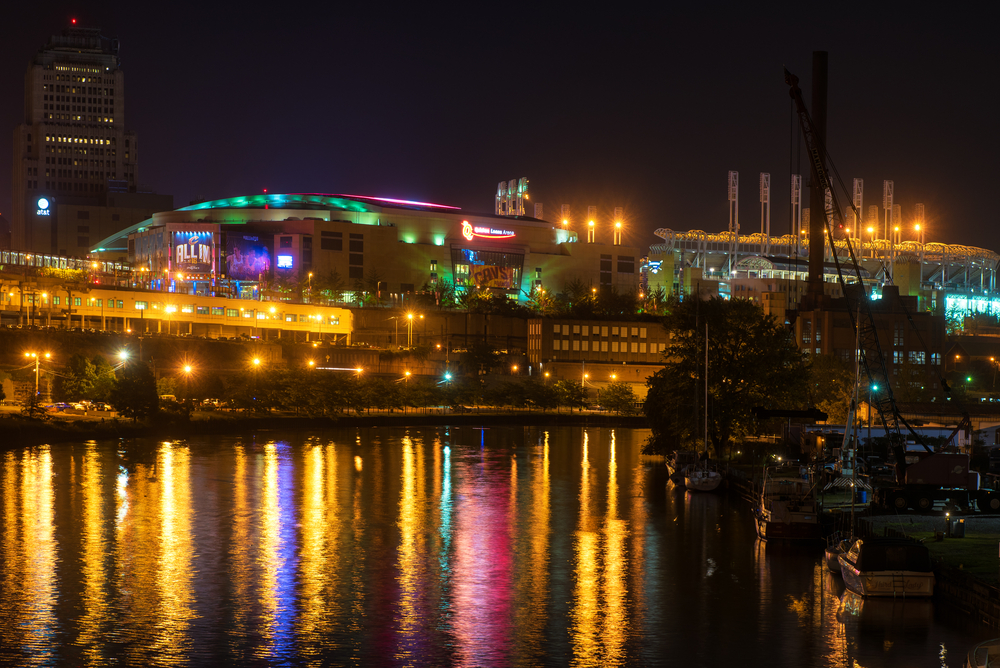 Sunburn – The morning read of what's hot in Florida politics.
By Peter Schorsch, Phil Ammann, Jenna Buzzacco-Foerster, Mitch Perry, Lloyd Dunkelberger and Jim Rosica.
#RNCinCLE
After months of bickering, Republicans are set to formally select Donald Trump as their party's nominee during the Republican National Convention. Will there be fireworks? Probably not. Efforts by anti-Trump groups to block his nomination failed, and it's unlikely there will be chaos on the floor.
That isn't to say there won't be action. There's dozens of speakers, an unpredictable nominee, and, of course, a balloon drop. Here's what you need to know before the first speaker hits the stage.
Cleveland rocks: The Republican National Convention runs from Monday through Thursday, July 21. The convention will take place at Quicken Loans Arena, the home of the Cleveland Cavaliers. One of the largest cities in the Buckeye State, Cleveland is the home of the Rock and Roll Hall of Fame, the Cleveland Indians, the Cleveland Museum of Art, and a host of breweries, including the Great Lakes Brewing Company.
Tune in: Want to watch all the action? C-Span is set to air the entire convention both on television and streaming. The networks will carry the event in primetime, and cable news networks will surely have full team coverage. But when to tune in depends on the day. Today things start at 1 p.m., with festivities planned throughout the day. On Tuesday, nothing happens until 5:30 p.m.; Wednesday starts at 7 p.m. On Thursday, the final night of the convention, the fun begins at 7:30 p.m.
Who's in: Trump may be the headliner, but he isn't the only big name on the schedule during the week-long convention. Speakers include Sen. Ted Cruz, Sen. Jeff Sessions, Ben Carson, former House Speaker Newt Gingrich, Gov. Chris Christie and Gov. Scott Walker. Florida will also be well represented on the stage, with Attorney General Pam Bondi and Gov. Rick Scott scheduled to speak.
Who's out: Don't expect to see party elders roaming the convention floor. Former Presidents George H.W. Bush and George W. Bush won't be attending. Neither will former Florida Gov. Jeb Bush, and past nominees Mitt Romney and Sen. John McCain.  Sen. Marco Rubio is staying in the Sunshine State to campaign for re-election, but will deliver remarks via video. And don't count on seeing Tim Tebow. Despite early reports he would address the convention, the Heisman winning Gator quarterback denied an appearance.
Why watch: You never know what's going to happen when Trump takes the stage, and the New York Republican had a hand in planning the event. According to POLITICO, the stage will feature a 1,711-square foot video board and 647 moving light fixtures. There's always a chance something wacky can happen — remember back in 2012 when Clint Eastwood talked to an empty chair — or that the Never Trump movement will get their moment in the spotlight. Oh, and don't forget about the balloon drop: Organizers said 125,000 balloons are needed for the balloon drop on the final night.
***Today's SUNBURN is brought to you by Bright House Networks for Business, your trusted provider of industry leading communications and networking services for any size business – from startup to enterprise, and everything in between. We offer a full portfolio of products and services, including Business Phone and cloud-based Hosted Voice, Business Internet at speeds up to 350 Mbps to fiber-based Dedicated Internet Access, several tiers of high-quality HD Video programming, and an array of advanced cloud and managed IT services. Our solutions are customized to fit your business, your budget and your industry. We own, manage and maintain our network, which means we are 100% accountable; and we're locally based, which allows us to be immediately responsive to our customers. Find out why so many businesses in your area trust their communications needs to Bright House Networks. Learn more.***
TWEET OF THE DAY: @AlCardenasFL_DC: There are more Hispanics playing in the finals of the British Open than there are speaking at the RNC Convention
CLEVELAND, A FRACTURED CITY, AN APT PLACE FOR GOP CONVENTION via John Seewer of The Associated Press – Once an industrial powerhouse, Cleveland is one of the poorest and most segregated big cities in America. Two out of five people live below the poverty line, second only to Detroit. Infant mortality rates in its bleakest neighborhoods are worse than in some Third World countries. The city's mostly blighted east side is almost entirely black, the slightly more prosperous west side more mixed. And there's deep distrust between the black community and police, in part because of police shootings such as the killing of 12-year-old Tamir Rice and a U.S. Justice Department report that found a pattern of excessive force and civil rights violations by the department. Yet there are also islands of prosperity, created in part by a wave of college-educated young people moving into downtown neighborhoods, a trend that has reshaped the city's image and helped attract the Republican National Convention … This is the place that in the 1970s — when the city was in default and a quarter of its population was moving out — embraced the slogan "Cleveland: You Gotta Be Tough." Tough is a good way to describe Cleveland's east side, where blacks from the South filled industrial jobs and settled during and after World War II. It's now marked by high crime and abandoned factories. Over half the children live in poverty. In the two years since the GOP awarded the convention, vacant downtown storefronts have been filled with new businesses, and the Public Square underwent a $50 million renovation. Health care and high-tech jobs are drawing young people, stabilizing the city's population at about 388,000 after a peak of over 900,000 in the 1950s. "Cleveland's got a long way to go. I'm not going to sugarcoat it," said Bill Mangano, a white man who bought a downtown apartment after growing up in the city's western suburbs. "We're never going to be New York or Chicago, but we can carve out our own place."
RNC CONVENTION SEATING CHART:
RICK SCOTT GEARING UP FOR GOP CONVENTION SPEECH via Jenna Buzzacco-Foerster of Florida Politics – Scott brushed off questions about whether Trump would be able to secure the nomination next week … "He clearly won the delegates," said Scott … "My goal is that we have a great convention, and we highlight where we're going as a country and a party, and we have a big win and change the direction of this country." Scott is one of dozens of people slated to speak during the Republican National Convention … The Naples Republican praised Trump early in the primary cycle but did not endorse him until after Florida's March 15 primary. Since then, he has been a vocal supporter … "I'm going to talk about why we ought to elect Donald Trump," said Scott. "We need a business person. We need someone who is going to destroy ISIS. We need someone who is going to focus on jobs. And that's what he's going to do."
BREAKFAST WITH ADAM PUTNAM, BRIEFINGS WITH RICHARD CORCORAN HIGHLIGHT FLORIDA DELEGATES' SCHEDULE AT GOP CONVENTION via Florida Politics –  The Republican Party of Florida outlined the schedule for state delegates in a 17-page packet this week. The packets, sent to the 99 delegates and 96 alternates heading to the 2016 Republican National Convention in Cleveland, are meant to give Florida Republicans a rundown of the delegation's events, as well as answer questions dealing with lodging, transportation and fees. House Speaker-designate Richard Corcoran, one of the 15 at-large delegates chosen by the RPOF, will play a big role in the festivities … hosting one of the first events of the week — a breakfast buffet and speaker series with pollster Frank Luntz July 18. Corcoran is the hosting a similar breakfast July 20 and July 21 … On July 19, the delegation is invited to attend Adam Putnam's Florida Grown Breakfast. That breakfast — much like the ones hosted by Corcoran — will be held at Embassy Suites where the delegation will be staying. The delegation will receive a tour of the Rock and Roll Hall of Fame July 18. According to the packet, "private access to the Hall will include cocktails, appetizers, and access to the newest exhibit 'Louder than Words: Rock, Power and Politics.'" On July 19, the members of the delegation are invited to celebrate with other southern state delegations … That same evening, the delegation has a post-session reception planned with the Arizona delegation at Nano Brew Cleveland. That event includes 16 local craft brews, including a GOP Pilsner and live band. Florida delegates are invited to participate in a pre-session rally July 21, the final day of the convention, at FWD Day + Nightclub, a pool club located on the river in the Flats East Bank in Cleveland.
FLORIDA DELEGATION, FROM ALL WALKS OF LIFE, UNITE IN CLEVELAND FOR RNC via Allison Nielsen of the Sunshine State News – Nearly 100 of them will be Florida's voice in selecting the GOP presidential candidate in Cleveland next week, each contributing his or her own story and narrative to the delegation. Some delegates are young, others not so. For many, this will be their first Republican National convention, but several have been-there-done-this before, a few lots of times, in fact. Some are state lawmakers, some lobbyists. Others are local volunteers who became involved in politics as a way to get involved in their community. Seventy-five-year-old Donald Pickard, oldest Florida delegate … been active in his community over the years, but not necessarily politically. "I'm not really politically minded myself, but sometimes you gotta do what you gotta do," said Pickard, who was elected Martin County Republican Party chair in 2014. Forty-five years separate Pickard from the youngest delegate, 30-year-old Jessica Fernandez. "There are a lot of personalities who are going to be there," she told SSN. "It's going to be really exciting to be in that environment. It's a Republican 'kumbaya' moment."
— "Once for others, Florida delegates unify behind Trump" via The USA Today
— "Floridians to watch at GOP convention" via Zac Anderson of the Herald-Tribune
— "Handful of delegates felt snubbed by Trump ahead of Miami trip" via Patricia Mazzei of the Miami Herald
— "Jose Oliva skipping GOP convention to deal with cigar business sale" via Patricia Mazzei of the Miami Herald
— "South Florida Republicans preach unity as they prepare to help nominate Donald Trump for president" via Anthony Man and Olivia Dimmer of the South Florida Sun Sentinel
TWEET, TWEET: @JoeGruters: Headed to Cleveland and on plane with some heavy hitters including @DrMacManus @richardcorcoran, @ChrisSprowls @ChrisMZiegler
TWEET, TWEET: @Fineout: @FrankLuntz – scheduled to be at Florida GOP breakfast – tells @RealTimers that if election were held today @HillaryClinton would win
CLEVELAND STRIP CLUBS PUMPED FOR TRUMP BUT BRACE FOR VIOLENT PROTESTS via Asawin Suebsaeng of the Daily Beast – The top strip clubs in Cleveland … are all preparing for the inevitable influx of horny, cash-flinging Republican out-of-towners who will drop by during next week's GOP convention. The city's gentlemen's clubs are also gearing up for potentially violent protests, as the four-day convention is expected to attract droves of anti-Trump demonstrators and even some neo-Nazi street fighters. It's no wonder why the strip-club proprietors are excited. A huge gathering of drunk, lustful Republicans — much like drunk, lustful Democrats or drunk, lustful registered independents or drunk, lustful Green Party members — is sure to be great for business. "It's all hands on deck—we've canceled all vacations [for convention week], ordered in extra stock of alcohol, food, everything," [said] Jeff Kallam, general manager at the Crazy Horse Cleveland strip club (which insists that "bad decisions make great stories!") … "Republicans love strippers, so we're just hoping to make some money." (Republicans do love such vices as exotic dancers and pornography, at least when they aren't busy trying to create statewide stripper registries.) Some of the city's gentlemen's clubs, including Crazy Horse, have also noticed in the past few weeks a considerable uptick in phone calls inquiring about special accommodations, discount packages, and private rooms that would be available during convention week.
REAGAN/BUSH '84 T-SHIRTS GRAB VOTES AS THE HOT GOP ACCESSORY OF 2016 via Jay Cradlin of the Tampa Bay Times – The hottest Republican accessory of the 2016 presidential campaign? Nope, it isn't the red cap that says "Make America great again." Nor is it the T-shirt that says "Hillary for Prison 2016." The hottest Republican accessory of 2016 is a T-shirt touting … Ronald Reagan and George H.W. Bush. Watch closely at (the) Republican National Convention in Cleveland, and you'll see folks roaming around in "Reagan/Bush '84" T-shirts. You can buy them just about anywhere — Amazon, Etsy, niche retailers like Conservative Outfitters, which lists numerous Reagan/Bush items among its bestsellers, including infant onesies and iPhone covers. Jeb Bush wore one during a campaign event last fall. Even the Republican Party itself sells "official" Reagan/Bush tees on GOP.com starting at $27.
JEB BUSH TRASHES TRUMP ON EVE OF GOP CONVENTION via Theodore Schleifer of CNN – In an op-ed for The Washington Post … Bush acknowledged that Trump had capitalized on legitimate frustrations with American politics. "They have given rise to the success of a candidate who continues to grotesquely manipulate the deeply felt anger of many Americans," Bush wrote, saying the nominee harkened back to an 1850s political party. "Trump's abrasive, Know Nothing-like nativist rhetoric has blocked out sober discourse about how to tackle America's big challenges." Bush's op-ed continues his vehement opposition to Trump … After Bush dropped out following the South Carolina primary, he vowed that he would not vote for Trump and does not plan to attend the Republican National Convention … he offered a backhanded compliment of Trump's decision to choose Mike Pence as his running mate, tweeting, "Mike Pence is a good man. He will add value to the ticket."
A LITTLE LATE, NO? @Resurgent: BREAKING: Tom Coburn is Willing to Challenge Trump for Nomination
GOOD READ FROM A GREAT WRITER — THE EXECUTIVE MR. TRUMP via Michael Kruse of POLITICO – Based on conversations with people who have worked for him, people who still work for him and a half dozen of his biographers, the reality of Trump as an executive – his methods and his manner – bears little resemblance to the man viewers saw on the show. Rather than magisterial and decisive, Trump the actual boss swings wildly between micromanaging meddler and can't-be-bothered, broad-brush, big-picture thinker. He is both impulsive and intuitive, for better and for worse. He hires on gut instinct rather than qualifications; he listens to others, but not as much or as often as he listens to himself.
HOW TRUMP FINALLY SETTLED ON MIKE PENCE via Alex Burns and Maggie Haberman of POLITICO – Trump raged at the leaked reports of his plan to choose Mike Pence, the governor of Indiana, as his running mate. … In a Thursday evening phone call with top aides, he asked for reassurance that Pence was really right for the job. In conversations late into the evening, Trump repeatedly hesitated over selecting Pence, according to people briefed on the tense deliberations, who insisted on anonymity to describe the confidential talks. Even as his emissaries reassured Pence, Trump fielded a last-ditch appeal from Gov. Chris Christie of New Jersey, another finalist, who once again pressed his own case.
TRUMP ABRUPTLY CHANGES HIS NEW LOGO via The Hill – The Trump/Pence campaign unveiled their new logo on Saturday, one day after a logo for the campaign was widely mocked on social media for appearing to be sexually suggestive. The new image, which shows the two candidate's names over the slogan "make America great again," appeared on the campaign's website and in a fundraising email Saturday.
IN FLORIDA, A SLOW START FOR TRUMP OPERATION via Bill Barrow of The Associated Press – "Our office is TEMPORARILY CLOSED to the public, while our office works to prep for the National Convention in Cleveland," reads a notice posted around the lobby. A call to the posted phone number gets an automated message: "Memory is full." This is Trump's Florida headquarters. Just three months before the earliest voting begins in this state that awards 29 electoral votes — more than 10 percent of the 270 necessary to claim the White House — it appears Trump's Florida campaign is not running on all cylinders. In nearby Tampa in contrast, the Florida headquarters for Hillary Clinton buzzes with several dozen 20-somethings — paid campaign employees — manning phones and laptops, surrounded by maps and white boards covered in notes, names and numbers. Soon the Clinton team will move into a bigger space with room for volunteers, too … more than a few Republicans wonder whether Trump will put up an effective campaign in the state. Orange County Republican Chairman Lew Oliver … says he's not "alarmed or terrified" about Trump's prospects. "But I am concerned" … "I'd like there to be some concrete, established offices," said Michael Barnett, GOP chairman in Palm Beach County, a trove of Republican donors and voters. "We usually see that no later than July, and we're in July."
TRUMP PLANS FLORIDA FUNDRAISER AFTER CONVENTION:
HILLARY CLINTON LAUNCHES TV AD ATTACKING TRUMP OVER NUCLEAR WEAPONS via Amy Sherman of the Miami Herald – Clinton has released a new ad suggesting that she would be better trusted with handling nuclear weapons than Donald Trump. The ads are part of an eight-figure, television buy in Virginia, Ohio, Colorado, New Hampshire, Iowa, Florida, Nevada and North Carolina. "An unsteady world will be in one person's hands," says the narrator, and then cuts to a clip of Trump talking about nuclear weapons and Japan. "More countries with more nuclear weapons. Hillary Clinton knows that's the last thing we need. As Secretary of State she negotiated a reduction in nuclear weapons with Russia and worked with both parties to get it passed."
LATEST POLLS
ABC News/Washington Post: Clinton 47%, Trump 43%
CNN: Clinton 42%, Trump 37%, Gary Johnson 13%
NBC News: Clinton 46%, Trump 41%
CLINTON VP TO BE ANNOUNCED IN FLORIDA? Politico's Jake Sherman and Anna Palmer led Saturday's Playbook with this item: "Hillary Clinton's VP pick will be announced next week in an East Coast battleground state. Insiders are saying it will be Friday in Florida."
WORTH THE CLICK — THE ELEPHANT IN THE ROOM FOR FLORIDA REPUBLICANS via Gary Fineout for his blog, The Fine Print — As the Republican National Convention kicks off this coming week the official word is that everything is a-o.k. with Florida Republicans. … et while the delegation will certainly follow the rules and give all 99 Florida votes to Trump a lot of questions remain about the state of the party and the fact that top Republicans in the state are divided into factions.
WITH ALL EYES ON CLEVELAND, MARCO RUBIO STARTS FLORIDA CAMPAIGN via John Kennedy of the Palm Beach Post – Rubio plans to hit nine cities next week, beginning with visits to Fort Myers and West Palm Beach. The road trip even has a name: Rubio's campaign is calling it "The Fight Starts Now Tour." It's Rubio's second campaign go-around this year. He abandoned him presidential bid after badly losing the Florida primary to Donald Trump in March. Details on next week's stops aren't yet available. But the candidate will be mostly hitting North and Central Florida, with the West Palm Beach event the only one planned for Miami-Dade, Broward or Palm Beach counties.
RUBIO ON JEB: RIFT? WHAT RIFT? via Ledyard King of the Gannett Washington Bureau –  If Rubio harbors any ill will towards ush for not endorsing him in Florida's Republican presidential primary four months ago, he's not letting on. "I don't think (non-endorsement) was a factor at the end of the day," he told USA TODAY this week. "And I don't think Jeb thought it would be a factor one way or the other. Donald won the (primary) because he won South Carolina, New Hampshire and Nevada, three of the four early states. And historically, if you do well in those early states, that momentum carries you into future states." Bush has since endorsed Rubio for re-election to the Senate, and Rubio said they might campaign together this year.
As for rumors of a falling-out between him and Bush, Rubio said it never happened. "There are people outside of the candidates who have their own feelings and views and that will continue to be the case moving forward," he said. "I can't control that. I can't tell people what to feel. But as far as Jeb and I are concerned, we've spoken numerous times since the end of the presidential campaign. It's always been friendly and cordial and he was willing to endorse me very quickly after I made my decision to seek re-election."
***A message from Progress Florida Education Institute, educating and empowering Floridians to address the challenges facing Florida, including protecting reproductive rights for all Floridians. Abortion opponents are turning lies into laws to shame, pressure, and punish women. What happens when abortion opponents turn lies into laws? Women's health care gets pushed out of reach. Politicians tell doctors how to practice medicine. Women are blocked from making their own decisions and their rights are being trampled in the process. Abortion is safe and legal. Enough is enough. It's time to support women's health, rights, and dignity. Get the facts.***
SENATE MAJORITY PAC TO HIT AIRWAVES IN FLORIDA WITH FIRST EVER DEMOCRATIC PRIMARY ADS via Sean Sullivan of The Washington Post – Senate Majority PAC, which was founded by former aides to Minority Leader Harry Reid, plans to begin a $1 million television ad campaign next week … I It will air ads on cable and broadcast networks in hopes of helping Rep. Patrick Murphywin the primary. Democrats say they have privately believed they would have to spend money to boost Murphy's name recognition in a populous state where he is largely unknown outside his congressional district. But the investment is perhaps the clearest sign yet that insurgent liberal Rep. Alan Grayson is a threat to Murphy … and, by extension, the Democratic establishment's plans for retaking the Senate. The super PAC declined to describe what the commercials will say or whether they will focus on Murphy or Grayson. If Hillary Clinton wins the presidency, Democrats need to pick up at least four seats to win back control of the Senate. Florida is seen by the party as a top pick up opportunity. But Republican fortunes there improved dramatically last month when Sen. Marco Rubio announced he would run for re-election, reversing a previous pledge to retire. Recent polls show Rubio leading Murphy. But sometimes groups in both parties decide it is a necessity to wade into primaries. In Indiana, allied organizations spent considerable money on ads to help establishment-backed Rep. Todd Young through his Senate primary earlier this year. Murphy is the preferred choice of the Democratic establishment. President Obama and Vice President Biden support him, as does the Democratic Senatorial Campaign Committee.
RELYING ON SMALL DONORS, ALAN GRAYSON RAISES $1 MILLION IN SENATE PRIMARY via Michael Auslen of the Tampa Bay Times – As in previous quarters, the Grayson campaign touted large numbers of online donors contributing to its total: $850,000 came from online donations with an average of $18.16 per transaction, the campaign said. Grayson's haul is significantly smaller than his main rival in the Democratic Senate primary … Patrick Murphy … [Who] announced last week that he raised $2.4 million in the same time period.
MARY THOMAS CAMPAIGN HAS MOST MONEY IN THE BANK IN CD2 RACE via Matt Dixon of POLITICO Florida – Republican Thomas has the most cash on hand of any of the candidates in the 2nd Congressional District primary, reporting $450,000 in the bank after the most recent fundraising quarter. Overall, she raised $260,000 over the last reporting period and spent roughly $180,000. Panama City physician Neal Dunn raised $287,562 in the most recent quarter, but that number was boosted by a $100,000 personal loan to his campaign. Overall, he has given his campaign $215,000 in loans, and has $313,449 cash on hand after spending $526,497 last quarter. Former U.S. Attorney Ken Sukhia raised $77,131 last quarter, a number boosted by a $45,000 personal loan. Overall, he has $110,398 cash on hand, and has campaign $116,000 in loans.
OFF EMBARGO — SUSANNAH RANDOLPH RAISES $170K IN Q2 — Randolph, a Democrat, outraised her opponents in the race for Florida's 9th Congressional District, raising $170,000 in the second quarter. Her second quarter haul was aided by 3,352 individual contributors, with an average donation of $48 per person. "Our grassroots campaign is funded by real people — not big corporations and special interests," she said. "Central Floridians want a member of Congress who will stand up to corporate interests — not cater to them. I spent my career standing up to powerful corporations and special interests, and that's exactly what I will continue to do when I am elected to Congress." Randolph ended the fundraising cycle with $366,500 cash on hand.
MEET CHRISTINE QUINN, THE WOMAN WHO WANTS TO TAKE KATHY CASTOR'S JOB IN CONGRESS via Mitch Perry of Florida Politics – When conservatives claim the Democratic Party is anti-small business, they have no one better to champion that claim than Quinn, the Republican businesswoman running against Castor in Florida's 14th Congressional District this November. The Southern California native created My Family Seasonings in 2005, which began with a prime rib seasoning from her mother's secret family recipe. She then quickly adding seafood, hamburger, poultry, wild game and most recently a meatloaf mix to her company's list of products, and she's flourished ever since. As her business grew, so did the regulations that she says made it harder to conduct business in the Golden State. When some of her business allies began looking at Texas or Arizona as possible locations that would provide a better business environment, Quinn immediately began considering Florida, since Lakeland-based Publix Markets had become her biggest client. Other measures, like the state's elimination of the sales tax that manufacturers pay when purchasing equipment in Florida, made the Sunshine State even more attractive to her. In January she said she started to think about a run for Congress, emboldened by the Florida Supreme Court's redistricting efforts last summer that made Castor's 14th Congressional District in Hillsborough County (sans Pinellas) more formidable for a Republican. Most political analysts still consider her odds long, however. Regarding Trump, Quinn is a big fan. "That man is the American dream," she says triumphantly. On the Affordable Care Act, Quinn says she lost her insurance "because I didn't qualify for the ACA. That's not fair." Quinn also doesn't buy the notion that the U.S. never found weapons of mass destruction upon invading Iraq. "We didn't get in fast enough," she says regarding the invasion and the search for WMD, which began in March 2003. "Could they have moved them? We're they really not there? How do we know? Maybe they really we're there. I have a hard time believing that they weren't there."
CHARLIE CRIST HAS CASH EDGE IN CD 13 via Charlie Frago of the Tampa Bay Times – Crist raised $216,943 from the beginning of April until the end of June. Jolly, who switched from running for a U.S. Senate seat to the House race, raised $184,840, according to FEC records. As for totals, Jolly leads with $1,489,148 to Crist's $996,357. As for available cash after expenses or "cash on hand," Crist has an edge. He has $670,689 to Jolly's $409,101.
RICK SCOTT: 'I WILL BE PROUD TO HAVE FRANCIS ROONEY AS MY CONGRESSMAN' via Jenna Buzzacco-Foerster of Florida Politics – … saying the Naples Republican would stand up for Southwest Floridians' in Congress. The endorsement marks the first time Scott has endorsed in a primary. He was considered an outsider when he first ran in 2010, and much of the Republican establishment backed his Republican opponent. Scott went on to win the primary, and has shied away from picking a candidate in primary races because of his experience. "He's a business person, he's not a career politician," said Scott. "He will show up in D.C., and he'll represent each of us. He's going to make sure we grow jobs in this community, in this district, in the state and in the country." Rooney said the two men have been friendly for years. They live just a few minutes away from one another, and their families have become friends. Rooney and his wife, Kathleen, were selected to chair Scott's inaugural committee in 2010.
TRUMP FACTOR CREATES ODD RELATIONSHIP BETWEEN CARLOS CURBELO AND A BIG DONOR via Matt Dixon of POLITICO Florida – Among the odd bedfellows in the wake of Trump's establishment-upending victory in the Republican presidential primary, consider Miami Republican Curbelo and one of his biggest donors, Francis Rooney … a prominent bundler for both [George W.] Bush and 2012 GOP presidential candidate Mitt Romney … it may come as no surprise that Rooney this cycle has given more than $20,000 to Curbelo, a moderate South Florida Republican in a tough re-election fight … But since rolling Out his campaign in the 19th Congressional District last month, Rooney has presented himself as anything but an establishment Republican, and has campaigned supporting issues that Curbelo has vocally opposed … The public positions Rooney has taken are in stark contrast to Curbelo, who is on the forefront of the "Never Trump" movement. He has hammered Trump's immigration proposals, and has said he won't vote for the real estate mogul. When asked if Curbelo was concerned that one of his biggest donors is now advocating positions he actively opposes, campaign adviser David Johnson said donors are focused on Curbelo's resume. "Carlos' supporters are endorsing his work and his agenda," he said. "Carlos has been direct about the presidential campaign, and he is going to continue to focus on being a good representative for his district."
ANNETTE TADDEO HAS BEST FUNDRAISING QUARTER YET, DESPITE STAFF SHAKEUP via Patricia Mazzei of the Miami Herald – Taddeo posted her biggest congressional campaign haul yet, raising nearly $303,000 through the end of June, despite shaking up her staff in the middle of the quarter. That total brings her cash on hand to nearly $622,000. She's got a tough primary against former Rep. Joe Garcia. In May, Taddeo dismissed her campaign manager, finance director and communications director, in part due to pressure from national Democrats keenly interested in winning the seat who feared the campaign was spending too much, too quickly.
DOUG BROXSON OUTRAISING MIKE HILL IN SD 1 via Rick Outzen – Broxson has raised more than twice the amount of campaign contributions of his GOP opponent, Rep. Mike Hill. According to the Florida Division of Elections, Broxson's contributions total $282,000, while Hill raised only $111,000. Broxson has already put those funds to use, spending $195,000 through July 8. Hill has spent $73,000, according to the report.
JOEY REDNER WILL BACK ALLY DANA YOUNG OVER OWN DAD IN SENATE RACE via William March of the Tampa Bay Times – No-party candidate Joe Redner's son and daughter-in-law, Joey and Jennifer Redner, have each given the maximum $1,000 contribution to Young's campaign. They made the contributions way before Joe Sr. got in the race. Joey runs Cigar City Brewery and Young is a longtime champion of the craft brewing industry. So will the younger Redners now come around and support dad? Well, no. "When the industry was just starting, she was one of the few politicians that would even meet with us and listen to us," Joey Redner said. "I support my dad as my dad and I love him, but I think Dana is pretty effective. I don't agree with all her politics, but I also don't agree with all my dad's politics, either." Joe the Elder can't complain too much. His share of the profits from the sale of Joey's phenomenally successful brewery are enabling him to partly self-fund his campaign.
FIRST IN SUNBURN – A BETTER FLORIDA FUND CALLS OUT MATT HUDSON FOR TEAMING UP WITH CRIST 'TO RAISE OUR TAXES' via Jenna Buzzacco-Foerster of Florida Politics – [The] radio advertisement this week playing off Hudson's baseball-themed political committee — "Making the Right Call for Florida." The 60-second spot … ties Hudson to Crist, the former Republican governor who is now a Democrat. "Hudson teamed up with Charlie Crist to raise our taxes," one announcer says. Another announcer pipes in, saying Hudson supported tax hikes with "increase on foreclosures, car registrations, fishing licenses and the death tax. Hudson voted to make it more expensive to die." "That's just a bad call," says one announcer … The ad goes on to say Hudson "has made a career of hitting for liberals like Charlie Crist." It also calls him the king of corporate welfare for delivering "tens of millions in tax dollars to private companies." "Matt Hudson is out of here," an announcer says, as sounds of the ballpark are heard in the background. "Professional politician Matt Hudson is not conservative, and the team of Obama-Crist-Hudson has no chance," the second announcer says.
JIM WALDMAN NEVER ACTUALLY RECEIVED AN A FROM THE NRA via Allison Graves of PolitiFact Florida – Jim Waldman, a former four-term House member … sees a bad grade from the National Rifle Association as a selling point. But Gary Farmer, his well-funded primary challenger for the newly redrawn District 34 seat, calls it a false advertisement … Farmer's campaign sent out emails and fliers claiming Waldman received an A grade from the NRA. You can see how this might be a problem for a Democrat in a heavily Democratic district like Fort Lauderdale. Waldman says it's not just a problem — it's wrong. He accused Farmer of being the liar, holding up his D from the NRA in 2010 and his voting record on gun legislation in the Florida House. "Unfortunately, a political committee led by Gary Farmer is spreading lies about my record on guns," Waldman wrote in an email to his campaign subscribers. "They're spending tens of thousands of dollars mailing a FALSE claim to voters that I received an 'A' from the NRA." We never got a clear explanation as to why the grade was posted incorrectly in the first place. Waldman said Farmer's claim that he "received an A from the NRA" is "an absolute lie." Marion Hammer, the former president of the NRA and the executive director of the Unified Sportsmen of Florida, said Waldman never received an A from the NRA. Hammer said the NRA noticed the 2010 grade was listed as an A sometime this year, and changed it back to a D. Screenshots show the grade for Waldman was once listed as an A, but spokespersons for the NRA said that information was wrongly listed (and they don't know why). The NRA made it clear that Waldman would never would receive an A, has only received a D or F in previous races, and did not change the grade for his benefit. Waldman's claim is accurate. So we rate this claim True.
IN TALLAHASSEE, ALLISON TANT TALKS CLEVELAND, MIKE PENCE AND PATRICK MURPHY'S A-GAME via Lloyd Dunkelberger of Florida Politics – She, along with Tallahassee Mayor Andrew Gillum, opened a field office for Hillary Clinton's campaign in downtown Tallahassee … What do you think about Rick Scott, Pam Bondi and Tim Tebow on the RNC stage? "It's the folks who are most like Donald Trump. He's going to have the people he thinks will parrot his views the best at his own convention. It doesn't really come as a surprise to me." Recent polls show a very close race in Florida between Clinton and Trump, a concern? "I think it's going to come and go. Florida is a purple state. We are a swing state … polls for that reason are very tight. I think they're going to narrow and enlarge and narrow and enlarge." Comparing the upcoming RNC with the DNC: "I don't think most Floridians are going to be happy with what they see (at the RNC) at least I don't think so. And then we're going to have the Democratic Convention, and we have worked very hard to make sure our Democratic Convention speaks to America and is reflective of the broad communities across America. I expect a bump after the convention. I think this last week was a difficult week, and I think it is going to get better." Trump picking Indiana Gov. Mike Pence as his running mate: "As a woman, I personally find him offensive on what he has done on women's rights in his state as governor. We have a clear track record we could look to, and I find him a curious choice. I'm actually surprised that he took it. But we are looking at what he stood for and what he has done, and we're going to be messaging quite a bit on that."
ENDORSEMENT WATCH
Kathleen Passidomo, running for Senate District 28, has been endorsed by the Fraternal Order of Police.
Ken Keechl, running for House District 93, has gained the support of the National Women's Political Caucus of Florida.
Kimberly Hurley, running for Lee County School Board, has been endorsed by Drew Steele, who has served as the host of of Fox News' "Daybreak" since early 2012.
POLITICAL SHOCKER: MIAMI-DADE COMMISSIONER JUAN ZAPATA DROPS RE-ELECTION BID via Doug Hanks of the Miami Herald – Zapata stunned local politicos by dropping his re-election bid in District 11, leaving challenger Joe Martinez a clear path to retake his former seat on the powerful board. In a letter to the Elections Department … the first-term commissioner and former state lawmaker wrote "the time has now come for me to pursue other endeavors in my life." The exit comes so late that Zapata's name will remain on the Aug. 30 ballot, forcing Miami-Dade's elections department to print a notice for voters that the incumbent is no longer an eligible candidate. "I apologize for any inconvenience this may cause you and the hard working elections staff," Zapata wrote in his letter. The abrupt withdrawal by Zapata, 49, took County Hall insiders by surprise and instantly positioned Martinez as the likely successor to a suburban commission seat he surrendered in 2012 for a failed mayoral bid. A critic of Zapata's push for incorporating West Kendall into its own city and re-branding the area as the "West End," Martinez said he had wrongly been considered the underdog in the contest. "Inside baseball may tell you something," he said of the conventional wisdom that had Zapata winning. "But the people who matter — the people who vote — tell you something different."
***Liberty Partners of Tallahassee, LLC, is a full-service consulting firm located just steps from the Capitol. The firm specializes in the development and implementation of successful advocacy strategies highly personalized for each client. Team Liberty is comprised of professionals with a track record of successful coalition-building, grassroots efforts and team coordination. The combination of a strong commitment to clients and practical government and private sector experience is why Fortune 500 companies and not-for-profits alike choose Liberty Partners of Tallahassee.***
FROM BATHROOMS TO BIRTH CERTIFICATES: NEW FRONT IN BATTLE FOR TRANS RIGHTS via Carol Marbin Miller and Mary Ellen Klas of the Miami Herald – In courthouses across Florida, judges are being asked to decide whether transgender people may change not only the name on their birth certificate, but also their "gender marker," or the box that designates their sex. The requests have become increasingly common, say lawyers who litigate such cases. And they've become increasingly contentious. Under health department policy, Floridians may amend both the name and gender marker on their birth certificate, and, in recent years, petitions to do that have become more common. Gender markers are more difficult to change; the health department requires a notarized affidavit from a doctor stating that the petitioner has undergone surgery to reassign his or her gender, a procedure that generally is not covered by health insurance, and which surgeons are reluctant to perform on minors. There is wide variation in the approach taken by transgender people, Schwartz said, with some people surgically altering their anatomy, and others choosing not to. The health department's rule, which [attorney Elizabeth] Schwartz called "anachronistic," punishes people who retain the sexual organs of the gender they no longer affirm, she said. The health department would not discuss the policy with the Herald Friday, except to say in a statement that "there is no process in place to change the gender on a birth certificate for a minor in the State of Florida that is not a misstatement, error or omission occurring at birth." Such an amendment, spokeswoman Mara Gambineri said, would require "further clarification from the court."
COLUMN OF THE DAY: STATE LAWS ADD TO THE COST OF BEING A WOMAN IN FLORIDA via John Romano of the Tampa Bay Times – Carlee Wendell created For the Love of Women last fall after seeing a Facebook post about tampons being handed out to homeless women. In the course of her research, she made a disconcerting discovery: Feminine hygiene products are subject to sales tax in Florida.
Forty states have been taxing women's products, although a half-dozen are in various stages of repeal. Lawsuits also began popping up after a column in Cosmopolitan magazine shed a greater light on the issue. There's even a chance the law could change in Florida ahead of Wendell's lawsuit. State Sen. Wilton Simpson instructed Senate staff to begin drafting a bill after his office received hundreds of complaints this spring. "When we first started receiving the emails, I think the senator was surprised,'' said Rachel Perrin Rogers, the chief legislative assistant in Simpson's office. "He said, 'I didn't even know they were taxed. That doesn't make any sense.' ''
PITBULL'S 'SEXY BEACHES' VIDEO PROMOTING FLORIDA TOURISM RELEASED via Gray Rohrer of the South Florida Sun Sentinel – The video is part of Pitbull's work for Visit Florida, the state's public-private tourism promotion group. Last September the group announced a deal with Pitbull, whose real name is Armando Christian Perez, to promote Florida's tourism industry on his social media sites, at international concerts and in this new video. The song itself, which includes the line "I want to see sexy beaches, hotels" as part of the chorus, seems tailor-made to promote the tourism industry. It was part of Pitbull's 2014 album Globalization, but the Visit Florida version of the video was released Wednesday. The video also features shots of hotels and beaches from around Florida, as well as Visit Florida's Twitter hashtag #LoveFL prominently placed on a woman's shirt and written in the sand at the end of the video.
— PLAGUE BEAT —
No, a Pitbull video does not belong in the "Plague Beat" section, but earthquakes probably do:
EARTHQUAKE RECORDED OFF DAYTON BEACH via WESH 2 – A magnitude-3.7 earthquake struck Saturday off the coast of Daytona Beach Shores, the U.S. Geological Survey reported. The quake happened at 4 p.m., and was centered about 105 miles off the coast of Daytona Beach, the USGS said.
Algae:
OBAMA ADMINISTRATION DENIES GOV. SCOTT'S BID FOR FEDERAL EMERGENCY DECLARATION OVER ALGAE BLOOM via John Kennedy of the Palm Beach Post – Scott didn't make his case that federal assistance under the Stafford Act is warranted, said Federal Emergency Management Agency Director Craig Fugate in a letter … It's the second time in less than a month that Scott has been turned down in his request for a federal declaration, having lost a similar bid for aid following the massacre at Orlando's Pulse nightclub. In his July 6 request, Scott argued that the federal government is solely responsible for maintaining the Herbert Hoover Dike around Lake Okeechobee and "any damage caused by the unnecessary water releases due to the federal government's lack of appropriate maintenance of the Dike is the federal government's responsibility." Environmentalists and many citizens groups, though, also argue that Scott and the Republican-led Legislature haven't done enough to enforce clean water standards and blunt the impact of the politically powerful agricultural industry on Lake Okeechobee. Even Scott is now promoting efforts to reduce the impact of runoff from septic tanks on fueling the massive algae bloom The bloom now spans roughly 200 square miles — a 500 percent increase from May, when it was measured at 33 square miles.
ASSIGNMENT EDITORS: Sen. Rubio will hold a press conference to talk about Southwest Florida's water issues at 10 a.m. at White Orchid at Oasis, 3027 East Riverside Drive in Fort Myers. He will then hold a hold media availability to discuss the Treasure Coast algae crisis at 4:45 p.m. at Wolf High Technology Center at the Indian River State College Chastain Campus, 2400 S.E. Salerno Road in Stuart. Media must RSVP to [email protected]gov
SOUTH MIAMI MAYOR: 'SUGAR BARONS HAVE BOUGHT' FLORIDA GOVERNMENT via Alex Butler of the Miami Herald – South Miami's City Commission unanimously passed a resolution in support of U.S. Sen. Bill Nelson's calling for the use of eminent domain to obtain the necessary land for Everglades restoration. "It's basic corruption, folks," Mayor Philip Stoddard said. "This is as basic as it gets, where the sugar barons have bought themselves a government." South Miami's resolution, sponsored by Vice Mayor Bob Welsh, originally singled out Florida Crystals Corp., which "repeatedly spurned offers by the state and federal government to purchase their land to create the marshes necessary for removal of polluting nutrients so that the water could be sent south into the Everglades." Welsh's resolution originally stated that "Florida Crystals Corporation's refusal to sell has forced the Army Corps of Engineers to send nutrient-laden water into the St. Lucie and Caloosahatchee Rivers" … the commission amended the resolution to not single out Florida Crystals, but to support Nelson's proposal to "use eminent domain procedures in a taking of agricultural lands and sugar cane production in the Everglades agricultural area … The governor says he's not a scientist, but at least he declared a state of emergency," Welsh said. Stoddard, a Florida International University biology professor, retorted: "Then, unfortunately, his staff tried to divert attention from the real problem, which is phosphorus pollution of the agricultural lands, and they were blaming it on septic tanks in areas where that doesn't drain into those estuaries."
Zika:
ZIKA CAN BE PASSED FROM A WOMAN TO A MAN via Betsy McKay of the Wall Street Journal – It is already known that Zika can be transmitted sexually from a man to a woman. Now, public-health scientists have identified the first case in which a woman passed the virus to a man through sex. A woman in her 20s from New York City who was infected on a trip to an area where Zika is circulating transmitted the virus to a man through unprotected sex the day she returned home, according to a report by scientists at the New York City Department of Health and Mental Hygiene … The woman, who wasn't pregnant, had been feeling poorly and developed Zika symptoms—including a fever, rash and body aches—the day after she returned. Nearly a week later, the man, also in his 20s, came down with symptoms of his own: a fever, followed by a rash, joint pain and conjunctivitis, or an infection in the eye. Both visited the same doctor and tested positive for Zika, according to the report. The man told public-health investigators that he hadn't traveled outside the U.S. in the past year, suggesting the possibility of sexual transmission, as the virus hasn't been found to be circulating through mosquitoes in the continental U.S. Investigators concluded that the virus, either in the woman's vaginal fluids or menstrual blood, was transmitted to the man. It is the first documented case in which a woman has transmitted Zika to a man, a possibility that public-health scientists had suspected, as many sexually transmitted diseases are passed both ways between men and women and same-sex couples. Some recent studies also suggested that the virus can linger in the vagina.
Just freakin' unknown:
MYSTERIOUS SYNDROME IS KILLING SOME FLORIDA MANATEES via the Associated Press – Manatees are again dying from a mysterious syndrome in Florida's Indian River Lagoon. Florida Today and the Orlando Sentinel have reported that at least nine manatees have died since May. The syndrome first appeared in 2012 and is tied to them eating stringy seaweed instead of their usual diet of seagrass, which has been dying off because of microalgae blooms. Researchers are stumped because the majority of manatees that eat the seaweed don't seem to be affected by it. Biologist Martine deWit of the Fish and Wildlife Research Institute said the suspicion is that something about the change in diet makes some manatees susceptible to complications.
FLORIDA ROAD PROJECT HAS 9 LIVES via Jason Garcia of Florida Trend – Each time it seems to die, a road project in Polk County rises again. To the people and companies behind it, the Heartland Parkway made sense. The development of Florida's interior was inevitable, they argued, as more people moved to the state and control of agricultural companies passed on to a new generation of heirs with little interest in cattle or citrus. A highway would create a corridor in which landowners could develop portions of their property more intensely and more rapidly while setting the rest aside in conservation easements. But as the plans for the Heartland Parkway became public, they became politically toxic.
TALLAHASSEE EMBRACES AIRBNB — In a first-in-the-state vote, the Tallahassee City Commission repealed the city's business license tax, making it easier and more profitable for small businesses and entrepreneurs to operate in the Capital City. Mayor Andrew Gillum stated he hoped the move would encourage entrepreneurial residents interested in hosting via Airbnb to start sharing their homes and driving economic growth for the whole city. Since 2015, the number of guest traveling to the Tallahassee area via Airbnb grew more than 260% compared to 2014. The typical host earned approximately $1,900 sharing their space about 16 nights throughout the year. Airbnb is working with Leon County to secure a tax agreement to automatically remit host bed taxes in time to accommodate the influx of students and FSU and FAMU fans this fall.
APPOINTED: Judge Daliah Weiss and Cymonie Rowe to the 15th Judicial Circuit Court. Christopher France to the 7th Judicial Circuit Court. David Ward to the 10th Judicial Circuit Court.
ETHICS PANEL STAFF SAYS HOUSE BILL DRAFTING DIRECTOR CAN LOBBY LAWMAKERS WITHOUT DELAY via Daniel Ducassi of POLITICO Florida – Staff for the Florida Commission on Ethics is recommending the commission conclude that the staff director of the House Bill Drafting Service would not be subject to a ban on lobbying the Legislature for two years if he left his job. Joseph Gillespie, the staff director, asked the commission to advise him on whether he counts as a "legislative employee" for the purposes of the ban. Ethics commission staff say he does not. Under the state law that contains the ban, legislative employees do include staff directors for the Office of the President of the Senate, the Office of the Speaker of the House of Representatives, the Senate and House majority and minority party offices, as well as legislative committees. "Because your particular position as staff director for the House Bill Drafting Service is not among the positions defined as an 'employee,' we conclude that you are not subject to the two-year representation restriction" in Florida law, staff wrote.
NEW LOBBYING REGISTRATIONS
Lisa Aaron: Intel Security Public Sector
Slater Bayliss, Sarah Busk, Al Cardenas, Chris Chaney, Justin Day, Stephen Shiver, The Advocacy Group at Cardenas Partners: Cornerstone on Demand
Jeff Littlejohn, Littlejohn Mann & Associates: WSource Group,
OFFICIALS: FLORIDA MAN SHOOTS AT 'POKEMON GO' PLAYERS OUTSIDE HOUSE via The Associated Press – Authorities say a Florida man fired shots at two late-night "Pokemon Go" players in a car outside his house but no one was injured. Flagler County Sheriff's Office spokesman James Troiano says in a news release that the homeowner awoke to a noise outside about 1:30 a.m. Saturday and saw a car sitting in the road in front of his house. He told authorities he got a handgun and approached the vehicle. Troiano says the two teens in the car sped away and the man fired several shots at them.
HAPPY BIRTHDAY from the weekend to Rep. Larry Ahern's better half Maureen, Florida Politics' Phil Ammann, former state Sen. J.D. Alexander, the City of St. Petersburg's Robert Danielson, Alexis Lambert, Joe McCann, Steve McDuffie, Juan-Carlos Planas, state Rep. Ross Spano, gentlemen Ben Stuart, Allison Tant Richard, state House candidate Jackie Toledo.