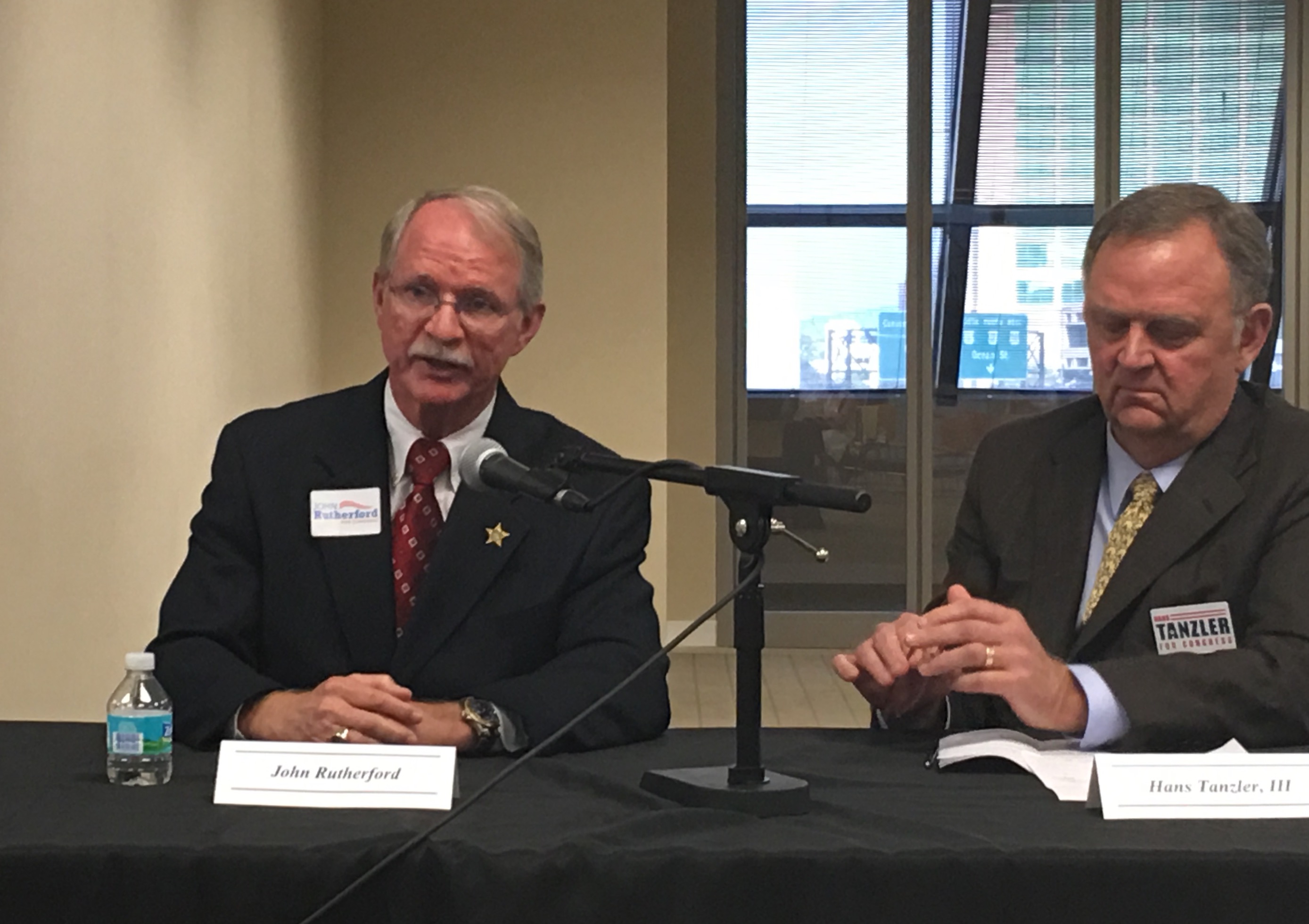 As August begins, the most interesting narrative in the GOP primary race in Florida's 4th Congressional District is the back-and-forth between John Rutherford and Hans Tanzler.
Rutherford and Tanzler have the most robust fundraising and the strongest organizations in the field, and the two Jacksonville Republicans are turning their resources increasingly on each other.
A hint of the increasingly personal conflict surfaced last week at a Jacksonville Bar debate. Tanzler and Rutherford sparred over Rutherford's opposition to the death penalty and the sheriff's office's approach to deporting illegal immigrants when he was in charge.
Beyond the forum circuit, both men have ad buys targeting their main competition for the GOP nomination.
Tanzler's ad targets "liberal John Rutherford," marking the first time those three words have appeared in sequence.
"Liberal John Rutherford grew government spending. Fought for higher taxes. And opposed the NRA. Rutherford also made Jacksonville a sanctuary city for illegal immigrants," claimed the voiceover.
Tanzler's ad is not completely factual, trumpeting an "A" rating from the NRA, when he really got an "AQ" rating, which denotes he gave the NRA the answers it wanted on a questionnaire. [Lake Ray got the NRA endorsement].
Meanwhile, Rutherford has his own spot targeting Tanzler, describing Tanzler as a "political insider" who has given generously to politicians like apostate Republican Charlie Crist. He also suggests a correlation between Tanzler's support of Crist and his securing of the executive director position on the St. Johns River Water Management District board.
Tanzler's team produced evidence that in 2001, when Crist was widely considered a conservative Republican, Rutherford gave Crist $500. Rutherford's supporters fired back, saying there was a meaningful difference between Tanzler's pattern of support for Crist, as late as the 2010 Senate campaign, and Rutherford's donation in 2001.
Meanwhile, Tanzler has pushed back on the Rutherford attack ad, in the considerably lower-budget format of a robocall, which FloridaPolitics.com has obtained.
In the call, Tanzler pushed back on some "nasty personal attacks" from Rutherford, specifically related to Tanzler having "applied to become … chief executive" of the SJRWMD "in a very open, public, and competitive process."
Tanzler chided Rutherford for not signing a "clean campaign pledge," before saying he knows Rutherford is not as conservative as he is.
"I know that John isn't as conservative as I am, but there's no excuse for twisting the truth," Tanzler said, before giving out his phone number.
"If you want to know the real scoop on any false advertising from Rutherford's team, feel free to call me on my cell phone at 904-521-6095."
While there are, indeed, five other candidates in the race, the principal battle as of yet is between Tanzler and Rutherford.
Worth watching: how State Rep. Lake Ray deploys his resources in this race. Will he target Tanzler? Or will he go after Rutherford?
The other four candidates — Ed Malin, Deborah Pueschel, Bill McClure, and Steve Kaufman — lack the resources to go negative in a meaningful way on their opponents, and as a result they will be vying for the populist outsider track in this race.