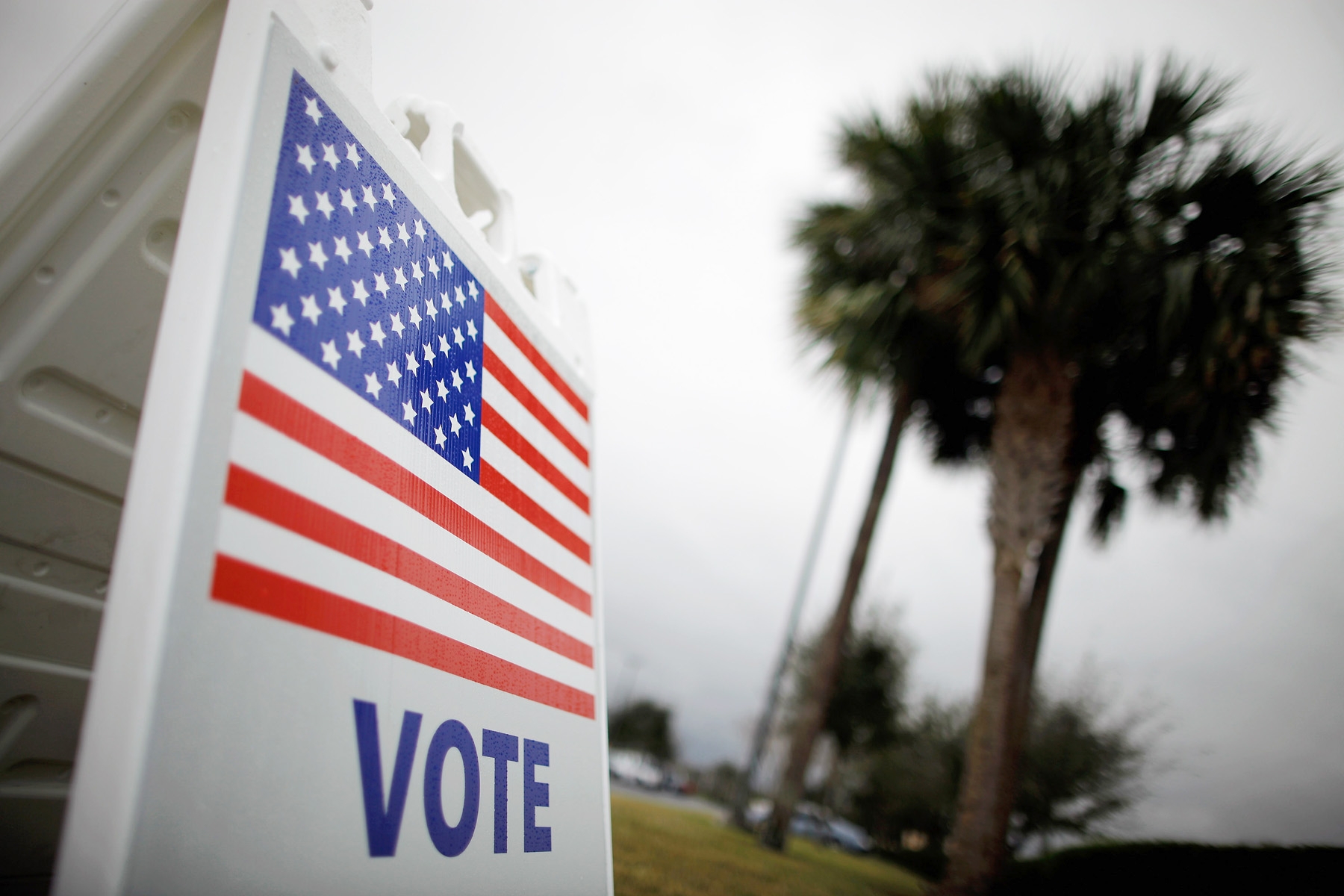 Sunburn – The morning read of what's hot in Florida politics.
By Peter Schorsch, Phil Ammann, Jenna Buzzacco-Foerster, Mitch Perry, and Jim Rosica.
RIO STILL STRUGGLES WITH LITANY OF PROBLEMS THROUGH 1ST WEEK
Rows of empty seats, green water, controlled explosions, stray bullets, the killing of a young policeman in a favela, muggings of team officials, an attack on a media bus, spotty weather, snarled traffic, long travel distances and lack of a Carnival atmosphere.
Halfway through the Olympics, Rio de Janeiro is still struggling with a litany of problems that have underlined the challenges of taking the games away from their traditional territories, and made clear they may not go to untested regions again in the near future.
The athletes and sports competitions have risen to the occasion, the Brazilians have been welcoming and friendly, and TV pictures beamed around the world have featured Rio's beautiful scenery and backdrops at their best.
In many parts of Rio, it's hard to tell the city is hosting the Olympics. Dressing up the venues with the "look-of-the-games" branding — logos, banners and other designs — has fallen short after a Ukrainian supplier failed to deliver.
Overall, though, Olympic officials and veterans say Rio has been beset by so many organizational issues that South America's first games have been more of a disappointment than a delight.
"It has been along the lines of what experienced Olympic observers and organizers would have expected," said Dick Pound, the IOC's longest-serving member, in an interview with The Associated Press. "Then you add the political and corruption issues, and they didn't have a chance to get everything done the way they would have liked to."
IOC vice president John Coates told the BBC: "This has been the most difficult games we have ever encountered."
RYAN LOCHTE AND THREE TEAMMATES ROBBED AT GUNPOINT via Rebecca Ruiz of the New York Times — Four American swimmers, including the six-time gold medalist Lochte, were held up at gunpoint early Sunday morning, according to the United States Olympic Committee. The other United States swimmers robbed, according to a statement from the committee, were Gunnar Bentz, Jack Conger and Jimmy Feigen. "Their taxi was stopped by individuals posing as armed police officers who demanded the athletes' money and other personal belongings," a spokesman for the United States Olympic Committee said. "All four athletes are safe and cooperating with authorities." Lochte told NBC News that one of the men put a cocked gun to his head.

— "Bullies are tormenting Gabrielle Douglas, says mother" via Pritha Sarkas of Reuters
BRAZIL SUPERHACKERS STALK OLYMPIC TOURISTS via Chris Francescani of NBC News — As athletes from around the globe arrived in Rio last week to compete for Olympic gold, Brazil's notorious hacker underground was lurking just out of sight, competing to rip off as many of the hundreds of thousands of sports fans as possible during the games. … NBC News made numerous unsuccessful attempts to contact a dozen individuals identified by Latin American security analysts as known Brazilian hackers. During this time, an NBC News reporter's personal bank account was hacked and more than $1,000 was stolen.
— "Rio officials warn India: Your delegation is pushy and rude" via Annie Gowen of The Washington Post
WORTH THE CLICKS: NEW YORK TIMES INTERACTIVE OLYMPIC COVERAGE — NYT's Olympics online features are a series of interactive articles highlighting a few top U.S. athletes and how they physically perform their feats. The project helps the reader feel as if they are witnessing performances up close, and what made them great. Simone Biles in gymnastics … Derek Drouin in high jump … Ryan Lochte in swimming  … Christian Taylor in triple jump.
BREAKING DOWN TEAM USA'S FIRST 1,000 OLYMPIC GOLD MEDALS:
HOPE SOLO, TOLERATED AND EXCUSED IN VICTORY, EXPOSES HERSELF IN OLYMPIC DEFEAT via Sally Jenkins of The Washington Post — She's a chronically rattled and rattling soul, the American goalkeeper. Let's face it: For every shiny marketing moment and big victory she's been a part of, she's given the U.S. a nasty unwanted drama. The victories usually smoothed over her behavior. Not this time. This time she went pure loser and lout. After giving up the winning penalty kick to Sweden, Solo called her opponents "a bunch of cowards" for their conservative game plan. Now, who is the real coward here? Solo gave up three regulation goals in the past two games, between a draw with Colombia and this loss. She tried to ice Lisa Dahlkvist on the final kick by changing her gloves, and then couldn't lay a hand on the ball. And she couldn't take responsibility for any of it; she could only lash out. "What she did was an act of panic," Sweden's goalie Hedvig Lindahl said later, giving a little of it back to Solo. As social media erupted … over Solo's postgame insult of Sweden, the goalie seemed to realize she'd done herself additional public damage. But even then, her behavior was hardly courageous. Instead of apologizing she went on Twitter with what she framed as "the full context of my comments today," and tweeted to Sports Illustrated's Grant Wahl, "Losing sucks. I'm really bad at it."
MICHAEL PHELPS: HOW SWIMMING LEGEND REGAINED HIS 'IMMORTALITY' via Matt Majendie of CNN — (T)he current legacy is illustrated in a decade-old photograph of a delighted nine-year-old Katie Ledecky with Phelps — the American teenager is proving to be the dominant female swimmer of these Rio 2016 Olympic Games. Similarly it was captured on Friday in Rio as Joseph Schooling, who himself had been inspired by the Phelps phenomenon and was photographed with him as a youngster, stood disbelieving on the top step of the 100-meter butterfly podium above the U.S. star. "We've all seen the photo of Katie and I when she was nine, and the photo of Joe and I," Phelps told reporters after the race. "I wanted to change the sport of swimming. That's what I wanted to do. With the people in the sport now, I think you're seeing it."
— "In tennis, Monica Puig wins Puerto Rico's first Olympic gold ever" via Howard Fendrich of The Associated Press
TIM DUNCAN TURNED DOWN PRES. OBAMA'S INVITATION TO RIO OLYMPICS via Deantae Prince of Sports Illustrated — Duncan's former teammate Bruce Bowen, who is in Rio for the 2016 Olympics with NBA House, told SI.com Duncan had a chance to make the trip as well. Known for his calm demeanor and general shunning of anything flashy, Duncan wasn't too keen on the idea of flying down to Brazil, not even after President Barack Obama offered a personal invitation. In a discussion about Duncan's legacy, Bowen mentioned the Spurs star's unassuming lifestyle, and eventually explained how Duncan turned down the president's offer. "Tim, his legacy is always going to be more of the foundation guy in San Antonio and a guy that wasn't ever concerned with the limelight," Bowen said, "but more importantly concerned with others, making sure that they could really reach the most out of their potential. It's not often you find individuals like that. And it's funny that he was offered an opportunity to fly here with the president of the United States, and he discussed it with me and I'm like, 'You're going, right?' He was like, 'You know I'm not about that stuff.' Even that moment where you'd say, 'I sure would like to be a part of that,' it doesn't happen with Tim because he's not concerned with that stuff." So, in short, not even the president could get Duncan to come out of his shell.
BETTING ON THE OLYMPICS IN VEGAS? YOU MIGHT BE THE ONLY ONE via Eben Novy-Williams of Bloomberg — Las Vegas gamblers, able to wager on the Summer Games for the first time in 16 years, have largely stayed away from the events in Rio de Janeiro. Outside of a few big bets on basketball and soccer, sports book operators say the total Olympics handle has been underwhelming. "We probably have taken about as much in Olympic wagers as we would on a big baseball game, regular season," Mirage bookmaker Jay Rood said in an email. (That's not very much: Baseball is less popular with bettors than football or basketball.) The sports book is "getting action on the basketball and that's about it." Vegas sports books haven't taken Olympics wagers since the 2000 Summer Games in Sydney. Following a push by U.S. Sen. John McCain to ban betting on amateur sports, Nevada casinos compromised: They stopped taking bets on the Olympics, Little League and other little-wagered events but stayed open for college athletics. The Nevada Gaming Commission last year re-opened gambling on the Olympics, approving a proposal brought by a group of the state's casinos. Westgate Las Vegas SuperBook has offered odds on more than 65 Rio events so far, its largest Olympics betting menu ever. The U.S. men's basketball team is the favorite there, too. Those games see action roughly equivalent to a low-end Major League Baseball game, according to Vice President of Race & Sports Book Operations Jay Kornegay. "There was minimal interest decades ago and so far that has held true this year with a couple of exceptions," Kornegay said.
OLYMPIC ATHLETES ARE GORGING THEMSELVES ON FREE MCDONALD'S via Joshua Partlow of the Washington Post — The one constant in the Olympic Village, the collection of high-rise apartment towers where some 10,000 athletes, coaches and staff live during the games, is that there will be a line out the door of the McDonald's. Morning and night, in blazing sun or stiff wind, come stray bullet or whiff of sewage, the Olympians will be waiting for their fries.
***Today's SUNBURN is brought to you by Bright House Networks for Business, your trusted provider of industry leading communications and networking services for any size business – from startup to enterprise, and everything in between. We offer a full portfolio of products and services, including Business Phone and cloud-based Hosted Voice, Business Internet at speeds up to 350 Mbps to fiber-based Dedicated Internet Access, several tiers of high-quality HD Video programming, and an array of advanced cloud and managed IT services. Our solutions are customized to fit your business, your budget and your industry. We own, manage and maintain our network, which means we are 100% accountable; and we're locally based, which allows us to be immediately responsive to our customers. Find out why so many businesses in your area trust their communications needs to Bright House Networks. Learn more.***
DAYS UNTIL ELECTION DAY: 85
FORGET THE OLD BATTLEGROUND MAP — 2016'S IS BRAND-NEW. AND REPUBLICANS AREN'T GOING TO LIKE IT. via Amber Phillips of The Washington Post – A round of polls released this week shows Hillary Clinton leading in swing states, from traditional state prizes to more recent additions, including Florida, Ohio Iowa, Colorado, and recently, Virginia. In some of those polls, she's leading by double digits (by 14 in Colorado and 13 in Virginia, according to new NBC News/Marist College polls). Trump is also down by double digits in Pennsylvania, a state Republicans haven't won since the 1980s, but which has nonetheless been viewed as a perennial pickup possibility. If the election were held today, and Clinton won the swing states where she's currently leading by 10 points or more, along with states that have traditionally voted Democratic and are currently viewed as safe, she would win easily. And so Clinton has started to divert her resources to new terrain … now starting to target Georgia and Arizona, two states that have voted for the Republican candidate for president for the past two decades. (In Arizona, there has been only Democratic win there since Harry Truman: Bill Clinton, when he ran for re-election.) Of course … winning Republican-led states would be icing on the cake for Clinton, who can still win the presidency without them. If the election really is fought in these states, that doesn't necessarily mean it will be won there. It probably means that it's already just about over.
MUST-READ: A MASSIVE NEW STUDY DEBUNKS A WIDESPREAD THEORY FOR DONALD TRUMP'S SUCCESS via Max Ehrenfreund and Jeff Guo of The Washington Post – Economic distress and anxiety across working-class white America have become a widely discussed explanation for the success of Trump. It seems to make sense. Trump's most fervent supporters tend to be white men without college degrees. This same group has suffered economically in our increasingly globalized world, as machines have replaced workers in factories and labor has shifted overseas. Trump has promised to curtail trade and other perceived threats to American workers, including immigrants. Yet a major new analysis from Gallup, based on 87,000 interviews the polling company conducted over the past year, suggests this narrative is not complete. While there does seem to be a relationship between economic anxiety and Trump's appeal, the straightforward connection that many observers have assumed does not appear in the data.
According to this new analysis, those who view Trump favorably have not been disproportionately affected by foreign trade or immigration, compared with people with unfavorable views of the Republican presidential nominee. The results suggest that his supporters, on average, do not have lower incomes than other Americans, nor are they more likely to be unemployed. Yet while Trump's supporters might be comparatively well off themselves, they come from places where their neighbors endure other forms of hardship. In their communities, white residents are dying younger, and it is harder for young people who grow up poor to get ahead. The Gallup analysis is the most comprehensive statistical profile of Trump's supporters so far. Jonathan Rothwell, the economist at Gallup who conducted the analysis, sorted the respondents by their ZIP code and then compared those findings with a host of other data from a variety of sources. After statistically controlling factors such as education, age and gender, Rothwell was able to determine which traits distinguished those who favored Trump from those who did not, even among people who appeared to be similar in other respects.
HILLARY CLINTON'S PRESS PROBLEM via Hadas Gold of POLITICO —As Trump wars with the media, Clinton moves just as slowly to allow reporters full coverage, bucking tradition … First the Clinton press conferences and gaggles became rare. Now, the Trump campaign's foot-dragging in allowing a basic press pool — a group of reporters that share travel duty to cover public events and minimize the logistics burden on the campaign — has given Clinton cover to not institute a protective pool, which would cover the candidate's every move and ride on the campaign plane in the same way the White House press pool does and which typically begins when the candidates becomes the party's official nominee. Jason Miller, senior communications adviser to Trump said in an email that they are "finalizing our plans for a protective press pool and I would expect an announcement on this early next week." But when asked in a follow-up whether banned publications … would be included, Miller did not respond.
TWEET, TWEET: @RealDonaldTrump: It is not "freedom of the press" when newspapers and others are allowed to say and write whatever they want even if it is completely false!
NEW POLL: CLINTON LEADING TRUMP WITH FLORIDA VOTERS via George Bennett of the Palm Beach Post — Clinton holds a 44-to-39 percent lead over Trump in Florida in a new NBC News/Wall Street Journal/Marist poll — one of seven swing states where Marist finds Clinton pulling ahead of Trump this week. … 54 percent of Florida voters have an unfavorable opinion of Clinton while 62 percent have an unfavorable opinion of Trump. Voters approve of the job President Barack Obama is doing by a 49-to-44 percent margin. Florida is essential for Republican hopes of winning the White House. Marist polls released this week also find Clinton leading Trump in the key battlegrounds of Ohio (43-38), Pennsylvania (48-37), Iowa (41-37), North Carolina (48-39), Virginia (46-33) and Colorado (46-32).
Trump so far only has a headquarters in Sarasota, though the campaign plans to open two dozen more offices in the next two or three weeks. Inside Clinton's nearly invisible warehouse office off Anderson Road in Tampa recently, at least two dozen 20-something workers hunched over laptops and spoke on cell phones. Assorted handmade signs hang over the desks designating areas of focus: DATA. COALITIONS. ORGANIZING. TRIPS. DIGITAL. INTERNS. "I'm an organizer and everybody in these offices is an organizer," Marlon Marshall, the Clinton campaign's director of states/political engagement, said in Tampa, having finished up visits to several Florida campaign offices.
TRUMP CAMPAIGN PLANS RAPID FLORIDA EXPANSION via Jonathan Swan of The Hill – Senior Trump campaign officials and the RNC agreed to open 25 Florida field offices and install more than 200 paid staff on the ground in the state by Labor Day … aggressive expansion — coming at a time of trouble for the Trump campaign, which is falling behind Hillary Clinton in both national and key swing state polls — means roughly doubling the current Trump and RNC field staff in Florida over the course of three weeks. A budget goal for Florida was also agreed upon in the RNC meeting … but she would not provide the dollar figure. Asked about the Friday conversation with the Trump campaign, the RNC would not confirm specific figures agreed upon. Should Trump lose Florida — and the recent polls show Clinton holds a slim lead there — his path to the White House is virtually blocked off.
MEANWHILE … DESPITE OUTREACH FROM MIKE PENCE, JEB BUSH REMAINS OPPOSED TO DONALD TRUMP via Alex Leary of the Tampa Bay Times – Pence made a trip to Bush's Biltmore office on July 27 … part of an outreach effort by Trump's running mate, who is well respected in GOP circles. "The governor's position on Trump remains the same, and he will not be voting for him or Hillary Clinton in November," spokeswoman Kristy Campbell tells the Tampa Bay Times. Pence's fence mending has included visits with John McCain and Ted Cruz, among others. Bush praised Trump's selection, writing in July on Twitter: "Mike Pence is a good man. He will add value to the ticket." But Bush's is certain not to budge from his opposition to Trump. Bush's son, George P. Bush, has endorsed Trump.
***Capital City Consulting, LLC is a full-service government and public affairs firm located in Tallahassee, Florida. At Capital City Consulting, our team of professionals specialize in developing unique government relations and public affairs strategies and delivering unrivaled results for our clients before the Florida Legislature and Executive Branch Agencies. Capital City Consulting has the experience, contacts and winning strategies to help our clients stand out in the capital city. Learn more at www.capcityconsult.com.***
UP BY 6 POINTS IN NEW POLL, MARCO RUBIO'S 'KEEP AWAY FROM DONALD TRUMP' PLAN MIGHT BE WORKING via Marc Caputo of POLITICO – Rubio has kept his distance from fellow Republican Trump, and a new poll indicates his strategy might pay off for the U.S. senator in November … Rubio is beating his Democratic rival, U.S. Rep. Patrick Murphy, by 6 percentage points, but Trump is losing his race by 5 percentage points to Clinton, according to a new Marist poll of Florida voters … Trump and Rubio were bitter rivals in the presidential race before the senator was handily defeated in the March 15 primary. They made their peace and have voiced support for one another. However, Rubio has sometimes been at pains to respond to inflammatory comments made by his party's nominee. On Thursday, for instance, Rubio told a Naples Daily News reporter he disagreed with Trump's baseless claim that President Obama was a founder of the terrorist group ISIS … Rubio's 49 percent to 43 percent lead over Murphy is likely attributable to two major factors: the incumbent senator who ran for president is better-known than the two-term congressman and the bilingual Rubio has significant support among Hispanics, who back him by 57 percent to 43 percent in the Marist poll. Overall, the poll shows that Rubio is overperforming Trump by 11 percentage points and Clinton by 5. If Trump remains unpopular in Florida, Democrats are preparing to figuratively tie him to Rubio in their paid media ads, which have been more devoted to raising Murphy's profile.
RUBIO FOCUSES ON VETERANS IN NEW ADVERTISEMENT —  The new ad focuses on the role Rubio played to pass legislation to hold the Veterans Affairs accountable. Rubio pushed to include language in a bill to give the VA secretary power to fire incompetent managers. The legislation was signed in August 2014. "Because of Marco's bill, there may actually be some accountability at the VA," says Myke Landers, a U.S. Army veteran, in the 30-second spot.
CARLOS BERUFF SAYS HE'S WILLING TO SPEND 'WHATEVER IT TAKES' TO GIVE VOTERS AN ALTERNATIVE — In an interview with CNN's Chris Moody, the Manatee County Republican said he was willing to spend "whatever it takes to let voters know they have an alternative" in the U.S. Senate race. The interview was conducted on Beruff's ranch and showed the two men riding four-wheelers. "Since I was 35 years old I was trying to help people that stand for something, and they they get there and they disappoint me. So I said if I do it myself, I won't disappoint myself," said Beruff in the video.  He also said he doesn't think Rubio "represents … Floridians anymore." When asked about comparisons to Trump, Beruff said the two men have "similar backgrounds and … share a lot of the same ideas for this country." A homebuilder, Beruff has put a significant portion of his wealth into his U.S. Senate campaign. He has trailed in the polls since June, when Rubio announced he was running for re-election.
DON'T EXPECT RUBIO, PATRICK MURPHY TO DEBATE CHALLENGERS BEFORE FLORIDA PRIMARIES via Ledyard King of USA Today — Murphy … last week pulled out of a scheduled debate with his chief Democratic rival, Orlando congressman Alan Grayson, based on reports that Grayson's ex-wife had accused him of abusing her while they were married. Murphy said Grayson's "words and actions have disqualified him from public service." Grayson has denied the allegations. His campaign manager said Murphy simply found a convenient excuse and was "exploiting this very personal family struggle for his own political gain." Meanwhile … Carlos Beruff has slammed Rubio as a "debate-ducking coward" for not agreeing to meet him onstage. Beruff even dredged up a public letter Rubio, then a Senate candidate, wrote in 2009 urging front-runner Charlie Crist to debate him. The Rubio campaign's response? Beruff's a desperate hypocrite. A couple of weeks before Rubio announced June 22 that he would run for re-election after all, Beruff, then the front-runner in the GOP field, skipped a forum with other GOP Senate candidates in Boca Raton.
HAPPENING TODAY — MURPHY, BOB BUCKHORN TO MEET WITH TAMPA BAY ENTREPENUERS — Murphy and Tampa Mayor Bob Buckhorn are scheduled to hold an event at 10 a.m. at Tampa Bay WaVE, 500 E. Kennedy Blvd., Suite 300 in Tampa. The nonprofit organization helps entrepreneurs build, launch and grow tech companies in the Tamp Bay area. Media is asked to RSVP to [email protected]
BETTER FLORIDA ALLIANCE RATES U.S. SENATE CANDIDATES ON NATIONAL SECURITY via Scott Powers of Florida Politics — The group gave all A grades to the Republicans, Rubio and Beruff, and low and failing grades, C's, D's and F's, to the Democrats … "The United States faces growing threats around the world, made worse by enhanced military and technological advances of nations and rogue terrorist groups that do not share our views on freedom and personal liberty," Brian Burgess, spokesman for Better Florida Alliance, stated in a news release from the group. "That's why we believe national security must be an extremely high priority for the person we elect to send to the United States Senate." Rubio, of Miami, got A-pluses in everything, as the group hailed his "comprehensive plan to defeat ISIS" in the "Defeat ISIS category; his "call for a strong national defense," in the "Strong Military" category; and his staunch opposition to the Iran deal in the "Protecting Israel" category. Beruff, the Bradenton homebuilder, got an A+ for Protecting Israel, as the group noted his "solid understanding of the treacherous loopholes in the Iran deal," and A grades in positions for a Strong Military and Defeating ISIS. Murphy, of Jupiter, got a C+ for Strong Military, a grade that might have been better had it not been for his "discussion on climate change being as much of a threat as ISIS," according to the group. He got a D for Protecting Israel and an F for Defeating ISIS. Grayson, of Orlando, got a D for Protecting Israel, a grade that might have been better, but the group noted that "Grayson, who is Jewish, makes no mention of Israel sovereignty on his website." He got a D+ for Strong Military, with his support for veterans being cited as a strength; and an F for Defeating ISIS.
***PRIDE Enterprises reduces the cost of state government by offering low cost, quality goods and service to state agencies, providing inmate supervision during work hours and reducing recidivism rates.  PRIDE stimulates the state economy through the purchase of raw materials and supplies from local vendors and the employment of 250 Florida residents. Visit www.pride-enterprises.org to learn the benefits PRIDE of its industry and mission programs.***
VOTE-BY-MAIL BALLOTS SOAR OVER 500,000 FOR AUGUST PRIMARY via Allison Nielsen of Sunshine State News — Around 535,000 vote-by-mail ballots have officially been returned to the state, with over 257,000 of those ballots coming from Republicans. Another 205,000 ballots came from Democrats while 61,000 No Party Affiliation voters cast their primary ballots. Historically speaking, Republicans tend to return more vote-by-mail ballots, while Democrats tend to turn out in higher rates for early voting. Floridians requesting the ballots have had a little over two weeks to fill them out, since election supervisors began mailing ballots July 26.
STATE POSTS 'BOOK CLOSING' INFO FOR AUGUST PRIMARY via Jim Rosica of Florida Politics – Florida's registered Democrats now outnumber Republicans by nearly 4.7 million to 4.4 million for the Aug. 30 primary election. The state's Division of Elections released "book closing reports" … which "provide statistical information on active registered voters who are eligible to vote in the election as of the book closing date," Aug. 1. Those reports also show the count of white voters at a little more than 8 million, with 1.65 million black voters and 1.9 million Hispanic voters. The book-closing deadline was the final day for registered voters to switch their party affiliation for the primary. Florida is a closed primary state, meaning only voters registered to a particular party can vote for that party's candidates. The exception is if there are no other challengers belonging to another party in a particular race, then all voters may cast a ballot. The reports also show 2.9 million voters are now registered as being affiliated with no party.
TWEET, TWEET: @ElectionSmith: Of the 5.2m new FL reg voters since Jan 1 2008, >1m Hispanic. 40.5% Ds, 41% NPAs, 17% GOP
BOB POE FOCUSES ON GUN CONTROL IN LATEST CD 10 AD — The Orlando Democrat has made reducing gun violence a key point of his congressional campaign, previously calling on Congress to expand universal background checks and pass legislation to prevent suspected terrorists on watch lists from acquiring firearms. "In too many parts of our community, people wake to gunfire every night, but nobody seems to care. That ends now. … It's time for Congress to get real. Real gun control. Guns off our streets. Because the fight to save lives starts here," says Poe in the new advertisement. The advertisement marks the fourth in Poe's $1 million ad buy, and will run on broadcast and cable in the Orlando market. Poe is running in Florida's 10th Congressional District.
FIRST IN SUNBURN – ADAM PUTNAM ENDORSES DAVID JOLLY IN CD 13 via Florida Politics — Agriculture Commissioner Putnam is throwing his support behind Rep. Jolly. "David Jolly has a proven record of putting people before politics and his community's interests before Washington's," said Putnam in a statement. "David has demonstrated he has the capability to break through the dysfunction in Washington. He is without a doubt the right man for the job." Jolly faces Mark Bircher in the Aug. 30 primary. The race marks the second time Bircher and Jolly have faced off in a Republican primary. "It's an honor to have Commissioner Putnam's support," said Jolly in a statement. "He's one of Florida's greatest leaders, committed always to economic growth and individual liberty — a free market constitutionalist whose support is a true honor."
'CONSTITUTIONAL CONSERVATIVES' PAC AIRS AD AGAINST CHAUNCEY GOSS, DAN BONGINO via Betty Parker of the News-Press.com — TV ads attacking congressional candidates Goss and Bongino, which presumably helps the third GOP primary candidate, Francis Rooney, are expected to start this weekend, courtesy of a group called "Constitutional Conservatives." Bongino and Goss dispute the ads' claims, and said the late-coming attacks are signs of "desperation" by Rooney backers who see polls showing Rooney — who's outspent his opponents almost 12-1 — in a virtual tie with Goss two weeks out from the Aug. 30 primary. Exactly who's behind the ads is harder to see. The required disclaimers on the ads themselves give varying versions of the group's name — which led Goss and Bongino to question the legality and legitimacy of the group — but required FEC paperwork about the ads' broadcast says "Constitutional Conservatives," which is also given in the ads. A group with that name organized in June with a Virginia address, about the same time a same-name Twitter account listing Fort Myers as its base was set up and has since promoted Rooney's candidacy. A website mentioned by the ads gives the name "Constitutional Conservatives" but no details other than a form to request more information or donate money. A Rooney campaign representative said he does not know anything about the group; laws involving such groups say they should operate independently of the candidate. Bongino said the group is a "sham" PAC and deliberately designed to hurt Rooney's opponents while hiding the people behind it. Goss said claims about him raising taxes are false. The only office he's held has been as a Sanibel City Councilman for about a year, and during that time he never voted for a tax increase, he said.
ON TV DEBATE, TIM CANOVA AND DEBBIE WASSERMAN SCHULTZ CLASH OVER MIDDLE EAST via Amy Sherman of the Miami Herald — Wasserman Schultz and challenger Canova clashed over Israel policy … with the incumbent accusing her rival of advocating for Israel to disarm itself. Canova fired back that he wants other countries in the Middle East — not Israel — to disarm. "I will say categorically right here that I was not referring to Israel," he said. "I am a strong defender of the state of Israel." Israel and the Middle East are hot topics in the heavily Jewish Broward/Miami-Dade district. This was their first debate after several months of arguing about whether they would hold a debate at all. When Canova and Wasserman Schultz argued about Israel, CBS4 debate moderator Jim DeFede read out loud Canova's statement on his website page about Israel and the Middle East: "The U.S. must do everything in its power to reverse the militarization of the region, including full diplomatic efforts to negotiate a general disarmament for the entire region that includes nuclear, missile, and conventional arms reductions." Canova shot back he wasn't referring to disarming Israel. "I support disarmament in that region," he said. "I actually never singled out Israel whatsoever." Wasserman Schultz interjected: "Israel is the Middle East last time I checked," and chuckled sarcastically. Canova said he was referring to disarming Saudi Arabia and Iran, not Israel. After the debate, when asked why his website didn't make it clear that he was referring to disarming countries other than Israel, Canova said that was an "oversight."
THE PERKS OF INCUMBENCY: MIAMI LAWMAKER'S OFFICE SENDS 10-PAGE ZIKA MAILER WEEKS BEFORE ELECTION via Alex Daugherty of the Miami Herald — Ileana Ros-Lehtinen … wants her constituents to know she's done everything in her power to pass a Zika funding bill. On Aug. 4, Ros-Lehtinen sent a 10-page letter on congressional letterhead to constituents highlighting votes on four Zika funding bills and 12 congressional actions regarding Zika. "With the virus at our doorstep, it is now well past time for the administration and Congress to put aside partisan fights and pass a full fundraising bill dedicated to eradicating the Zika threat," the mailer says. Members of Congress may send free mail to constituents through a process called franking. It's intended to be an informational tool — and members that are running for re-election cannot send mass mailers of 500 pieces or more within 90 days of Election Day. Ros-Lehtinen has two primary challengers on the Aug. 30 ballot, so she was barred from sending mass mailers beginning on June 1. But members of Congress can send mailers that fall below the 500-piece threshold. "It's one of those 499 mailers," Ros-Lehtinen communications director Keith Fernandez said, referring to a mailer that falls just under the legal limit before an election. "I don't know who the mailer was intended to target, but some people called our office for information and some stuff was sent out." Mailers that fall under the 500-piece limit are not subject to congressional advisory opinions — or to disclosure that they are funded with taxpayer dollars.
CALL TO ARMS: IN A TENSE FLORIDA ELECTION, PASSIONS OVER GUNS INTENSIFY via Steve Bousquet of the Tampa Bay Times — The more Democrats talk about the need to close gun loopholes, the more Republicans talk about the need to protect the Second Amendment, and the gulf between the two seems wider than ever. Many Republican candidates aggressively promote their allegiance to the Second Amendment and the NRA in TV ads, social media and heavy-stock mailers that remain a staple of campaigning. They promise that if elected, they will fight every effort to impose new gun restrictions on Floridians. At the same time, Democratic candidates aim the exact opposite message to voters: The NRA has too much power and Florida's lax gun laws invite terrorist attacks like the one at Pulse nightclub in Orlando in which 49 patrons, many of them young, gay and Hispanic, were slaughtered June 12 by an ISIS sympathizer armed with a high-capacity assault rifle. In Tallahassee, both sides' stands on guns now seem more deeply entrenched than ever, and with Republicans likely to maintain their strong majority in the Capitol, compromise seems even less likely in the 2017 session and beyond. Many Democratic candidates refused to complete the NRA's five-page candidate questionnaire, touting it as a badge of honor. The political fight over guns will intensify next month as the general election phase of the campaign begins and pits Republicans and Democrats against each other, echoing arguments used by Trump and Clinton. In the meantime, applications for new concealed weapons permits in Florida are skyrocketing, according to the Florida Department of Law Enforcement. They are up 44,000 in the past three months over the same time period last year and up 200,000 from the year before, in addition to the 1.6 million residents with concealed weapons permits. For the NRA, the 2016 session produced a string of disappointments, including the failure of open carry and campus carry bills and changes to the "stand your ground" law.
RECORD 7 LGBT CANDIDATES RUNNING FOR SEATS IN LEGISLATURE via Dan Sweeney of the South Florida Sun Sentinel — Florida has only one openly gay state legislator, but a record seven LGBT candidates are on the ballot trying to change that. All the candidates are in winnable races. They say the LGBT community needs greater representation because the Legislature's conservative outlook on gay rights has not kept up with the swiftly liberalizing views of Floridians. Four of the candidates running are from South Florida, including incumbent state Rep. David Richardson. He has a Republican opponent in November, but the district is largely Democratic. He believes the relatively large group of LGBT candidates is an indication of things to come. The other South Floridians are: Paulette Armstead and Ken Keechl, both running in Broward, and Michael Góngora, running in Miami-Dade. They are joined statewide by Carlos Guillermo Smith and Beth Tuura, both running in the Orlando area, and Jennifer Webb, running in a west coast district that includes parts of St. Petersburg. While all seven of the candidates are Democrats, and the Democratic Party generally pushes for expansion of gay rights, they say it makes a difference to have members of their community in the Legislature. "The more gays and lesbians that are involved on the floor of the House, the more the other side is going to see that we're not different than anybody else," Keechl said. "It's a very toxic environment to begin with, and we're only there for two or three months, but I'm hopeful that it can make a difference." Richardson agrees.
TCPALM 'REPORT' ON JOE NEGRON'S FUNDRAISING IS A NAÏVE, LAUGHABLE LOOK AT FLORIDA POLITICS via Florida Politics — Investigative reporter George Andreassi paints by the numbers with his exaggerations of the fundraising circuit; use of well-regarded, but stale academics for authoritative-sounding quotes; and the rattling off of eye-popping dollar figures which, when put in the appropriate context, aren't that eye-popping. Andreassi leads off with a sentence that sounds like it should be read by the narrator of those "Honest Trailers" videos … In Andreassi's world, it's cause to tar-and-feather Negron. Anyway, it's pretty much downhill from there for Andreassi's reporting. The story is naive because Andreassi clearly does not understand Florida's campaign finance system. He doesn't understand the expenses listed on Negron's campaign finance reports are for events involving multiple lawmakers. He doesn't seem to understand how the legislative reimbursement system works. Instead he pummels the reader with a statistic about Negron being reimbursed by the Legislature for $38,837 for mileage, meals and lodging, as if being reimbursed for expenses related to being a duly-elected legislator is grand theft. He doesn't seem to understand the restrictions on political committees, like them not being able to obtain a credit card. This requires individuals to charge large expenses to their personal credit card they then expect to be reimbursed for in a timely fashion. The bottom line is Andreassi doesn't appear to understand a lot. He's just looking for a bogeyman and using otherwise benign reimbursement forms to find him. Worst of all, this story is laughable because of the lengths Andreassi goes to make it sound like "there's gambling going on in here." Going beyond this individual story, Andreassi, as well as his colleague Isadora Rangel, consistently dog Negron even though he is focused on hometown priorities, even going up against large special interests. A perfect example of this are water issues and algae blooms, with which Negron has constantly stood up against Big Sugar. For goodness' sakes, the guy just called for a reservoir to be built south of Lake O. For this, the TCPalm has responded with this story, which is simply gotcha journalism without the gotcha.
DANA YOUNG TOUTS 'GOOD SAMARITAN' LAW IN NEW SD 18 CAMPAIGN AD — The new advertisement focuses on legislation passed during the 2016 legislative session. The law, called the Good Samaritan Act, was sponsored by Young, and provides legal and financial immunity to people who break into a vehicle to try to save a life, as long as they report it to the authorities and remain on the scene until they arrive. "In Florida, it used to be that if a child, a senior or one of our four-legged friends was trapped in a hot car, you and I weren't allowed to save them, unless we were willing to be sued. Has government lost its mind? So I fixed the law, to make sure we're all empowered to rescue those who can't rescue themselves. That's the least we can do, after all the love they give," she says in the ad.
ROBERT WEXLER DISAGREES WITH 10-YEAR-OLD QUOTE IN JEFF CLEMENS ATTACK ON IRV SLOSBERG via George Bennett of the Palm Beach Post – Wexler, who a decade ago called Democratic state Rep. Slosberg an "agent of the Republican Party," now says Slosberg is a loyal Democrat. Wexler's 2006 quote, issued in the heat of an epic Democratic state Senate primary between Slosberg and eventual U.S. Rep. Ted Deutch, is featured prominently in a TV ad and mailers by state Sen. Jeff Clemens, who is facing Slosberg in an Aug. 30 Democratic primary in Senate District 31. The TV ad and some of Clemens' mailers print Wexler's quote with the date "4/15/06" after it, so eagle-eyed viewers can see it's a 10-year-old statement. But at least one mailer by the pro-Clemens committee "Each Vote Counts" wrongly lists the date of Wexler's quote as "4/15/16" and another of the committee's mailers quotes Wexler with no date. "The problem with what Clemens is doing is it's creating a false impression. He's using a set of quotes from over a decade ago in a totally different context and he's creating a totally false representation to the voters," Wexler said … "Irv's done a very credible, excellent job as a representative and he certainly has been a loyal Democrat," said Wexler, who said he isn't endorsing a candidate in the race. Wexler, who initially said Clemens should stop using his quote, said today that using his 10-year-old words is OK, but "it should be corrected and make sure everyone understands that these are not current comments…Democrats have two good choices and suggesting that either is not a strong Democrat would seem to be an exaggeration."
JASON PIZZO LAUNCHES HIS SECOND TV AD IN SD 38 RACE — The campaign released its second advertisement, focusing on the strong community support Pizzo has received in Senate District 38. The 30-second spot, called "Trusted," features residents talking about the Miami-Dade Democrat. "Jason Pizzo has ethics and integrity. He's a strong voice for justice and a strong community," says Aventura Mayor Enid Weisman in the commercial. The advertisement is set to air on cable and targeted broadcast stations. "I am proud to have the support from a diverse group of elected and community leaders, organizations and residents who believe it's time for Tallahassee to be more responsive to the people," said Pizzo in a statement.
MIAMI BEACH MAYOR ENDORSES JASON PIZZO OVER FORMER RIVAL via Alex Daugherty of the Miami Herald – Jason Pizzo has continued to pour money into his state Senate bid, and now he's getting the endorsement of another well-heeled politician: Miami Beach Mayor Philip Levine. "Join me in voting for Democrat Jason Pizzo for State Senate," Levine said in a statement … from the Pizzo campaign. Pizzo is one of two candidates in the six-way Democratic primary in District 38 based on the beach side of the district, along with former Miami Beach commissioner Michael Góngora. Góngora would be unlikely to seek an endorsement from Levine after their bitter mayoral campaign in 2013. Levine won the 2013 race with 50.49 percent of the vote after a recount.
WENDA LEWIS CAMPAIGN SAYS PULL TV AD; CHUCK CLEMONS STANDS BY ALLEGATION via Christopher Curry of the Gainesville Sun — In the Florida House District 21 Republican primary, Lewis' campaign has sent Clemons' campaign a cease and desist letter over a television ad that targets Lewis for a "record of deceit and cover-ups." Clemons says he stands by the ad and has no intention of pulling it from the airwaves. The dispute is over a portion of the ad that focuses on a 2012 Florida Department of Environmental Protection investigation into Lewis' companies Lewis Oil and Petroleum Aids. In the ad, an ominous voice reads, "In 2012, DEP investigates Lewis after her company's truck explodes. DEP found Lewis altered records about the truck's cargo. Lewis was fined." A video illustration of a petroleum truck bursting into flames plays on the screen. In an Aug. 5 letter sent to Clemons and his campaign's Tallahassee-based public relations firm, Front Line Stategies, Lewis' attorney Jacob Rush wrote that "neither Wenda Lewis nor her company had a hand in that truck fire." Based on the DEP investigation report, it is inaccurate for the Clemons campaign to say it was a Lewis company truck. It is also inaccurate for the Lewis campaign to say her company had no responsibility for the truck fire.
HAPPENING TODAY — JIM MESSER HOSTS INAUGURAL 'MONDAYS WITH MESSER' — The Tallahassee Republican will hold a meet-and-greet from 5:30 p.m. to 7:30 p.m. at El Jalisco Restaurant, 3197 Merchants Row Blvd. in Tallahassee. The event is a chance for residents to talk about concerns and issues that are important in House District 9. Messer is the sole Republican running in House District 9, and will face the winner of the Aug. 30 Democratic primary.
KIMBERLY DANIELS, LESLIE JEAN BART RIVALRY DRIVES HOUSE DISTRICT 14 RACE via Tia Mitchell of the Florida Times-Union — Not too long after Daniels lost her re-election bid for the Jacksonville City Council last year, she decided to run for the Florida House. She appeared in public with U.S. Rep. Corrine Brown, becoming part of the posse that protected and defended the congresswoman as she faced federal charges. Daniels didn't let it stand in her way that Brown had already endorsed someone else for the state House District 14 seat back in March 2015 when Daniels was still focused on the city race. Brown never rescinded that first endorsement, causing confusion today on the campaign trail as both candidates tout the support of the embattled congresswoman who is still popular in Northwest Jacksonville. "I knew I had her signed endorsement, and I also knew that she never took it back," said Jacksonville attorney Leslie Jean-Bart, Daniels' chief rival for the House seat … most of the attention has focused on Daniels and Jean-Bart, who was endorsed by term-limited incumbent Rep. Mia Jones. That isn't the only thing causing controversy in the House District 14 race. Jean-Bart's campaign manager called police on Aug. 6 after volunteers got into a shouting match with Daniels and some of her supporters while canvassing in the Sherwood Forest neighborhood. The confrontation was allegedly caused by Daniels' supporters who told residents that Jean-Bart's team was lying about Brown's endorsement. Jacksonville City Councilman Reggie Brown, a Daniels supporter, faults Jean-Bart for continuing to speak of an endorsement that he believes is moot. "You wouldn't have to send me a letter" to rescind, he said. "I want people with me that's with me 100 percent."
THE CHURCH AS A HUSTLE: INSIDE THE RISE AND FALL OF KIM DANIELS' MARRIAGE via AG Gancarski of Florida Politics — Thomas Kinkade original paintings. Televangelist Brian Carn and backpacks full of cash. Faith healing. Multiple properties and cars. Cut-off credit cards. And inevitably, court cases, after the marriage fell apart, and the husband was expunged from the ministry which controlled all communal assets. What was it like to be married to House District 14 Democratic candidate — and likely eventual victor — Kim Daniels? Her ex-husband, Ardell Daniels, in a court deposition related to his case against Daniels' Spoken Word Ministry, which removed him from its board around the time of the Daniels divorce, described the marriage and the aftermath in great detail April 26. Their turbulent marriage — which ended acrimoniously as turbulent marriages do — was essentially run by Kim Daniels, to whom Ardell seems to have ceded autonomy early on … Interestingly, Ardell said he never got paid for preaching. In fact, his expenses and hers were swept under the Spoken Word Ministries umbrella, which proved problematic when the relationship went south while Kim was on the Jacksonville City Council … He would get walking-around money from Kim, and in exchange became the primary caregiver of her twin sons, Ardell said. Mr. Daniels was out of touch with the financial end, and questions of competency seem just below the surface throughout his deposition, as when a lawyer asks him if "$80,000 is less than a million dollars." He was given a 2007 Escalade for his 50th birthday from the church, but because he was out of the loop, he wasn't sure if the insurance had been paid or not … when Ardell crossed Kim, she would cut off his credit cards and his telephone. This happened, he said, many times. Toward the end, Ardell withdrew $50,000 from the Spoken Word Ministries account; his claim was that he had to secret that money away to pay off credit cards. Beyond the financial details, there are interesting personal tidbits … according to Ardell, who doesn't exactly seem to have a firm grasp of the value of things based on his deposition, Kim Daniels has a wardrobe of clothing valued at $500,000. And, perhaps most interesting: Ardell's claims the ministry was a "hustle" for Kim. The exceptional part is that she will in all likelihood spend the next eight years in Tallahassee.
JOE GRUTERS NO SHOO-IN FOR HOUSE SEAT via Zac Anderson of the Sarasota Herald-Tribune — Donald Trump may be the ultimate anti-establishment candidate and he had an early supporter in Joe Gruters, who joined the campaign … as Trump's Florida co-chair. So there's some irony in the fact that Gruters' GOP opponent for a state House seat covering parts of eastern Sarasota and Manatee counties is painting him as a pawn of special interests and the GOP elite. But there's also no question that in the District 73 race, Gruters, the longtime Sarasota GOP chairman and vice chairman of the Republican Party of Florida, is the insider and former tea party leader Steve Vernon is the outsider. Gruters has all the connections and high-profile supporters after two decades in Republican politics. Vernon has few ties to influential community leaders, instead relying on his personal wealth and history of grassroots activism. That insider/outsider dynamic is one distinction in a primary race that — to the surprise of many — is shaping up to be one of the most closely contested in the region. District 73 is heavily Republican, so whoever wins the Aug. 30 primary has a big advantage over Democrat James Golden. Early on it seemed like Gruters might walk into the seat. He raised a staggering $87,394 in one month to kick off his campaign last year. The fundraising haul was intended to make a statement about the depth of Gruters' support and scare away any competitors. It didn't work.
FIRST IN SUNBURN – FLORIDA CHAMBER MAKES BIG DIGITAL INVESTMENT IN KEY LEGISLATIVE RACES — The Florida Chamber up is poised to spend hundreds of thousands of dollars on digital advertising targeting likely primary voters in key legislative races. The campaign, according to a memo obtained by FloridaPolitics.com, will feature brief biographical spots on mobile devices and social media, and will target voters in a dozen legislative races. "Times have changed. Simply funding candidates and using big television budgets will no longer bring pro-job candidates over the finish line," wrote Mark Wilson, the president and CEO of the Florida Chamber of Commerce, in a memo to the board of directors and others. "With the change in times, the Florida Chamber's tactics have changed as well." In his memo, Wilson said the Chamber will "invest hundreds of thousands of dollars targeting digital content to voters on mobile and desktop devices." The ads will focus on Florida Chamber-backed candidates in about a dozen key races. In his memo, Wilson said the strategy is "part of a larger, long-term effort to continue building the infrastructure to compete and win against those who want Florida to be more like California, New York, Greece and France. While we won't win every race, we will use the lessons learned to immediately focus on the fall elections. Moving forward, this is another strategy in the Florida Chamber's efforts to advance our research, policy and political goals."
***Smith, Bryan & Myers is an all-inclusive governmental relations firm located in Tallahassee. For more than three decades, SBM has been working with our clients to deliver their priorities through strategic and effective government relations consulting that has led us to become one of Tallahassee's premier governmental relations firms today.***
TOURISTS STILL FLOCKING TO FLORIDA IN RECORD NUMBERS FOR NOW via The Associated Press —  Gov. Scott announced … 57.4 million tourists visited the state during the first half of 2016. State officials say that's the highest six-month total ever and a 4.3 percent increase over the year. Scott … says the state is on pace to reach the governor's goal of having 115 million visitors this year. The new tourism numbers, however, do not reflect what's happened in the state over the last few weeks. Some parts of the state have dealt with toxic algae blooms, and 25 people have acquired the Zika virus from mosquitoes in a Miami neighborhood. U.S. health officials continue to warn pregnant women to avoid the infection zone.
PARENTS WHO OPTED OUT OF FLORIDA SCHOOL TESTS CHALLENGE LAW via Gary Fineout of The Associated Press — One of Florida's main school testing mandates, established by Jeb Bush, came under fire during an emotional three-hour-long court hearing in Leon County. A group of parents from across the state are challenging a state law that prevents children from being promoted to the fourth grade if they score poorly on a mandated reading test. Those parents are part of a growing movement to have children "opt out" of standardized tests. Circuit Judge Karen Gievers held an emergency hearing to consider a request to block the law so that more than a dozen children from six counties — Broward, Orange, Osceola, Hernando, Pasco and Seminole — would not have to repeat the third grade. The lawsuit filed by parents maintains students across the state are not being treated equally and that there has been confusion among districts. Gievers did not issue a ruling from the bench, but repeatedly said she was worried about the children, several of whom attended the hearing and are already staring the new school year. Gievers said she didn't like the situation but had to give school districts time to respond to the lawsuit, which was filed this week. "Nobody wants to traumatize a child needlessly," said Gievers, who added she could make a ruling by the end of next week.
RUBIO REJECTS NEGRON'S PLAN TO BUY SUGAR LAND FOR EVERGLADES CLEANUP 'UNTIL WE FINISH' EXISTING PROJECTS via Mary Ellen Klas and Jack Suntrup of the Miami Herald – Rubio … is not prepared to support a proposal unveiled by incoming Senate President Negron to spend $2.4 billion in state and federal money to buy sugar land south of Lake Okeechobee to store water in an attempt to minimize the polluted discharges that have spawned toxic algae blooms in the St. Lucie and Caloosahatchee estuaries. Rubio … said he will not support federal funds for more projects until the state and federal government "finish the Central Everglades Planning Project because we're not going to get both … We are in a competition with 49 other states for water money and if we keep coming up with new projects, what these other states will say to us is, 'Well, we're not going to fund your programs until you guys down there figure out what you really want.'" The state is waiting for Congress to authorize CEPP, a program that is designed to reduce damaging freshwater releases to the estuaries and send more of that water, cleaned of phosphorus, to the estuaries of Everglades National Park and Florida Bay. The plan would also increase the water supply for municipal, industrial and agricultural users. But, according to a 2015 report by the University of Florida Water Institute commissioned by the Florida Senate, CEPP "produces only relatively modest improvements in high flow conditions [to offset discharges from Lake Okeechobee] and almost no improvement in very high flow conditions for the St. Lucie and Caloosahatchee." The report also noted that: even using the most optimistic assumptions, CEPP is not estimated to be complete for a minimum of 24 years." …  "Everyone who has looked at this issue, who has studied it, agrees we have to have storage south of the lake as a piece of the puzzle and a way to prevent these discharges," Negron said at a news conference to announce his proposal. He also said that he has spoken to Rubio and believes that his proposal is "separate and apart" from the previous calls for the purchase of sugar land.
APPOINTED: Jeffrey Lewis to the First Judicial Circuit Court.
INFLUENCE 100 ALUMNI UPDATE — AAR NAMES MARCUS JADOTTE VP OF PUBLIC AFFAIRS – AAR, a global aerospace and defense contractor and leading provider of aviation services to airlines and governments worldwide, announces it has named Jadotte as its [VP] of public affairs. Jadotte, most recently an assistant secretary for the U.S. Commerce Department, will establish an AAR office in Washington, D.C. Previously, Jadotte served as  vice president of public affairs and multicultural development for NASCAR, becoming the first African-American officer in NASCAR history. Before NASCAR, he served as chief of staff to two U.S. congressmen and served in the Labor Department under the Clinton administration. In 2014, Savoy magazine named Jadotte as one of the "Top 100 Blacks in Corporate America."
COMPENSATION REPORTS SHOW BALLARD PARTNERS HAD ANOTHER STELLAR QUARTER via Jenna Buzzacco-Foerster of Florida Politics — The Tallahassee-based firm reported second quarter median compensation of $2.2 million. The earnings mean the firm will once again be among the state's Top 3 earners. Along with Brian Ballard, the lobbying team at Ballard Partners is made up of Michael Abrams, Richard Anderson, Brady Benford, Carol Bracy, Bradley Burleson, Ana Cruz, Chris Dorworth, Mathew Forrest, Jan Johnson Gorrie, Christopher Hansen, John Johnston, Todd Josko, Sylvester Lukis, Donald Payton, Monica Rodriguez, Justin Sayfie, William Gregory Turbeville, Wansley Walters, Susan Summerall Wiles, Amy Young, and Stephanie Grutman Zauder. Clients during the second quarter included Automated Health Care Solutions, Resorts World Miami, LLC., and Shands Hospital … Other clients during the three-month reporting period included DraftKings and FanDuel.
GREENBERG TRAURIG HAD ANOTHER MILLION-DOLLAR QUARTER, COMPENSATION REPORTS SHOW via Jenna Buzzacco-Foerster of Florida Politics — The second quarter was another strong one for Greenberg Traurig, which reported earning more than $1 million … reported a median compensation of nearly $1.06 million for its work lobbying the Florida Legislature in the three-month period. The earnings mean the firm will likely once again be among the Top 5 earners in the state. "It's an exciting time for Greenberg," said Gus Corbella, the senior director of government law and policy. Along with Corbella, the team at Greenberg Traurig is made up of Fred Baggett, Kerri Barsh, Hayden Dempsey, Leslie Dughi, Richard Fidei, Fred Karlinsky and Barry Richard. Top clients … included Anchor Property and Casualty Insurance, Heritage Property & Casualty Insurance Company, and Intrexon Corporation … the Seminole Tribe of Florida … Other clients in the three-month period included Youth Services International and the Florida Dental Hygiene Association.
JOHNSON & BLANTON POSTS STRONG SECOND QUARTER EARNINGS via Jenna Buzzacco-Foerster of Florida Politics — Compensation reports filed with the state lobbyist compensation website shows the Tallahassee-based firm reported earning between $500,000 and $999,999 for legislative services from April 1 to June 30. Along with Travis Blanton, the lobby team includes Melanie Brown, Diane Wagner Carr, Jon Johnson and Darrick McGhee … clients during the second quarter included the Florida Hospital Association, Pfizer and the American Heart Association, which paid between $10,000 and $19,999 for legislative services. Other clients included the Alliance of Automobile Manufacturers, Bank of America Corp., the Florida Dental Association, and the Florida International University Foundation … Johnson & Blanton reported median earnings of $855,000 in the first quarter of 2016.
BOUTIQUE LOBBYING FIRMS REPORT HEALTHY SECOND QUARTER EARNINGS via Jenna Buzzacco-Foerster of Florida Politics — The second quarter of 2016 marked healthy quarter for Adams St. Advocates. Records show the Tallahassee-based firm reported earning between $100,000 and $249,999 from April 1 to June 30. Along with Robert Beck, the lobbying team is made up of Bryan Cherry, Claudia Davant, Tanya Jackson and Rebecca Roman. Top clients … included Harris Corporation, Veritas Technologies … the Florida Pharmacy Association, and the Florida Association of Area Agencies of Aging, the Florida Technology Council, Intuit, Inc. Mark the second quarter down as another solid quarter for Anfield Consulting … earning between $250,000 and $499,999 in the second quarter of 2016. Along with Albert Balido, the lobbying team is made of Frank Bernandino and Edgar Fernandez. Top clients during the three-month period included Florida Crystals Corp., Thriller Tours and WaterSmart Software … the Florida section of the American Water Works Association, the Florida Education Association, and the health care Providers Coalition. Liberty Partners of Tallahassee stayed busy in the second quarter, despite reporting earnings of less than $100,000. Records show the Tallahassee-based firm earned between $50,000 and $99,999 … That marks a dip in estimated earnings from the first quarter of the year, when Liberty Partners reported earning between $100,000 and $249,999 … Along with Jennifer Jankowski Green, the lobbying team is made up of Melanie Shanks Bostick, Thomas Hobbs and Douglas McAlarney. Top clients during the second quarter included Expedia, the Florida Institute of Certified Public Accountants, and Humana. Other clients included HomeAway, Uber and the Advanced Energy Economy. The Mayernick Group had a healthy second quarter … The Tallahassee-based firm reported earning between $250,000 and $499,999 … The firm's lobbying team is made up of Frank Mayernick, Tracy Hogan Mayernick and Jodi Lea Stevens. Top clients included Alkermes, Inc. and HCA health care … Other clients included Isle of Capri Casinos, Inc., the Jacksonville Armada Football Club, MCNA Dental Plans and PACE Center for Girls, Inc.
HAPPY BIRTHDAY from the weekend to John Konkus.