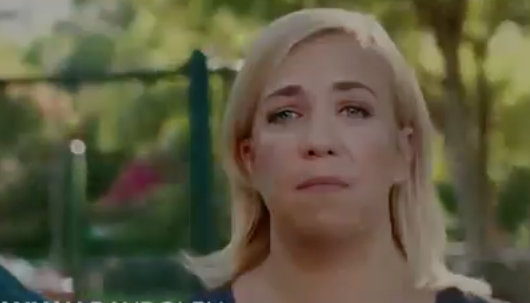 Democrat Susannah Randolph's campaign for the Democratic nomination in Florida's 9th Congressional District is spending much of its last week before the primary putting out fires from a political equivalent of a Molotov cocktail thrown her way — by a political operative going public with a troubling story involving Randolph.
Starting two weeks ago, Randolph, running as the true-blue progressive candidate with the lifelong reputation as a staunch feminist, has been the target in Facebook and blog posts authored by Holly Fussell, alleging that Randolph ignored complaints about sexual harassment of Fussell by a man on staff. And that man allegedly eventually raped Fussell, though Fussell wrote that Randolph bears no blame for that. Until now Fussell was offering slim detail.
On Wednesday Fussell, now 23 and living in Silver Spring, Maryland, responded to FloridaPolitics.com by answering a list of written questions. She still is not naming the alleged rapist, saying she's declining to do so on the advice of her attorney. However she said she's intending to file criminal charges or a civil lawsuit — or both — against the man, and he will be named then.
Until now, no one has looked into Fussell's story, though it is echoing around the internet through other bloggers and social media, which are adding nothing new except judgments against Randolph.
The vague allegations left Randolph and her staff little to respond to, except to deny that anything like that ever happened.
After hearing the latest details offered by Fussell, they still are maintaining that nothing like that ever happened.
"Susannah is saddened to hear of Ms. Fussell's story, which she learned about this past week. Sexual assault and harassment are very serious matters and Susannah believes they have no place in any workplace or environment," said Lauren Doney, Randolph's campaign manager. "Unfortunately, too many Floridians are victims of sexual assault and harassment, which is why Susannah has always been committed to being the strongest possible advocate for all who face assault and harassment not only at a policy level, but also in practice as a leader if elected."
Randolph is not being accused of any crimes, nor even any clear dereliction of duty. It's not even clear if she ever had any supervisory authority over Fussell or the man during the the alleged sexual harassment incidents.
At the story's most innocent interpretation, Randolph is being accused of misinterpreting a young woman's complaints, and not responding as the woman had hoped. Yet at its most serious interpretation, Randolph is being accused of being an enabler of a sexual offender who eventually raped, and a hypocrite of her professed feminist values, high sins in a Democratic primary.
The timing of the story's emergence, a couple weeks before the election, could not be more impactful.
On Tuesday Randolph's election fate will be determined, in her Democratic primary battle with Dr. Dena Grayson, state Sen. Darren Soto, and Valleri Crabtree. The race is tight. A new St. Pete Polls survey released Wednesday shows Grayson with a slight lead over Randolph, and Soto running third. The winner would be a strong favorite to win election in November.
Florida's progressive Democrat community is fracturing over Fussell's allegations, taking sides.
Grayson would be the most likely to benefit from any Randolph wound, because both are campaigning for the progressive wing vote.
Dena Grayson is married to the incumbent U.S. Rep. Alan Grayson, who is the former employer of Fussell, the alleged rapist, and Randolph.
Fussell's relationship with the Graysons is long and strong and she has worked for Alan Grayson recently — there is dispute over how recently. However, she insisted she never consulted them about the incidents and decided entirely on her own to go public.
Dena Grayson's campaign responded to an inquiry from FloridaPolitics.com with clear venom toward Randolph, and without a word about the rapist's blame.
"Dr. Grayson was horrified when she recently learned that Ms. Fussell was repeatedly sexually harassed and then raped. She applauds Ms. Fussell's courageous decision to step forward and speak the truth about her terrible treatment by Susannah Randolph and others," said a statement from her spokesman Shawn Shahzad.
And Alan Grayson, now running for the U.S. Senate, might not be completely outside the shadow. Numerous former Grayson employees said Grayson always handled personnel matters himself.
Alan Grayson told FloridaPolitics.com Tuesday night that he was never made aware of Fussell's sexual harassment complaints, and expressed confidence the incidents must have occurred outside his staff. That theory makes murkier an already unclear line of what might have happened when and where.
Fussell said she came forward this month because she was finally "emotionally ready to talk about it," after receiving help from RAINN, the national Rape, Abuse & Incest National Network.
"I also knew I needed to come forward when I saw that my rapist's name was on Susannah's campaign finance report," she said. "Like I said before, I do not want this to happen to another girl. I wasn't warned. I want other girls to be warned.
"I talked to my therapist about going public, but nobody else," she added. "I didn't even tell my friends before I posted it."
In her written responses to FloridaPolitics.com Wednesday, Fussell alleged she was sexually harassed repeatedly by the man while the two were working together on campaigns in Orlando, starting in the spring of 2014. She said Randolph personally witnessed the man sexually harass her in the Hammered Lamb and The Abbey, two favorite haunts of Orlando Democrats, including an incident on election night, Nov. 4, 2014, yet did nothing about. Randolph, she stated, then hired the man onto Alan Grayson's congressional staff in Orlando.
In the spring of 2015 the man raped her, she alleged.
Fussell stated she has nothing in writing to back up her story, though she said there were other witnesses to the bar incidents, and she talked to close friends about the alleged rape after it happened.
At least in 2014, Fussell and the man worked together on Alan Grayson's re-election campaign and did consulting work on the Orange County Charter Amendment C campaign, she explained.
It was unclear what, if any, supervisory authority Randolph might have held over Fussell or the man at the time of the incidents. In 2014 Randolph was Grayson's congressional district director in Orlando. She did not work on Grayson's campaign when Fussell and the man were there. She did not work for the consulting company that employed Fussell.
"I worked with Susannah Randolph on the Amendment C campaign," Fussell wrote, "and did other work for her as well as a 'tracker' in my free time."
Many people who know them both told FloridaPoltics.com they do not want to believe Fussell would make up such a story, but also believe Randolph to be incapable of looking the other way if a young woman alleged sexual harassment by a coworker. Randolph's feminist values have always been at the core of who she is, they said, and she would surely have responded.
But, Fussell wrote of the Hammered Lamb and The Abbey incidents, "She told me repeatedly that it wasn't a big deal, and said that he was drunk."
Today Fussell works for the Revolution Messaging campaign consulting firm in Washington. That firm has worked on Alan Grayson's U.S. Senate campaign this year, but not for any Central Florida campaigns, she said.