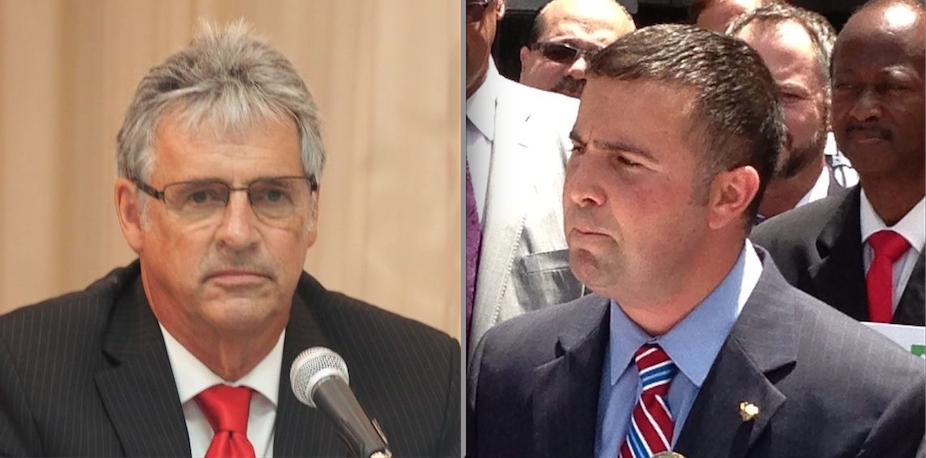 State Sen. Darren Soto took perhaps the biggest step Tuesday in his quest to become the first Hispanic from Central Florida and the first Puerto Rican from the state to be elected to Congress by rolling toward victory the Democratic primary in Florida's 9th Congressional District.
St. Cloud businessman Wane Liebnitzky, who easily won the Republican nomination Tuesday, wants to have something to say about that first, but Soto is heading toward November with several electoral advantages.
With nearly all precincts reporting in Orange, Osceola and Polk Counties, Soto had a solid lead over three tough challengers, including Dena Grayson, wife of the incumbent Democratic U.S. Rep. Alan Grayson; progressive activist Susannah Randolph; and businesswoman Valleri Crabtree, who set out 20 months ago to shake thousands of voters hands in the district.
Overall, Soto drew 37 percent while Grayson and Randolph both had 28 percent, and Crabtree 8 percent.
"I made a promise to run a positive, inspirational campaign," Soto said. "I kept that promise and I'm hopeful that, along with our strong record of getting the job done, will help win the day tonight."
Soto, whose Senate district is fully inside CD 9, rode a moderate legislative record and a big push for Hispanic voters. For four years now, the district has been considered an "access" district, drawn to gather the biggest portions of Central Florida's Hispanic population, largely Puerto Rican.
Soto seeks to become the first Hispanic representative in the district and the first in all of Central Florida, as well as the first Puerto Rican Floridian to be elected to Congress anywhere in Florida.
Liebnitzky easily fended off Kissimmee Commissioner Wanda Rentas, 67 percent to 33 percent, to win the GOP nomination, dashing any chance that CD 9 might have two candidates of Puerto Rican descent in November's general election.
Liebnitzky, a Navy veteran, ran a barebones campaign through social media, conservative radio, and other niche media, pushing fiscal responsibility, tough foreign policy and American exceptionalism. Yet he steered clear of some of the more conservative social positions Rentas pursued.
Rentas made little issue of her Puerto Rican heritage. And for the third consecutive election cycle, Republican primary voters in CD 9 nominated an Anglo candidate over a Hispanic office holder, in a district that has two strong characteristics: a large Democratic advantage for November, and a big number of independent Hispanic voters who might sway Republican if they had a good reason.
Randolph suffered a public relations blow in the weeks leading up to the primary, forced to deny allegations that she ignored a young protege's troubles with sexual harassment, but her loss likely was set in stone the day Dena Minning married Alan Grayson, May 29, carving away much of the progressive community vote.
Also lost is the nearly two-year ground game of Crabtree, who was far and away the most visible congressional candidate the district has seen in a long time. Crabtree raised little money, and refused political action committee contributions, instead criss-crossing the district hundreds of times, visiting any group meeting she could reach.
Her campaign most contrasted with Grayson's. Grayson was rarely seen in the community, relying instead on a large advertising campaign, phone banks and volunteers with long loyalties to her husband.