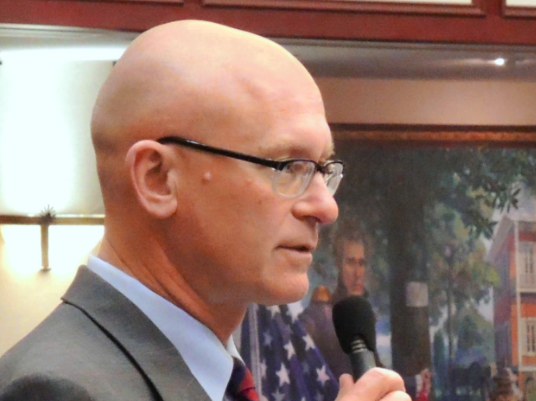 State Rep. Cary Pigman was slammed by the state's ethics board Wednesday after accusations of an extramarital affair, "obscene gestures" and other intimidation.
The Florida Commission on Ethics found probable cause to believe that Pigman "link(ed) his efforts to obtain legislative funding for the School District to retaliate or attempt to retaliate against an employee" of the Okeechobee School District, according to a statement.
That employee was the sister-in-law of his then-secretary, with whom he had been having an affair, according to reports.
Probable cause means it is more likely than not that a violation of state law has occurred but is not a definitive finding. Pigman, a two-term Avon Park Republican, faces an evidentiary hearing before an administrative law judge or a settlement agreement to resolve the case.
Pigman, a doctor of emergency medicine who was first elected in 2012, has a district office in Okeechobee. His Central Florida district, House District 55, stretches from Avon Park through Sebring, down to Moore Haven, and over to Okeechobee.
On Friday, he denied wrongdoing in an email to FloridaPolitics.com: "I would never do anything to hinder the efforts of the Okeechobee schools to obtain state funding."
The complainant, Okeechobee County elementary school principal Tracy Maxwell Downing, said Pigman began an affair in 2015 with his then-district secretary, who used to be Downing's sister-in-law, according to one commission report. Pigman later confirmed the affair to investigators. 
In October of that year, Downing and Pigman attended a legislative delegation meeting in the county. He said she "used her middle finger in a manner that could be seen as 'flicking a bird' at him," the report said. Downing later said she was only "scratching her head."
In December, Pigman and the secretary met with schools superintendent Ken Kenworthy to "address their concerns" about Downing and the academic performance of the secretary's daughter who attended Downing's school.
There, Pigman said Downing had followed him in her car and played jailhouse recordings between her and her brother when he was locked up on an unrelated charge.
In those recordings, Downing could be heard telling the brother she was giving Pigman "hell," the report said, because the state representative was spending nights with the secretary at her marital home while her husband, Downing's brother, was in jail.
Pigman then asked the superintendent, "Is this the best that the Okeechobee School District has to offer," adding that "…this would be in the back of (my) mind when thinking about the School District," according to the report.
"The Okeechobee School District was seeking $63 million from the Florida Department of Education to construct a new high school," the report noted.
After the meeting, Kenworthy gave Downing a choice: Quit or be fired. She wouldn't resign so Kenworthy instead suspended her without pay for 10 days for violating the district's professional conduct rules; a copy of the suspension letter is in the commission's file.
He later told ethics commission investigators Pigman's comments "concerned him because the district needed funds from the state to construct a new high school," according to the report.
Pigman, however, doesn't sit on any education-related budget committees. Most recently, he chaired the House's Health Quality Subcommittee. But as the area's representative, he would have sway in securing – or scuttling – the requested funding. 
"When asked if his statement to Superintendent Kenworthy meant this situation would affect the way he viewed requests submitted to the Legislature by the district, (Pigman) said, 'That has to be implied in what I am saying,' " the commission advocate's report said.
The "action was clearly taken to retaliate against (Downing) for a perceived slight and that is inconsistent with the proper performance of (Pigman's) duties to the public."
In the email, Pigman said he met with Kenworthy to report "the rude and unprofessional misbehavior of an Okeechobee School District employee who was acting in an official capacity during work hours at a work related event," referring to but not naming Downing.
"After the employee was reprimanded, the employee filed a complaint with the Commission on Ethics," he said. "The Commission found … that I may have given the Superintendent the impression that my reporting this behavior would somehow affect my willingness to support Okeechobee's efforts to obtain state funding for Okeechobee schools.
"While this was never my intention and I would never do anything to hinder the efforts of the Okeechobee schools to obtain state funding, the commission thought my words may have been construed to mean that," he added. "I did not make any recommendations on how the Superintendent should hand the matter and I did not inquire any further after this one meeting as to how the matter was handled."
The commission dismissed a charge that Pigman misused his position to later get a job for his secretary with the South Florida Water Management District, and found "no probable cause" that he "solicited" Kenworthy to get rid of Downing.
Pigman also is a U.S. Army reservist, who was deployed to Iraq in 2011, Guatemala in 2012 and Kuwait in 2013, his House webpage says. He was unopposed for re-election this year.