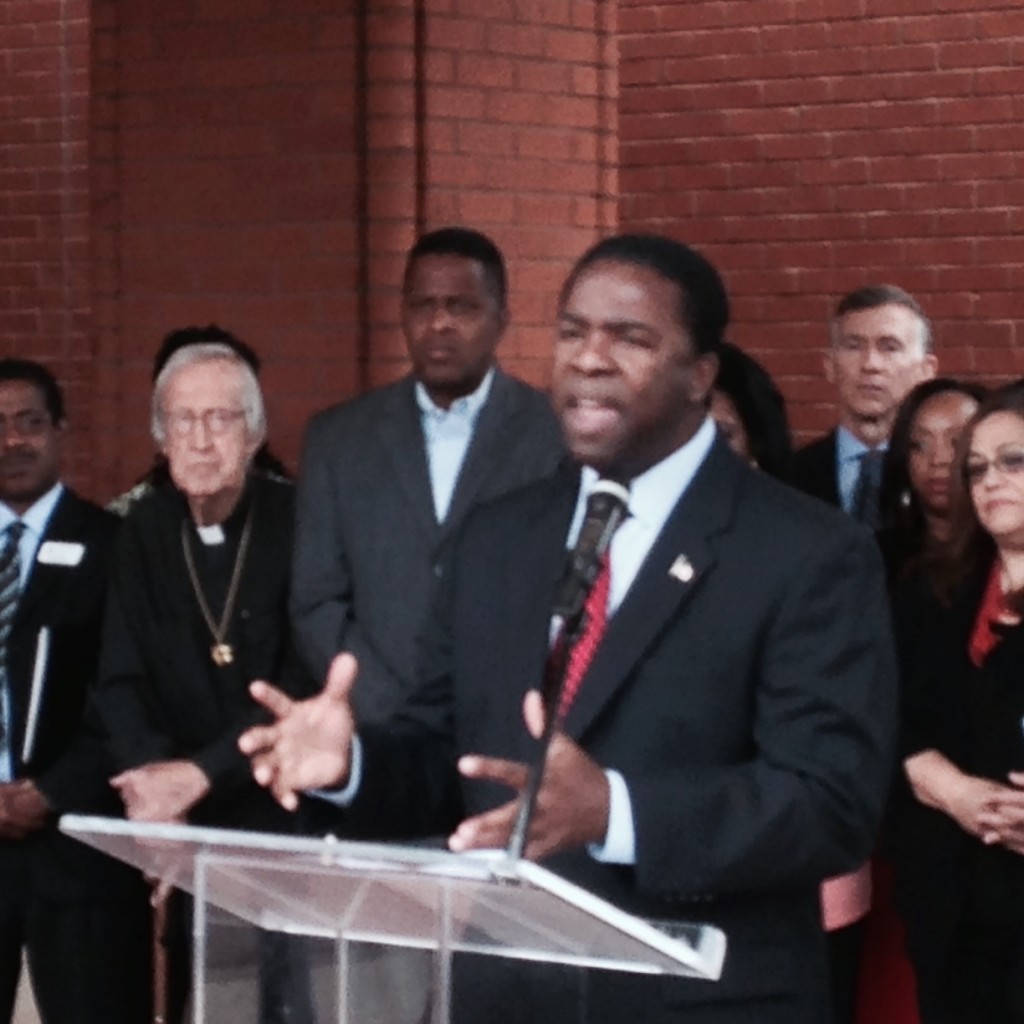 In the mayor's office in Jacksonville's city hall, there was a new addition this week: a portrait of former Jacksonville Mayor Alvin Brown to hang next to the pictures of previous mayors.
Brown, informed sources tell us, was not cooperative with the process: a rite of passage for former Jacksonville mayors, generally involving a painting paid for with private funds.
Brown's photograph has been blown up and framed on the fourth floor of the St. James Building; however, even if Brown were a regular fixture at Jacksonville's city hall, he wouldn't see it between now and the election.
Brown is serving as a surrogate for Hillary Clinton on the campaign trail.
This is no surprise, of course. The Democrat did some important work in the first Clinton administration, and has served as an opening speaker for Bill Clinton during the former president's own visits to Jacksonville.
However, Brown's current role involves helping to make the sale for the Hillary Clinton ticket in a number of far-flung areas.
In doing so, Brown is doing some of the work in the trenches, with forays into small towns outside of the media glare.
****
On Sept. 20 and 21, for example, Brown was part of the "Stronger Together" bus tour through Ohio. Part of Brown's role: the "thank the volunteers" deal, as Brown and other mayors did in Dayton and other Buckeye State burgs.
Brown also serves up talking points that shore up the center-left and theoretically appeal to independent voters.
"She knows the cities are a place of innovation, creativity, the economic engine of our community all across the country," Brown said of Clinton to the Springfield News. "She wants to put America back to work and that starts by working with everyone."
Brown also broke ranks with his former political friend, Rick Scott, and cast aspersions toward the GOP presidential candidate to the Sandusky Register: ""There really isn't another option. The other candidate has offended every constituent and group in this country. She has a proven track record; she's qualified; and she has a plan."
Brown also extolled Clinton's five-year plan, saying Clinton had a "vision for America … [with] focus on small businesses and entrepreneurs. She knows cities. Her five-year plan, which she will pass in her first 100 days, will focus on rebuilding streets, highways, crumbling schools, and jobs."
"No matter what zip code you live in, she's going to be the president for every city in America," Brown said.
****
Last Friday, Brown was in Oklahoma City meeting with former colleagues at the fall meeting of the U.S. Conference of Mayors.
On Saturday, Brown issued what were called "strong remarks" at the South Carolina Democratic Party's Spratt Issues Conference.
The SCDP's social media person called Brown a "senior adviser" for Hillary Clinton.
****
Brown's role with the Clinton campaign has been below the radar, but has been ongoing for months.
Al Sharpton referred to Brown as a "senior adviser" in a July Tweet, regarding Brown's speech at a meeting of the National Action Network.
When contacted regarding Brown's role at the U.S. Conference of Mayors, the Clinton campaign offered no comment.
However, if Hillary Clinton wins, a reasonable expectation is that Brown will secure an administration job of some type.
Ironically, that would tie in with rhetoric put forth from the Lenny Curry campaign last year: that Brown was "dreaming of his next D.C. job."
****
A job in Washington would be ideal in some ways for Brown, who (as opposed to most former mayors) has been absent from the public square since his election loss in May 2015.
However, to achieve that goal, he has a job beforehand.
That job: to travel where he's needed, and to help Hillary Clinton make the sale to groups still unconvinced.