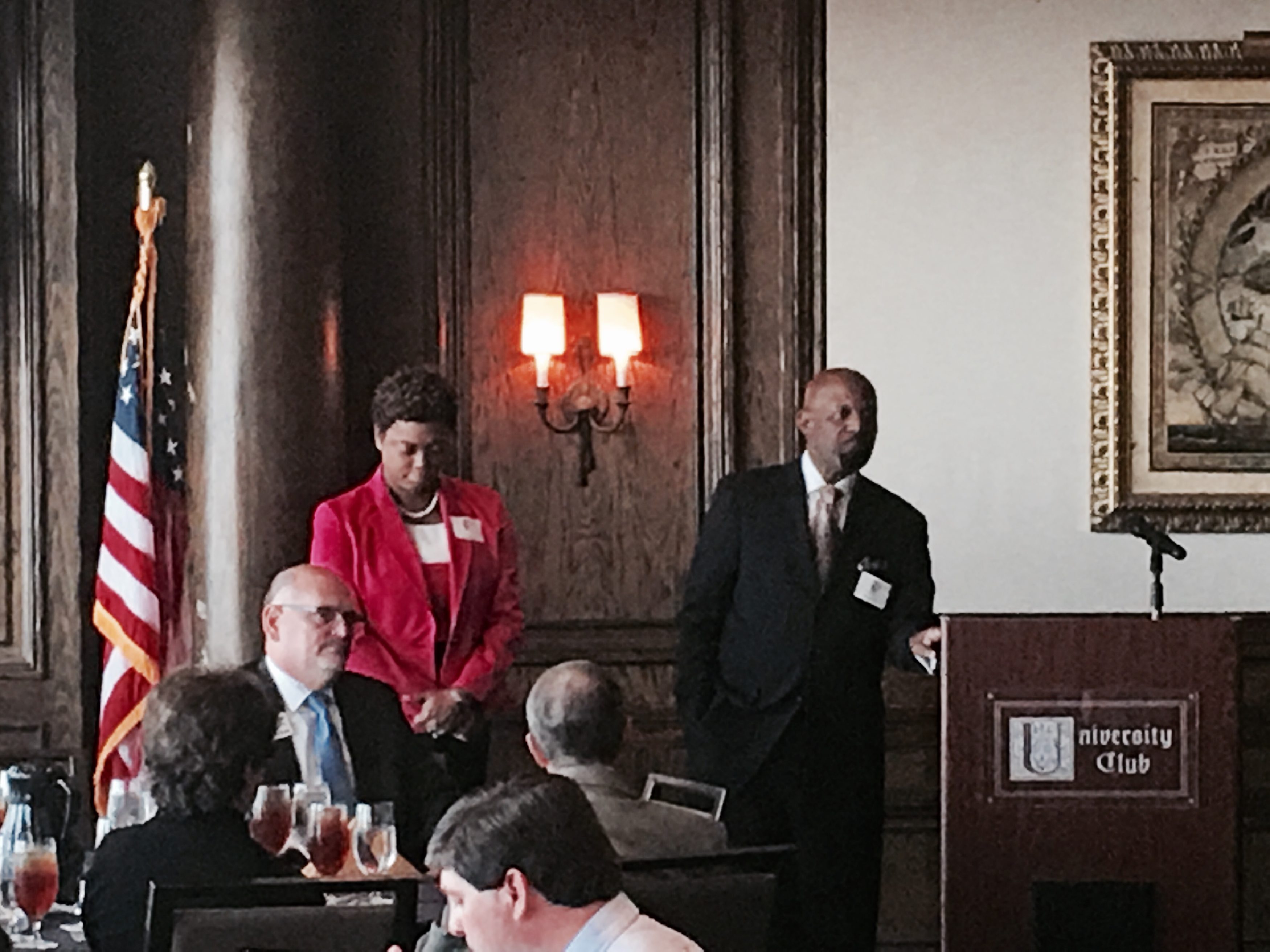 At First Coast Tiger Bay Friday, the highlight of the program was a debate between HD 13 candidates Republican Mark Griffin and Democrat Tracie Davis.
It was a well-reasoned and reasonable discussion between two people who were friends before they ran against each other … and hopefully will be after Nov. 8.
In what is by far the most competitive state House race on the November ballot in Northeast Florida, Griffin and Davis both see paths to victory, in the race to replace resigned Rep. Reggie Fullwood.
Griffin kept his opening remarks anodyne, calling himself a "community leader and an advocate for change," before saying a "mentor" of his, a Democrat, told him that he "could provide the leadership needed in HD 13."
The Republican pastor also remarked on his work with the Eureka Garden Tenant Association, crediting Lenny Curry and Marco Rubio with spurring positive change, noting "there are multiple Eureka Gardens throughout the city."
Davis, for her part, spoke to the need for a "strong legislator" who'd respond to the needs of the entire district.
Among her policy priorities: "wealth building" for the district, and ensuring public safety.
Davis advocated increasing small businesses in the economically embattled district.
Meanwhile, Griffin noted problems in the district are in the Urban Core, owing to a lack of a "comprehensive plan for economic development" in the area.
"There's kind of a piecemeal approach," Griffin said, and there needs to be a "master plan" for job development, with job losses at places like Swisher International, which outsourced jobs to the Dominican Republic.
Many of those lost jobs belonged to African-Americans, Griffin said.
Davis suggested tax incentives to bring companies into the district, though she did not specify whether those are to be state, local, or a combination thereof.
The question came up from the candidates regarding their respective party's nominees.
Griffin disclaimed Trump, saying "I have some misgivings about the head of the ticket on the Republican side.
"The worst thing you can do," said Griffin, "is go down the ticket and almost illiterately" vote straight ticket.
"One selection is not tied to the other," he added, related to his campaign and that of Donald Trump.
Griffin noted that when Davis ran for supervisor of elections in 2015, he "felt in that race that she was the most qualified person," and made a "significant contribution" to her.
Davis noted she's "in support of Hillary Clinton," saying "my values align pretty much with her."
"My 13 years in the supervisor of elections office taught me to work across party lines," Davis added.
"Considering my name is nowhere on the ballot," Davis added, she is more comfortable with straight ticket voting.
Griffin noted at the top of the ticket, there are "two flawed candidates," but in the HD 13 race, there are "two excellent candidates."
Griffin noted that he became a Republican because of "school choice," as many of the worst schools in Jacksonville serve African-American students.
"I still don't understand the logic," Griffin said, "of not giving those parents choice."
Davis, in discussing her party affiliation, noted that she "would support public education all day, every day."
Davis also dissed Griffin's charter school, Wayman Academy, saying that while he extolled their "high standards," her research said that wasn't true.
Davis also believes in a woman's right to choose.
Medical marijuana came up.
As with other topics, there was more concord than discord.
While Griffin favors a moratorium so local jurisdictions can decide zoning issues, Davis said she "had some issues" with "legal marijuana," but given medical needs, she wanted "regulations and standards" on the product.
Regarding legislative priorities, Griffin believes in expanded civil citations.
"We've done a disservice to many of our young people," he said.
As well, Griffin wants to see more help for ex-offenders to get meaningful employment.
Davis, meanwhile, spoke "as a resident of the district for years," unlike Griffin.
"That seems a little unfair to me. It seems unfair," Davis added, when "they don't live in the community."
Davis would like a ballot measure requiring that a candidate live in the district.
"My first piece of legislation would be focused on people. Her first piece of legislation is focused on herself," Griffin said.
And there you have it.