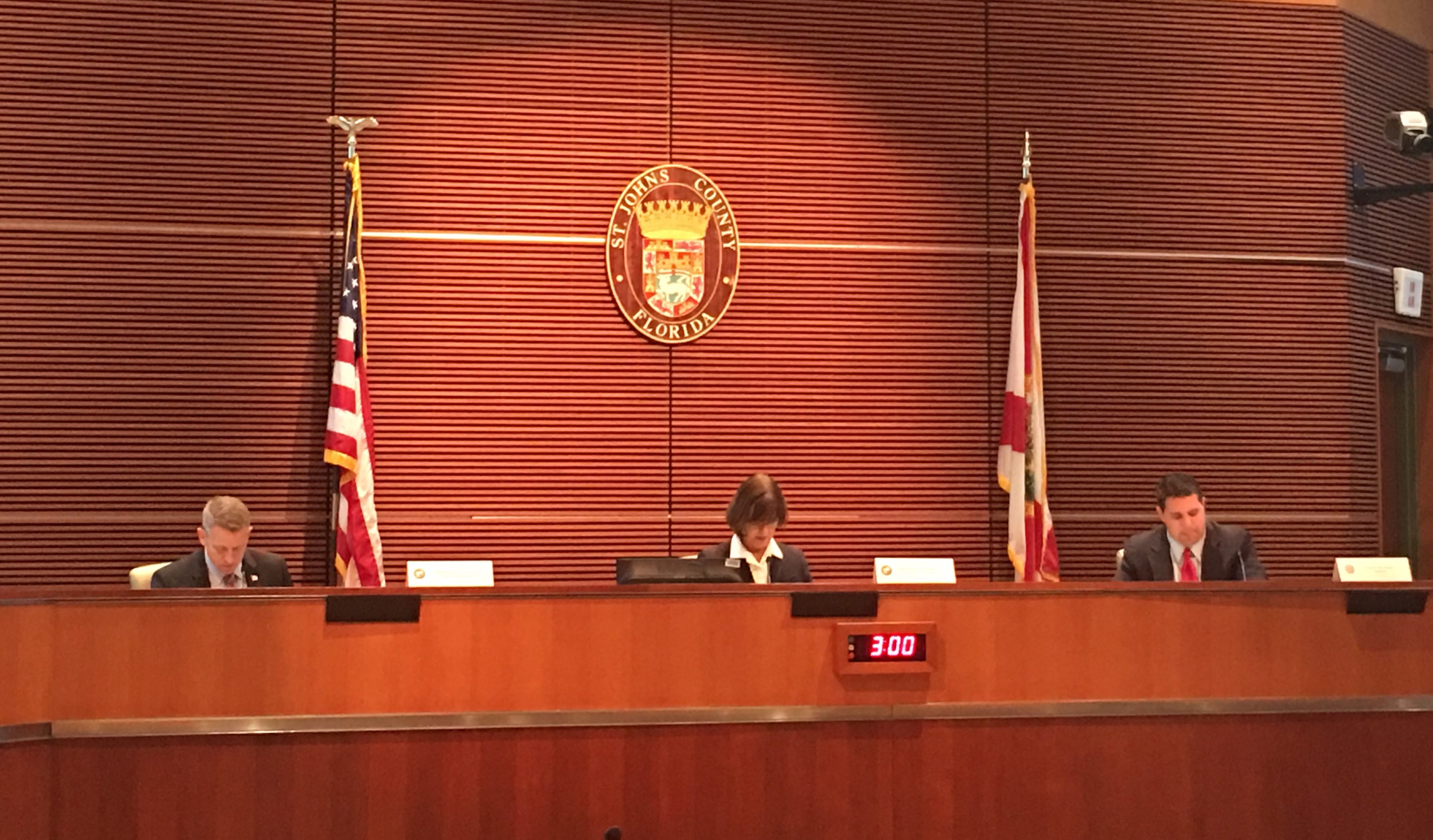 On Wednesday, the St. Johns County Commission presented its ambitious legislative action plan to the county's legislative delegation in what is destined to be, in the words of Rep. Cyndi Stevenson, a "tough budget year."
The ambitious 73 page plan covers "transportation funding, water quality, beach renourishment, open space and land conservation grants, and unfunded state and federal mandates."
Transportation asks for the fast-growing Northeast Florida county are significant, including $95 million for the proposed State Road 313 (SR 313) Extension/Bypass from State Road 207 (SR 207) to State Road 16 (SR 16) (and $30 million more for right of way acquisition and design.
As well. St. Johns County seeks another $90 million for the proposed County Road 2209 (CR 2209) from County Road 210 to SR 16.
These have been priority projects for a while.
There also are the pressures of a small-county government dealing with the Sunshine Law: one ask is for public record and open meeting exceptions for economic development agendas.
Additionally, the county commission seeks the reinstatement of the state's quick action closing fund; while that may be music to Rick Scott's ears, Richard Corcoran is a different matter.
And the county commission wants a total of $31 million for septic tank removal in West Augustine, stormwater remediation in Davis Shores, and the elimination of sanitary sewer overflows in St. Augustine.
St. Johns County Commissioner Jimmy Johns called their document a "blueprint" to bridge the gap between core services and what the state can do.
Johns noted that the county had success in previous sessions, and this year needs sand replacement after Hurricane Matthew at its beaches.
The county is still recovering from the storm, and various asks were delineated, including an increase of the state disaster recovery fund share to 75 percent of a $60 million ask.
Numerous speakers addressed these issues throughout the afternoon, painting nightmare scenarios of beach erosion leading to threats to property and the very viability of local towns.
Sen. Hutson expressed urgency and the hope to get money sooner than later to save the homes most imperiled by the storm, "homes that hang literally off cliffs."
The county also wants access improvements to the beaches, especially toward the South Ponte Vedra Beach area, along State Road A1A.
The school district needs resources also.
Superintendent Tim Forson noted that the district's "operating budget" has suffered from issues like the most recent millage rollback, which has led to service and program cuts, and the looming specter of salary increase freezes.
Beyond those significant asks, a couple of dozen speakers discussed matters ranging from mosquito control and coastal armoring to fracking and sea level rise.
"Severe weather coastal storms are occurring with increasing frequency and intensity," noted Veronica Valentine on the subject of installation of coastal armoring.
"Time is not on our side," Valentine said, advocating for letting owners build a seawall and maintain it. "We just want permission to protect our property."