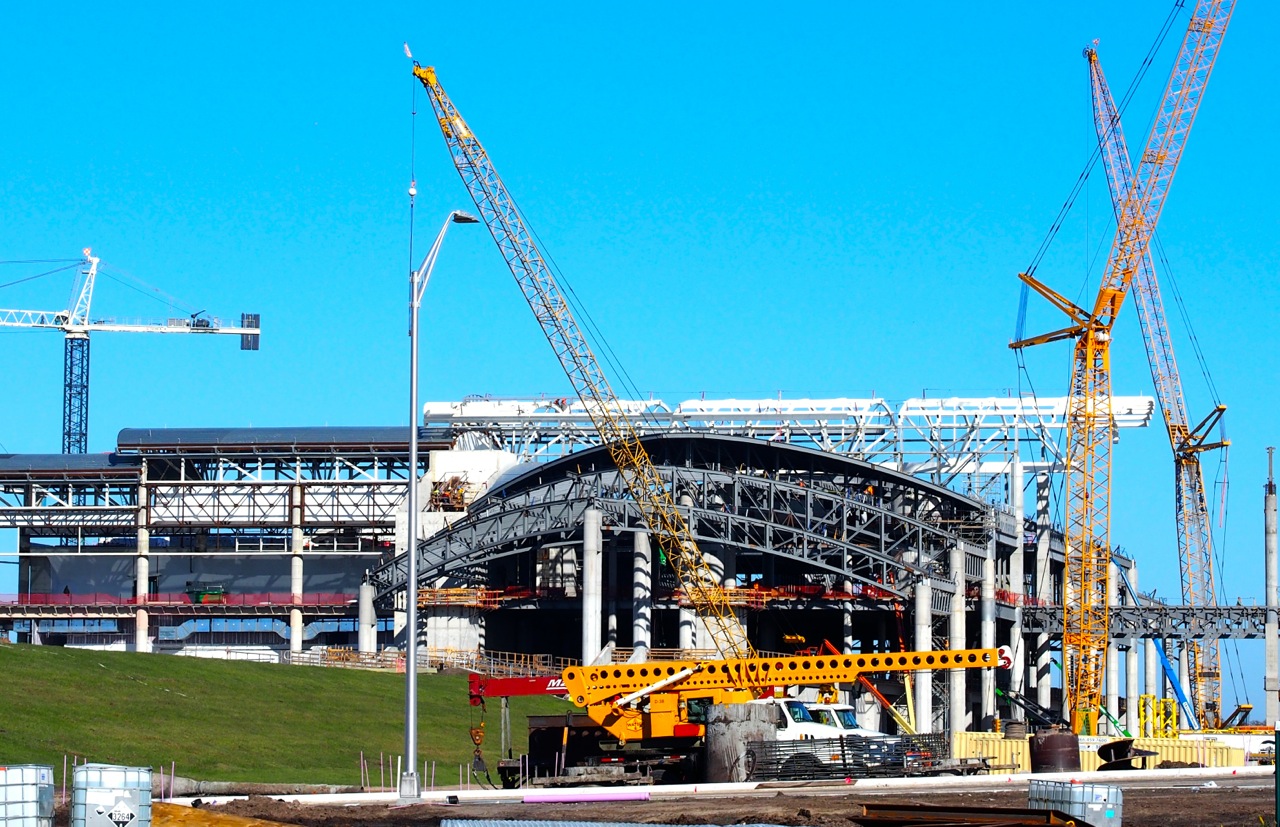 By the end of this year Orlando's gleaming new $211 million train station should be virtually finished at Orlando International Airport, but it may be many years before trains start rolling in – if at all.
The Greater Orlando Aviation Authority is building a train station based on a vision of the future in which planes, trains, cars and buses all come together at what would be Florida's tourism hub, with a people-mover tram connecting the station to the main air terminals, and a walkway to the next big air terminal GOAA plans to build next door. There also will be a new parking garage there.
In the vision, the planes would arrive from Sao Paulo, London, Frankfurt, New York, Atlanta, Los Angeles and elsewhere. The visitors move to the station from the main terminal on the people-mover trams, and then board 100-mph trains for South Florida, commuter trains to downtown Orlando and the rest of the SunRail corridor, or light-rail trains to the Orange County Convention Center and the glittery hotels and attractions of International Drive. Or they get off those planes and trains and board buses or taxis, or rental cars, to explore the world's tourism Mecca of Central Florida.
Construction of the station, known in transportation-jargon as the Orlando Intermodal Transportation Facility, began with contracts and promises for multiple trains and the kind of widespread civic support for which Orlando's big projects are known.
"We're moving along. We expect the project to be substantially complete," GOAA Executive Director Phil Brown said of the train station, the parking garage and the people mover. "We'll probably be operational in the fall of 2017."

But trains never come easily for Orlando.
Brightline, formerly known as All Aboard Florida, just unveiled its first train set in West Palm Beach, with assurances that it and 15 others should start rolling, full of passengers, between there and Fort Lauderdale and Miami, by year's end. Brightline has even begun test runs with the train, on 9 miles of test tracks. The stations there are nearly done. The tracks are nearly all ready. The marketing program is gearing up. Brightline secured $600 million in financing for it all.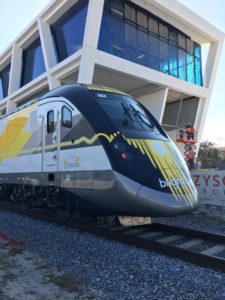 The real draw of Brightline, though, may be its future connection from there to the Orlando Intermodal Transportation Facility at Orlando International Airport. With that, the state's two biggest tourism centers could become an easy, two-day, two-attraction ticket. In addition to Orlando visitors heading south, South Florida visitors could head north.
There's a place for Brightline at the Orlando Intermodal Transportation Facility.
Brightline has all the track corridor it needs from Palm Beach to Cocoa, has signed contracts with GOAA and the Central Florida Expressway Authority to obtain the corridors needed from there to the Orlando Intermodel Transportation Facility, and has spent at least $90 million on right of way. The company's environmental impact statement is essentially done, and most of its permits are acquired. Planning, design and engineering work for the final track segments have begun.
Yet Brightline's track from Palm Beach to Orlando is snarled in opposition and litigation. County and local leaders of Florida's Treasure Coast want no part of being ride-over territory for trains traveling more than 100 mph through their scores of at-grade intersections and bridging their environmentally-sensitive rivers, canals and wetlands.
Last year Martin and Indian River counties sued in U.S. District Court and won some key preliminary decisions. Brightline's financing was locked up. So, this past fall the company filed to split its funding plan, severing the $1 billion or so worth of tax-exempt bonds it needs for the controversial Orlando-Palm Beach portion from the rest, in case that portion never comes together. For the moment, that money is gone.
The lawsuit continues, as do other challenges, including to the environmental statement, and the permits Brightline has received from the South Florida Water Management District.
Brightline remains undaunted, though.
"We are committed to extending Brightline to Orlando, and we are exploring financing options for Phase 2," spokeswoman Ali Soule said.
Initially, back when GOAA and All Aboard Florida reached their first agreements and the Orlando Intermodal Transportation Facility was green-lighted, the plan was for the first Brightline train to arrive at the airport this year. This year became the completion target for Orlando's station.
Now, no specific timetables are being offered for the Brightline trains, not even ballparks, not even to GOAA officials.
The first rail of track has not been installed yet nor have any of the needed five bridges been built in the 38 miles between Cocoa and Orlando. The company also has to double-track the rest of the route, and the first rail of new track has not yet been laid, nor any of the 18 bridges upgraded, in the 129 miles between Cocoa and Palm Beach. All of that must be built after the lawsuits wrap up, and after new financing is secured.
"I think we anticipate there may be a delay from when we had originally anticipated they would be completed the same time we would be completed," Brown said. "I don't think that's realistic now. But not having ever built a railroad, I wouldn't want to suggest how they do that."
Yet Brightline might wind up being the airport's best train option for the foreseeable future.
The aviation authority, Orlando, Orange County, the Florida Department of Transportation, and the expressway authority also have been talking for years to a group including, at various times, the Spanish train company Globalvia, Florida EMMI LLC of Orlando, and American MagLev Technologies of Marietta, Georgia, for a magnetic-letivation train or, in more recent proposals, a light-rail train, to connect the airport with the Orange County Convention Center and International Drive.
There once was talk of the train starting service to the Orlando Intermodal Transportation Facility next year. But now GOAA officials are not looking for the proposed $560 million, private-planned, -financed, -developed and -operated train anytime soon.
"I don't think the light rail project, if it goes forward, will be in there any sooner than 2021," Brown said.
For now, there is disagreement about how welcome it is at the airport. GOAA officials don't see the train as adding anything for the airport, only supplanting existing transportation: taxis, buses and rental cars. That trio provides significant fee revenue to the airport, so GOAA officials want the train companies to agree to replace those fees.
"They have issues with it, and they are contemplating how that works in with their feasibility," Brown said.
American MagLev and EMMI already had negotiated a right of way lease along State Road 528 with the Florida Department of Transportation for just over 60 percent of the proposed corridor it needs. But the option has not been exercised and may be in trouble.
Tony Morris, president of American MagLev and manager of Florida EMMI, insisted in an email to FloridaPolitics.com that talks with the government agencies are ongoing and well, and he expects to wrap them up early this year.
"We spent all of 2015 and 2016 negotiating with the local stakeholders, for a project that we are paying 100 percent of the costs. That phase took two years longer than expected, but we think we are finishing that up now, hopefully in the next 60 days. When these agreements are done, we can then do the easy part, which is to build it," Morris wrote. "The land is 100 percent in the public domain… This is a big advantage."
The right of way lease option was to have expired at the beginning of this year because the companies had not met required conditions demanded by FDOT, and the department reluctantly extended it six months. But only six months. "No further extension will be granted," FDOT Secretary Jim Boxold wrote earlier this month to Orange County Mayor Teresa Jacobs, Orlando Mayor Buddy Dyer, and GOAA Chairman Frank Kruppenbacher, who all are on the GOAA board.
Those Orlando-area leaders had advised Boxold, in December, that their talks with the company were leading to other potential alignments. Boxold responded sternly in his Jan. 3 letter, stating that fundamental changes in alignment would not be consistent with "the terms of the EMMI proposal or the negotiated escrowed lease."
"If the proposal by EMMI to establish a maglev system along State Road 528 does not reach fruition, we will be happy to discuss other concepts you may have for establishing that connection," Boxold advised the Orlando leaders.
Then there is SunRail, Orlando's commuter train, run by the Florida Department of Transportation, which operates on a north-south line that runs from DeBary in Volusia County, through downtown Orlando, to Sand Lake Road in south Orange County.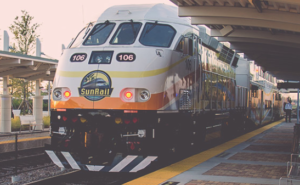 The next phase is an extension of that line southward into Osceola County, through Kissimmee, to Poinciana. That leg is to be finished late this year. The next phase after that was to be an extension of the line northward to Deland, though that died with opposition from U.S. Rep. Ron DeSantis, whose district includes Deland.
The phase after that was to be a new line running eastward, to Orlando International Airport.
There's a place for SunRail at the Orlando Intermodal Transportation Facility.
No firm plans, timetables or alignments ever have been announced, though.
The Florida Department of Transportation is still studying the prospect, and it has no federal funding, which was envisioned to pay for most of it. The region's transportation planning agency, MetroPlan Orlando, now programs federal construction money for the airport SunRail line to become available no sooner than 2020. Another MetroPlan projection has the project completed in 2016, noting that $153 million of the estimated $195 million cost is unidentified.
"Currently, study continues to examine which modes of transport, from SunRail Phase 2 to the airport, would be most efficient, cost feasible, and would qualify to be federally funded in part, as well as meet the needs of the community," FDOT District 5 public information specialist Jen Horton stated in an email. "Once that additional study/work is complete, the plan would be presented to the public in the form of a public hearing."
The trains lost crucial support in Congress when two highly committed and active backers, U.S. Reps. Corrine Brown of Jacksonville and John Mica of Winter Park, both lost re-election bids last year. Brown had served on the House Transportation and Infrastructure Committee, while Mica was a former chairman of that committee with considerable influence at the U.S. Department of Transportation. Both had close ties to both SunRail and Brightline.
In their place, newly-elected U.S. Rep. Brian Mast was given a seat on the transportation committee last week. Mast, a Republican whose Florida's 18th Congressional District includes the Treasure Coast counties of Indian River and Martin, is "100 percent against" Brightline running through his district from Palm Beach to Orlando, said Mast's communication director Brad Stewart.
Nonetheless, Orlando airport officials are pushing forward. They do have some financial security. Most of the station was paid for with state transportation grants, and they have a $10 million line of credit from Brightline, provided to help amortize the $52 million in bonds.
Though it is already clear the train station will open without trains, and may stay that way for years, it still will have some use, Phil Brown said.
"We will be using the people mover system … We'll have a parking garage down there. That clearly will be operational as well, because we, on a regular basis in the last several months, we've had to shut down the structured parking at the airport because it's full. We have a need for more parking," he said.