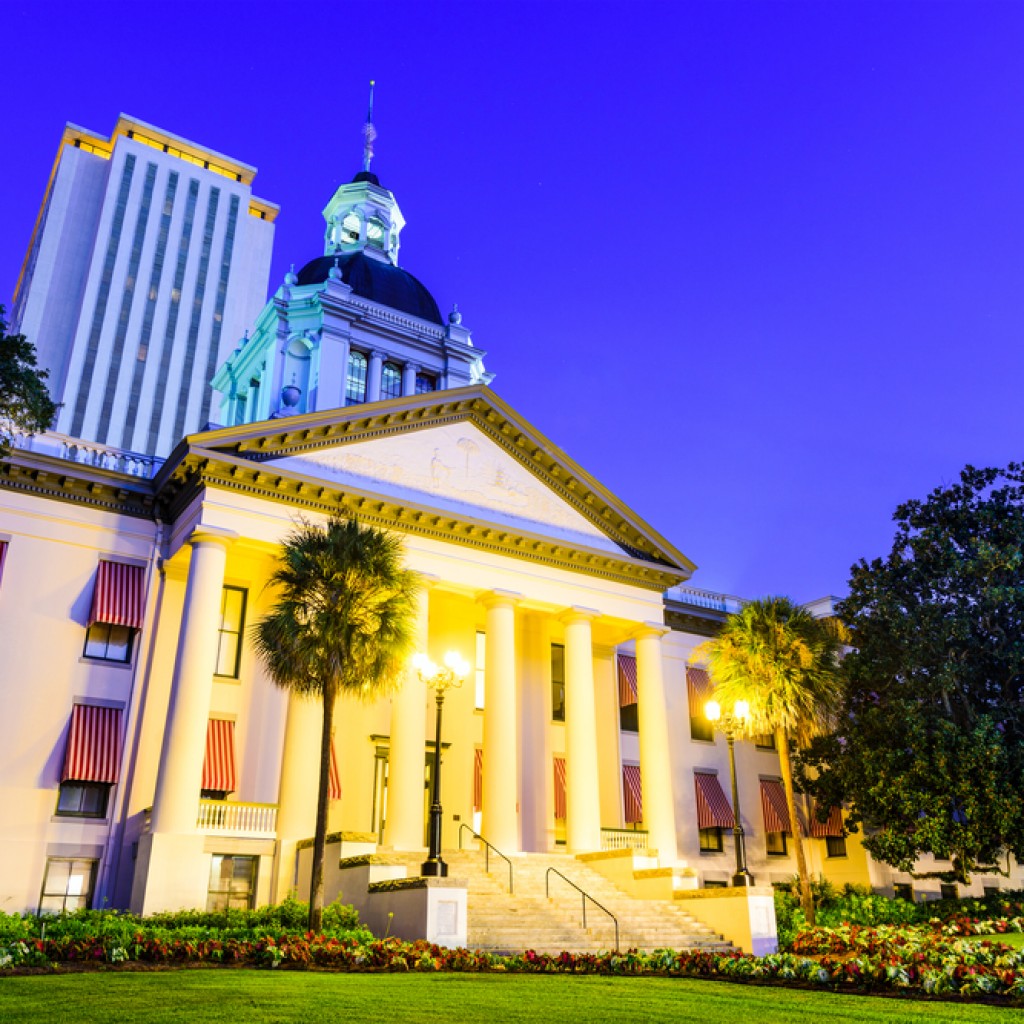 Gov. Rick Scott officially rolled out his nearly $83.5 billion budget during the Associated Press' annual legislative planning session Tuesday.
—
"AIF applauds Governor Scott's proposed budget that fights for the future of employers and employees in our Sunshine State. His proposed spending plan, which includes $618 million in tax cuts and $85 million for economic incentives to businesses, will go a long way in continuing to help our state achieve the prosperity and growth our Florida families deserve.
"From the proposed business rent tax reduction by $454 million, to the corporate income tax exemption, to the increase in the number of sales tax holidays, Governor Scott is clearly on a mission to ensure Florida job creators are excelling and Florida families are benefitting from a pro-business environment in their home state.
"As the 2017 Legislative Session gets underway, AIF encourages Florida lawmakers to support this good budget that fosters a competitive approach to how we do business and will set up Florida for a brighter future." – Tom Feeney, president and CEO of Associated Industries of Florida
—
"Providing women the opportunity to detect cancer early when it is most survivable is something that everyone deserves, no matter who they are or where they live. The state has supported this program in the past and it's critically important that House and Senate leadership step up to ensure more women have access to it, not less. This program has been a lifesaver for hundreds of women in Florida because it provides access to evidenced-based screenings, which are the most important tools for detecting breast and cervical cancer early and improving survival rates." — Heather Youmans, senior government relations director for the American Cancer Society Cancer Action Network (ACS CAN).
—
"Governor Scott's transportation budget makes the right investments in the right places for today's needs while preparing for tomorrow's demands. This budget continues to recognize the diverse needs of our residents, our businesses and our visitors." — Jay Trumbull, chairman of the Florida Transportation Commission.
—
"Governor Scott's record budget continues important strategic investments in transportation infrastructure. The budget maintains a solid foundation for a growing economy and more jobs for Florida's families." — Bob Burleson, president of the Florida Transportation Builders' Association
—
"Governor Scott continues to make Florida's seaports a priority by investing in the necessary improvements to keep up with current needs and prepare for future growth in cargo and cruise passengers." — Doug Wheeler, president and CEO of the Florida Ports Council
—
"Florida's transportation system continues to be the best built and maintained in the country because Governor Scott knows that our residents, visitors and businesses rely on it every day." — Sally Patrenos, president of Floridians for Better Transportation
—
"Governor Scott's investments in Florida's critical infrastructure demonstrate his commitment to creating one of the best and safest transportation systems in the nation." — Kevin Wall, president Florida Concrete & Products Association.
—
"Florida residents and visitors who rely on local transit systems will benefit from the Governor's transportation budget. He recognizes the importance public transportation plays in the lives of those who need it most." — Lisa Bacot, executive director of the Florida Public Transportation Association
—
"Thanks to the strategic investments Governor Scott has made in Florida's airport system, we continue to be prepared to handle record volumes in traffic and operations while at the same time making critical improvements to keep our workers and passengers safe." — Lisa Lyle Waters, president and CEO of the Florida Airports Council
—
"There is nothing more important than providing Floridians access to a K-12 and college education that will lead them to prosperous careers. I commend Governor Rick Scott for his 'Fighting for Florida's Future' Budget, which further demonstrates his steadfast commitment to Florida's families and their futures." — Education Commissioner Pam Stewart
—
"Governor Rick Scott hit the mark with his 'Fighting for Florida's Future' Budget. Florida is recognized as a national leader in the field of education, and by investing in the areas that have the greatest impact on student success, Governor Scott is investing in Florida's next generation and securing Florida's future success." — Marva Johnson, chairwoman of the State Board of Education
—
"There has never been a more important time to focus on science, technology, engineering and math (STEM) in our state's schools. Throughout the world, there is a growing demand for employees who can seamlessly fill positions in STEM fields, and Governor Scott's investments will help ensure Florida students are prepared to compete in this global economy." — Andy Tuck, vice chair of the State Board of Education
—
"Our state's students will greatly benefit from Governor Scott's focus on K-12 education in his 'Fighting for Florida's Future' Budget. I am particularly pleased by the significant increase in per-student funding, which will enable us to keep our focus where it belongs – on our students." — Malcom Thomas, superintendent of Escambia schools and president of the Florida Association of District School Superintendents.
—
"I appreciate Governor Rick Scott for proposing an increase of $10.5 million for the Florida College System. Our 28 colleges serve more than 800,000 Florida students and lead the nation with graduation rates topping nearly every other state. This infusion of funds will help ensure each college has the resources necessary to offer their students a world-class education and to respond to the needs of their communities." — Ed Meadows, president of Pensacola State College
—
"At Santa Fe College, we are committed to helping our students achieve their academic and career goals.  Our leadership and staff strive for excellence in all that we do, and I am thankful that Governor Rick Scott has included financial incentives to reward colleges for exemplary performance." — Jackson Sasser, president of Santa Fe College
—
"We appreciate the Governor's commitment to performance funding in the Florida College System.  We are convinced Governor Scott's consistent advocacy for performance funding represents solid business logic and will continue to drive positive student outcomes at Valencia and throughout the system." — Sandy Shugart, president of Valencia College
—
"I cherish the opportunity to help mold Florida's future generations through my work in the classroom, and I know that so many of my fellow teachers around the state share that sentiment. I am immensely grateful that Governor Scott has once again proposed $10,000 for each of the district teachers of the year and additional funds for the finalists and statewide winner. These outstanding educators truly deserve to be recognized for their dedication to Florida's students." — Jessica Solano, 2017 Florida Teacher of the Year

—
"We commend Governor Scott for his commitment to streamline and make state agencies run more efficiently through his proposed budget. We believe the Governor can go even further! We applaud Governor Scott's focus on broad based tax cuts that can provide real relief to hardworking Floridians, but he should forgo calls to expand wasteful tax giveaway programs like Enterprise Florida that promote unfair competition to existing businesses.
"The Governor is wrong in expecting Florida taxpayers to give away their tax dollars to businesses that want to come and compete against them in the market. We believe that his broad based tax cuts should be matched with common sense spending cuts, and that the legislature should work to give as much money back to the Florida families and entrepreneurs that are the real keys to economic development." — Chris Hudson, state director for Americans for Prosperity-Florida
—
"Governor Scott has been steadfast in his commitment to our state's juvenile justice reform work and the 'Fighting for Florida's Future' Budget is a reflection of that unwavering commitment. From the implementation of DJJ's Roadmap to System Excellence several years ago to today, Florid a has and will continue in the future to serve as a model juvenile justice system for the rest of the country." — Cathy Craig-Myers, executive director of the Florida Juvenile Justice Association
—
"On behalf of vulnerable girls in our state, we appreciate Governor Scott's investment in prevention services in Florida. Under his leadership, more girls and young woman have access to education, counseling, and trauma informed services so that they can reach their full potential and successfully transition to adulthood." — Mary Marx, president and CEO of the Pace Center for Girls
—
"The Florida Network would like to thank Governor Scott for continuing to recognize the importance of investing in prevention services in our state. Having the ability to reach younger children, before they come into contact with the juvenile justice system, ensures not only a brighter future for them but strong families and communities overall." — Stacy Gromatski, president and CEO of the Florida Network of Youth and Family Services.
—
"While mental illness and substance abuse can be unimaginable challenges for a family, this budget recognizes the importance of supporting services to address these needs a priority for our state. I applaud the Governor's leadership in keeping these issues in the forefront and driving long-term, effective treatment solutions." — Mark Fontaine, executive director of the Florida Alcohol and Drug Abuse Association
—
"We applaud Governor Scott's continued commitment to invest state resources in community behavioral health programs. His budget proposals will provide much-needed relief to families in need, make our communities safer, and help those at risk."– Melanie Brown-Woofter, interim president of the Florida Council for Community Mental Health
—
"This budget provides additional workforce capacity and services for child victims of human trafficking and crossover youth who find themselves in both the child welfare system and the juvenile justice system. The Governor clearly understands the urgency of providing these children with relevant and timely services and specifically, ensuring effective treatment for the trauma that they have experienced." — Jessica Pryce, director of the Florida Institute of Child Welfare
—
"Florida Health Care Association is grateful  to Governor Scott for his continued support of quality care and services for Florida's frailest elders. We appreciate him fully funding Medicaid for nursing center services and for initiating the dialogue on the creation of a Prospective Payment System. In addition, his 'Fighting for Florida's Future' Budget will help to further streamline the background screening process, allowing qualified employees applying at our centers to enter the long term care workforce faster so they can more quickly begin caring for nursing center residents." — Emmett Reed, executive director of the Florida Health Care Association
—
"The investments in the Provider Data Management System in the 'Fighting for Florida's Future' Budget will greatly streamline the application process for providers wishing to participate in the Medicaid program. Thanks to Governor Scott for streamlining the process, and allowing us to open our doors and serve Floridians in the most cost-effective, patient-preferred setting sooner." — Bobby Lolley, Home Care Association of Florida
—
"Cultural organizations and museums provide many benefits to communities throughout Florida and strengthen the economy and job creation. We applaud Governor Scott for his continued dedication to cultural and museum grant funding." —Malinda Horton, executive director of the Florida Association of Museums.
—
"Funding for culturally-based activities improves quality of life and increases opportunities for all Floridians. We thank Governor Scott for his support of arts and culture in the State of Florida." — Lois Benson, chair of the Florida Council of Arts & Culture
—
"Governor Scott understands that historic preservation serves as an economic engine for Florida communities and supports cultural heritage tourism. Investments in historical properties are an investment in Florida's future." — Marion Almy, chairman of the Florida Historical Commission
—
"Governor Scott recognizes the significant contributions that libraries provide to Florida citizens. From supporting early learning and providing homework assistance to career exploration, information literacy, and lifelong learning, libraries provide critical services to our communities." — Charlie Parker, executive director of the Tampa Bay Library Consortium
—
"The conservative estimate that Florida could be paying nearly $45 million a year in claims for ineligible dependents receiving benefits is astonishing. Florida Tax Watch commends Governor Scott's commitment to reducing the burden on Florida taxpayers and for seeking innovative solutions to increase efficiencies throughout state government." — Dominic M. Calabro, president and CEO of Florida TaxWatch