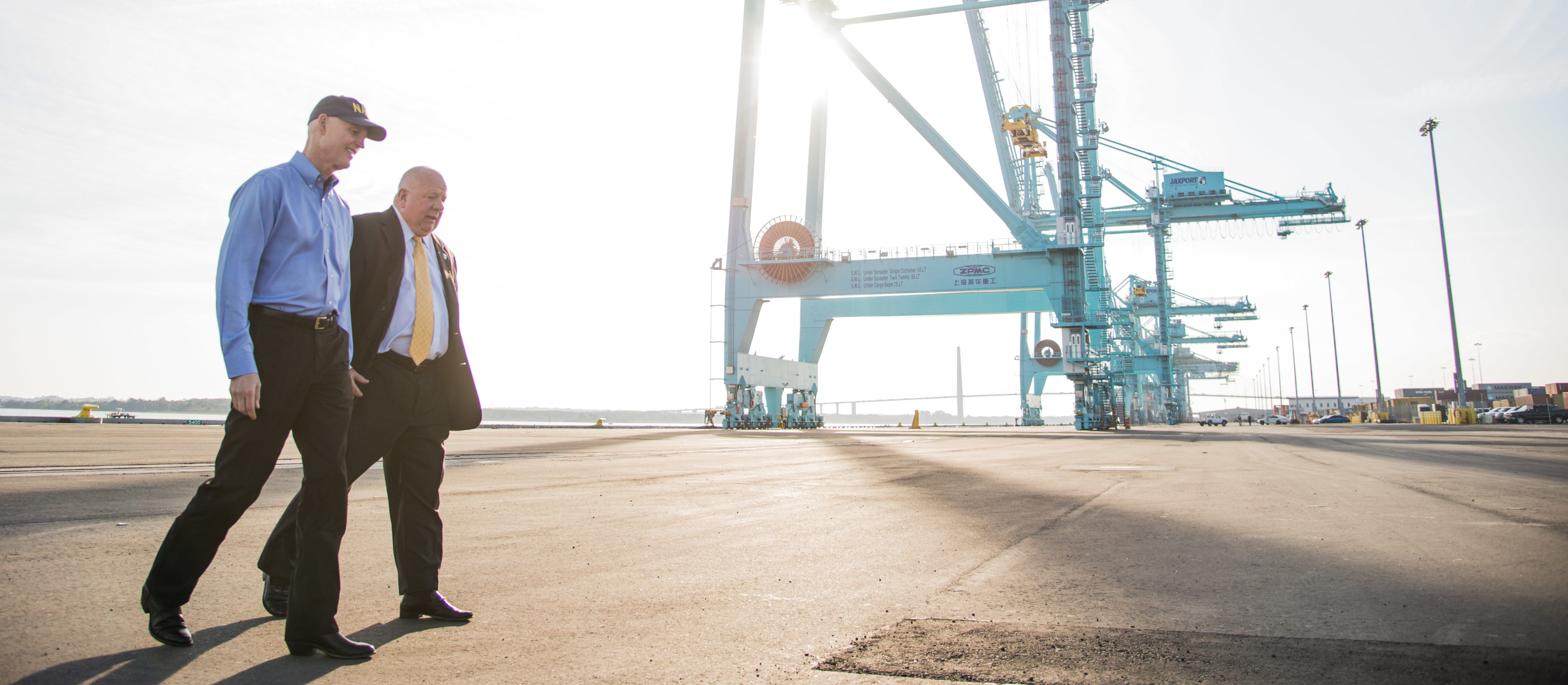 Is One Door Closing on Corrine Brown?: The big story of the week in Jacksonville — the intrigue in the One Door for Education case.
The week started with Corrine Brown and her former chief of staff, Ronnie Simmons, as co-defendants facing 24 counts for the allegedly fraudulent charity that turned $800,000 in donations into $1,200 of charity and significant walking around money for Simmons and Brown.
By Wednesday, Simmons pleaded guilty to two of those 24 counts. His sentencing will be delayed, and possibly mitigated, by cooperation with the state. But as of now, he faces 30 years in lockdown, $500,000 in fines, and $1.287 million in restitution.
Thursday revealed the extent of Simmons' cooperation.
In Brown's hearing, her attorney signaled the former congresswoman's "firm intent" to go to trial, noting she refused entreaties for a plea deal from the Feds.
As well, a request for a 60-day delay to the start of the trial was rebuffed. As of now, it's slated for late April.
Brown and her lawyer, along with Martin Luther King III, who was there in support, took questions after the hearing Thursday afternoon.
The leitmotif: Brown was "surprised and shocked" that Simmons turned on her.
Apparently, Brown hadn't been talking to local media, some members of which may have had a pool on the date that turn would happen.
Brown eschewed the confrontational tone of past gaggles.
Rather, when asked how she felt about Simmons' betrayal, she asked plaintively how one does "sign language for a broken heart."
And in this guise, the reinvention of Corrine Brown into her perhaps final public form is apparent.
If there's one lesson to be learned from Reggie Fullwood's wire fraud case, which also resolved this week, it is an emotional appeal can mitigate situations where facts aren't necessarily with a defendant.
***Southern Strategy Group is Florida's powerhouse lobbying firm with a dedicated Jacksonville office, as well as locations in Miami, Orlando, Tampa and Tallahassee. Our nearly 25 lobbyists work daily to get our clients and their issues in front of key local and state elected officials. Whether in City Hall, the State Capitol or somewhere in between, we'll work with you to create and execute a strategy that moves your agenda from the starting point through the finish line. Every industry. Every interest. Powerful advocacy begins here. Call us today at 904-425-8765 or visit www.sostrategy.com to learn more.***
So Much for 204 Years: Arguably the best defense against campaign finance fraud in Northeast Florida history occurred this week: former State Rep. Reggie Fullwood avoided prison time for what was originally 14 felony counts against him.
Fullwood, who kept moving campaign finance funds into personal accounts (a perk of being his own treasurer), managed to plead ignorance of the law, while witnesses (including the father of his estranged wife) had his back.
Crying when he took the witness stand helped. As did a genuinely sympathetic judge, who spent more time noting what Fullwood had overcome in his life — beyond expropriating campaign donations for televisions, jewelry and liquor.
Fullwood will serve 180 days of house arrest starting March. Though he may leave the house for work, it is probably a good time for Fullwood to invest in the MLB Extra Innings package as he rides out the toughest part of that stretch.
—
MMJ, a sticky mess: This week, the Florida Department of Health has had rules workshops throughout the state, in the wake of Amendment 2.
Monday was Jacksonville's turn. And the Florida Times-Union reports that, as is the case everywhere else in the state, people who voted for Amendment 2 want access to the palliative that has proved elusive.
"You just make it so hard on us patients," one person said. "I'm about forced to move to Colorado."
Others complained about the prohibitive costs, with more than one suggesting the black (green?) market is better than the state-sanctioned alternative.
An apparent consensus: the system, initially set up in 2014 for low-THC cannabis, isn't working.
—
Puff, Puff. Pass: The Florida Times-Union had the puffiest editorial puff piece in quite a while this week when it lavished hundreds of words extolling the relationship between the Jacksonville Jaguars and the city.
"The relationship between the NFL Jaguars and the city of Jacksonville continues to evolve in a very positive way. And for this, we are thankful," the T-U wrote.
The ostensible subject: Opening of the amphitheater (Daily's Place) near the sports complex, a big piece of a $45 million bonded-out city investment. Coupled with a $43 million buy on scoreboards, the city's bed tax will be paying for these investments until after their useful life ends.
The Curry administration sold the amphitheater as a way of bringing unique value-added acts to town that otherwise wouldn't come. But the slate of shows is underwhelming.
Far be it from the T-U to note that sorry selection, though.
Bootlicking is more the paper's speed: "We're incredibly lucky to have an NFL owner like Khan, who will throw in 50 percent of this major investment in our city."
Wake me when he pays for septic tank removal.
—
Unions Hold Ground in Collective Bargaining: Last year, Mayor Curry got his pension reform bill through both Tallahassee and a voter referendum, but this year, collective bargaining has proved to be more of a slog.
The city is still pushing defined-contribution plans for new hires. The latest proposal, advanced this week from the Fraternal Order of Police and the Jacksonville Association of Fire Fighters, concerns individual pension contracts.
The city, meanwhile, offered a ten-year deal, negotiable at three-year windows, with a chance to reopen negotiations for a plan more to the unions' liking.
That didn't fly. Neither did the city's proposal for annuities as a Social Security substitute for new hires.
The Mayor's Office set a Saturday deadline to accept the current deal on the table. The city's urgency is driven by budget forecasting, more than economic necessity: starting in March, the city begins to formulate its departmental budgets.
If the city knows it can rely on the actuarial certainty created by the guarantee of future local sales tax money (predicated on closing at least one of the city's extant pension plans), then it can plan accordingly.
If not? Another lean year for local budgets.
Unless Shad Khan has an ask.
—
Religious Reconciliation: Two years ago, the African-American Shiloh Metropolitan Baptist Church merged with the suburban, white Ridgewood Baptist Church.
The Washington Post followed up on this merger recently, and it apparently has benefited all parties … an instructive lesson for Jacksonville as it deals with the ongoing challenge of racial reconciliation.
Blacks and whites worshipping at a single Baptist church — a seemingly unlikely prospect at one time — created a situation where a rising tide lifts all boats, ameliorating the de facto segregated Sundays in many churches.
—
Candid Camera: Jacksonville Sheriff Mike Williams, fresh off telling the police union to take Curry's pension deal (extending defined contribution plans to new hires), ticked off the rank and file again in a Jacksonville City Council committee.
The Florida Times-Union reports Williams said body cameras would not be subject to collective bargaining.
The police union, of course, disagrees.
"We are confident PERC will follow the rulings of every other state that has heard this issue and order the sheriff to bargain the policy with the FOP," said Steve Zona, head of the police union.
Williams may face opposition in 2019 if he keeps undercutting the bargaining positions of the union.
—
Lucky 13: Will it be Happy Valentine's Day? Or Valentine's Day Massacre?
That's the question to consider when the Jacksonville City Council votes up or down Tuesday night on the expanded Human Rights Ordinance.
The bill cleared three committees, with the closest margin being a 4-3 vote Wednesday in Finance.
Voting against the measure in committees: Bill Gulliford, Sam Newby, Matt Schellenberg, Danny Becton and Doyle Carter.
Expected to oppose it Tuesday when the full council mulls the HRO: Al Ferraro.
The bill needs 13 votes to be veto-proof. If the 13 other members actually show up Tuesday and vote for it, the bill is golden.
Councilman Reggie Brown, who opposed such legislation in 2012, has yet to render a committee vote. Brown is expected to vote yes, but there are no guarantees.
Any attrition from the magic number of 13, and Curry — who last year said the legislation isn't "prudent" — will be faced with the choice of casting his first veto, or risk someone run from his right against him in 2019.
There are different things he'll do, depending on who in his orbit you ask.
Meanwhile, Curry is not saying.
—
Race Mutters: While the HRO drowns out everything else happening in City Council next week, other bills are up for consideration.
One that should pass: Garrett Dennis' bill to fund a (currently unfunded) director position, instituted in 2008, to ensure the city's independent authorities and government are taking meaningful steps toward a workforce that looks like Jacksonville.
Discussion in the Finance Committee Wednesday indicated one lonely voice of dissent: Matt Schellenberg, who said — among other things — that the bill ran contrary to the "American way."
Schellenberg asserted the proposed legislation is "discriminatory on its basis — what you're dealing with is race and gender."
Jacksonville, in the early days of consolidation, was slow to address issues of racial reconciliation. The Tommy Hazouri administration tackled issues like minority set-asides. In the quarter century since Hazouri left office, however, the city has pretended as if old divisions have been solved.
Dennis was amicable about Schellenberg, despite the councilman's attempt to blow up his bill and question his Americanism.
For Schellenberg, who made a play for council leadership last year, incidents like Wednesday's illustrate why a meaningful role for the second-term Republican is a non-starter.
—
State of JAXPORT 2017: JAXPORT CEO Brian Taylor delivered the 2017 State of the Port address during a Propeller Club – Port of Jacksonville luncheon at the University of North Florida. Taylor discussed recent business growth, highlighted by the port's 19 percent growth in Asian container shipments, along with major growth projects completed in 2016. The Propeller Club of the United States is a nonprofit organization dedicated to promoting the maritime industry in the U.S. and abroad. As one of the longest running clubs in the nation, the Port of Jacksonville chapter advocates for the maritime industry in Northeast Florida. Video of the speech is available at JAXPORT.com.
—
St. Johns River of Lights: To boost Jacksonville's waterfront, local architects are envisioning columns of lights and lasers placed along the St. Johns River as it flows through downtown. The display will look like a "glittering necklace," reports the Florida Times-Union. The concept is still in its early stages, with one supporter being City Council President Lori Boyer. The American Institute of Architects Jacksonville chapter imagines a high-voltage display with skyward beacons to connect several attractions downtown.
"The vision is to create this pearl necklace, this string of lights along the river, that are connected and can really showcase our city," Thomas Duke, chair of the Downtown Visioning Committee for the Jacksonville chapter of AIA, told the T-U.
The waterfront light show would come in good time for downtown, which is about to see new developments like The District and The Shipyards as well as popular attractions The Jacksonville Landing and Friendship Fountain."This creates the framework that everybody can plug into,"Duke said.

Flagler Hospital wins award for clinical excellence: Health care research firm Healthgrades.com presented Flagler Hospital with a 2017 Distinguished Hospital Award for Clinical Excellence. Flagler was among 258 hospitals out of 4,500 nationwide to receive the recognition, which honors facilities for performing in the top 5 percent based on clinical outcomes for dozens of common procedures and conditions.
Flagler Hospital was one of only four hospitals in Florida to receive the award and also named a Top 100 Hospital for General Surgery, Joint Replacements, and Orthopedic Surgery.
"Delivering safe, high-quality care is our top priority at Flagler Hospital," said Flagler President and CEO Joe Gordy. "This recognition by Healthgrades reflects our commitment and ongoing investments in training, technology and evidence-based practice to achieve the best possible outcomes for every patient. Our board, our physician partners and our staff truly care our patients, our hospital, and our community and this has been affirmed by our Healthgrades performance year-after-year."
—
Jacksonville Historic Preservation Awards open nominations: The Jacksonville Historic Preservation Commission has opened nominations for its annual awards ceremony. The award recognizes outstanding projects and services that promote historic preservation in the Jacksonville area. Recipients will be honored by the Historic Preservation Commissioners at an awards ceremony in May, coinciding with the celebration of National Preservation Month.
Nomination forms with information on eligibility, judging and nominating procedures can be found through the Planning and Development Department or at www.coj.net/PreservationAwards.
—
Jacksonville Manatee Fest: The Jacksonville Zoo and Gardens will host the Jacksonville Manatee Festival Saturday, Feb. 18 from 10 a.m. to 2 p.m. The event will include live music, arts and crafts demonstrations, parades and conservation to celebrate Florida's state marine mammal. Florida Fish and Wildlife Conservation Commission will provide tours of its manatee rescue boat and transport truck, and conduct a manatee 'rescue' for children. The festival is free with admission. More information at  jacksonvillezoo.org.
—
—
UF Health Jax surgeons tackle challenging cancers: If not treated quickly and aggressively, esophageal and pancreatic cancers can be deadly. UF Health profiles Dr. Ziad Awad, medical director of the minimally invasive surgery program at UF Health Jacksonville, who tackles those two cancers on a daily basis. "Both are very complex cancers to manage in the sense that they need a big, multidisciplinary approach," Awad said. "Because the majority of these cancers are diagnosed at an advanced stage, the patient needs a lot of guidance in terms of lung function, heart health and their nutrition profile before we can do anything surgical."
Approximately 85 to 90 percent of patients receive upfront treatment, like chemotherapy and radiation, before Awad's team will perform surgery — some surgeries other physicians are reluctant to do.
"Since it's a university setting, we take on the complex cases," Awad said. "We do a lot of advanced cancer removal that is minimally invasive, but sometimes we perform open surgery."