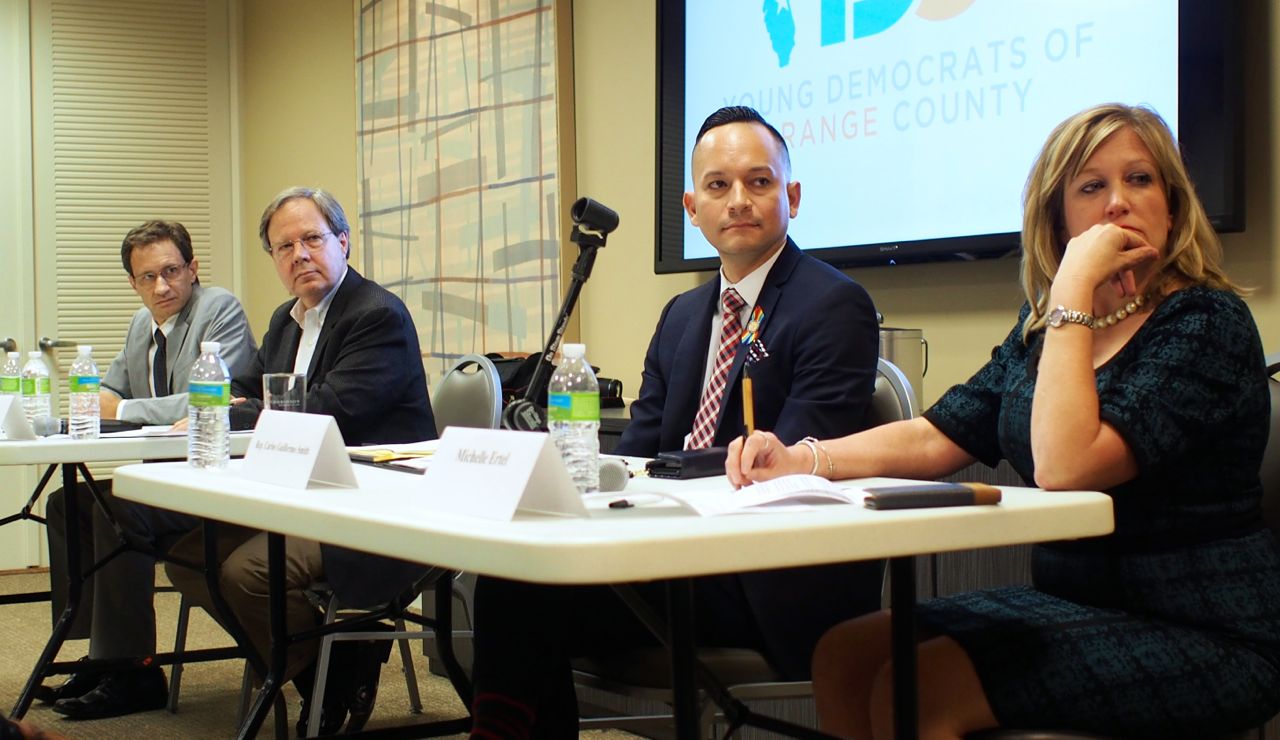 A gun laws debate featuring staunch 2nd Amendment Republican state Rep. Scott Plakon and irrepressible "common-sense reforms" Democrat state Rep. Carlos Guillermo Smith boiled down Tuesday night between a demand that fundamental rights should not be abridged without compelling reasons, and expressions of perceived compelling reasons.
Plakon, a Longwood Republican who sponsored House Bill 6005, to allow guns on college campuses, continuously referred to gun ownership as a right to which all Americans are born. "Shouldn't we start with, you are born with these rights and that's the default position? And to remove those you should have a good reason, other than guns care me," he demanded.
Smith, an Orlando Democrat who sponsored House Bill 167, to ban sale of assault weapons and large-capacity magazines, continuously challenged what civilian use such weapons could have outside of mass killings. "They serve no legitimate civilian purpose, and because they are and they have become the weapon of choice and gold standard for mass murder."
Plakon and Smith were brought together Tuesday evening by the Young Democrats of Orange County for what was to be a debate on two specific legislative matters: Plakon's bill to allow guns on college campuses, and bills to allow open-carry of firearms in Florida. But from the start the debate took on much broader dimensions, covering gun rights and efforts to reduce gun violence.
The two lawmakers were joined Tuesday evening by Barry Mauer, a University of Central Florida professor and leader of the United Faculty of Florida union; and Seminole County conservative political commentator Michelle Ertel. The moderates were equally split: former Democratic Florida House Minority Leader Mark Pafford and former Republican Orange County Clerk Eddie Fernandez.
Mauer insisted that there is absolutely no support for a guns-on-campus law, and that many professors were so aghast at the prospect that they express reluctance to even appear in classrooms if the law is adopted. He also portrayed America's gun culture as something that has drifted to the extreme right in recent years and now reflects the "dreams and nightmares" of survivalists.
Ertel said gun ownership is a choice and noted she chose to not have guns in her house when her children were young but now has guns, including an AK-47. She lashed out at the notion that she should expect the government to protect her, or that the government would tell her how she could or could not protect herself.
But it was Plakon's and Smith's positions that mattered, since both are at the forefront of their parties' gun fights in Tallahassee, and both came fully armed with detailed knowledge of surveys, studies and crime statistics.
Plakon insisted none of those surveys, studies and crime statistics conclusively showed that gun-free zones, or bans on open-carry of weapons led to more violence. In fact, he argued that the worst crimes occurred in defined gun-free zones, because deranged killers know they'll be safer and freer there to commit mass murder.
In particular with guns on campuses, he noted his bill would restrict guns to concealed weapons permit holders, meaning they have to be at least 21 and to have passed background checks. In other states that have such laws have had but four total gun incidents, so worries about angry students shooting it out, he said, absurd.
"Without evidence, why would you want the 2nd Amendment rights removed from people in this room and other places without any evidence?" Plakon demanded at another point.
That brought out Smith's passion. In addition to being a being long-determined on gun restrictions, Smith is openly gay and was close to victims of last summer's mass-shooting massacre at the popular Orlando gay nightclub Pulse, where 49 people were murdered and 53 wounded. He turned to Plakon in deep emotion Tuesday night.
"Rep. Plakon asked me what is the very good reason. Now the context of this discussion, to be clear, was actually assault weapons. I have a very good reason," Smith said. "And I don't think many of us have to guess what that good reason is. I do not believe that there is any circumstance and any legitimate civilian purpose for why the gunman at Pulse should have a Sig Sauer MCX that was able to fire 30 rounds nonstop without hesitation. Folks do not have the right to access these weapons of war and we are living with the unfortunate consequences, because this community, many of the people we know, our friends, our constituents, their lives are either no longer their own or have been ripped apart and destroyed by assault weapons. That is my very good reason."