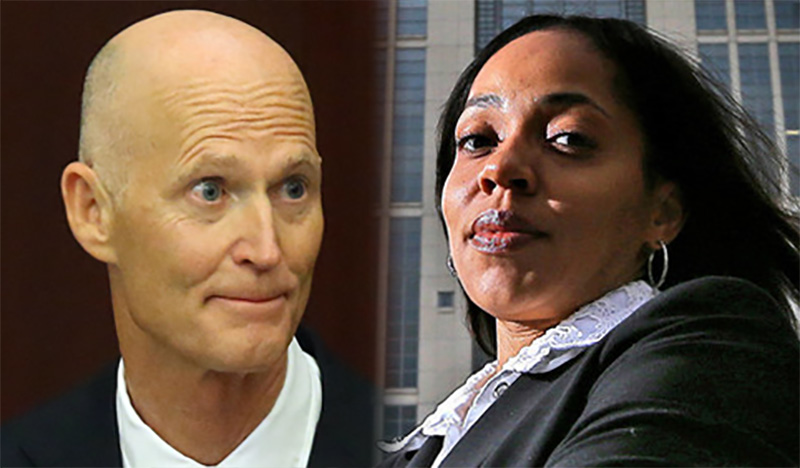 The courtroom at the Florida Supreme Court seats 164, which may not be enough for all the attorneys, organizations and individuals who have intervened in the unprecedented case of Aramis Ayala v. Rick Scott.
Six groups have weighed in as friends of the court on behalf of Ayala, the state attorney for Orange and Seminole counties who is fighting to regain the 23 murder cases that the governor assigned to another prosecutor after she said she would not seek the death penalty in any of them
Among her supporters is a group of 45 prominent lawyers and judges, most well-known nationally. Among them are four former Florida Supreme Court justices, two former presidents of the American Bar Association, nine current and former district attorneys in other states, and four former U.S. Justice Department officials including Jamie Gorelick, who was Attorney General Janet Reno's deputy.
Three "friends of the court" support Scott, among them the Florida House of Representatives and the Florida Prosecuting Attorneys Association, which sided with the man who controls their budgets rather with the colleague who is fighting for their independence as well as hers.
One group of families of murder victims is backing Ayala. Another is for Scott.
Despite the extraordinary interest, this case is not going to decide whether the death penalty is as error-prone, financially wasteful and as altogether counter-productive as Ayala correctly insists.
Florida needs answers to those questions, but capital punishment is one of those issues where precious few politicians care to be confused by facts. As the steam was building in Ayala v. Scott, the House of Representatives defeated a budget amendment calling for an objective study of the costs and consequences of the death penalty.
For the court, however, the questions are simply these: Did Ayala abuse her discretion in deciding as she did? Did Scott abuse his in stripping her of those 23 cases?
It's one of the most significant arguments the court will ever hear. Florida prosecutors make perhaps tens of thousands of judgment calls every year: What crime to charge? What crime not to charge? What plea to accept? They have even more power than the judges in deciding who goes to prison and for how long.
Should a governor be able to supersede one of those decisions simply because he doesn't agree with it? Carried to an extreme, that makes him a dictator.
As the brief of the 45 lawyers and judges argues, "The real issue—and the one properly before this Court—is the independence of state attorneys to exercise their discretion without interference from other political branches of government. Indeed, this case puts squarely at issue the fundamental independence of prosecutors and the judicial branch …
"The Florida Constitution does not allow the governor of the state to support the exercise of prosecutorial discretion only when he finds it agreeable to and to intervene when he feels otherwise." the brief says.
This is the gist of Ayala's case, although she contends that the governor's power to reassign state attorneys is a lot less limited than Scott's predecessors have taken it to be. They sent in substitutes not only when some prosecutor reported a conflict of interest, such as a relative or former client facing charges, but also in cases of official misconduct where they believed the resident prosecutor was compromised by friendship or indifference. But I can recall no case like Ayala's, in which the issue is not whether to prosecute for a crime but only whether to ask for a specific penalty.
Scott contends that Ayala made an "across the board determination not to undertake a case-specific analysis." In effect, his lawyers say, she decided not to exercise her prosecutorial discretion.
His position appears somewhat inconsistent with what the governor's office wrote last year to a citizen who had complained about another state attorney.
State attorneys are independently elected, charged with "certain discretionary duties," and answerable only to their voters, the letter said.
All this begs the question of whether Florida will be harmed in any way if Ayala gets the cases back and the defendants she convicts go to prison for life instead of to death row.
The answer is no. Florida would be better off.
The killers would be behind bars for life. Anyone who thinks that's getting away with murder should consult the ghost of Aaron Hernandez. Florida would spend a lot less money putting them in prison and keeping them there. There would be no multiple rounds of appeals, many of them to federal courts beyond the state's control. The families of victims wouldn't have to wait 20 or 30 years or longer for closure.
In any event, the voters of Orange and Seminole counties will have the opportunity to pass judgment on Ayala three years from now. Why isn't Scott willing to wait for that? Is it because that would be no help to his U.S. Senate campaign next year?
It would be useful — and overdue — to have a comprehensive study from the Legislature's highly capable and nonpartisan office of Office of Program Policy Analysis and Government Accountability. Among other things, the people deserve to know how much extra money they are spending on death cases. OPPAGA should also be tasked to explain in detail what happens to the enormous majority of killers who don't end up on death row. In fiscal 2015, for example, Florida courts sent 942 people to prison for homicides ranging from manslaughter to first-degree murder, but only eight to death row.
A safe guess would be that prosecutorial discretion accounted for virtually all of that. Isn't it time to know?
___
Martin Dyckman is a retired associate editor of the Tampa Bay Times. He lives in Asheville, North Carolina.