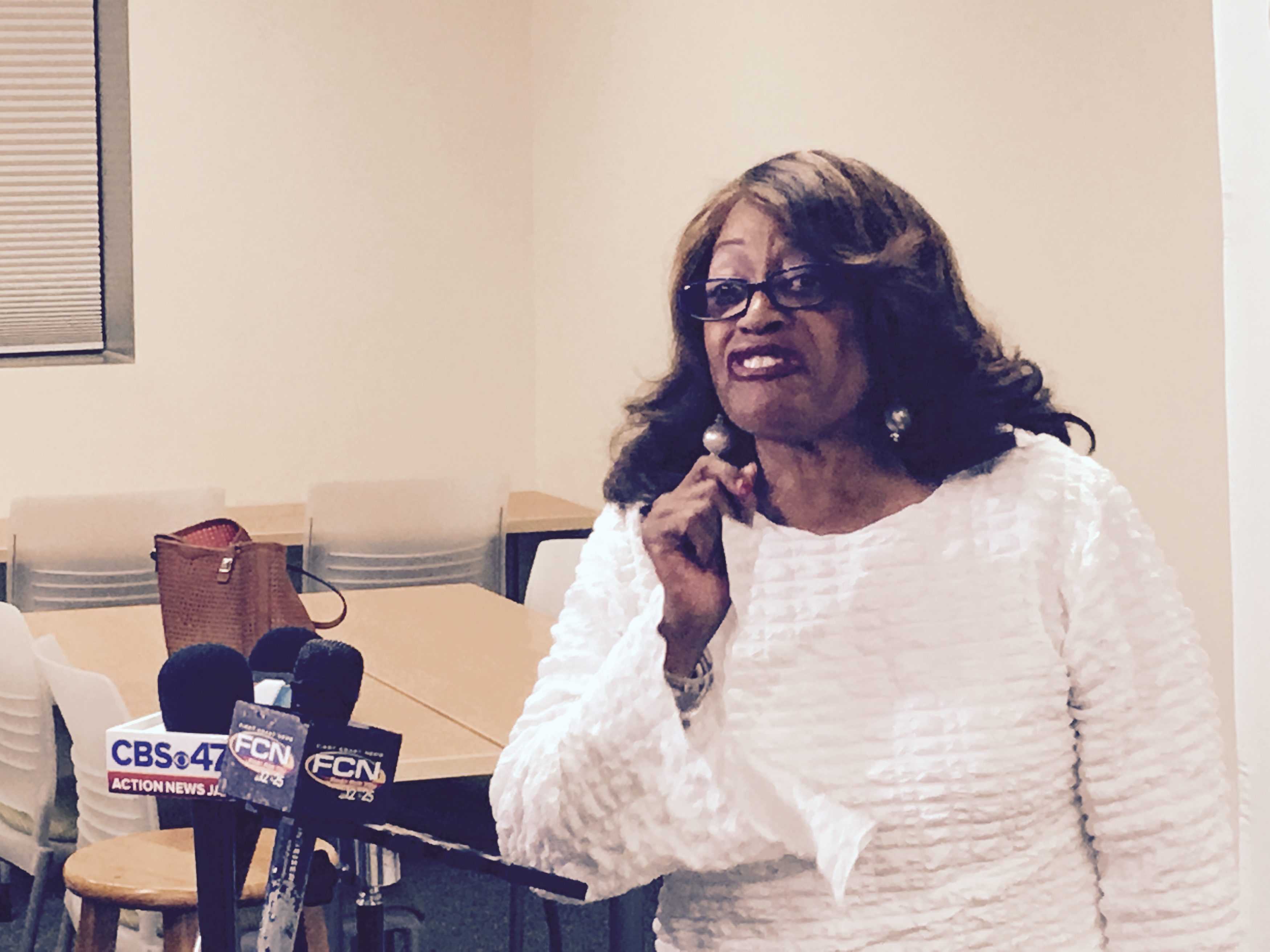 Below: the closing arguments in the trial of Corrine Brown.
Defense: Simmons controlled the scheme, duped Corrine Brown
Corrine Brown's attorney, James Smith, laid it out to the jurors, striking a garrulous tone with a reassuring voice, before showing a rare picture of Ronnie Simmons' sister, Corrine Brown, and the One Door president to set the scene.
The picture showed Simmons' "three major frauds," Smith said, via "women close to him."
And it led the Orlando barrister to a not-so-rhetorical question … one upon which Brown's appeal to "reasonable doubt" on the 22 counts must be predicated.
"Who is Ronnie Simmons?"
Simmons – contended Smith – was a serial liar and thief, grifting Corrine Brown for years as she was distracted with "constituent services." And his centrality to the scheme leads to one inexorable conclusion.
"For the next 90 minutes, it's my intent to show you she's not guilty," Smith said, and that the government "failed to deliver" in proving otherwise.
Who is guilty? Ronnie Simmons – who duped Brown, Smith said, exploiting trust built over decades.
"Simmons' handwriting is all over this case – checks, tax returns, financial disclosures," the defense attorney said. "Ronnie Simmons is someone you can't trust – and he controlled Corrine Brown's finances."
Brown's career progressed, and Simmons – her daughter's ex-boyfriend – progressed with her, serving as Brown's chief of staff from 1993 until the end of Brown's time in office – just weeks before Simmons rolled on her, pleading out and turning state's evidence.
"He was her son … her boy," Smith said, "he made the trains run on time."
Brown, said Smith, needed Simmons – especially as she moved through her mid-60s.
Corrine Brown shows "glimpses" of the firebrand she once was, Smith says, but all of that is suffused by a barrel of 200-proof heartbreak.
"How could her son do this to her? Is she delusional. No, she's human," Smith said.
Smith noted that the government posited that Simmons was a "bit player … someone who decided to steal hundreds of thousands of dollars because he was ordered to do so."
Simmons had, Smith said, "already learned to steal" before One Door opened up to Simmons in 2012.
Evidence of that: Simmons scheming to get his sister hired in Brown's Congressional office as a "ghost employee," with Brown relying on Simmons' honesty as Simmons lined his pockets with his own sister's name.
"That wouldn't be the first time he used a woman close to him to lie, cheat, and steal … a leopard doesn't change his spots … on to the next mark, the next victim," Smith said.
That next victim: One Door President Carla Wiley, who gave Simmons the key to the kingdom after chit-chat on a cruise ship with Simmons.
Smith pointed out the explicit desire of One Door donors to give transactional money, before discussing the "nice parties and receptions" funded by One Door, "parties with a purpose" that were not "illegal."
"Does the government really believe her ego is so big that she would steal … to go to a hotel and have nice things to eat," Smith asked rhetorically.
"The case ultimately comes down to two people … a dedicated and recognized member of Congress … [or] a self-admitted liar and thief who has a criminal conviction, and a vested interest in what happens here today," Smith said.
Simmons, said Smith, "controlled" One Door – the check card, the checks, and tabs on financial statements to know when money could go out ($800 at a time, from ATMs) … and when money needed to be put in.
One Door head Carla Wiley likewise benefited, and did so after Simmons took control, Smith noted.
And all the while, said Smith, Brown didn't know of the transactions; indeed, Brown and Wiley knew each other but casually.
"What evidence is there that Carla Wiley went to the Congresswoman and said 'I'm stealing a bunch of money'," Smith asked. "There's no conspiracy between the two."
Smith continued to press on a failure in the government's case: a "battalion" of witnesses, bank statements and so on obscure the counternarrative – which is that Simmons, with access to Brown's own finances, was uniquely positioned to steal.
"They had these blinders," Smith said, with a preordained position that Brown was guilty.
"If you believe something, you can find anything to confirm it," Smith said.
This includes the catalog of transactions over the years, Smith said, boiled down and repeated for days in the courtroom as if catechism.
Smith urged a "deep dive" into details by the jury, a look at where Simmons "lied on the stand" regarding a pass-through check from the company of a Brown crony, Jacksonville City Councilman Reggie Gaffney.
Simmons said he didn't know anything about that or other such pass-through checks. However, that was a lie, Smith said – a lie that underscored the gap between authoritative indictment and conclusive proof.
The check, in the description line, was marked to Simmons' own mother … just one example of a Simmons fabrication. And there were others: lies about using One Door's debit card to pay for personal expenses, among them.
"Simmons looks for opportunities to use people, get close to them … their finances, their money," Smith said. And in this case, the golden goose was Corrine Brown – who signed documents for him on demand.
And Simmons had been signing for others, said Smith – maybe as a "matter of convenience" in time crunches, but other times "because he wanted to commit a fraud."
Simmons' propensity for forgery, coupled with opportunity and the willingness to commit a pattern of crimes, make him culpable, Smith argued.
Yet the government "had these blinders on. They knew what they wanted," Smith said, and they wanted Corrine Brown.
"If you have any doubt about the material things in this case," Smith said – including Simmons – "the government's case falls apart."
One of those material things worthy of doubt, Smith said, a tax form purportedly signed by Brown, but that was not signed by Brown, said one independent witness.
"So absent was the Congresswoman from day to day affairs … that frankly it became office practice to sign for her," Smith said.
Brown, said Smith, thought she was raising money through these events; Simmons, however, was responsible for the fraud the government asserts, Smith added.
Donors were Brown's "friends … and they trusted her." And it didn't "make sense" for Brown to lie to donors for the three years of the scheme – personal sense or political sense, the defense lawyer added.
Simmons "wanted the checks to be sent to his home. Why?" The idea, said Smith, was "to hide it" from Corrine Brown.
The "circular theft pattern," said Smith, proved that it was Simmons who was "robbing Peter to pay Paul."
That pattern explains, said Smith, even ephemera like the balance inquiries, many of them made multiple times in minutes before donor cash dropped into the One Door account.
All the while, Brown was ignorant of the pattern: too busy to notice that she was the mark, and her "boy," her "son" was grifting her.
Simmons fooled his lover, said Smith. And so fooling his elderly, distracted boss was child's play.
Simmons handing her cash, said Smith: a way to keep Brown from checking her balance, a way to keep her from knowing what the real situation was.
Desperate toward the end of the scheme, Simmons wrote one donor, saying he was "in a jam" and needed a promised $10,000 check. Another donor got hit up for a $5,000 check to a different pass-through – Jacksonville City Councilman Reggie Gaffney's Community Rehabilitation Center – after it was revealed One Door was not a registered non-profit.
"The Congresswoman's never in the mix," Smith said, of Simmons' communiques with the donors.
"It's so obvious – between the Congresswoman's good intentions and the money being diverted, is her lying, cheating chief of staff," Smith added, noting that money from pass-throughs to Simmons went unexamined by a prosecution bent on convicting Corrine Brown.
In closing, Smith brought discussion back to "character" – a leit motif in his presentation.
Wiley and Simmons, Smith reminded the jury, pleaded out – with Simmons changing his story once off Brown's Congressional payroll.
"Before they can get to the promised land – no prison," Smith said, the two have to provide "substantial assistance."
Smith noted that the government had a lot of witnesses, but the two "star witnesses" are confessed fraudsters and serial liars.
The jury, which had been more or less attentive, looked to be fading as Smith wrapped his remarks.
"She's not a mastermind," Smith said, "she's an old woman."
Meanwhile, the government's case: predicated on "caricature," a caricature obscuring the busted trust and serial deceptions at the heart of this case – and the denouement of the Corrine Brown political machine.
The prosecution rebuttal noted that for many of the transactions, Ronnie Simmons was nowhere to be found – including checks routed through former Brown employee Von Alexander and a check cashed in Los Angeles during a Brown trip with her daughter Shantrel.
As well, the rebuttal noted that Brown had lied about donations that never happened.
And regarding Brown being busy, the prosecutor noted that Brown wasn't too busy for extensive travel. Nor was she too busy to check balances in her account, far away from where Simmons was. Nor was she too much, the prosecutor said, to work the donors for hundreds of thousands of dollars.
The case made by Smith found holes poked in it – with the prosecutor asserting, repeatedly, that "common sense" leads to taking the evidence at face value.
"This case is about the defendant delivering to herself … over and over again … and the defendant is guilty beyond a reasonable doubt."
____
Government: "When Corrine Brown wanted something, she got it."
These words, from federal prosecutor Eric Olsham, set up the government's closing argument: that she was the Queen Bee, and that drones "followed her orders."
Errands of all types, including helping prepare her tax returns and depositing "almost $160,000 in cash" into her bank account, were among those orders.
"When the Congresswoman wanted something, there was only one answer: Yes, Congresswoman."
Olsham noted that Brown's history of "lying on her taxes" goes back to 2008, with false donations to cronies' charities and inflated tax returns.
"She admitted that on the stand," Olsham said.
"When Carla Wiley and One Door for Education came into her like, Corrine Brown knew exactly what to do," Olsham added.
Brown, aided and abetted by Simmons, took control of the "fundraising powerhouse" – seeding it with a $25,000 donation from Brown's PAC, which then went in — $800 at a time – into Brown's account.
All told: $833,000 came into One Door in over three years. And it was Corrine Brown – the "expert" fundraiser – who made it rain. And said Olsham: she had to know much of the money was "being put into her bank account," despite Brown's claims otherwise.
Underprivileged kids? They may still be thirsty. But for Brown, her daughter, and her chief of staff, One Door for Education was Canaan: the land of milk and honey.
"Did the Congresswoman know that it was fraud? Absolutely it was fraud," Olsham said.
Olsham cited lies to donors, exploiting their "soft spot for education," with pitches varying depending on the mark she sought to work.
Most people, Olsham said, lacked "interest" in directly donating to Corrine – so they gave to what Brown called "my charity."
"The donors picked the one that looked like it was going to help someone else. But you know it didn't," Olsham told the attentive jury.
The shady computer drives, the trip to China for underprivileged kids such as former Jacksonville Mayor Alvin Brown's son, the golf tournament and so-called money for "summer camps" that was spent by Brown and her daughter in Beverly Hills, the Beyonce skybox, the trip on FDP Chair Stephen Bittel's jet to DC for a Jaguars/Redskins game, "face to face pitches" for donor money, and the $330,000 in One Door money that went for Brown's political events, the Queen Corrine drinks, the $750 birthday cake for Brown's daughter – all of these data points would come up in Olsham's close.
"Self-promotion is almost as good as money in her pocket," Olsham said about the events. "She got that too."
Also coming up: signed checks, given to Brown or associates – the pass-through money that ensured that all parties could live beyond the threshold of their means.
Brown, said Olsham, said the donors were either "mistaken" or "lying."
"Use your common sense," the prosecutor advised the jury. "No one benefited more" than Corrine Brown.
"What makes more sense – that all of these witnesses were mistaken or lied? Or that the defendant told a convenient story," Olsham said.
The donors, to a person, said they were bilked and duped – that they wouldn't have wanted to pay for Brown's lifestyle.
"The defendant lied to them. She fooled them. Don't let them lie to you," Olsham said.
Olsham depicted Brown as the person orchestrating the handling of the cash and checks, which Simmons called "the elephant in the room."
The descriptions of the mechanism of taking money out of the One Door account and putting it into Brown's – repeated again, a final reminder of how Simmons often would have to visit the Capitol One ATM multiple times in a week to get the money Brown needed from the One Door account — $800 at a time, in cash, so the money wouldn't be on a check.
Brown spent and spent, the prosecutor asserted: designer clothes, lavish trips, spa treatments.
"None of this was spent at the dollar store," Olsham contended.
"The defendant knew that it was bogus. She knew that it was a fraud," Olsham added, summing up the government's case into two simple sentences that even this jury would understand.
"She knows how to rob Peter to pay Paul. The defendant said that. And she's right," Olsham continued.
$833,000 of donor cash, said Olsham, came down to two scholarships, a China trip for some students three years into the scheme, and little else but personal enrichment for Brown and her chief aides.
"Without the defendant's knowing involvement for three years," Olsham said regarding the count of conspiracy to commit mail and wire fraud, "there couldn't have been a conspiracy at all."
Counts 2 through 17, Olsham said, come down to mail fraud (via FedEx) and wire fraud (emails, bank transfers, and other electronic conveyances).
Threshold of proof: "the defendant was part of a scheme, [voicing] material lies and half-truths."
Counts 2 through 8 – mail fraud – come down to shipments of checks via FedEx; counts 9 through 17 – wire fraud – involve interstate wire transfers.
"Your job is only to conclude," Olsham said, that these elements were "reasonably foreseeable" to Brown.
Count 19 – scheme to conceal material facts on Congressional financial disclosure forms – was explained next, in light of Brown's "extra income" from One Door and other pass-through sources.
"The public knew nothing about any of that," Olsham said, "and that was the point."
Count 20 – scheme to conceal material facts – came down to "underreporting income" and "bogus" charitable deductions averaging over $27,000 a year (off $6,600 a year of actual, provable charity).
"She failed to tell Uncle Sam," Olsham said, of "tens of thousands of dollars of unreported income" over six tax years.
"$142,000 in cash in six years … not the defendant's salary or pension … almost $24,000 a year. Where did all that cash come from?"
Meanwhile, said Olsham, many of the claimed "charitable donations … just didn't happen."
"There is no more blatant proof of the defendant's criminal intent in this case than this," Olsham said about the repeated false claims of donation. "She did this all on her own."
Counts 21 to 24: the first of the tax counts, to "obstruct and impede the due administration of internal revenue laws", with false tax returns from 2012 to 2014 constituting the final three.
"The defendant exercised total control," Olsham said, with no one able to "tell Brown no."
"But that stops now … you are in the position … to tell the defendant what no one told her all those years … because the defendant is guilty beyond a reasonable doubt."