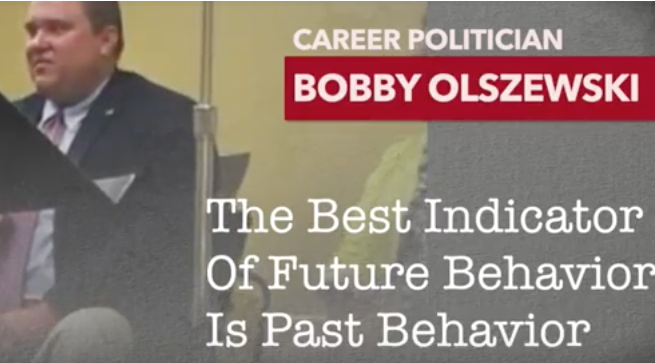 Who is behind the attack ads in the Florida House District 44 special election primary set for a week for Tuesday?
The attack ads went after Republican John Newstreet two weeks ago, and now they're going after GOP primary rival Bobby Olszewski in what looks like an effort to play both sides against each other.
Everyone denies any connection with the group. Its leadership and ultimate funding sources have not been revealed.
The Florida First Initiative has now been revealed, through a new state filing, as the source of money to another group, Central Florida Republicans for Truth, for a series of campaign mailers that went in late July attacking Newstreet, who is president of the Kissimmee/Osceola County Chamber of Commerce.
Last week Newstreet and his campaign expressed certainty that Olszewski, a small businessman and former Winter Garden commissioner, was behind Central Florida Republicans for Truth and the attack ads. Olszewski insisted that was not true.
But now, The Florida First Initiative is running TV ads attacking Olszewski. And the new attack even criticizes Olszewski  for attacking Newstreet, attacks that were done by the committee that The Florida First Initiative has funded, Central Florida Republicans for Truth.
The latest campaign finance filings posted by the Florida Division of Elections shows that The Florida First Initiative gave Central Florida Republicans for Truth $27,500 on July 28. That's the only money CFRFT has reported receiving.
The fact that the political committee behind attack ads against Newstreet is now attacking him, is a vindication of sorts for Olszewski, even if the new TV commercial brutalizes him.
"This revelation only confirms what we have been saying all along, that we are running a positive campaign focused on what we can do for District 44," Olszewski said in a statement to FloridaPolitics.com. "This does highlight the fact that some of my opponents have not been telling the truth about who is behind these attacks. Over the next eight days I will continue to focus on our positive and conservative message."
Oszewski has previously denied the claims made against him in the TV commercial.
Newstreet's campaign is sticking to its earlier suspicion, but saying that Olszewski must have made The Florida First Initiative change its mind about him after it initially funded Central Florida Republicans for Truth attack to benefit him.
"We were unaware that The Florida First Initiative was ever supporting our opponent, but, it comes as no surprise they would drop support for him, just like the mayors of Windermere and Ocoee did last week," campaign spokesman Alan Byrd said in a statement. "We believe it must be because the egregious, misleading and untrue claims made in the mailers against the lifelong conservative John Newstreet."
There are two other Republicans in the primary, Bruno Portigliatti and Dr. Usha Jain.
"I have absolutely nothing to do with any of these groups and don't know who's involved," Portigliatti said in an email response. "We have been extremely transparent with our campaign. In fact, it surprises me that the group attacking Bobby on TV is the same group that supplied money to attack John – that doesn't make any sense."
"I am running a grass root campaign and I have no idea," Jain said in an email.
They're all seeking to replace former state Rep. Eric Eisnaugle, who quit the seat this spring. The Republican primary special election is Aug. 15, and early voting began last Saturday. The winner will face Democrat Paul Chandler in an Oct. 10 special general election.
The new TV commercial in the Republican primary fight, which has a disclaimer saying it was sponsored by The Florida First Initiative, begins with a shot of Olszewski stating, at a recent debate, "The best indicator of behavior is past behavior." A narrator then calls him a career politician and raises past allegations, that he failed to show up for meetings of a MetroPlan Orlando committee he served on, that a deal with a Democratic mayor "fleeced taxpayers" and brought money to his own company, and that "Bobby O and his liberal friends" are "attacking conservative veteran John Newstreet."
The Florida First Initiative has been around, in a couple of different forms, since 2009, but its leadership has not been revealed. It first came to light in the 2010 gubernatorial election, running attack ads against then-candidate Rick Scott. At least one published report linked The Florida First Initiative to former Florida Attorney General Bill McCollum, who ran against and lost to Scott in the 2010 Republican primary. But on Monday McCollum, of Longwood, said he was never connected to the group and does not know who is behind it.
The Florida First Initiative has received funding from scores of sources over time. However, the group was essentially down to zero money until June when it got $25,000 from R.A. Real Estate Inc. of New York. Bloomberg indicates that company is a subsidiary of of the Great West Life Assurance Co. of Toronto, Ontario, Canada.
But it's unlikely that a Canadian insurance company or its New York real estate subsidiary might be interested in an Orlando state house Republican primary, so all eyes await the July 10 campaign finance disclosure reports.