The Jacksonville City Council located money via leftover fund balance from the current fiscal year, leading to discussions on Wednesday of how to spend the roughly $5 million on capital projects.
One big project — Ortega Hills land acquisition — may help to solve a long-standing problem in the neighborhood, which sees ingress and egress blocked whenever a train stalls out on the tracks.
"We'd like to purchase that land while it's available," Mousa said, regarding the $350,000 land buy.
Currently, when CSX trains are stalled out in the Westside neighborhood, there is no way for people to get in and out of the neighborhood.
District Councilman Jim Love, who represents the neighborhood, has been meeting with stakeholders — and those meetings were productive.
On Jul. 18, Love wrote Mousa about "a great meeting thanks to all the input from CSX, Public Works, JFRD, JSO, FDOT and our two guests from Ortega Hills. We are well on our way to making this community safer. Many thanks to all that are helping to solve this long standing problem."
The proposed land acquisition was the highlight of the list, which had something for most Council districts.
_____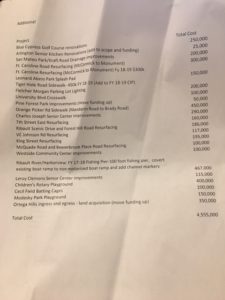 $250,000 for Blue Cypress Golf Course renovations and $25,000 for the Arlington Senior Center's kitchen renovations would affect District 1, which led its Councilwoman Joyce Morgan to endorse the projects as "vitally important" for the neighborhood.
For District 2, drainage improvements were suggested for San Mateo Park — a $200,000 spend.
Road resurfacing projects, such as Ft. Caroline Road in Arlington and King Street in Riverside, were also in the mix.
Sidewalk projects, including Tiger Hole Road on the Southside and Orange Picker Road in Mandarin, were also on the list.
Drainage was also discussed.
"I hear drainage described as a continuing nightmare," Boyer said.
_____