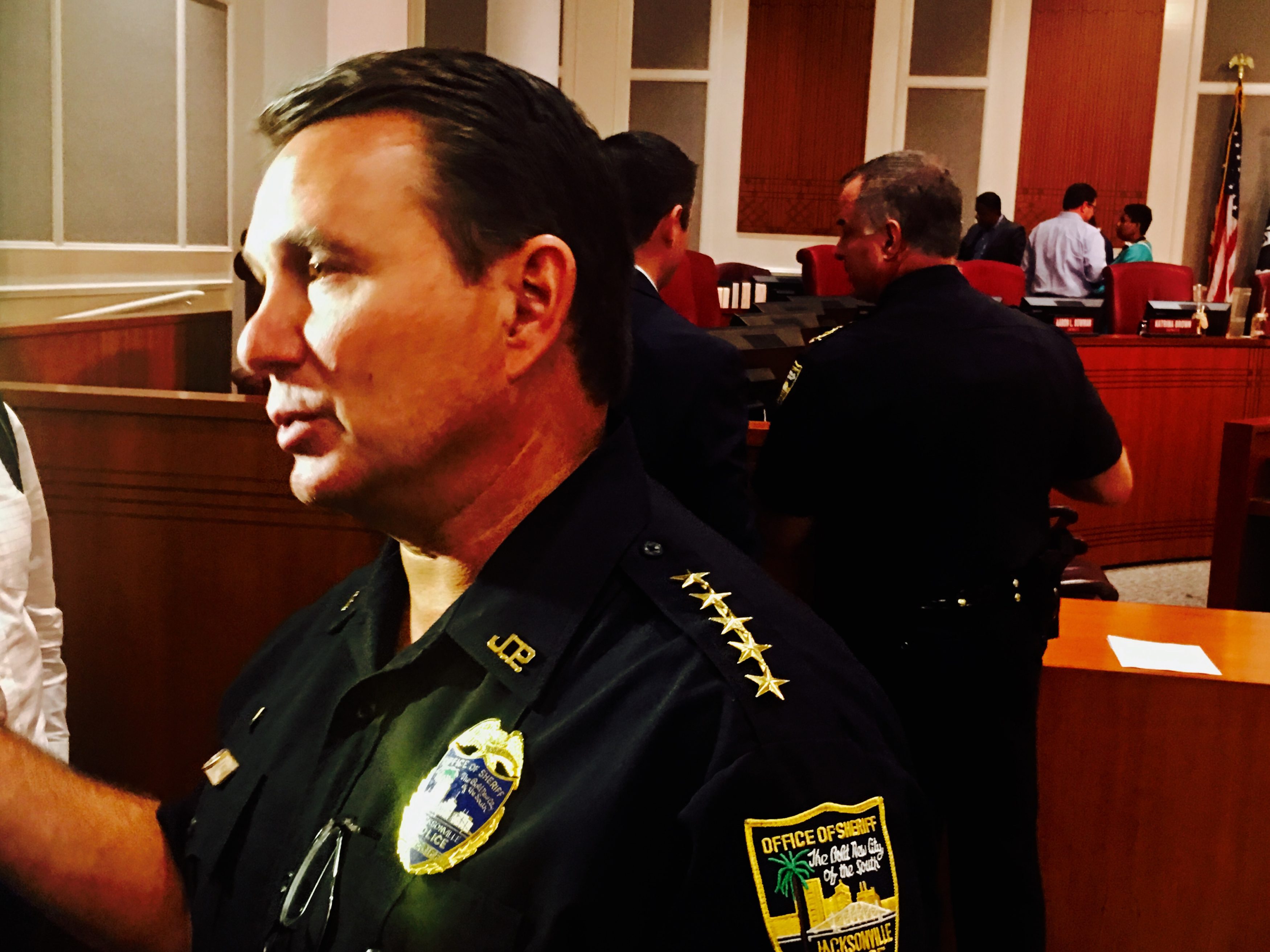 The Jacksonville City Council Finance Committee put Sheriff Mike Williams through the wringer during this year's budget process.
They pushed back against budget asks two weeks ago, compelling the Sheriff to return Friday morning, where he spent roughly an hour answering questions related to a poll his political committee ran.
Among the items in suspension: 100 new cops, with $4.41M for the onboarding this year; $12M for outsourcing of health services;  cameras in public
After a 90 minute lunch break, discussion resumed Friday afternoon.
_____
"I think we all agree with the need for 100 additional officers," Councilwoman Lori Boyer said, noting that 136 are in training already.
The 100 new officers, who would cost $4.41M to onboard, would see 80 officers on the streets by the end of the year, with the balance in training.
40 officers would be budgeted for six months, 40 for three months, and there would be 20 other unfunded positions, Boyer said, suggesting an amendment that would save the city $583,071 without altering the head count.
The 100 positions (80 funded) went above the line.
Boyer noted that if there is a backlog in training classes, the money could be redeployed elsewhere in public safety.
"If come midyear, it isn't happening, maybe we put the money into the PAL budget," Boyer said.
Williams vowed that, no matter how many officers are hired, they will be of high caliber. He also expressed confidence in the training process.
"It's about hiring them, getting them in the door, getting them into the class," Williams said.
Boyer and Williams discussed timeframes, with Williams noting that training would start next March for the officers.
That led to a lot of discussion as to timing of the hiring and training, with Williams eventually getting exasperated by the extra steps in the process.
"With the additional funding, we can start a class earlier than March," Williams said.
"We want to see progress moving forward," Finance Chair Garrett Dennis said. "We're giving you your request."
_____
Boyer then floated a solution for the outsourcing of health services for the jail — by funding four months of the ask, so that Council would have oversight and the JSO could work out the arrangement with an outside vendor.
Williams pushed back, saying that there is a "time crunch," and expressing concerns about the length of the process.
Chief Administrative Officer Sam Mousa noted that U.F. Health mulled the job but rejected it, citing unique pressures of treating prisoners.
"They weren't inclined to do it," Mousa said, despite the attractiveness of the revenue. "The consensus was they weren't qualified or able to do it."
With no immediate consensus at hand, the money was kept below the line in the budget — with expectations that it would be added above the line on budget nice.
____
Sheriff Williams discussed cameras in "entertainment districts."
Mass surveillance was an easy sell to this committee — the real discussion was logistics.
"There are options today we didn't have 15 years ago when we bought Super Bowl cameras, which are obsolete."
Williams wants cameras in parks and other places — a "video management system" that could tie into ShotSpotter and other technology.
"We need to talk about where we go," Williams said. "You have to have a monitoring capability … the analytics are important."
Looking for things like a "white van," said Williams, is easier with technology than without.
"It's more of a topic of conversation that will address many other needs in the community," Williams said.
Councilman Reggie Brown is "hoping" that $500,000 that is appropriated for this in the new budget could be used this upcoming fiscal year.
"If we start in the parks, it's less controversial than in public spaces," Brown said. "Especially the regional parks."
"Camera systems," Williams said, are just one piece of park security — an equation that could include security guards at some facilities.
Community Service Officers, Williams added, are not trained for confrontations — they handle traffic and other issues. A private security company, however, may suffice.