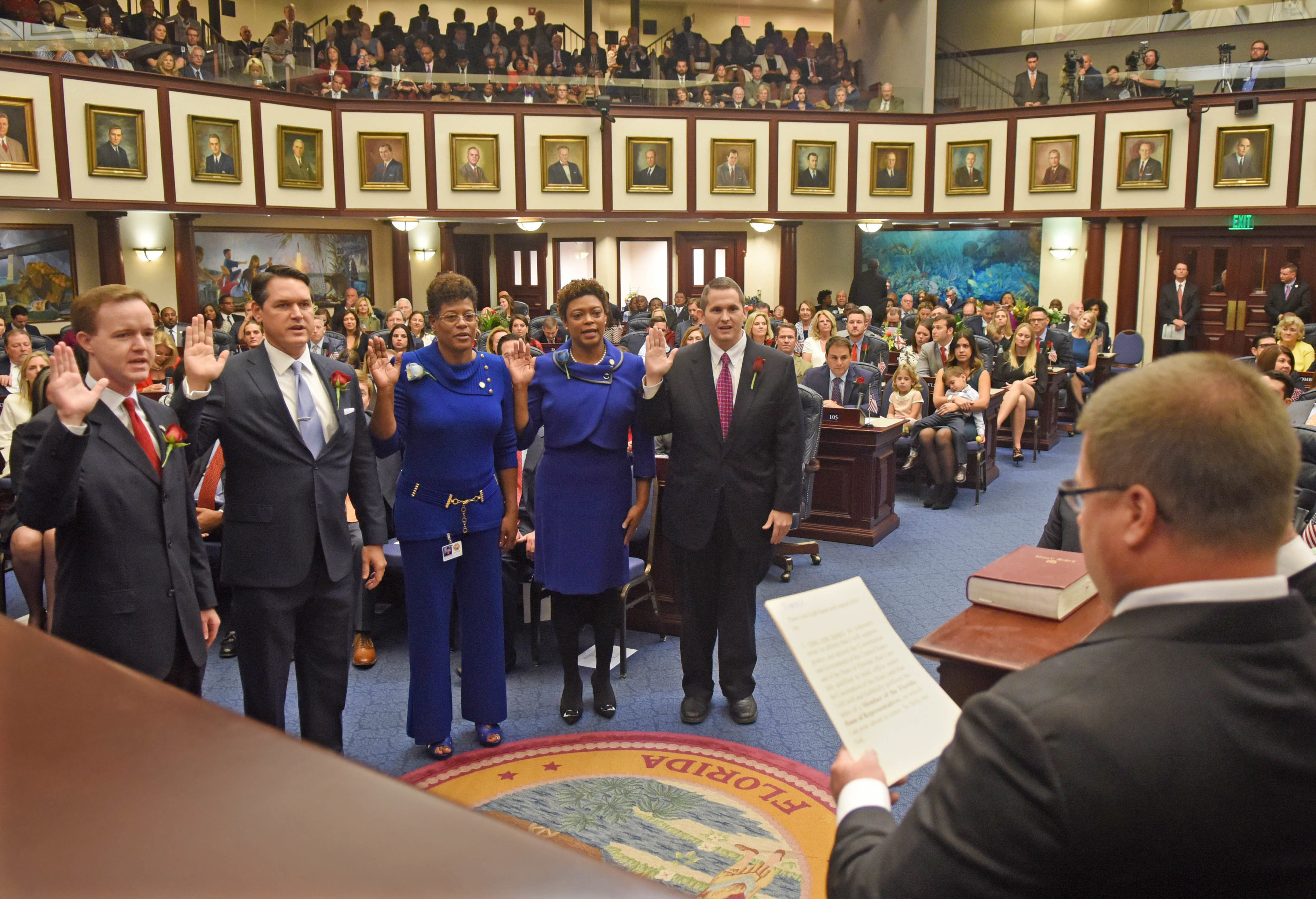 Jacksonville's mayor, City Council president, and City Council vice president are part of a 141-person delegation from the city to Toronto on Wednesday.
Their absence raised questions in Jacksonville City Hall about why the Duval County legislative delegation would meet without them, and even the day before the Wednesday meeting, there apparently was encouragement from the mayor's office to postpone the meeting.
Chairman Jay Fant — a current statewide candidate for attorney general — pushed forward, however, raising more questions for some observers about how in sync the delegation's priorities are with the city's.
In a sidebar interview with Florida Politics, Fant noted that he hadn't heard of any push to change the meeting date, saying he was "notified not to be offended" by people being on the trip to Toronto and missing the meeting.
Meanwhile, on city issues, Fant observed that "the city's going to have to lobby us individually" on its priorities.
One of those priorities has recurred year over year.
In 2016, Mayor Lenny Curry made a big ask for the delegation to bring home $50 million to tear down the current Hart Bridge offramps and reroute traffic onto Bay Street.
Fant noted that he was going to carry the bill last year based on the public safety argument the mayor's office advanced at the time.
This year, Fant says the bill would be the prototypical "heavy lift," saying it was "up to the city to make its case," and that case "needs to be really good."
The mayor's office's two big asks are unchanged from last year: money for the Hart Bridge project, for which the city is now funding a design criteria study; and money for septic tank remediation, a project that Jacksonville sought $15 million for last year … and got none of it.
Beyond that?
"I've been advised that we are still in the process of determining our City of Jacksonville legislative priorities," wrote a city spokesperson this week.
With appropriations bills having been filed for weeks, and bill slots filling up for some legislators, time is of the essence given 2018's early Legislative Session.
____
Despite the disconnect between the delegation and the local government, the meeting was conducted.
New leadership was chosen: Republican state Sen. Aaron Bean took the chair, stressing the importance of "coming together for Northeast Florida," especially given Duval is outnumbered by other regions of the state.
Bean lauded outgoing Chairman Jay Fant for doing an "outstanding job" carrying Duval's priorities forward.
Fant lauded the delegation for being singularly "polished and prepared" in advancing priorities.
Rep. Jason Fischer and Rep. Tracie Davis were both nominated for vice-chair.
Sen. Audrey Gibson, advocating for Davis, noted that the leadership positions should reflect "diversity" among the delegation, comprised of four Republican white men and three African-American Democratic women.
With Rep. Kim Daniels excused, Fischer carried the vote 4-2.
____
Stakeholders advanced priorities.
On behalf of the Duval County School Board, Warren Jones called special attention to hurricane funding needs, exacerbated by Irma demands, coupled with delayed reimbursements from 2016's Hurricane Matthew.
Jacksonville City Councilman Jim Love was the sole city elected official on hand, and he bemoaned the lack of local representation on the Constitutional Revision Commission.
Love also decried the possibility of appointed constitutional officers as a subversion of local control.
On behalf of UF Health, CEO Russ Armistead — who Chairman Bean works for — noted a reduction in state funding to hospitals, which led to a $21 million loss in revenue.
UF Health didn't expect LIP funding to be decreased, but it has been.
"Miraculously, we're staying open," Armistead said, despite razor-thin profit margins.
Florida State College at Jacksonville wants $12 million of PECO money to renovate downtown buildings dedicated to STEM programs.
The University of North Florida likewise has needs, articulated by President John Delaney — a former Jacksonville mayor who will be leaving the university in the next year.
Delaney wants $10 million of recurring money for UNF and other regional universities; he also had PECO asks, including $4 million to renovate Lassiter Hall, built in 1994, and money for  an enclosed courtyard between two buildings on campus.
Sens. Bean and Gibson bemoaned the current funding formula as punitive toward UNF, and not accounting for the unique differences between student populations between schools — such as working students.
"Compared to peers," Delaney said, "UNF would be among the top universities."