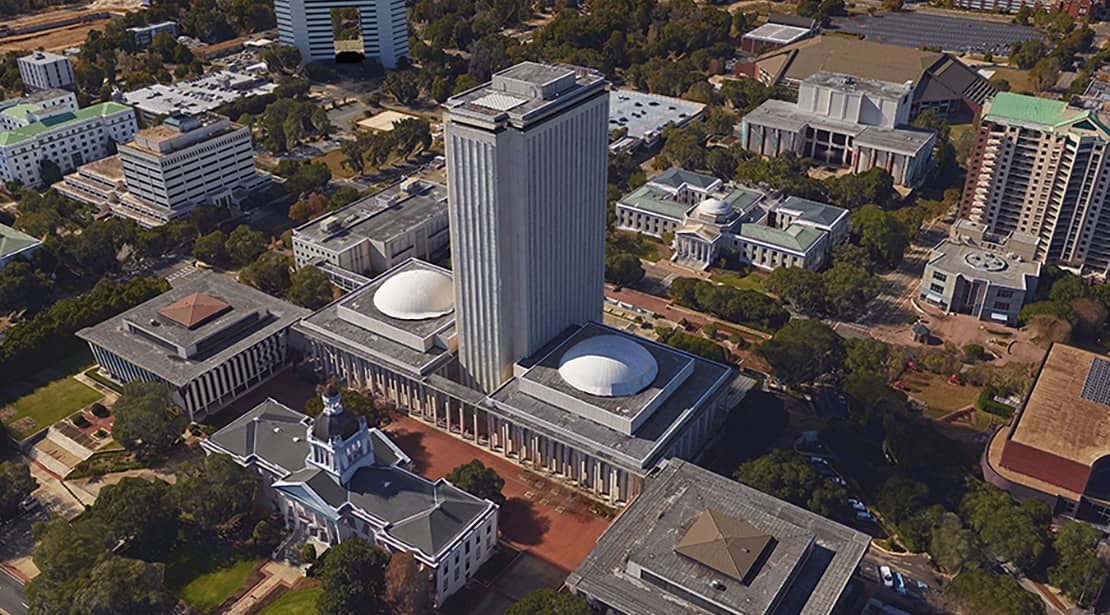 Spoiler alert: If you're a regular of this site, and reading this story, you can guess what the #1 pick is.
Otherwise, 2017 still offered a bounty of material to Tallahassee's reporting ranks. We still chuckle at the uninitiated who ask, "What do you write about when the Legislature isn't in session?"
Without further ado, here's the admittedly subjective list of the Top 10 (and a half) stories to come out of the Capitol in the Year That Was:
#10 — State finally passes ride-sharing legislation: After years of trying, lawmakers OK'd, and Gov. Rick Scott signed, a bill (HB 221) creating statewide regulations for ride-booking companies like Uber and Lyft. In fact, lawmakers had considered such legislation for four years before passing a bill this year.
The legislation, among other things, requires Uber, Lyft and similar "transportation network companies" to carry $100,000 of insurance for bodily injury or death and $25,000 for property damage while a driver is logged into the app, but hasn't yet secured a passenger. When a driver gets a ride, they need to have $1 million in coverage.
The bill also requires companies to have third parties run criminal background checks on drivers. It also pre-empts local ordinances and other rules on transportation network companies, or TNCs.
The losers? Local governments, whose attempts to regulate or rein in ride-share got pre-empted, and, well, taxi companies.
#9 — Rick Scott, Aramis Ayala and the debate over the death penalty: Ayala, a Democrat and the Orlando area's top prosecutor, enraged Scott and conservative lawmakers when she announced in March she would not seek capital punishment in any murder cases.
Scott, a Naples Republican, began unilaterally reassigning death penalty-eligible cases to another state attorney. Republican Rep. Bob Cortes of Altamonte Springs called for Ayala to be removed from office for dereliction of duty.
The controversy made it to the Florida Supreme Court, which ruled Scott has the authority to transfer murder cases away because she refuses to pursue death. Ayala, elected in 2016, responded by announcing she would set up a special panel to review the death penalty's appropriateness of each case.
But as of this month, Ayala and Scott were still sniping, with the governor accusing her of missing a deadline and blowing a capital punishment prosecution. Ayala denied that but did cut a plea deal with Emerita Mapp, in which she pleaded guilty in exchange for a life sentence for a Kissimmee slaying.
#8 — Puerto Rico migration could remake Central Florida: With many still without power after Hurricane Maria slammed the island in September, more than 250,000 residents of Puerto Rico have now decamped to Florida, most to the Central Florida region, with one advocate calling it a "migration of biblical proportions."
Curbed said the "sudden influx will also put pressure on housing, social services, and the job market that have yet to be fully addressed by state, local, and federal officials."
But Scott ordered the opening of "disaster relief centers" providing state services to thousands. Cortes filed a bill to address housing needs for evacuees. Sen. Vic Torres, a Kissimmee Democrat, pressed FEMA to provide more housing relief. U.S. Reps. Darren Soto, Stephanie Murphy, and Dennis Ross co-signed a letter to the feds for Florida get its full funding as a host state to support the migration.
Education Commissioner Pam Stewart is working on a plan to allow Puerto Rican high schoolers to receive Puerto Rico diplomas in Florida, in case they can't meet Florida's graduation requirements. And those are just a few examples.
#7 — The fight over HB 7069: The wide-ranging education law passed this May — a priority of House Speaker Richard Corcoran — has been called a "brew of bad policy" and "a textbook example of a failure in government transparency" by opponents.
They say it will benefit charter schools to the detriment of traditional public schools. Supporters counter that it "helps all students" by holding failing public schools to account.
The law offers all kinds of changes, including requiring recess and reducing mandatory testing. It accelerates state tax dollar funding to for-profit and nonprofit charter and private schools, expands parents' abilities to choose schools, and tightens Tallahassee's control over what local school boards can and cannot do.
A group of school boards sued in the Supreme Court to block the law; the justices, in a 4-3 decision, have since transferred the case to a Tallahassee trial court to handle. 
#6 — Enterprise Florida, VISIT FLORIDA survive a hit: Corcoran went full frontal this year, trying to scuttle Scott's favored organizations and a multitude of business incentives last Legislative Session.
He derided Enterprise Florida, the state's jobs-creating organization, as little more than a dispenser of "corporate welfare." Though a public-private partnership, it doles out mostly public dollars.
He slammed VISIT FLORIDA, the tourism marketing group, for secret deals and an overall lack of transparency. Scott and lawmakers eventually worked out a deal to save the agencies and create an $85 million Florida Job Growth Grant Fund, focused on promoting public infrastructure and job training.
Meantime, the organizations now are subject to heightened oversight. And Ken Lawson, the former DBPR secretary whom Scott moved to head the tourism agency, toured the state to meet with local tourism leaders. "I want to earn your trust and learn from you first hand. This has been a hard year for all of us," he said.
#5 — Special elections churn the Legislature: The turnover in legislative seats began with former South Florida Sen. Frank Artiles resigning after an epithet-laden tirade against two black lawmakers was made public, eventually leading to the seat flipping to a Democrat, Annette Taddeo. Republican Jose Felix Diaz lost that race but had to resign the House to run, meaning his House seat is open.
Plant City Republican Dan Raulerson quit the House this year for health reasons; Republican Lawrence McClure won the District 58 seat in a December special election. Republican Alex Miller, just elected in 2016, also resigned her Sarasota-area House seat this summer. She cited a need to "spend more time at home than my service in the Legislature would allow."
But wait — there's more. Democratic Sen. Jeff Clemens quit after his extramarital affair with a lobbyist came to light. Republican Neil Combee resigned the House to take a job with the U.S. Department of Agriculture; the GOP's Eric Eisnaugle also left the House to become an appellate judge, and Democrat Rep. Daisy Baez resigned before pleading guilty to perjury in a criminal case over her residency in Coral Gables-based House District 114.
#5(a) — Speaking of Artiles … : He resigned his Senate seat rather than face a hearing that could result in his expulsion. The Cuban-American Republican from Miami-Dade County made national news after he accosted Sen. Perry Thurston, a Fort Lauderdale Democrat, and Sen. Audrey Gibson, a Jacksonville Democrat, calling her a "b—h" and a "girl" in a dispute over legislation at The Governors Club.
Artiles also used a slang variation of the 'N-word,' referring to white Republicans who supported Joe Negron as Senate President. Thurston and Gibson are black. Artiles apologized on the Senate floor, but Thurston filed a Senate rules complaint. Artiles, elected to the Senate in 2016 after six years in the House, initially called efforts to remove him politically motivated. (Sound familiar?)
#4 — Speaking of Clemens … : The Lake Worth Democrat was the first in the Legislature this year to resign after reports of sexual misconduct. "I have made mistakes I ashamed of, and for the past six months I have been focused on becoming a better person," he said in a statement to news media. 
"But it is clear to me that task is impossible to finish while in elected office. The process won't allow it, and the people of Florida deserve better. All women deserve respect, and by my actions, I feel I have failed that standard. I have to do better."
Clemens, the incoming Senate Democratic Leader, apologized for having an affair with a lobbyist during the last legislative session. That woman "came into possession of Clemens' laptop, gained access to all his contacts and personal information, then informed his wife of the tryst," according to POLITICO Florida.
#3 — Jimmy Patronis replaces Jeff Atwater: Patronis had been a Panama City restaurateur, state representative and Public Service Commissioner when Scott tapped him to replace Atwater and become the state's fourth Chief Financial Officer this June. Atwater quit his term early to become chief financial officer of Florida Atlantic University in Boca Raton.
As CFO, Patronis — a Scott loyalist — now is one vote on the Florida Cabinet, in addition to Attorney General Pam Bondi and Agriculture Commissioner Adam Putnam. And he has since announced he will seek a full term as CFO in 2018.
The position heads a roughly 2,600-employee agency that includes the state treasury and insurance regulators, as well as being state fire marshal. The CFO also oversees management of the state's multibillion-dollar financial portfolio. The office was created after the 1997-98 Constitution Revision Commission recommended collapsing several state departments into one, including Insurance, Treasury, State Fire Marshal and Banking and Finance.
#2 — The politics and policy of Hurricane Irma response: Irma's size and strength put the entire state on notice; thousands of residents and visitors left in advance of catastrophic winds and flooding.
The most significant casualties were in a South Florida nursing home. The Rehabilitation Center at Hollywood Hills was evacuated Sept. 13 after the facility lost power to its air conditioning system. Eight elderly residents died, with another six perishing in the weeks that followed. Most died from heat exposure. The deaths were later classified as homicides, with a police spokeswoman saying, "Who gets charged is part of the continuing investigation."
Scott took his own heat after Democrats charged that he had ignored calls for help from the home's administrators to his personal mobile phone; he said his staff took the messages and forwarded them to the appropriate state officials.
The governor also ordered an emergency generator rule to "ensur(e) that facilities across Florida are coming into compliance and are installing generators to keep their patients safe during a disaster," he said. But the facilities themselves challenged that move.
The Florida House formed its own special panel to consider the state's readiness to deal with monster hurricanes. The Select Committee on Hurricane Response and Preparedness has been meeting since October. 
#1 — Jack Latvala quits the Senate: In the face of two damning reports on his alleged serial sexual harassment, Latvala turned in his resignation, not effective till Jan. 5, on Dec. 20.
The Clearwater Republican said in a statement he "never intentionally dishonored my family, my constituents or the Florida Senate." He first served in the Senate 1994-2002, then returned in 2010. Latvala was term-limited next year.
In his characteristically defiant manner, he said: "Political adversaries have latched onto this effort to rid our country of sexual harassment to try to rid the Florida Senate of me." The 66-year-old Latvala admitted, however, that he " … perhaps (had not) kept up with political correctness in my comments as well as I should have."
An investigative report found Latvala "on multiple occasions" offered to trade his vote for sex with an unnamed female lobbyist. That bombshell came toward the end of retired appellate Judge Ronald V. Swanson's report into a complaint filed by Rachel Perrin Rogers, a top aide to future Senate President Wilton Simpson.
Perrin Rogers accused Latvala of sexually harassing her and assaulting her on a number of occasions over several years. A second investigation into sexual harassment claims against Latvala, prompted by a POLITICO Florida story, turned up another witness who bolstered an allegation that the senator would offer to trade sex for favorable votes on legislation.