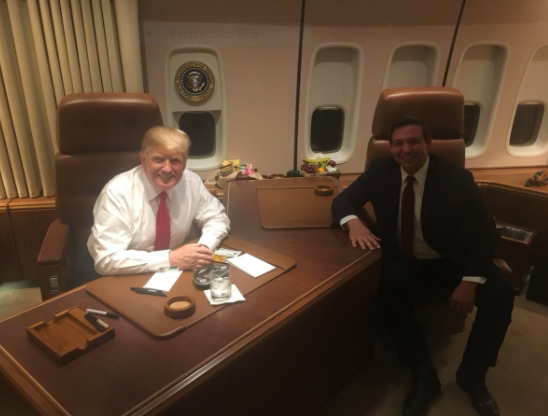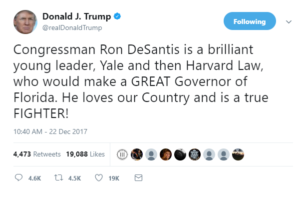 "Congressman Ron DeSantis is a brilliant young leader, Yale and then Harvard Law, who would make a GREAT Governor of Florida. He loves our Country and is a true FIGHTER!"
A tweet from President Donald Trump may change the race for Florida Governor.
DeSantis has been exploring a run for Governor for months now. And since May 2016, when he urged party unity in the wake of Trump becoming the presumptive Republican presidential nominee, he has aligned with Trump.
Most recently, DeSantis accompanied the President to a rally in Pensacola.
Reporters then said that DeSantis was poised to go "full Trump" in the Governor's race.
DeSantis' campaign team called the president's tweet an endorsement.
"I'm grateful to have the President's support and appreciate what he has done — from appointing great judges to recognizing Jerusalem as Israel's capital to signing a pro-growth tax cut — to get our country back on track," DeSantis said in a prepared statement. "As an Iraq veteran, I'm especially appreciative of his efforts to support our military and our veterans.
DeSantis' political committee has roughly $2 million on hand, well behind that of Adam Putnam, who has over $15 million.
As well, Putnam — who has run aggressively and consistently since April — has built relationships with GOP party leaders and politicians throughout the state … including in Northeast Florida, DeSantis' geographic base.
But the President's backing will be key in the race to come, and could prove dispositive for many voters, especially the kinds of super-voters who will decide the Republican nomination for Governor.
Just as DeSantis has done the heavy lifting on the part of the President, by pushing for the Uranium One investigation of Hillary Clinton, it now looks like 45 is returning the favor for DeSantis.
As for when DeSantis might enter the race, Brad Herold, of the Ponte Vedra Beach-based Ron DeSantis for Florida, said in an email Friday that the congressman will "make a decision when the time is right."
Democrats are messaging.
"The president only cares about himself and it is no surprise he would support Ron DeSantis, an extreme congressman who is leading the smear campaign against Special Counsel Robert Mueller and the Russia investigations. Floridians want a leader who will stand up to the president — not protect him," read a statement from the Gwen Graham camp Friday afternoon.
DeSantis' apparent exit from Congress opens up the Congressional District 6 race, where a number of Republicans likely will make bids.
Among them: former Green Beret Mike Waltz; businessman John Ward; Operation Enduring Freedom veteran Brandon Patty.
State Rep. Fred Costello has also been discussed as a candidate.
Meanwhile, Democrat Nancy Soderberg — a former United Nations Ambassador during the Bill Clinton presidency — is running a strong campaign to face whoever the GOP nominates.
Material from the News Service of Florida was used in this post.