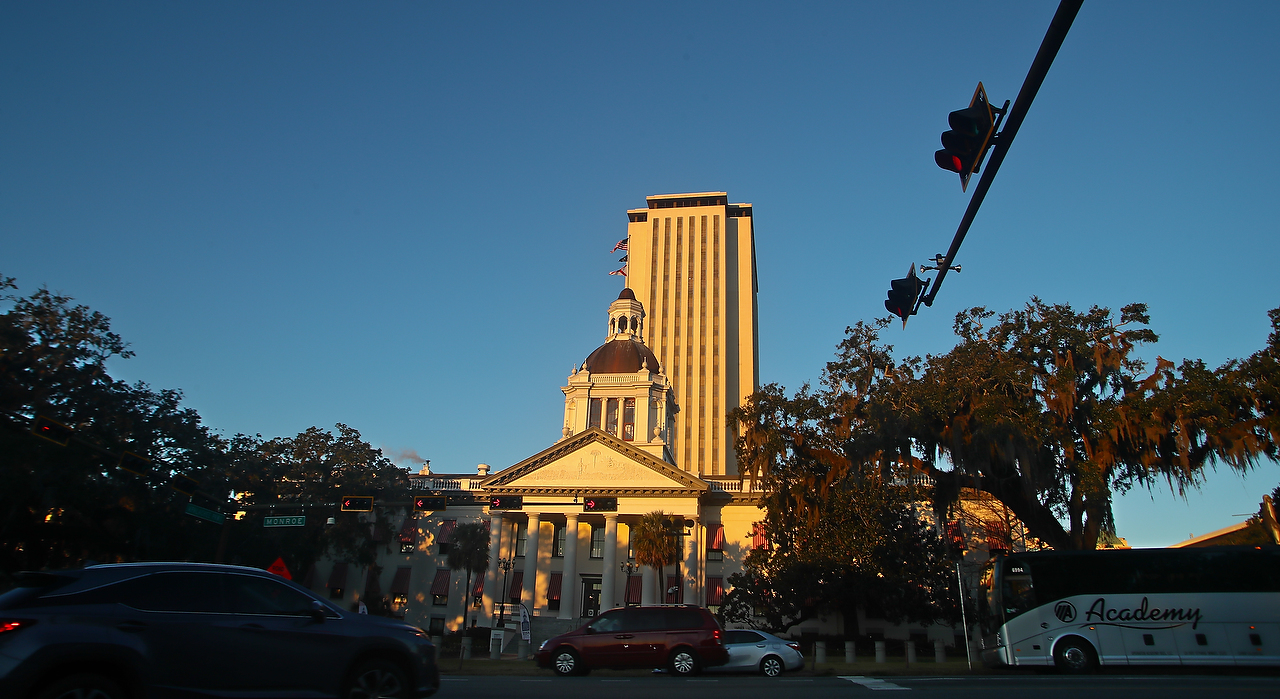 Sunburn — The morning read of what's hot in Florida politics.
By Peter Schorsch, Phil Ammann, Ana Ceballos, Daniel McAuliffe, and Jim Rosica.
Wide margins decided two special Republican primaries Tuesday night, as Josie Tomkow easily defeated Jennifer Spath in House District 39 and Andrew Vargas crushed José Pazos in House District 114.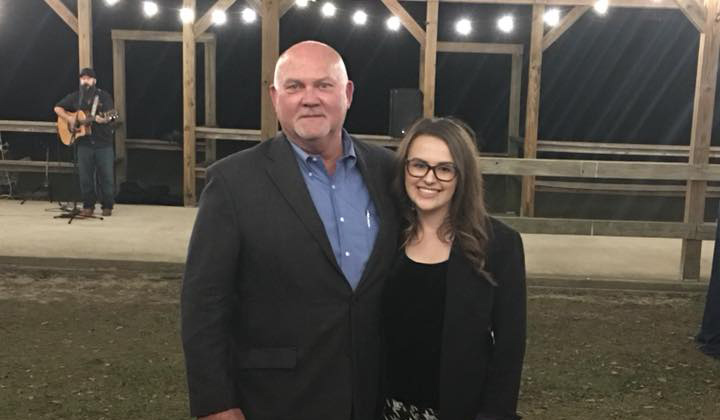 Immediately after the 7 p.m. poll closing, the 22-year-old Tomkow took a decisive lead — over 65 percent — in the race for her party's nomination to succeed Neil Combee, who vacated the seat in November. Tomkow now faces Democrat Ricky Shirah in the May 1 special election.
Combee last won re-election in the Republican-leaning district by 65 percent, so it is likely Tomkow will also be successful in May.
Tuesday night's gap was even more significant for Vargas, an insurance attorney and political novice who won over Pazos with 76 percent. His overwhelming victory came despite Pazos, a former U.S. Marine and combat veteran, nabbing endorsements from both the Miami Herald and the South Florida blog PoliticalCortadito.
Vargas will now face Democrat Javier Fernandez and independent candidate Liz de las Cuevas, also May 1, for the seat vacated by Democrat Daisy Baez before she pleaded guilty to misdemeanor perjury charges.
With any luck, if Vargas does win it all — he will be able to break the HD 114 curse, where every candidate representing the Miami-Dade coastal district since its inception in 2012 has pleaded guilty to criminal charges.
— SITUATIONAL AWARENESS —
— @RealDonaldTrump: A woman I don't know and, to the best of my knowledge, never met, is on the FRONT PAGE of the Fake News Washington Post saying I kissed her (for two minutes yet) in the lobby of Trump Tower 12 years ago. Never happened! Who would do this in a public space with live security … cameras running. Another False Accusation. Why doesn't @washingtonpost report the story of the women taking money to make up stories about me? One had her home mortgage paid off. Only @FoxNews so reported … doesn't fit the Mainstream Media narrative."
— @DKElections: Let's just spell this out real clear: Donald Trump won #KYHD49 72-23 in 2016. That's a 49-point margin. Democrat Linda Belcher won tonight's special 68-32. That's a 37-point margin. The difference between the two is an astonishing 86 points. We've never seen ANYTHING like this
— @MarcoRubio: Claiming some of the students on tv after #Parkland are actors is the work of a disgusting group of idiots with no sense of decency
— @ElectProject: To the young people getting woke to the politics of gun control, here's the reality: The old farts who are elected to office don't give a damn because you don't vote. Average midterm turnout rates for ages 18-29 is a pathetic 20%. If you want to change the world start by voting
— @JenAnsbach: I'm not sure why people are so surprised that the students are rising up — we've been feeding them a steady diet of dystopian literature showing teens leading the charge for years. We have told teen girls they are empowered. What, you thought it was fiction? It was preparation.
— @AmberMariano: Watching these high school students turn a tragedy into meaningful change … this is what our country is about. You are never "too young" to make a difference.
— @WestPoint_USMA: One of USMA's priorities is to develop leaders of character who are committed to the values of Duty, Honor & Country. Peter Wang's actions on February 14 are an example of those principles & the academy honors his dream of being a West Point cadet with a 2025 letter of acceptance
— @JoeReedy: We've now had a longer debate in the Florida House on a resolution declaring pornography a public health risk than a motion to take up a bill that would ban outright assault rifles.
— @WillWeatherford: Allan Bense has always been a leader. This is just one example. No one under 21 should be able to buy assault weapons
— @NewsbySmiley: Marion Hammer, NRA lobbyist in Florida, is "not taking news calls."
— DAYS UNTIL —
Winter  Olympics Closing Ceremony — 4; Last day for regularly scheduled legislative committee meetings — 6; Disney Epcot International Flower & Garden Festival — 8; Last day to take up Special Order Calendar — 12; Deferred Action for Childhood Arrivals program termination begins — 12; Sine Die (maybe) — 14; St. Patrick's Day — 24; Major League Baseball Opening Day — 38; Easter — 39; NFL Draft begins — 64; Close of candidate qualifying for federal office — 72; Solo: A Star Wars Story premier — 91; Close of candidate qualifying for statewide office — 121; Primary Election Day — 188; General Election Day — 258; 'Hamilton' comes to the Straz Center — 356.
***Today's SUNBURN is brought to you by Spectrum Reach, the marketing platform of choice, connecting you to your target audience on TV, digital and mobile. With access to our powerful data and insights, solutions for every screen, and the best programming content on the top 50+ networks, we'll help you reach the right customers for your business. SpectrumReach.com #NeverStopReaching***
— THE STUDENTS —
"While students demand action, Florida House says assault weapons ban is not up for discussion" via James Call of the Tallahassee Democrat – The Florida House Tuesday defeated a move to debate a ban on assault weapons. The party-line vote came as survivors of last week's Stoneman Douglass High School massacre roamed the Capitol's hallways demanding lawmakers act to stop mass killings. While Douglas students looked on, the proposal by Rep. Carlos Guillermo Smith, D-Orlando failed, 36 – 71 … The first wave of Douglas students began lobbying lawmakers Tuesday morning. More are expected to arrive in Tallahassee Tuesday night for a Wednesday rally. They have three weeks remaining in the 2018 legislative session to get new gun control laws enacted … In the works is a six-point plan to restrict access to firearms for those with mental illness, a three-day waiting period for rifle purchases, a minimum age of 21 for rifle purchases, expanded background checks, and money for school safety … Gun control advocates say they feel the ground shifting in a long-running debate … "They are turning the corner on an amazing transformation," said Jack Levine … "We saw it in the foster care system 10 years ago, when foster youth showed up at committee meetings," recalled Levine. "We love social workers but the kids' experiences were more influential than the experts' credentials."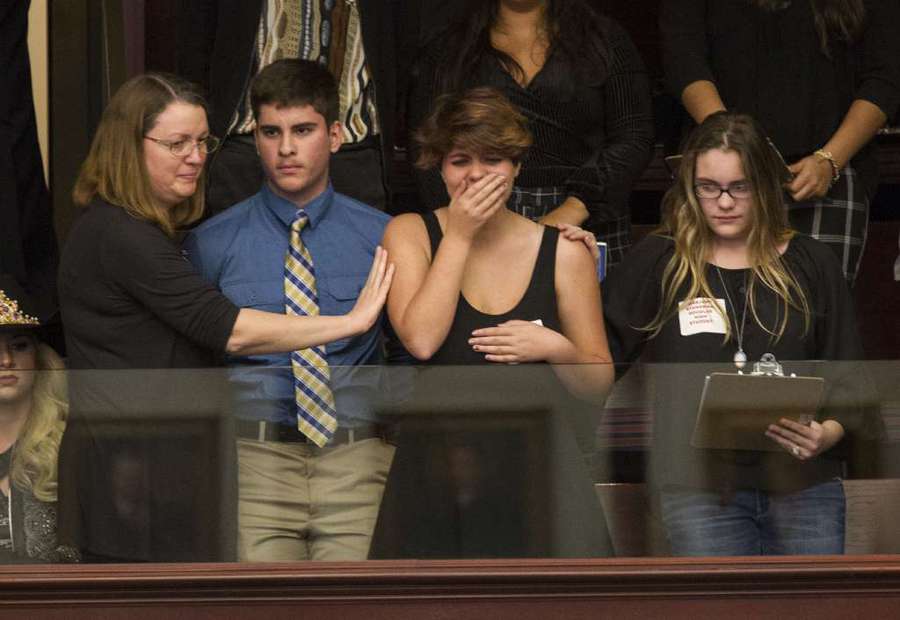 "TPD closing downtown streets with large crowds expected at gun-control rally at Capitol" via Byron Dobson of the Tallahassee Democrat – Tallahassee police are closing several downtown streets Wednesday in anticipation of hundreds of demonstrators — many from out of town — attending a noontime Rally to Support Gun Safety Reform … The following intersections will be closed by 11 a.m.: College Avenue at Macomb Street, College Avenue at Martin Luther King Jr. Boulevard, College Avenue at South Bronough Street, College Avenue at Duval Street, College Avenue at Adams Street, FAMU Way at South Adams, FAMU Way at Melvin Street, FAMU Way at Martin Luther King Jr. Boulevard, Harrison Street at Martin Luther King Boulevard, Martin Luther King Boulevard at Pershing Street, South Monroe Street at Oakland … Students from Leon County School will be permitted to attend as an excused absence and supporters are also expected from nearby states and as far away as Oklahoma.
"Florida lawmaker's aide fired after saying outspoken Parkland students are actors" via Alex Leary of The Tampa Bay Times – It bubbled up from the darkest online corners then began to take off: conspiracy theories about Parkland students who've spent the past week on TV demanding action on the gun violence that killed 17 and reawakened a national debate. By late Tuesday afternoon, the conspiracy climbed to a new level when an aide to state Rep. Shawn Harrison was fired after emailing a Tampa Bay Times reporter with a stunning assertion: "Both kids in the picture are not students here but actors that travel to various crisis when they happen." Benjamin Kelly referred to a picture that showed Marjory Stoneman Douglas High School students David Hogg and Emma Gonzalez speaking on CNN. Asked for backup to his claim, Kelly sent another email … that included a link to a conspiracy video that showed Hogg in a news clip from California over a dispute with a lifeguard involving a boogie board … Wrote Kelly to the Times: "There is a clip on you tube that shows Mr. Hogg out in California. (I guess he transferred?)" … Reaction on social media was strident … Kelly, 61, was subsequently fired by House Speaker Corcoran who oversees all House employees.
"West Point posthumously admits shooting victim Peter Wang to class of 2025" via Aric Chokey and Brittany Wallman of the South Florida Sun-Sentinel — West Point conferred a letter of admission, along with honorarium tokens, to his family, local West Point alumnus Chad Maxey said. Wang died in his JROTC uniform, holding the door open to allow others to escape, as gunman Nikolas Cruz shot and killed 17 at Marjory Stoneman Douglas High School in Parkland, authorities and witnesses said. One of West Point's priorities is to develop leaders committed to duty, honor and country, and Wang's actions the day of the shooting exemplify those principles, West Point said in a tweet.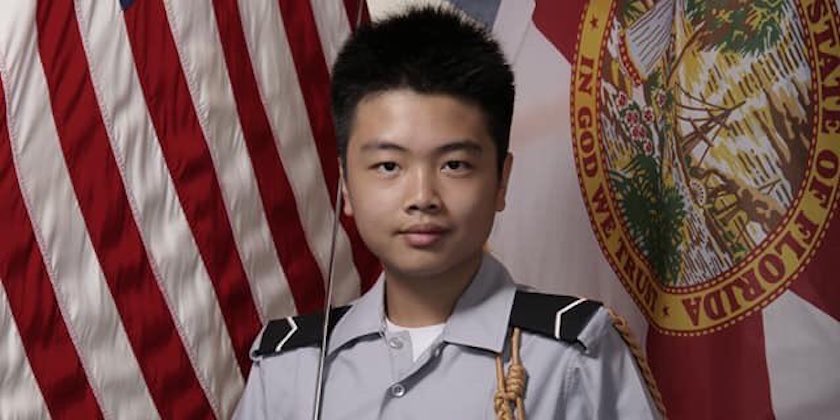 Tweet, tweet:
I've directed the @FLGuard to honor the three fallen JROTC members from Marjory Stoneman Douglas High School. @FLGuard members will be attending funeral services and paying respect to these JROTC members, their families and loved ones. https://t.co/0w8Lnuh5ro

— Rick Scott (@FLGovScott) February 20, 2018
"Why Parkland students have emerged as a powerful political voice" via Philip Bump of The Washington Post — They are a post-Columbine generation … We see these mass killings as a series of tragic one-off incidents, which can make them seem harder to prevent. They are more likely to see school shootings as entrenched, and therefore better able to be understood and prevented. They are old enough to speak out … This is the first premeditated mass shooting at this scale that involved people who both grew up entirely in a world in which mass shootings were common and which targeted people old enough to have a voice. They are at an age at which political awareness blooms … Not only are they old enough to be heard, those in their late teens are also at an age when politics surge in importance. They're not cynical … They're old enough to have seen how little has been done to address school shootings but not yet old enough to see change as impossible. They live in a world in which the voice of the individual is powerful … If you are 18, Twitter has been in existence for two-thirds of your life. Facebook, about the same.
— "Will the Parkland kids change the gun debate?" via David Cullen of POLITICO Magazine
— "On guns, Al Lawson is not an orthodox Democrat" via AG Gancarski of Florida Politics
"A thousand students walk out of class and march to Stoneman Douglas High" via Charles Rabin and Martin Vassolo of the Miami Herald — It started out as a spontaneous protest between first and fifth period at West Boca High School. Hundreds of students at the school, just over the county line from the site of last week's school shooting, came together for a moment of silence and to make sense of the deadly assault carried out by a former Marjory Stoneman Douglas student. After a half-hour or so, students say, the school's principal ordered everyone back to class. Some listened. The rest — at least 1,000 students disgusted and inspired by the shooting — sprinted past teachers and police officers, through the school's entrance and out into the street. They walked, ran and hitched rides 12 miles to Parkland, to pay their respects to the students and faculty that were killed at Stoneman Douglas — and to protest gun violence.
"George and Amal Clooney donate $500,000 to Parkland students' March for Our Lives" via Maane Khatchatourian of Variety — The Clooneys will also participate in the event, which will take place in Washington, D.C. and throughout the U.S. "Amal and I are so inspired by the courage and eloquence of these young men and women from Stoneman Douglas High School," George Clooney said in a statement. "Our family will be there March 24 to stand side by side with this incredible generation of young people from all over the country, and in the name of our children Ella and Alexander, we're donating $500,000 to help pay for this groundbreaking event. Our children's lives depend on it."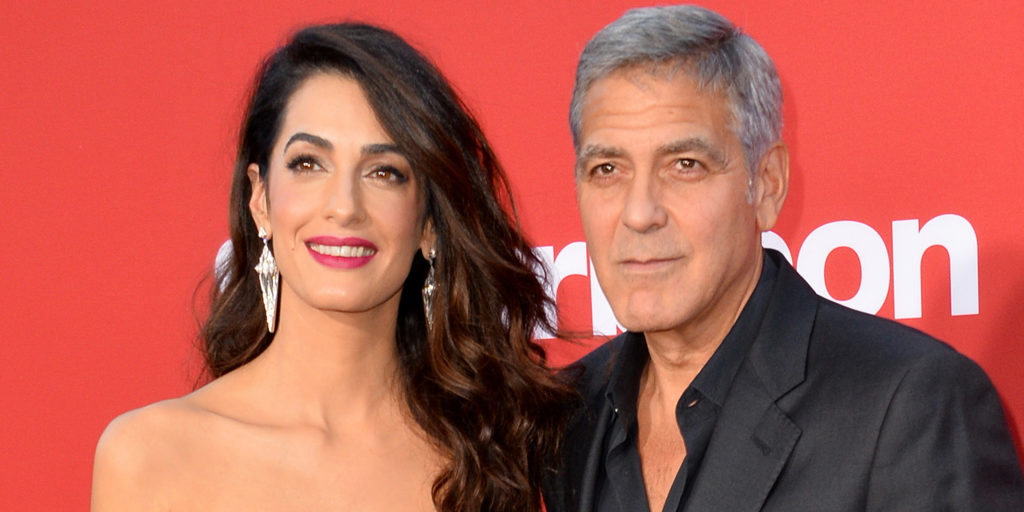 Meanwhile … "Wakulla High student turns over tactical rifle, charged with creating threatening video" via Andrew Skerritt of the Tallahassee Democrat — Kane Watson, 18, of Crawfordville, has been charged with written threats to kill or do bodily injury and false report concerning planting a bomb, an explosive, or a weapon of mass destruction, or concerning the use of firearms in a violent manner. He has been booked into the Wakulla County jail, according to a statement from the Wakulla County Sheriff's Office. The 12th-grader came to the attention of law enforcement officers after they received a complaint that an unidentified subject distributed a video deemed to be a threat to Wakulla County Schools via Snapchat, an imaging and multimedia mobile application on social media.
— THE KILLER —
"Law enforcement source said Cruz had obtained at least 10 guns, all of them rifles" via Eliott C. McLaughlin and Madison Park of CNN — "Investigators are trying to track the purchases, which Cruz appears to have made in the past year or so … CNN obtained a 2016 report from the Florida Department of Children and Families that said Cruz engaged in self-destructive behavior after a breakup with a girlfriend. DCF spoke with the teen's now-deceased mother, Lynda Cruz, who told them he suffered from depression, ADHD and autism. After the breakup, she said, he began cutting his arms and posting it to Snapchat. Previously, Cruz had put a Nazi symbol on his backpack, and 'had hate signs on a book bag, stating, 'I hate n*****s,' according to the report. The DCF report ultimately found that the 'final level of risk is low' because Cruz was residing with his mother, receiving in-home mental health services and attending school."
— THE POLITICS —
"White House walks back Donald Trump's criticism of FBI over shooting" via Louis Nelson of POLITICO — White House press secretary Sarah Huckabee Sanders said Tuesday that Trump was not attacking the FBI when he wrote on Twitter this weekend that the bureau spent "too much time trying to prove Russian collusion" and that it "missed all of the many signals" from the man police say killed 17 people. "I think he was speaking not necessarily that that is the cause," Sanders said at the White House press briefing, the first in a week. "I think we all have to be aware that the cause of this is that of a deranged individual that made a decision to take the lives of 17 other people. "That is the responsibility of the shooter, certainly not the responsibility of anybody else," she said.
"Some Florida Republicans begin push for stricter gun measures" via Katie Glueck and Alex Daugherty of the McClatchy DC Bureau – In what could signal the start of a shift in Republican politics, some GOP donors and officials in Florida are urging their political networks to consider some gun control measures and buck their party's longstanding refusal to even engage in the debate. "I already have impressed upon people I talk to, the way the law is now is incorrect, it's wrong, it's a moral obligation to make certain changes to the law," said Ronald Krongold, a Miami-based board member of the Republican Jewish Coalition … Major GOP donor Al Hoffman Jr., also of Florida, went further over the weekend, indicating to top GOP officials there that he would not support candidates or organizations that didn't back a new assault weapons ban,
"Rick Scott plans to release post-Parkland shooting plans" via Daniel Ducassi and Matt Dixon of POLITICO Florida — "I will come out with a plan to take to the Legislature Friday," he said. "We have two weeks left in session at that point, and my goal is to get something accomplished." His announcement came during one of several workshops the governor convened addressing last week's mass shooting at Marjory Stoneman Douglas High School … the meeting's early message: Schools are woefully equipped to identify and help students with mental illness. Miami-Dade County Superintendent Alberto Carvalho also pointed to loopholes in a patchwork of systems that handle those with mental health issues. Those groups — courts, cops, schools — don't always talk with each other. It means kids can fall through the cracks. He pointed to instances where kids would commit a crime off school grounds, and a judge would later deem them mentally unfit to stand trial. When that happens, he said, the school district is given no notification. "And a potential threat is returned to our school," he said. "That is a huge issue."
"Once a 'proud NRA sellout,' Putnam won't say if he'd use term again" via Matt Dixon of POLITICO Florida – Agriculture Commissioner Adam Putnam began his gubernatorial campaign by branding himself an "NRA sellout," and after a Florida school shooting that left 17 dead last week, will not say if he would use the controversial language again. Putnam … closed the door late Tuesday on a POLITICO reporter who asked if he would again use the messaging … When first asked by the reporter about the "NRA Sellout" campaign messaging, Putnam said there is no comparison between law-abiding gun owners who have firearm collections or hunt and school shooters. "It is just flat wrong to equate those law-abiding citizens with the monster who perpetrated what happened in Parkland," he told a POLITICO reporter, who did not ask if there was a comparison … As of Feb. 18, Putnam still had the "NRA Sellout" language on his campaign website, but it has since been removed, according to tweets highlighting the removal.
"Ron DeSantis wants security officers in schools, more attention paid to warning signs" via Alex Leary of The Tampa Bay Times — During a Tuesday morning appearance on Fox Business, DeSantis called for putting retired law enforcement and military personnel in schools and taking a harder look at people deemed dangerous to prevent them from obtaining guns … He said the FBI needs to be held accountable for not following up on warnings about Cruz. He stopped short of calling for "major gun control, which is basically just going to end up just falling on the law-abiding gun owners." … "To me, the two biggest things, one is, improving school security so that these are not soft targets anymore" he said referring to employing retired police and military as school security … "and then the other thing we have to look at is, if you're a danger to society, we have to look at our civil process, these guys used to be committed 50-60 years ago to an institution if they were a danger to themselves and others."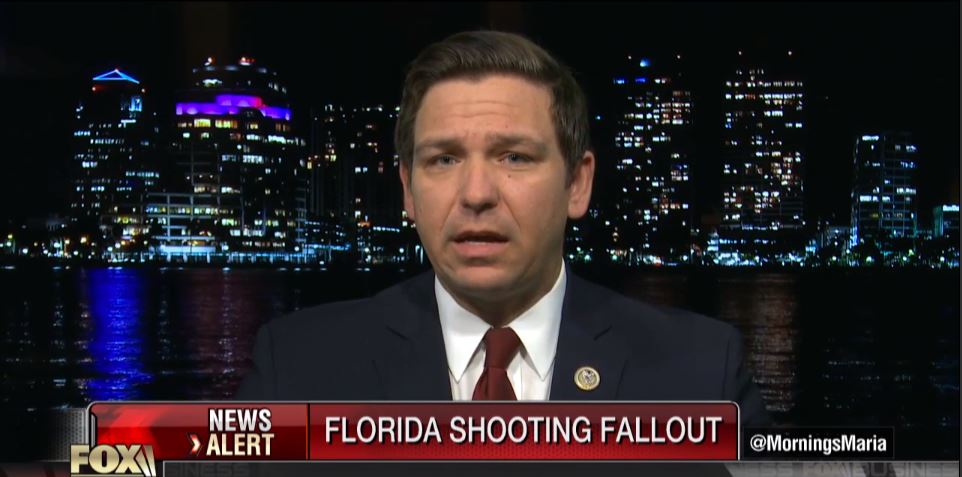 "As Democrats go on offense, Philip Levine launches TV ad to ban 'assault rifles'" via Marc Caputo of POLITICO Florida — While former Miami Beach Mayor Levine is the first to drop $725,000 on a gun-control TV ad, the call to ban military-style semi-automatic weapons is shared by his three fellow Democratic primary opponents in the wake of last week's massacre of 17 people … Levine doesn't mention Scott or any of his opponents in his new ad but says the time for passing legislation is now, during the Florida Legislative Session, which is scheduled to end March 9. Levine also suggested he would spearhead a proposed state constitutional amendment by saying "if the legislature won't do it, we will."
"Debbie Wasserman Schultz: Parkland shooting will be different this year in guns, politics" via Scott Powers of Florida Politics — "What I saw in Parkland after this shooting has felt different," she said. "Listening to the powerful words of the student survivors it's hard not to think that these kids may be ready to lead where politicians have failed to take action." The rise of students, starting in Parkland and appearing in efforts descending on Tallahassee and planned elsewhere in coming weeks, she said, will make the difference, if not in passing bills to tighten background checks and ban new sales of semi-automatic weapons, then in the elections that follow. Recalling the funeral and the reactions of the family and friends brought Wasserman Schultz close, but the message she got was one of resolve and that they were "incredibly poised and so articulate."
— "On guns, Al Lawson is not an orthodox Democrat" via AG Gancarski of Florida Politics
— "For Democrat Heather Stahl, gun control is now top issue in HD 64 race" via Mitch Perry of Florida Politics
"Parkland shooting weighs heavy on Florida education debate, influencing major school choice package HB 7055" via Emily Mahoney of the Tampa Bay Times — The  Florida Senate Education Committee unanimously passed the House's mega school choice package bill, but not before it made some major changes influenced by the Parkland shooting … The committee adopted an amendment, sponsored by Sen. Perry Thurston, Jr. that would require schools or districts to have a program for armed officers on campus to receive training from local law enforcement to prepare for a school shooting. Shortly before the vote, several lawmakers said the amendment was superfluous because Sen. Bill Galvano and Majority Leader Wilton Simpson are working on a more comprehensive school safety package to be unveiled Thursday. The committee also squeaked through a different Thurston amendment to remove the highly controversial measure that would impose new requirements on teachers' unions to be recertified.
"Miami-Dade Schools want $30 million to protect against mass shootings" via Douglas Hanks of The Miami Herald — Miami-Dade County's school system wants an extra $30 million this year from Florida to better prepare classrooms for a mass-shooting era — with bulletproof glass, advanced monitoring of social media and social workers trying to spot troubled students before they erupt in violence … The request came in a letter Tuesday to House Speaker Richard Corcoran and Senate President Joe Negron from Miami-Dade Schools Superintendent Alberto Carvalho and multiple elected officials, including Miami-Dade Mayor Carlos Gimenez and State Attorney Katherine Fernandez Rundle … "We must do all we can to protect the sanctity of schools by safeguarding our children," read the letter … The funding request seeks $10 million for an additional 100 members of the school system's police force. For $8 million, the school system would hire 75 mental-health professionals and social workers … A multiyear request for equipment and building improvements would cost $12 million the first year.
— "Blood and bullet holes remain but schools chief doesn't want lawmakers to look away" via Kyra Gurney of the Miami Herald
— THE DEBATE —
"Majority polled says Trump, Congress not doing enough to stop mass shootings" via Louis Nelson of POLITICO — More than three-quarters of respondents to a new Washington Post/ABC News poll said Congress is not doing enough to stop mass shootings, while just over 60 percent said the same of President Trump. The poll was conducted last week and over the weekend in the wake of a shooting at a Florida high school, where a former student opened fire and killed 17 people. Of those polled, 62 percent said Trump is not doing enough to prevent mass shootings in the U.S. and 77 percent said the same of Congress. Fifty percent said they would support a nationwide ban on assault weapons, which are often the firearm used in mass shootings, while 46 percent said they would oppose such a ban. Fifty-eight percent of respondents to the poll said they believed stricter gun control laws could have prevented last week's shooting, compared to 37 percent who said tighter laws would not have prevented it.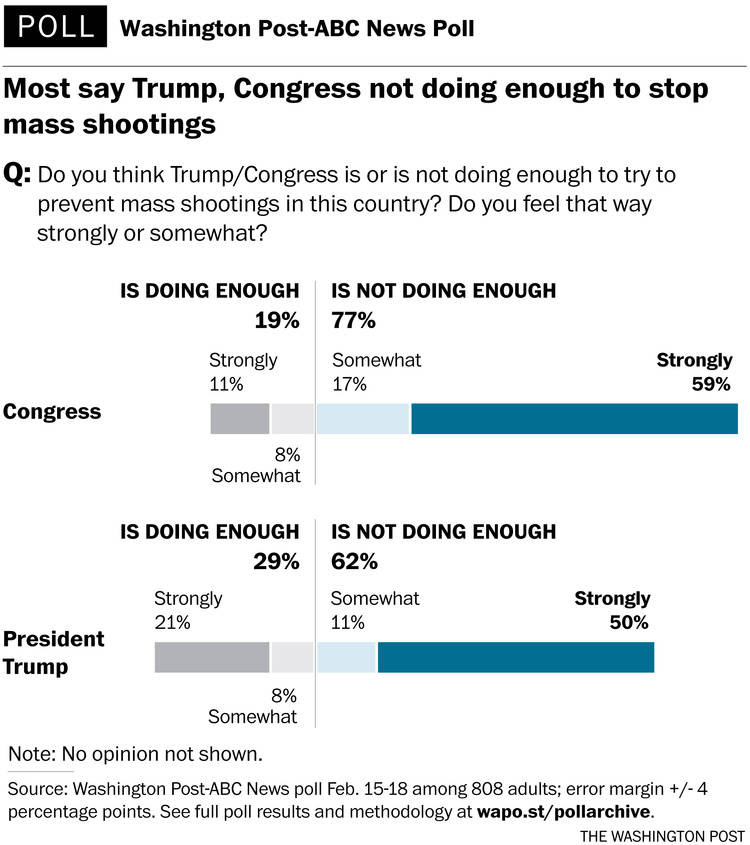 "School shootings put teachers in new role as human shields" via Julie Turkewitz of The New York Times — Across the country, teachers are grappling with how their roles have expanded, from educator and counselor to bodyguard and protector. They wonder if their classrooms are properly equipped if they would recognize the signs of a dangerous student, and most of all, if they are prepared to jump in front of a bullet. Many teachers said even contemplating such worries felt far from what they had once imagined their challenges would be. "When I started teaching, I thought I was just coming in to teach," said José Luis Vilson, 36, a middle school math teacher in New York City. Now he has come to view himself as a first responder, too, and added that instruction on topics such as conflict resolution and first aid would be useful.
"Sheriffs want tougher Baker Act, better background checks, more school officers" via Steve Bousquet of The Tampa Bay Times — Florida sheriffs on Tuesday called for more school resource officers, better background checks of gun buyers and giving police power to seize firearms from people committed under the Baker Act temporarily. Pinellas Sheriff Bob Gualtieri said a Florida resident can be involuntarily committed "15 times within the last month" and still legally buy a semi-automatic assault rifle … Gualtieri said it's "wrong, it's erroneous, it's false" that if Cruz had been Baker Acted, he couldn't get a gun … Gualtieri also said there's no such thing as a background check on Florida gun buyers. Gun shops check for two things: a buyer's qualifying felony or a court adjudication that the buyer is mentally ill … The changes sought by the sheriffs all have one thing in common: They cost a lot of money … "Safe school appropriations have to increase," Okaloosa County Sheriff Larry Ashley said.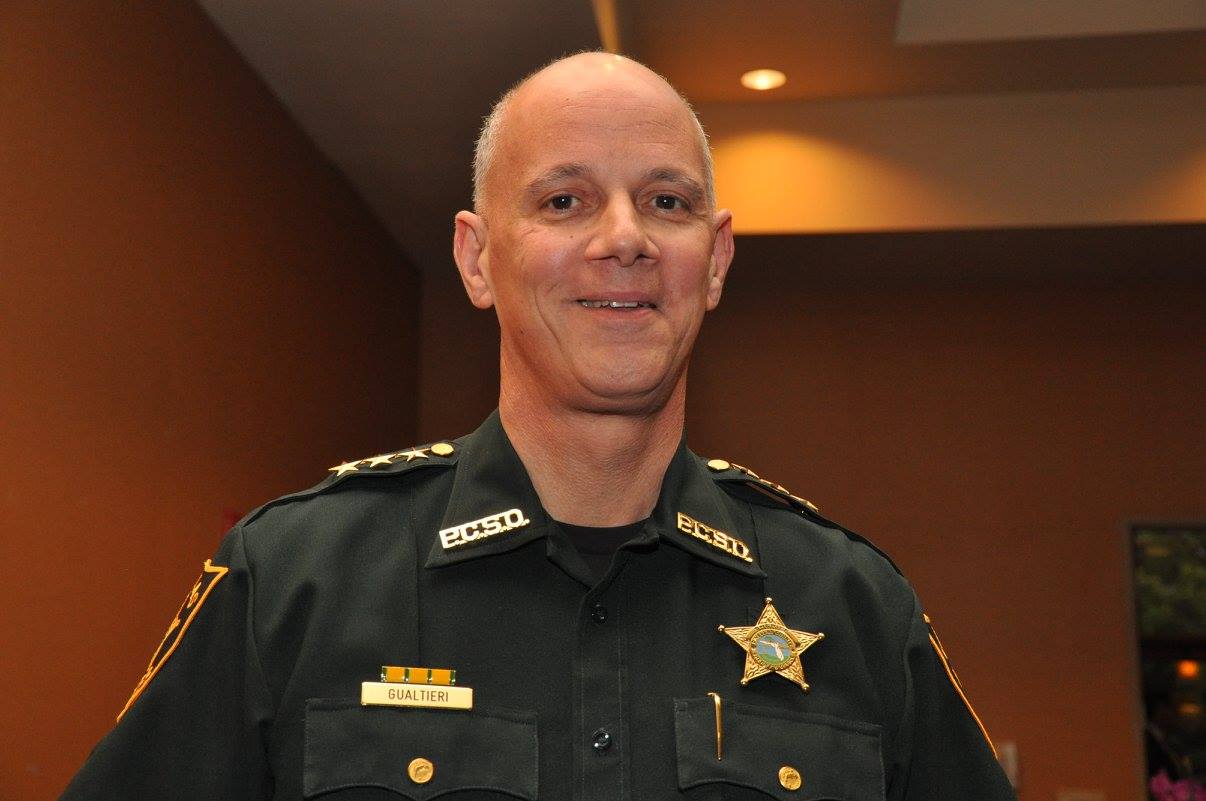 "Dennis Baxley's gun bill, which was controversially revived, is postponed" via Lawrence Mower of The Tampa Bay Times – Ocala Republican Sen. Dennis Baxley's gun bill, which would allow some people to carry concealed weapons on school campuses, was postponed on Tuesday as the legislature was swarmed with student survivors of last week's shooting at a Broward County high school … The bill would allow teachers who hold concealed weapons licenses to have firearms in school. Fort Myers Republican Sen. Lizbeth Benacquisto made the motion to postpone the bill … Baxley afterward did not appear upset that it was delayed. "All I know is that we're not ready for that discussion, and we want to look at all the alternatives," he said.
"Tampa Bay's mayors frustrated on gun control by state lawmakers" via Charlie Frago, Tracey McManus and Michael Van Sickler of the Tampa Bay Times — "People are worried after Parkland, and rightfully so," said St. Petersburg Mayor Rick Kriseman. "I have to tell them that there's nothing we can do." Kriseman is referring to a 2011 law, signed by Gov. Scott, that allows Florida's governor to remove an elected official who violates the ban on local firearms rules and impose a $5,000 fine, essentially stripping cities of the ability to regulate guns. "It's really outrageous," Kriseman said. Tampa Mayor Bob Buckhorn said the 2011 law shows how untethered from reality the debate over firearms has become in Florida. "The Florida Legislature is owned lock, stock and barrel, to use a gun analogy, by the NRA," Buckhorn said, saying that the law is "onerous" and "egregious."
"How banks could control gun sales if Washington won't" via Andrew Ross Sorkin of The New York Times — What if the finance industry — credit card companies like Visa, MasterCard and American Express; credit card processors like First Data; and banks like JPMorgan Chase and Wells Fargo — were to effectively set new rules for the sales of guns in America? Collectively, they have more leverage over the gun industry than any lawmaker. And it wouldn't be hard for them to take a stand. PayPal, Square, Stripe and Apple Pay announced years ago that they would not allow their services to be used for the sale of firearms. The big financial firms don't even have to go that far. For example, Visa, which published a 71-page paper in 2016 espousing its "corporate responsibility," could easily change its terms of service to say that it won't do business with retailers that sell assault weapons, high-capacity magazines and bump stocks, which make semi-automatic rifles fire faster. If MasterCard were to do the same, assault weapons would be eliminated from virtually every firearms store in America because otherwise the sellers would be cut off from the credit card system.
"Why the NRA always wins" via NRATV is a new piece of the puzzle, having been launched only in late 2016. But it's a window into the culture that the NRA has nurtured for decades. Every minute, the network pumps out a message that can be delivered regardless of external events: Liberal elites want to take away your guns and freedom. … Like the tobacco industry, the NRA has been cultivating an image of guns as a source of freedom and cool, with the extra value of protection from grievous harm.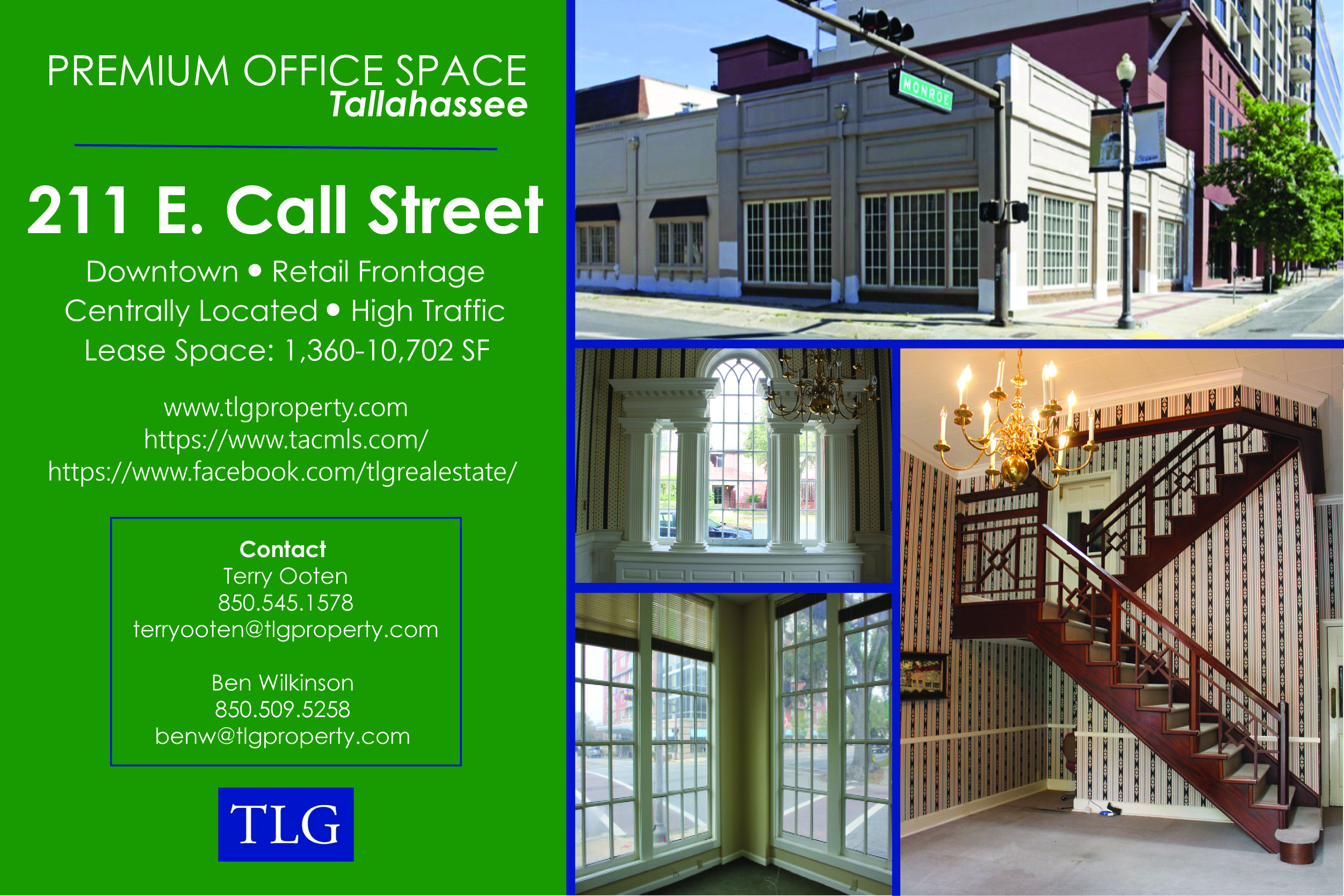 — CAPITOL INSIGHT —
"Budget negotiations between House and Senate aren't just stalled, they're not happening" via Florida Politics — The first indication that the annual back-and-forth between the two chambers is not on track surfaced when The Associated Press' Gary Fineout reported that House budget chair Carlos Trujillo said there has been "no progress" on allocations and, instead, that legislators are focused on responding to the tragedy in Parkland. Trujillo is now also raising the prospect of the Session being extended, an ominous prospect to many of those engaged in The Process. Behind the scenes, the situation is grimmer, at least according to senior House staffers. "We're calling and they're not even picking up the phone," said one staffer who is part of the negotiations. "It's weird. We don't know what it is. Maybe (Senate President Negron) is still peeved about last year. Maybe he wants to see his higher ed priorities passed before we get down to business. But whatever it is, we keep walking across the hall and the Senate just kind of shrugs and says, 'We're good.'"
"José Oliva's hopes for gambling resolution plummet" via Jim Rosica of Florida Politics — House Speaker-designate José Oliva on Tuesday didn't quite put the nail in the coffin for a gambling bill this Session — but he's holding the hammer. The reason: Lawmakers, overrun by events, are running out of time. With less than three weeks left in Session, the House and Senate are scrambling to come up with a legislative response to the mass shooting last Wednesday at Broward County's Marjory Stoneman Douglas High School, in which 17 were killed … "I'm much less optimistic we can get something done within the next three weeks … A lot of our bandwidth is going to be taken up … (on a) bill that we have to pass dealing with the tragedy."
"House declares pornography 'public health risk' " via Jim Rosica of Florida Politics — On a voice vote, the Florida House Tuesday approved a resolution recognizing pornography as a "public health risk." That was after a House Democrat pressed the sponsor why he didn't think gun violence was a more pressing health risk in Florida. The resolution (HR 157) doesn't carry the force of law, but simply memorializes a "need for education, prevention, research, and policy change to protect the citizens of this state." The measure was filed by Dover Republican Ross Spano, also a candidate for Attorney General. Similar measures have been filed or adopted in other states, including Utah, Tennessee and Virginia.
"Florida close to replacing Confederate statue in U.S. Capitol" via Joe Reedy of The Associated Press — The U.S. Capitol's Statuary Hall Collection is on the cusp of receiving its first statue of an African-American woman. The Florida Legislature has sent a bill to Gov. Scott to remove the statue of Confederate Gen. Edmund Kirby Smith and replace it with Mary McLeod Bethune, who founded a school that eventually became historically black Bethune-Cookman University in Daytona Beach … Scott is expected to sign it … "As a body, we have made progress over the past two years," said Rep. Patrick Henry, a Democrat from Daytona Beach who sponsored the bill. "Her life is an example of when you refuse to accept failure as an option." … Bethune's statue will be the 10th representing a woman. A sculptor has been chosen by an independent committee but the earliest it could be done is 2020.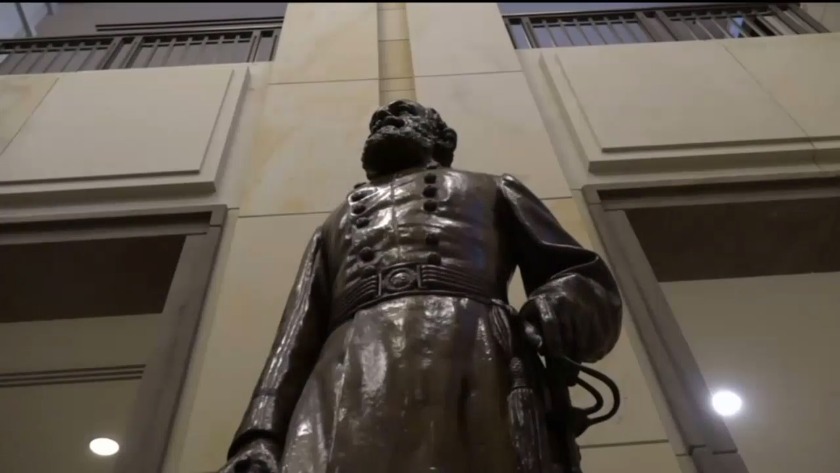 "Cut, print: Film financing proposal moves in Senate, stalled in House" via Jim Rosica of Florida Politics — A bill that would create a financing program to bring TV and film production back to the Sunshine State cleared a Senate panel Tuesday. But with less than three weeks left in the 2018 Legislative Session, the effort could be for naught: A House companion measure has not yet been heard. The Commerce and Tourism Committee OK'd the bill (SB 1606), with Republicans Dana Young and Kelli Stargel opposed. Advocates of the measure, backed by Democratic Sen. Annette Taddeo of Miami-Dade County, bristle at calling it "incentives." The current proposal would offer to fund up front to producers, rather than past programs, which provided tax credits after a shoot finished.
"Senate panel postpones 'campus free speech' bill" via Florida Politics — The Senate Judiciary Committee narrowly avoided killing a campus "free speech" bill, opting to instead temporarily postpone it after the roll had been called despite objections that move was not procedurally sound. SB 1234 would erase dedicated "free speech zones" on college campuses, instead of opening entire campuses to free speech … The bill also includes a provision to require student government groups to prove they aren't attempting to stamp out free speech by nixing requests for certain speakers and would allow students, faculty or staff of public universities to be sued directly if they cause a "material or substantial disruption" to scheduled events … Baxley intimated that the American Civil Liberties Union would support the bill after the amendment was adopted, a claim the ACLU flatly denied later in the hearing … The bill was blasted during public comment by many college students and the ACLU, which said it would have a "chilling effect" on free speech … When the committee wrapped debate, Democrats the panel were joined by South Florida Republican Sens. Anitere Flores and Rene Garcia in voting against the bill. When Garcia challenged the vote count, committee chair Sen. Greg Steube marked the bill as postponed.
"Graphic school shooting images, footage could soon be exempted from public records" via Danny McAuliffe of Florida Politics — The plan has yet to be codified into a bill, but legislators reached a verbal agreement at the final Senate Criminal Justice Committee meeting of the Legislative Session to attempt to tack the exemption onto an existing proposal, SB 1178. That bill, sponsored by Chair Randolph Bracy, as drafted would prevent visual or audio recordings of human killings from being obtained via Florida's public records laws. Under current regulations, members of the media and the general public can request access to a recorded killing if it is held by an agency unless it depicts the death of a law enforcement officer.
"State motto in schools teed up in House" via the News Service of Florida — The House could approve a bill that would require each public school to display the state motto "In God We Trust." The House took up the proposal (HB 839), filed by Rep. Kimberly Daniels and positioned it for a vote. Under the measure, each school board would have to adopt rules for display of the motto in a "conspicuous place" in each school. The bill easily moved through a House subcommittee and a committee, with only one lawmaker opposing it. But Senate committees have not taken up the Senate version of the bill (SB 1158), filed by Sen. Keith Perry.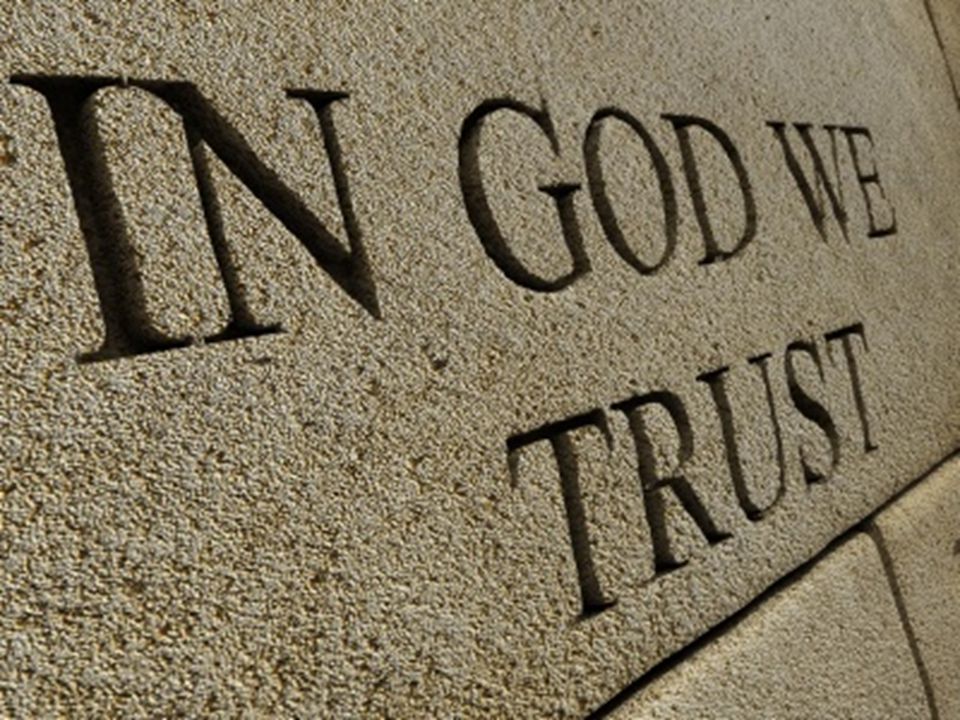 "Under a potential USF consolidation, what could help appease St. Petersburg skeptics?" via Claire McNeill of the Tampa Bay Times — Last week, Sen. Jeff Brandes wrote to the consolidation's main backer to share what he's been hearing from students and other groups. Brandes' priorities, he told Rep. Chris Sprowls, is making sure St. Petersburg retains local governance and gets funding for campus facilities and research. He also said providing students nontraditional paths to USF, such as through state college doorways, will be key to preserving access. "I am confident that together we will achieve an outcome that best serves our students and our community," Brandes said. The next stop for House Bill 423, which has cleared two hurdles so far, is the House Education committee. It has not yet appeared on the agenda, but those following the bill expect some amendments to surface when it makes its next appearance. The changes are expected to address some of the concerns floated by prominent Pinellas County voices, who recall the days when the St. Petersburg campus strained for funding and freedom under Tampa authority.
Governors Club Wednesday buffet menu — Mixed green salad with assorted dressings; broccoli, feta and pasta salad; pecan chicken salad; tomato bisque soup; meatloaf; baked cod; mashed potatoes; Broccolini; glazed carrots; cookies and brownies for dessert.
— NOTES FROM THE CAMPAIGN TRAIL —
"A majority of Americans now approve of the GOP tax plan, buoying Republicans' hopes for the midterms" via Ben Casselman and Jim Tankersley of The New York Times — The growing public support for the law coincides with an eroding Democratic lead when voters are asked which party they would like to see control Congress. And it follows an aggressive effort by Republicans, backed by millions of dollars of advertising from conservative groups, to persuade voters of the law's benefits. That campaign has rallied support from Republicans, in particular. But in contrast with many other issues — including Trump's job approval rating — it also appears to be winning over some Democrats. Support for the law remains low among Democrats, but it has doubled over the past two months and is twice as strong as their approval of Trump today.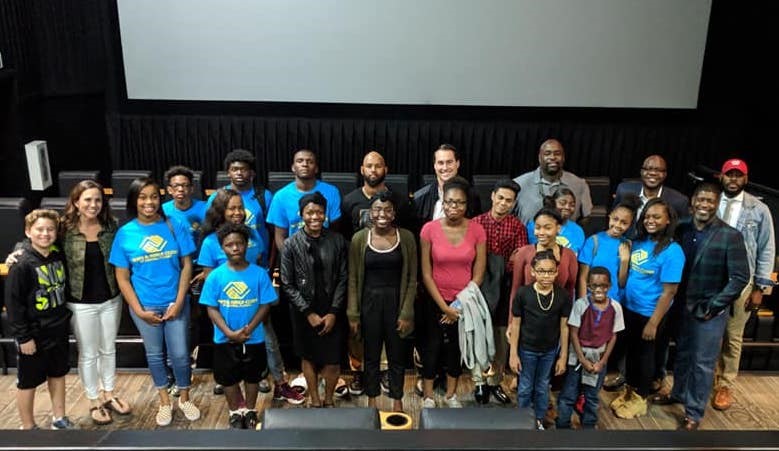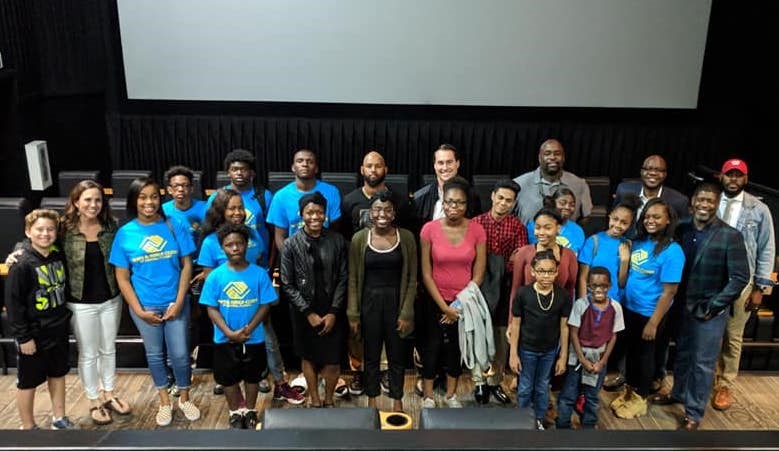 "National Democrats add Lauren Baer to 'red to blue' list" via Bridget Bowman of Roll Call — The Democratic Congressional Campaign Committee is adding six more candidates to its Red to Blue program, which helps congressional hopefuls stand out to donors and gain access to committee resources: Baer [CD 18 ] … The former State Department official is challenging first-term GOP Rep. Brian Mast in a district Trump won by 9 points in 2016, according to calculations by Daily Kos Elections. Inside Elections with Nathan L. Gonzales rates the race Solid Republican. The candidates must meet goals for fundraising and grassroots engagement to be added to the program.
"Sarasota Sheriff Tom Knight won't seek congressional seat" via Zac Anderson of the Sarasota Herald-Tribune — Knight will not seek the congressional seat being vacated by U.S. Rep. Rooney. "I am honored to have been mentioned as a viable candidate, however, the highest honor I hold is that of being your Sheriff," Knight said in a Facebook post. "To that end, serving the community I grew up in is something I hold in the highest regard and for that reason, I will not be running for Congress." "Following the shooting in Parkland, Florida, it is vital that I remain focused on the path ahead and not distracted by political opportunities," Knight said in his statement. Other potential District 17 candidates include state Sen. Greg Steube, state Rep. Joe Gruters, state Rep. Julio Gonzalez, state Rep. Michael Grant and state Rep. Ben Albritton.
— "Baxter Troutman not running for Congress to replace Tom Rooney" via Florida Politics
Tweet, tweet:
Rumors that @RepBrianMast is moving to #FL17, @TomRooney's current seat, are false. @NRCC says Mast is "100% staying put."

— Ali Schmitz (@SchmitzMedia) February 20, 2018
"Republican Trump critic Kurt Jetta quits congressional race, promises donor refunds" via George Bennett of the Palm Beach Post — Delray Beach businessman Jetta faced a pair of difficult tasks — winning a Republican nomination as a critic of Trump, then unseating Rep. Lois Frankel in a heavily Democratic district. Jetta has reached the conclusion it can't be done. "I could keep grinding away in some hope of a breakthrough, but the odds of success are low and the opportunity cost of me not attending to my company, TABS Analytics, is high," Jetta said in a recent email to supporters announcing he's ending his campaign. Jetta put $250,000 of his own money into the campaign and said he received $114,000 in contributions. He pledged to give refunds to his donors.
"Stuart Democrat Robert Levy challenges Rep. Gayle Harrell to succeed Negron" via All Schmitz of TCPalm — A Stuart physician wants to succeed Negron in the Florida Senate, and he cited Lake Okeechobee discharges as a priority in his campaign announcement Tuesday. Robert Levy, a Democrat … "I'll put people first and work across the aisle to offer smart solutions that save money by investing in health care and expanding Medicaid," Levy said in an emailed statement. "Politicians in Tallahassee left 1.8 million Floridians without healthcare by rejecting Medicaid expansion despite considerable bipartisan support." … Negron still has two years left in his term … Negron has not confirmed nor denied whether he will resign early … to pursue another political race or other opportunities … "Whether this office is on the ballot for 2020 or 2018, Rob is committed to making sure the residents of the Treasure Coast actually get to pick their senator and not the powers that be in Tallahassee," campaign spokesman Jake Sanders said in an email.
"Kelly Lichter won't run for re-election to Collier County School Board" via Annika Hammerschlag of the Naples Daily News — Lichter, who has served on the board since 2014, said she was dismayed by the "hatred and vitriol" she said she had been subjected to as a board member. Lichter has frequently engaged in shouting matches during board meetings, prompting negative feedback from education advocates online, at board meetings and in the Naples Daily News opinion and Letters to the Editor sections. Recently, Lichter received criticism for sending emails to other board members accusing them of collusion and lying. Lichter is the founder and president of charter school Mason Classical Academy, works as a real estate agent and is in the early stages of starting a charter school consulting and management company. She has two children, ages 8 and 9. Lichter said she worried about her 9-year-old daughter who has become "very aware of the constant hatred that's spewed about her mom … She begged me to not run again … It's not fair to her."

— STATEWIDE —
"Why does Florida keep getting sinkholes?" via Elaina Zachos of National Geographic — Sinkholes are common in areas where groundwater can naturally dissolve the rocks below the land surface. Soluble rocks like salt beds and domes, gypsum, limestone, and other carbonate rocks are high-risk materials. Florida is no stranger to sinkholes, and the Sunshine State has been plagued by them before. Resorts and other homes have been swallowed in the past. About 20 percent of the U.S. is susceptible to sinkholes, and the landscapes of Texas, Alabama, Missouri, Kentucky, Tennessee, and Pennsylvania are also attractive terrain for these natural phenomena.
"Trial date set for five FSU hazing death defendants" via Karl Etters of the Tallahassee Democrat — Brett Birmingham, Christopher Hamlin, Luke Kluttz, Anthony Oppenheimer and Anthony Petagine will face a jury June 11. They are among the nine Pi Kappa Phi fraternity members charged with third-degree felony hazing counts in the Nov. 2 death of Andrew Coffey. The FSU chapter of the fraternity was shut down by its national offices in Charlotte following his death. Trial dates have not been set for defendants Kyle Bauer, Clayton Muehlstein, John Ray or Conner Ravelo.
"Fox News Network and Roger Ailes' widow battle lawsuit in Orlando court" via Paul Brinkmann of the Orlando Sentinel — Fox News Network outed a closeted gay businessman in Maitland because it didn't want to pursue a reality TV show about estate sales, according to a lawsuit in Orlando federal court. The businessman, Silas Pierce, 61, is now suing Fox and the estate of the late Fox founder, Roger Ailes, for unspecified damages. Pierce claims that Fox made his sexual orientation public in court, along with personal information about his nontraditional family, and those revelations ruined his business in estate sales in rural Florida. Pierce ran a company called Estate Sales Stars and was tapped by Fox and its production company, Leftfield Productions, to star in the TV show. It was to be the first reality show on the Fox Business Network. Fox pulled the plug on the show in 2014 after filming several episodes and after two of its stars turned out to have a history that Fox didn't care for, according to court filings in two lawsuits. Leftfield sued Fox in New York in 2015, resulting in a settlement. But Fox filed detailed allegations in the lawsuit about Peirce, which became public in media reports.
"IGT expands in Lakeland, adds quality jobs to workforce" via Andrea Lyon of WFTS — You've probably scratched off a lottery ticket at least once in your life, but have you ever wondered where they come from? Companies like International Game Technology or IGT prints the tickets off all over the world. Most recently, expanding its printing facility in Lakeland, Florida. The additional 45,000 square feet for IGT allows space for new instant ticket production. The company looking to increase its full-time employment number by 24 percent by 2021. IGT first opened in Lakeland back in 2009 with a staggering success rate of 112 percent job growth, 200 percent increase in game production, while contributing $4.9 million to local businesses.
What Chris Spencer is reading — "St. Petersburg regatta to Havana again buffeted by politics" via Paul Guzzo of the Tampa Bay Times — The 2017 St. Petersburg-Habana Yacht Race was celebrated as more than a competitive regatta to Cuba's capital city of Havana. The relaunch of the maritime competition canceled since 1959 was hailed as a reflection of the detente started under President Barack Obama. The event returns for a second consecutive year Feb. 26 and again mirrors the political climate, but on the opposite end of the spectrum. No policy has been passed forbidding Americans from participating in athletic competitions in Cuba, under which the regatta falls. But relations are more strained under President Donald Trump than his predecessor. For instance, Trump has banned Americans from staying at hotels managed by the Cuban government, a decision limiting lodging options in a nation where the armed forces control up to 70 percent of the tourism industry.
— OPINIONS —
"On public safety, Florida Republicans get an F" via this South Florida Sun-Sentinel editorial board — The day after the shooting, the state Senate was scheduled to vote on a proposal by Agriculture Commissioner Adam Putnam to let people get concealed weapons permits before their background checks were completed. Given the optics, Putnam, a Republican candidate for governor who calls himself a "proud NRA sellout," asked that the vote is delayed out of respect for the families of the dead. And this week, before it was pulled Saturday, the Senate Judiciary Committee was scheduled to hear a bill that would let teachers with concealed weapons permits bring their guns to school. Broward Schools Superintendent Robert Runcie says teachers don't want more guns in schools. "A shootout is not the answer." Florida Republicans control the Governor's Mansion, the Cabinet and both chambers of the Legislature — and they refuse to do anything to address gun violence. Instead, swayed by the money and machine of the gun lobby, they keep chip, chip, chipping away at the laws we have now.
"When I look at Nikolas Cruz, I see my son" via Cathy Jackson Lerman of the Sun Sentinel – This is the tale of two boys who share a common illness, but with very different outcomes. Although Ryan was born prematurely and has cerebral palsy and autism, his disabilities didn't stop him from playing sports, participating in school activities and living a relatively normal life. Things were peaceful in our family until Ryan turned 15. Then, his mental state started to deteriorate … One day, after an argument with me, Ryan walked into our kitchen, pulled out a steak knife and told me he was going to kill me …  Despite our attempts to reason with Ryan, a similar incident occurred later that same week. However, that time, Ryan threatened to kill himself … We immediately turned to a psychiatrist who concluded that Ryan was suffering from a multitude of mental issues, including depression and obsessive-compulsive disorder … after countless counseling sessions and months of experimenting with different medications, we started seeing marked improvement in his mental state … Sure, my son is a success story, and I am very proud of him. But the truth is, Nikolas Cruz could be in Ryan Lerman's place … The system failed Nikolas on many levels. Even though his bizarre, dangerous and threatening behavior was reported to multiple authorities numerous times, nobody intervened to get him the treatment and help he so desperately needed … Yes, when I look at Nikolas Cruz, I see my son Ryan. I also see a broken system that needs to be fixed to provide help to young people like him. And I hope that we won't have to wait until another tragedy happens to do so.
"Reject changes on payday loans" via the Tampa Bay Times editorial board — There's no dispute that short-term loans fill a critical need. For low-income consumers with bad or no credit who do not qualify for conventional credit cards or bank loans, being able to access money quickly to cover bills, pay for a car repair or buy medicine is vital. But high-interest payday loans are not their only option. Credit unions with a federal low-income designation — there are more than 75 throughout Florida — offer payday alternative loans that are specifically structured to avoid the debt traps of traditional payday loans. Interest on loans between $200 and $1,000 is capped at 28 percent. By comparison, payday loan borrowers pay triple-digit interest. Floridians who are vulnerable to the debt traps of payday loans don't need newer, bigger loans that would gobble up more of their money. The federal rule that could create some uncertainty in small-dollar lending is not set to take effect for more than a year, if it does at all. In the meantime, there are innovative ways that low-income consumers can now access more affordable credit. Those efforts should command lawmakers' attention, not a bill that loosens the reins on the payday loan industry.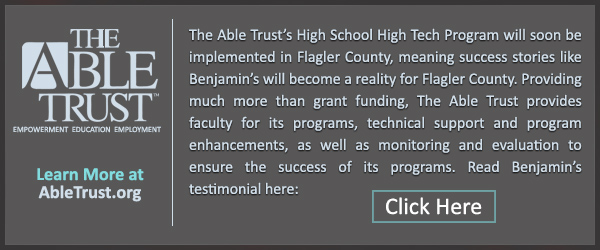 — MOVEMENTS —
Senate panel forwards appointees — The Senate Ethics and Elections Committee recommended chamber confirmations for Public Service Commissioners Gary F. Clark, Andrew Fay and Art Graham after briefly interviewing each candidate on Tuesday. Agency for State Technology Executive Director Eric Larson and Department of Business and Professional Regulation Secretary Jonathan Zachem also were recommended for confirmations, along with 43 other appointed positions. All Executive Office appointments are subject to confirmation by the full Senate.
New and renewed lobbying registrations:
Brian Ballard, William Turbeville, Ballard Partners: Bridgetek
Taylor Biehl, Capitol Alliance Group: Quicken Loans and the Family of Companies
James Card, Larry J. Overton & Associates: Solidaridad Sin Fronteras
David Lavery: Brotherhood of Locomotive Engineers and Trainmen
Robert Schenck, The Legis Group: ARES Security
— OLYMPIC NOTEBOOK —
"Team USA is both diverse and unified. What's so difficult about that?" via Barry Svrluga of The Washington Post — What we have assembled here is an American contingent that has traveled halfway around the world to cast itself, wittingly or not, against the environment back home. Rather than a single transcendent star, the U.S. team has produced a series of characters who come from different backgrounds and have different viewpoints but have behaved exactly as who they are. That is not without risk of being heckled — publicly, with vitriol — and so it is admirable. The Olympics are built on the idea that sport can serve as a unifying force. Normally, that's an international sentiment. Now, with what can feel like two distinct nations occupying the space between Los Angeles and Long Island, what about sport serving as a unifier at home? Still, as this team drapes itself in the same flag on the other side of the planet, we can't escape the divisions back home and the backlash athletes so often face when speaking their minds and expressing their beliefs.
"Kirstie Alley vs. U.S. curling is the Olympic feud we've been waiting for" via Matt Bonesteel of The Washington Post — In one corner, wearing a black dress: American actress Alley: "I'm not trying to be mean but…… Curling is boring." And in the other corner, wearing red, white and blue and sporting brooms: the U.S. men's Olympic curling team: "We're not trying to be mean either but your movies weren't exactly riveting theater Kirstie. #justsaying #curling #rockit #TeamUSA." I'm gonna go with the rock guys here. Twitter seems to agree and has curling jokes: @NumbersMuncher "Kirstie Alley just became a burned stone here." Alley, meanwhile, is not backing down from the curling snowflakes: "Another day to try and be as 'sensitive' as possible to not offend anyone anywhere anytime … about anything … LMFAO GOOD LUCK"
"'Garlic girls' on track for first-ever semifinals in curling" via Sohn Ji-young of the Korean Herald — South Korea's female curling team has risen to fresh international stardom at PyeongChang. Ranked eighth in global rankings, the host country has secured victories over some of the world's top contenders in curling, including Canada, Switzerland and Great Britain. On Monday, South Korea's female curlers beat Sweden 7-6 in the round robin, clinching their fifth win. The previous day, Korea had defeated China 12-5. Korea is now tied for first place in women's team curling, alongside Sweden, which was unbeaten before Monday. The unexpected success has brought the spotlight onto the curlers in the Korean team, as well as the story of how they came to play on the sport's highest stage. The four competing members all attended the same girls' high school in Uiseong, North Gyeongsang Province, a small town with a population of just over 53,000 that is famous for its garlic. For this reason, Korean fans have dubbed them the "garlic girls." They have also earned the nickname "Team Kim," as all the members have same family name. Even their coach, Kim Min-jung, has it.
— ALOE —
"Public celebration of Gerald Ensley's life set for Saturday" via Jeff Burlew of the Tallahassee Democrat – A celebration of the life of Gerald Ensley, a longtime columnist and reporter for the Tallahassee Democrat, will be held Saturday at the University Center Club Ballroom. The event will begin at 1:30 p.m. It is open to the public. It's expected to include remarks and remembrances by his friends and loved ones. There is no dress code. But in keeping with the dapper Ensley, the celebration will be bow-tie optional. His wife Sally and their daughter and son-in-law, Amanda and Sam Thompson, have asked that in lieu of flowers, donations be sent to a scholarship they are launching, the Gerald Ensley Emerging Journalist Award … Contributions can be made online by visiting this link here.
"Enjoy falling gas prices while you can. Here's a warning about what's to come" via Mike Garbett of the Bradenton Herald — Let's start with the good news: Gas prices across the Bradenton-Sarasota region as well as Florida fell for the 11th consecutive day, with more declines projected for the coming week … the not-so-good news: AAA expects costs will increase by up to 30 cents per gallon between March and May as refineries conduct their seasonal maintenance and switch to a summer blend. The bottom line: "This downward trend has a limit," AAA spokesman Mark Jenkins said in a news release … with spring refinery maintenance kicking into full gear, it won't be long before prices again face upward pressure.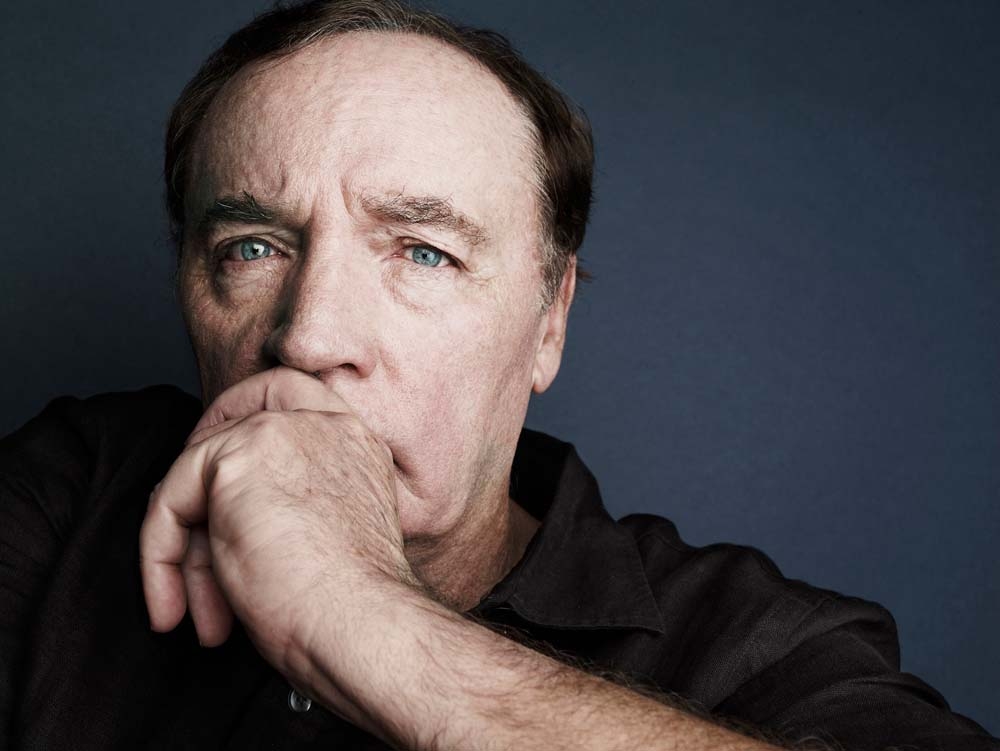 Happening Monday — State education leaders and elected officials, joined by University of Florida educators and best-selling novelist James Patterson will meet at the Tallahassee State Capitol Tower at noon to announce the author's $3 million in contributions to the University's College of Education. The money will go to a literacy initiative aimed at doubling the number of school children in Florida who can read proficiently — dubbed the James Patterson Literary Challenge.
"In our eyes, Google's software sees heart attack risk" via Drew Harwell and Carolyn Johnson of The Washington Post — By looking at the human eye, Google's algorithms were able to predict whether someone had high blood pressure or was at risk of a heart attack or stroke, Google researchers said, opening a new opportunity for artificial intelligence in the vast and lucrative global health industry. The algorithms didn't outperform existing medical approaches such as blood tests, according to a study of the finding published in the journal Nature Biomedical Engineering. The work needs to be validated and repeated on more people before it gains broader acceptance, several outside physicians said. But the new approach could build on doctors' current abilities by providing a tool that people could one day use to quickly and easily screen themselves for health risks that can contribute to heart disease, the leading cause of death worldwide.
Welcome to the world Griffin "Finn" Matthew Dempsey, the son of Angela and Hayden Dempsey, who tells us momma and baby are doing great.
Happy birthday to Reps. Katie Edwards-Walpole and Jay Trumbull.