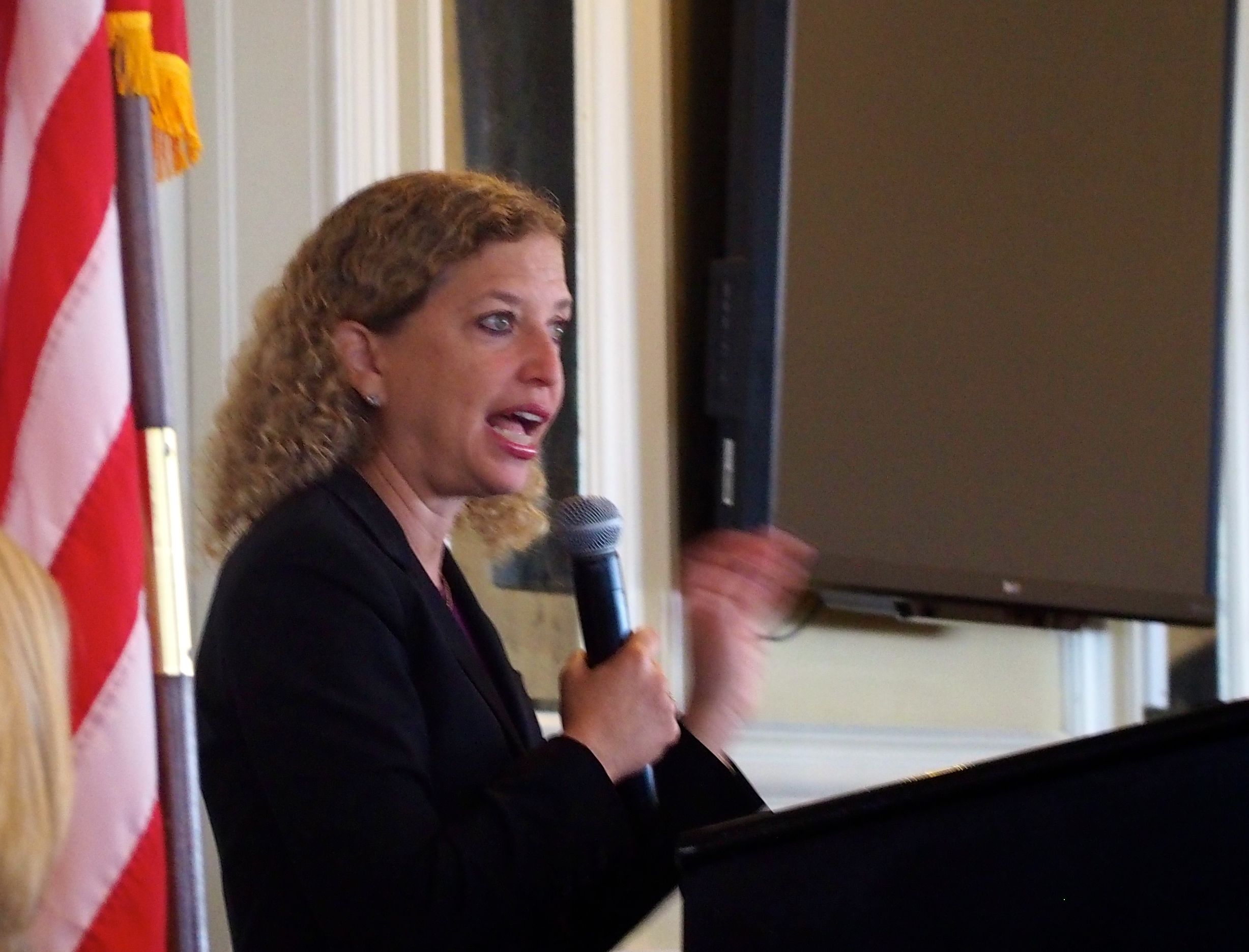 U.S. Rep. Debbie Wasserman Schultz has seen a lot of gun massacres come and go, and, as former chair of the Democratic National Committee, a lot of gun bills come and vanish, but she told the Tiger Bay Club of Central Florida Tuesday morning she's convinced that what follows the Parkland massacre last Wednesday will be different.
"We have a generation of young voters who came of age amid an appalling number of mass shootings. And for the last decade they have been told that nothing can be done to stop this senseless slaughter," she said.
"What I saw in Parkland after this shooting has felt different," she said. "Listening to the powerful words of the student survivors it's hard not to think that these kids may be ready to lead where politicians have failed to take action."
Wasserman Schultz represents Florida's 23rd Congressional District, just south of Parkland in Broward County, and the ties between her family's Cypress Bay High School and Marjory Stoneman Douglas, where 17 students and teachers were slain last week, are close. The schools and communities are similar and rivals, and now united, she said. On Friday she attended the funeral of one of the victims, Meadow Pollack, who was 18.
The rise of students, starting in Parkland and appearing in efforts descending on Tallahassee Tuesday and planned elsewhere in coming weeks, she said, will make the difference, if not in passing bills to tighten background checks and ban new sales of semi-automatic weapons, then in the elections that follow.
Recalling the funeral and the reactions of the family and friends brought Wasserman Schultz close to Tuesday, but the message she got was one of resolve and that they were "incredibly poised and so articulate."
"What I saw in the faces of the students and parents last week there is an army that can literally march for these demands and they are in Tallahassee right now doing just that. And I think this is going to be a key litmus test for every race we have this fall," she said. "It certainly is going to be huge policy difference separating [Democratic U.S. Sen.] Bill Nelson and [Republican Gov.] Rick Scott in a potential U.S. Senate race.
Wasserman Schultz, a former member of the Florida House and the Florida Senate now in her seventh term in Congress, rose to chair the Democratic National Committee. But her exit from that leadership post last year was nasty, after reports emerged alleging her heavy-handed steering of the 2016 Democratic presidential primaries. But she remains a powerful figure among congressional progressive Democrats.
When asked why the Democrats did not address their biggest gun position during the period when they had control of the White House and both chambers of commerce, and Wasserman Schultz was a quickly rising power in the Democratic party, she insisted the 60 votes needed to approve most bills in the U.S. Senate made it impossible during that time.
"Enough is enough. We cannot let another day go by without demanding the common sense gun legislation come to the floor of every chamber of every body in this country. Let them vote," she said earlier. "Whatever way it comes out. But elected officials have to be held to account by the overwhelming majority, even of NRA members, who believe that we need to take steps to make this country safer, and to rid this country of the scourge of the weapons of war that no civilians as meant to have."
She told the Tiger Bay club she believes that other progressive causes including the Affordable Care Act preservation, the Deferred Action for Childhood Arrivals [DACA] program, and the #MeToo movement against sexual harassment and assault all will play key roles for Democrats in the upcoming elections. But she spoke of Democrats' desire for gun legislation to be more of a game changer following Parkland, and the impact that shooting is having on Generation Z, if not now, then eventually.
"They know that offers of just thoughts and prayers or more promises of more mental health funding mean absolutely nothing is going to change," she said.