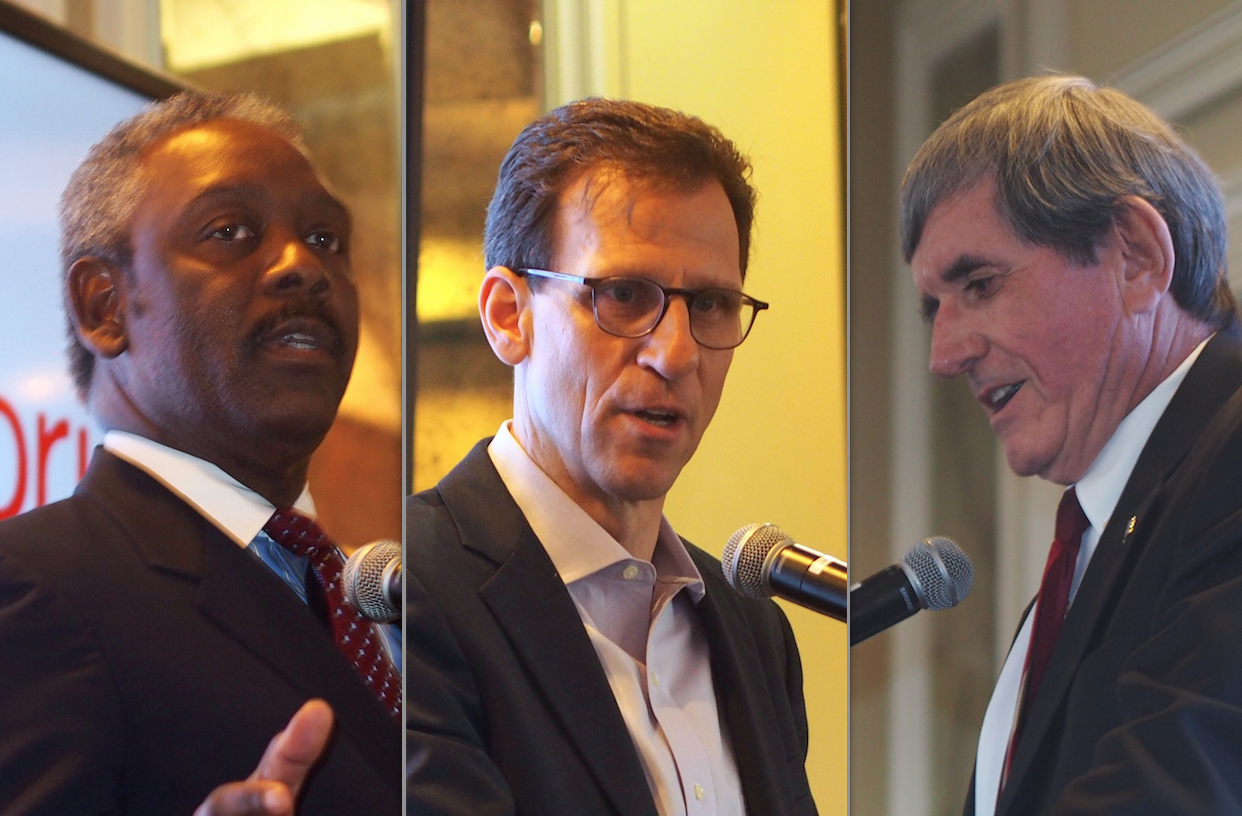 In the first event putting Orange County's three top candidates for mayor on the same program, Jerry Demings, Rob Panepinto, and Pete Clarke presented themselves to the Central Florida Urban League Friday respectively as the known steady hand, the visionary, and the veteran of community building.
"What you get from Jerry Demings is scandal-free leadership, a man who comes to work every day to ensure that this community is the best community for us to live, for us to work, for us visit, for us to raise a family," Orange County Sheriff Demings, who's been sheriff, county deputy administrator for public safety, and Orlando Police chief over the past 20 years, told Friday's breakfast meeting of the Urban League's Gala Weekend in Orlando.
"I believe I've got the right breadth of experience in creating jobs, building businesses, and serving our community that we need, and a blueprint to move us to a wonderful period of growth and opportunity for the next 20 or 30 years," said Panepinto, a Winter Park businessman, entrepreneurial-economy advocate, and former leader of the Orlando Regional Chamber of Commerce.
"Poverty without hope is the problem. If you look at my resume throughout my career, I give hope. That's my mission," said Orange County Commissioner Clarke, who has helped organize and run health care and housing non-profit groups.
The trio gave separate speeches and did not take questions nor face each other on Friday. There were no hard-edged discussions on divisive issues. But the forum gave each the opportunity to define himself and his priorities.
And in doing so, each managed to subtly define some of their differences as well.
"We are in a good place now," Demings declared.
He stressed his career in law enforcement. He said his priorities are to make Orange County a safer, more prosperous, and stronger county, by focusing on smart growth, public safety and regionalism.
"I believe that the next mayor of Orange County is the person who has to lead and to work with mayors in our municipalities, as well as working with the other counties," Demings said, offering a hint of criticism toward outgoing Mayor Teresa Jacobs, who sometimes has been criticized for not working closely with others. "We're going to look at and focus on improving affordable housing in this community, on improving health care in this community, of improving the lives of our children in this community, of our seniors in this community.
"In terms of improving the prosperity of this community, we are going to work with businesses, we are going to work with young people, to encourage them to have a more entrepreneurial attitude," Demings added.
And he also offered himself as the known commodity, someone who's been in law enforcement or public service for 37 years, the last 20 in leadership positions.
"You don't have to guess of whether or not I can lead in this community, because you have seen me do it," Demings said.
"A vote for Jerry Demings is a vote for the right leadership at the right time," he concluded.
Panepinto may be a known commodity in Central Florida business circles, but that does not extend much beyond yet, and even his introduction Friday included a botching of his name.
He quickly turned against the status quo assumption that Orange County is in a good place, arguing that with all its prosperity it still has stark income disparity, poverty and critical affordable housing problems. The challenge, Panepinto said, is that the county's talent and potential have not been tapped. That message, he offered, was clear from the rejection of Orlando last month by Amazon for its second world headquarters. Amazon declared, Panepinto interpreted, that Orlando is not ready yet for what Amazon wants to do.
Panepinto told the gathering it's time for people to decide "what this community should be over the next 20 or 25 years."
Yet he outlined existing conditions that he said provide far more potential, with extremely low unemployment, a rising real estate market, low taxes, "a wonderful inclusive culture, a young community, one that came through Pulse in a way many other communities would not have."
Panepinto framed himself as a successful entrepreneur and businessman. With experience at the Orlando Partnership and other economic development groups and business incubator and accelerator programs, he said he could help people create higher-wage jobs, and deal with social issues including housing.
"With that experience I have developed a pretty full blueprint for an even better Orange County… Job one has to be creating … and attracting more higher-wage jobs in our communities. I am a firm believer in entrepreneurial and small business growth. If you are creating jobs in this county, I want to make it easier for you to grow, not harder," Panepinto said.
"We also have to make sure we've got the right workforce," he said, stressing the need to develop more pipelines with schools technical schools, colleges and universities to "better match what business needs."
Clarke, who spent decades working with non-profits, including helping create the Central Florida Primary Care Access Network, has made his name in two terms on the Orange County Commission for pushing for the government to work with non-profits to address community needs, and then for the government to get out of the way. His talk was one of recognizing problems such as affordable housing, health care, and income inequality, but also recognizing that government's role should not be to solve them, but to coordinate non-profits and the private sector to solve them.
He began his talk to the Urban League by charging that income inequality was an issue 100 years ago, 50 years ago and "today we're still trying to fight income inequality."
The next mayor needs to focus on coordinating the county's organizations and businesses to address the problem, he said. Government, he continued, has inherent slowness and inefficiency, while the private sector and nonprofits have inherent urgencies.
"When there are issues or problems, I've had the ability to bring the community together to solve them," Clarke said. "And you need to know where the government stops and where the community begins."
For Clarke, that includes job creation. He noted that in his District 3 in south Orange County, the economy is made up of small businesses — particularly Hispanic-owned and run businesses. Many struggle and need a clearer path, he said.
"What I mean to do is to create an environment, to continue an environment, that really does allow people to create jobs," Clarke said.