In his bid for Florida Governor, Ron DeSantis can always count on at least one unwavering cheerleader — his dad, Ron Daniel DeSantis of Dunedin.
According to a post on the Facebook group page "Ron DeSantis for Governor Pinellas County," the elder DeSantis "talked to many people who want to support my son for Governor" but could not vote in the primary, simply because they are not registered Republican.
Papa DeSantis then suggests those interested parties (both Democrats and independents) should switch parties (after which they "can always change back later"). Next, he goes on a lengthy explanation how to change party affiliation in time for the Aug. 28 primaries.
Of course, it's awfully cute that DeSantis' dad is in his corner — what good father wouldn't be?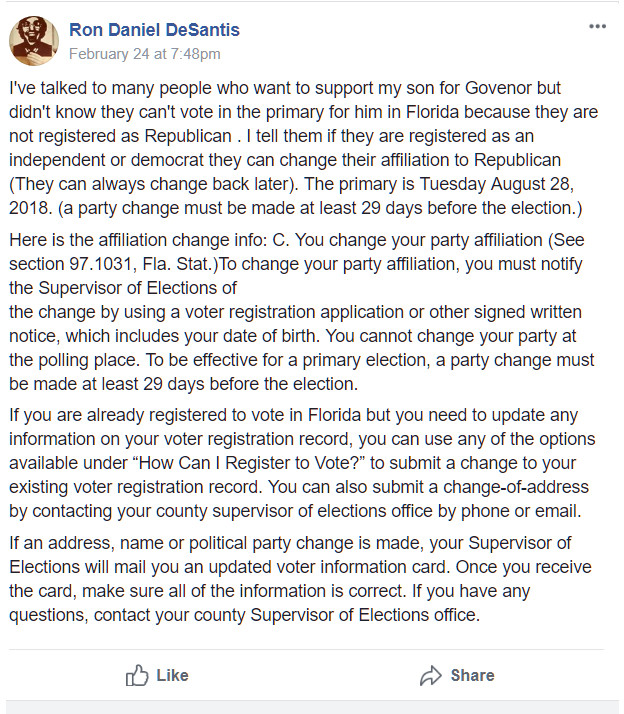 But are there really a significant number of voters — particularly Democrats — who are clamoring to jump ship for the DeSantis campaign?
Doubtful, at best.
For example, as the Tampa Bay Times noted: "Democrats generally see [DeSantis] as the weakest Republican nominee of the bunch, an unbending government shutdown guy too far out of the mainstream for a purple state like Florida."
DeSantis — whose only statewide campaign was a short-lived bid for the U.S. Senate — was also named one of the top 25 conservatives in the nation (by radio host and far-right firebrand Mark Levin) and took perfect scores from both Americans for Prosperity and the American Conservative Union — all of which are anything but a Democrat magnet.
Then, there is the full-throated Twitter endorsement from President Donald Trump, which said DeSantis "would make a GREAT Governor of Florida."
Deep down, the one sure thing DeSantis for Governor has going for it is Trump's tweet.
Indeed, the President's comment was the main impetus for DeSantis' newfound support from conservative billionaires who rarely get involved on the state level, such as casino magnate Sheldon Adelson, investment tycoon Foster Friess, and Breitbart co-owner Rebekah Mercer.
And as for his known policy positions, DeSantis offers little for the average Democrat to embrace.
He is a small-government conservative and a vocal supporter of moving the U.S. Embassy in Israel to Jerusalem. DeSantis is also critical of Special Counsel Robert Mueller and his investigation of the Trump administration's ties to Russia.
Few of those things are endearing to the typical Democrat.
In addition, DeSantis has the backing of David Bossie from Citizens United.
For those who don't remember (or choose to forget), Citizens United is the infamous anti-Hillary Clinton organization which led to the much-reviled 2010 U.S. Supreme Court decision allowing unlimited corporate money into political campaigns.
Want to instantly enrage Democrats and progressives? Simply say two words: "Citizens United."
So, imagine it was "Citizens United supports Ron DeSantis."
Taking all this into account, it is highly unlikely Florida Democrats will switch parties willingly (even temporarily) to throw their weight behind DeSantis.
But it's always good to have dad on your side.