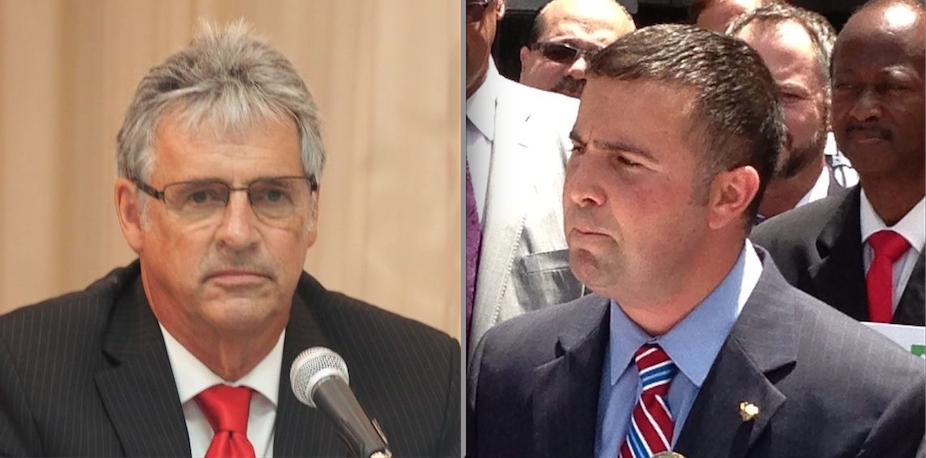 A town hall to talk about guns that Democratic U.S. Rep. Darren Soto set for Saturday in St. Cloud is drawing criticism from his Republican election opponent Wayne Liebnitzky because the Marjory Stoneman Douglas High School girls' softball team is also in town.
Liebnitzky called the town hall "a political stunt."
Soto earlier this week announced he would hold a constituents' town hall meeting on national gun safety at the St. Cloud Community Center at 1 p.m. Saturday. Responding to Liebnitzky's criticism on Friday, Soto's campaign said it was entirely coincidental that a team from Marjory Stoneman Douglas High School, the Parkland school that was the site of the horrific Feb. 14 massacre that took 17 lives, is playing in a tournament, against St. Cloud High School, not far away this weekend.
Soto, of Celebration, defeated Liebnitzky, of St. Cloud, in the 2016 election for Florida's 9th Congressional District. The pair may be heading for a rematch this fall. Liebnitzky has a Republican primary rival, Sean Buchan of Winter Haven, while Soto remains unchallenged for the Democratic primary.
"We are deeply saddened when any horrific event occurs, but creating a political stunt to hijack law abiding citizen's rights will not be viewed favorably," Liebnitzky said.
He argued that Soto's focus guns was wrong, and that school safety needs to be addressed through hardening the schools and convincing people to say something if they see something. "Allowing only criminals to possess guns does not and will not make any sense to me," Liebnitzky said.
Soto's notice for the meeting states that he has spoken with survivors from the Parkland shooting and young people at the March for Our Lives event in Lake Wales, and now "wants to hear from community members across Central Flordia about the sensible legislative action and access to mental health treatment needed to prevent further gun violence. Besides Soto, the town hall will feature Kristi King, legislative chair of the Central Florida Chapter of Moms Demand Action for Gun Sense in America; and Patricia Brigham, steering committee chair of the Florida Coalition to Prevent Gun Violence.
In a response issued by his re-election campaign, Soto insisted the town hall, scheduled by his congressional office, is part of a nationwide effort this week, and has nothing to do with the fact that a Douglas High team was in town.
"There are town halls happening on gun safety nationwide this week. Congress must act, as I continue to hear from constituents around the 9th District. I am committed to listening to all of them and to taking action," Soto said. "While this town hall was scheduled independently of any sports event, we certainly welcome the student-athletes of Marjory Stoneman Douglas High School and their supporters to the 9th District."