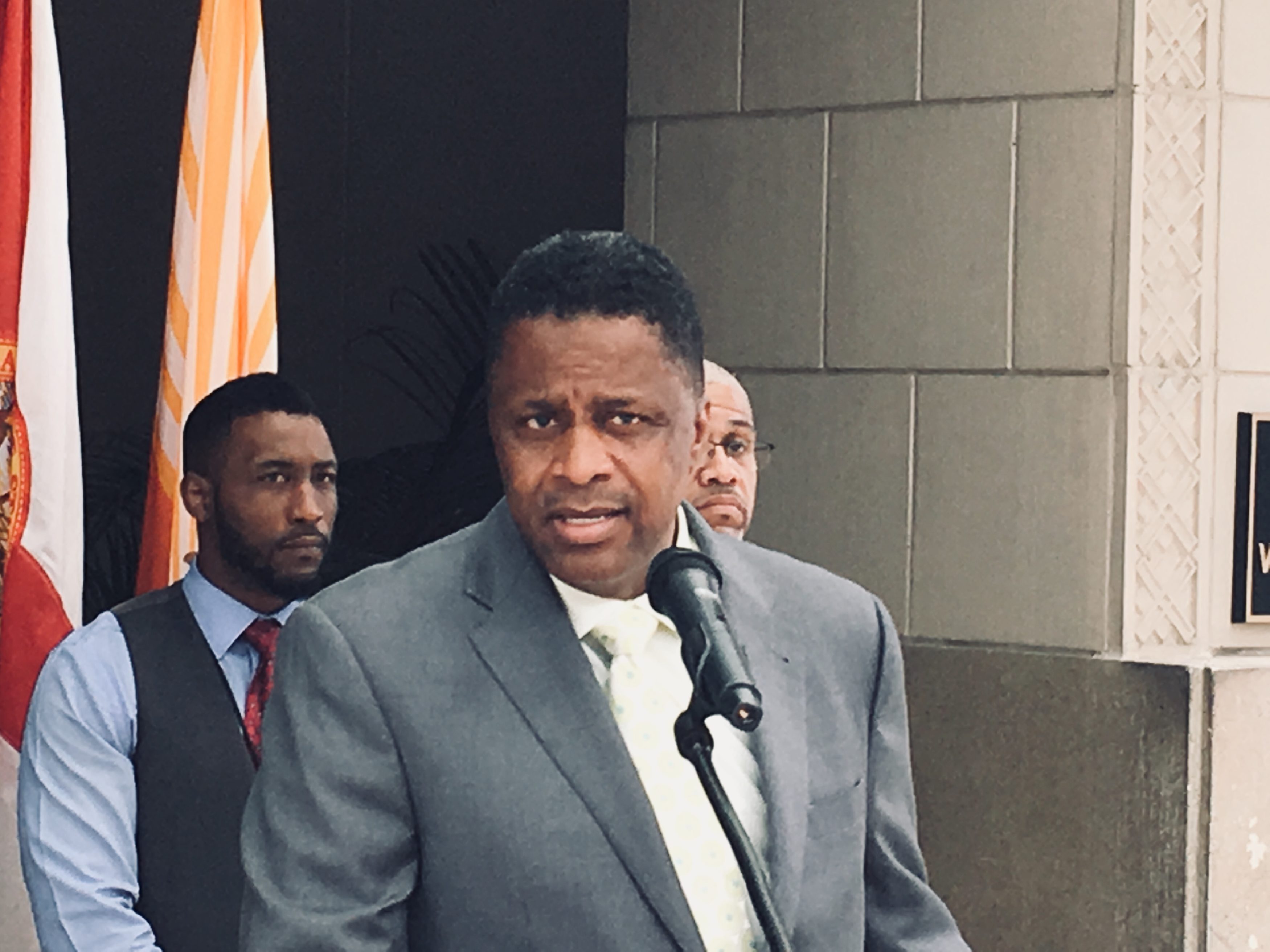 Jacksonville City Councilman Reggie Brown is challenging Senate Democratic Leader-Designate Audrey Gibson in the 2018 primary.
Despite his run for higher office, Brown has not yet made moves to resign from the City Council. And he has no plans to as of this writing.
Qualifying for state offices is in mid-June. Per statute, the written resignation must be submitted at least ten days prior to the first day of qualifying for the office, and would be effective in this case the date that Brown would take office (in this case, January 2019).
He could serve on Council until then, per statute. And he doesn't seem like he's going to budge on that.
Brown hosted a media event Thursday on the steps of City Hall promoting a "Health Education and Information Forum" to be held Saturday, May 12 in Jacksonville City Council Chambers.
However, he was curiously reluctant to discuss his plans vis a vis drafting the resignation letter (which has yet to be filed in City Hall), or the timetable for such being written.
"Today we're talking about the press conference for the health fair. Today is only about the health fair. We're going to discuss the health fair and the good things that [are] going to take place May 12," Brown said.
Despite being pressed for more specific answers, Brown continued with event promotion.
A week prior, Brown hosted a community fest event, which seemed to some observers to be another self-promotional event for an active candidate on the taxpayer's dime.
Brown preemptively and bizarrely texted this reporter, who tweeted about the event, with a series of claims rendered in third person.
"Be prepared to respond, just in case … this guy is an [a**hole]," the text asserted. "We're covered … it was cleared through the Ethics Office."
Brown later texted this reporter, telling him to "familiarize [himself] with the State Statute," which allows him to be on Council and run for state office simultaneously.
As of the end of March, Brown had yet to raise money, but had loaned his campaign $2,500 for t-shirts. He was a long way behind Gibson, who has $120,000 on hand.
April figures are still pending for both candidates.