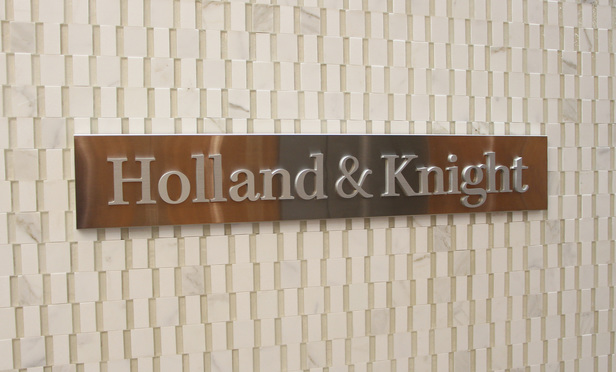 Holland & Knight reeled in up to $740,000 in lobbying fees during the first three months of the year, which included 2018 Legislative Session.
Newly filed compensation reports show the firm earned between $250,000 and $490,000 lobbying the Legislature and another $100,000 to $250,000 lobbying the Governor and Cabinet. Using the median number reported for each of its more than three dozen clients, Holland & Knight brought in an estimated $530,000 in Q1.
The firms' first-quarter roster included Joshua Aubuchon, Kimberly Case, Lawrence Curtin, Mark Delegal, Andrew Marcus, Bob Martinez, Bruce May, Mia McKown, George Meros, Lawrence Sellers and Richard Stephens. Pitching in on the executive side only were Janna Peters Lhota and Richard Perez.
Three principals could have potentially been Holland & Knight's top paying client in the first quarter: The National Public Finance Guarantee Corporation, State Farm and convenience store chain Wawa.
Each of the top three showed up on both the executive and legislative reports and paid up to $40,000 during the three-month span. State Farm showed up in the $20,000 to $30,000 range on the legislative report and in the up-to-$10,000 range in the executive one, while National PFG and Wawa were split evenly between both branches.
Several more clients showed up paid up to $30,000 to retain Holland & Knight, most of them paying a tad more for legislative work. Those clients included the Florida Press Association, senior living group LifeSpace Communities, Lowry Park Zoo, Osceola County, the Safety Net Hospital Alliance of Florida, Shands Hospital and US Anesthesia Partners.
Other recognizable principals showing up in one or both of the reports include the Florida Chamber of Commerce, the Florida Brewers Guild, radio manufacturer Harris Corporation, New York Life Insurance Company, Tampa Electric Company and Waste Management.