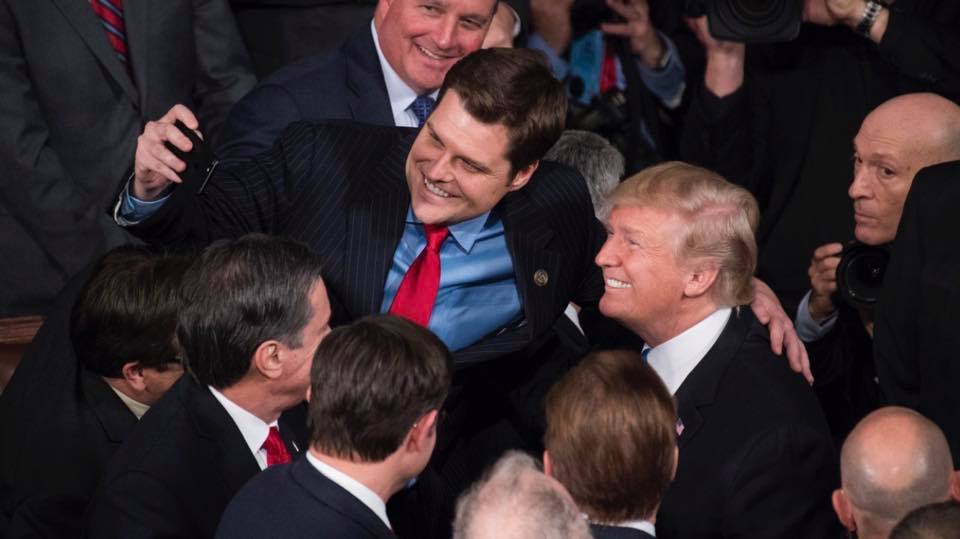 U.S. Rep. Matt Gaetz has long been aboard the Trump train, and now Donald Trump is returning the favor with an endorsement of the congressman's re-election campaign.
"Congressman Matt Gaetz of Florida is one of the finest and most talented people in Congress," Trump wrote on Twitter.
"Strong on crime, the border, illegal immigration, the Second Amendment, our great military and vets, Matt worked tirelessly on helping to get our massive tax cuts. He has my full endorsement!"
https://twitter.com/realDonaldTrump/status/1017650505043140609
Gaetz, who serves on the House Judiciary Committee, has been a loyal backer of Trump's. That's especially true regarding the Special Counsel investigation into Russian interference in the 2016 election.
In April, Trump referred to Gaetz as one of the "absolute warriors" of the Republican Party.
Gaetz has repeatedly pushed claims of a "deep state" conspiracy out to get Trump, even roping in fellow Republicans as part of the alleged plan.
Those accusations about a "deep state" have expanded recently, with Gaetz arguing the mysterious group is also out to smear U.S. Rep. Jim Jordan. Jordan faces accusations he covered up abuse while he was a wrestling coach at Ohio State University, though some wrestlers have also come to Jordan's defense.
"I am deeply honored to receive President Trump's endorsement today, and am thrilled to have the opportunity to continue working alongside him," said Gaetz in response to the endorsement.
"Since November 2016, the President has been working to make America great again, and I have gladly joined him in his efforts to drain the swamp, lower taxes, and expose the deep-seated corruption hidden in the centralized bureaucracy of Washington.
"President Trump's support today has given me a renewed sense of confidence and vigor to continue my fight for the hard-working men and women of Northwest Florida."
Gaetz currently represents Florida's 1st Congressional District. He faces four other challengers as he fights for re-election.
Both Florida Right to Life and the Humane Society Legislative Fund have also endorsed the first-term congressman.