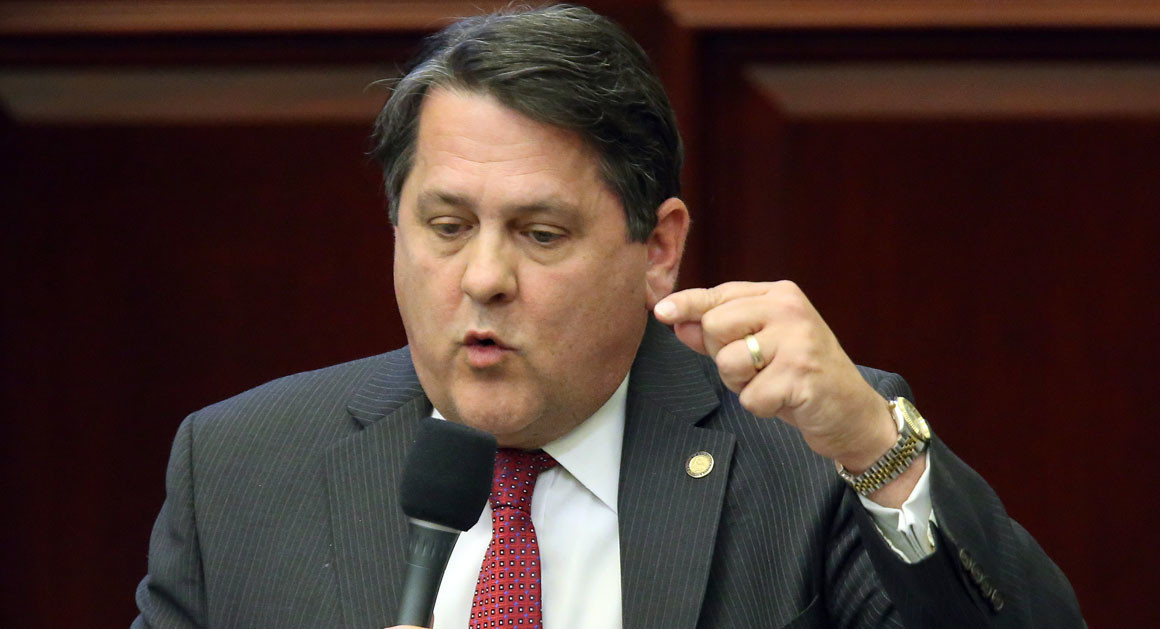 "Anybody but Charles": that's the message from the National Rifle Association regarding former state Rep. Charles McBurney's bid for a judgeship in Florida's 4th Circuit.
A mailer in Duval County mailboxes this week reprises a number of charges against McBurney, with the idea of stopping his current electoral bid for a judgeship just as the gun lobby did McBurney's bid for an appointment from Gov. Rick Scott in 2016.
The candidate's "actions as a legislative chairman," per the NRA, make McBurney "unfit for the bench — any bench — anywhere."
"It's as simple as A-B-C: vote for anybody but Charles McBurney," the mailer adds.
The pique between the gun lobby and the former four-term Republican legislator from Jacksonville goes back to the 2016 Legislative Session.
McBurney, who chaired the House Judiciary Committee in 2016, tabled a bill that would have shifted the burden of proof from defendants to prosecutors under the state's "Stand Your Ground" self-defense law.
"In order to gain favor with prosecutors, he refused to hold a hearing on the 'Burden of Proof' bill, SB-344 by Sen. Rob Bradley, which restores the presumption of innocence in self-defense cases," NRA's Florida lobbyist Marion Hammer wrote, adding, "McBurney, a former prosecutor himself, wants prosecutors to help him become a judge so he engaged in political pandering to prosecutors. McBurney traded your rights for personal gain."
McBurney, in response to thousands of emails generated by the NRA's "Action Alert," attempted his own ill-fated campaign to enlist testimonials.
He was powerless against the Hammer, however, and Robert Dees got the judgeship.
McBurney holds a significant cash on hand advantage, thus far, over his opponent — former prosecutor turned family law attorney Maureen Horkan.
Heavily self-financed Horkan has roughly $4,300 on hand. McBurney, backed by an impressive cross-section of the legal community, has over $105,000 in cash.
However, the NRA imprimatur may help shake some of the conservative support McBurney has down the stretch.
McBurney isn't worried, however.
"I was a little disappointed, but not really surprised and do not think it will have much an effect on the election. I think the voters of NE Florida are sophisticated and know me well enough that I will follow the rule of law. Of course the judicial canons prevent me from discussing any issues," McBurney said Tuesday afternoon.
The non-partisan race will be a test of the NRA's pull outside of the GOP base.