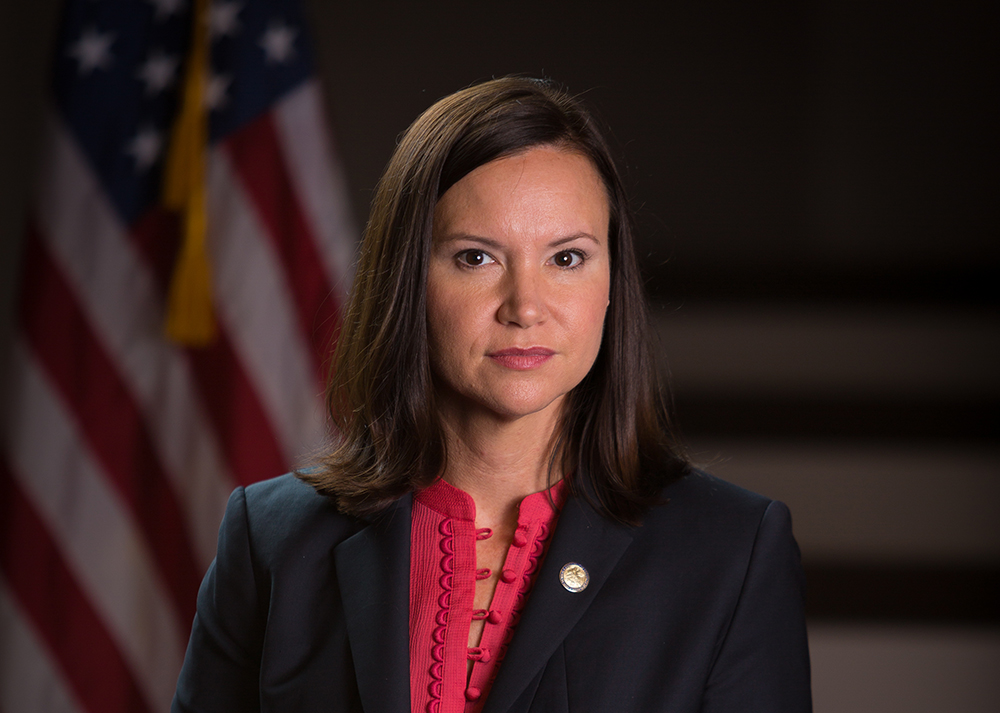 Former circuit court judge Ashley Moody topped the field of candidates running for Attorney General last week thanks in large part to cashing her first six-figure matching funds check.
Moody, a Republican backed by term-limited AG Pam Bondi, brought in nearly $374,000 between her campaign and political committee, Friends of Ashley Moody, for the reporting period covering July 21 through July 27. That haul included a $283,748 check from the state matching funds program.
The program, open only to candidates for Governor and Cabinet positions, matches contributions of $250 or less from individuals who were state residents at the time of making the contribution.
Moody's primary opponent, Pensacola Rep. Frank White, has roasted her for accepting those funds. The Moody campaign hit back by saying the matching funds program is meant to prevent self-funding candidates, including White, from spending their way into public office.
Also included in Moody's reports were eight campaign contribs for $3,000, the maximum allowable donation for statewide races, as well as several dozen more from small-dollar donors. The committee ledger showed a $25,000 check from Floridian's United for Our Children's Future, a political committee chaired by Ryan Tyson, the VP of political operations for Associated Industries of Florida.
Spending for the two accounts combined to $40,682, with nearly all of those funds paying for printing and design work done by Jensen Beach consulting group Strategic Image Management. The light spending comes one week after Moody's campaign account shelled out $423,620 for a media buy.
Moody has now raised more than $3.6 million for statewide bid. She had $1.83 million in the bank on July 27.
White's finance reports showed $165,260 in new money. His political committee, United Conservatives, pulled in $132,500 of that cash, while the balance headed to his campaign coffers.
Included in the committee report were two $50,000 checks, one from political committee Liberty Foundation of Florida and another from Pelopidas LLC, a St. Louis-based conservative consulting group. The campaign account received two-dozen contributions, including a quartet of max checks.
White's spending cracked $525,000 for the week, with $416,000 of that sum paying for another round of campaign advertising. White was the first AG candidate to hit the airwaves, putting $1 million behind an early June media buy well before the "lowest unit rate" rule kicked in 45 days out from Aug. 28 primary election.
In all, White has amassed more than $4.5 million between his two accounts and had $1.65 million banked on July 27. His tally includes $2.77 million in self-funding and at least $400,000 in contributions linked to his father-in-law, car dealership magnate Sandy Sansing.
A recent survey from St. Pete Polls showed White with a 7-point lead over Moody in the primary race, though more than half of likely Republican voters said they were undecided. When it comes to the general election, polls have shown Tampa Rep. Sean Shaw, the likely Democratic nominee, with a lead over either Republican.
Shaw trails both GOP contenders in fundraising, though he also got his first matching funds boost last week.
His first payout clocked in a $139,000 and made up the bulk of the $198,400 he raised last week between his campaign and political committee, Sean Shaw for Florida.
The new reports pushed him just over the $1 million mark in total fundraising since he entered the race in January. He has $493,240 at the ready.
Shaw's primary opponent, Odessa attorney Ryan Torrens, is lagging considerably. Through more than a year in the race, he's raised $130,400 and kicked in $8,450 in loans. As of July 27, his campaign was barely above water with just $10,450 on hand.
Shaw has filed a lawsuit against Torrens alleging that he improperly qualified for the ballot. A court hearing for that lawsuit has been set for Aug. 22, just six days ahead of their head-to-head showdown at the polls.