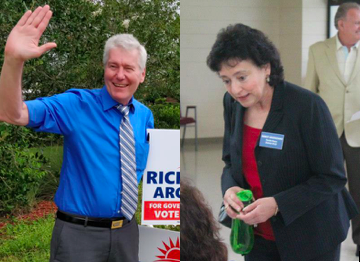 The Reform Party 25 years ago posed a serious threat to the two-party system—then largely vanished. But Darcy Richardson, Florida's Reform Party candidate for governor, hopes to make the third party into a force in the Sunshine State this year.
"We're trying to refine the party and bring some new life into it," says Richardson, a political historian and author.
The Reform Party ticket hopes to offer a true centrist alternative this year with Richardson, who previously ran as a Democratic protest candidate, and running mate Nancy Argenziano, a former Republican state Senator.
"We're offering a true unity ticket here," Richardson said.
Strident Centrist
Argenziano brings a high profile in state politics, as much in recent years for fighting members of her own party as representing the right. These days, she barely recognizes the Grand Old Party where she spent most of her life.
Once the most powerful woman in the Florida House of Representatives, the Homosassa politician once championed nursing home regulation and fiscal conservatism, but today finds the party allergic to controls on even the most heinous of corporate abuse.
"I started to realize it was not what I signed up for," she said.
Her eyes started to open, she said, after a first visit to ALEC, where she expected to find a think tank on conservative policy and instead found an organized effort to drive a philosophy she considered extreme.
But at least in Florida, she remained in a body that required consensus. She first went into the state House in 1996 under then-Speaker of the House Dan Webster as Republicans took the chamber for the first time in 122 years. The Legislature then remained closely divided.
Then things moved further to the right with Speaker Tom Feeney. But over her first five years in Tallahassee, it seemed conservatism with a purpose, she says. Lawmakers systematically weeded out redundant laws and regulations; they scrutinized taxes on the books for years. But she worked with then-Minority Leader Lois Frankel on protections for residents of nursing homes.
Argenziano moved to the Senate in 2002, but by the time she left in 2007, she started to wonder why Republicans remained fixated on deregulation and cutting taxes.
"What are they getting rid of now? The regulations I worked on," she says.
Argenziano later got appointed to the Public Service Commission but famously left that post amid friction with Tallahassee Republicans, bluntly wring in a resignation letter "I am terrified if Rick Scott becomes governor there is no check on the Legislature."
As for Richardson, he's never held office but has run several times, always as a voice for change. He managed one of Eugene McCarthy's Senate campaigns in Minnesota. He later ran himself for Senate in Pennsylvania on the Consumer Party ticket.
In 2012, he filed as a Democratic challenger in several presidential primaries against Barack Obama to protest corporate influence the party. He even caused some disruption in places like Oklahoma. But now he sees a chance for real change as a Reform candidate.
"We're offering a pragmatic central solution to the myriad of problems facing Florida," he says, "and we do have a lot of serious problems."
Reigniting Reform
In the state of Florida, the Reform Party for the last dozen years did nearly nothing. Originally a vehicle for Ross Perot's third-party runs for president in the 1990s, the party faced a bit of an identity crisis when figures like Pat Buchanan entered the mix and secured the nomination running from the far right.
Indeed, Buchanan's candidacy ultimately became inextricably tied to the 2000 recount in Florida and the famous Butterfly Ballot controversy.
The only time a Reform Party candidate ever ran for governor in Florida before was in 2006, when Max Linn won less than 2 percent of the vote.
But now with the two major parties putting up extreme candidates this year, Richardson sees a chance to get a bigger share of the vote this go-around.
Democrat Andrew Gillum, Richardson says, remains largely untested from his time as mayor of Tallahassee and won the gubernatorial nomination of the promise of being a left-wing Bernie Sanders-type candidate. Republican Ron DeSantis won based on fealty to President Donald Trump, an unpopular figure among moderates.
"This is a chance for Nancy Argenziano and myself to appeal to that broad swath in the middle of people that would describe themselves as maybe slightly center right or maybe slightly center left," Richardson says.
Mix in the fact both major party candidates were upsets and Richardson hopes disappointed Adam Putnam or Gwen Graham voters may open their minds to a third party candidacy.
The Reform ticket opposes increases in corporate taxes like those promoted by Gillum. But the candidates also bristle at the corporate-friendly Scott years, when Argenziano said utility companies ran amok.
Closing The Deal
Richardson believes if voters elect a more closely divided Legislature this year, a Reform Party governor and lieutenant governor may actually be able to strike up more conversation between moderates in the major parties. But that first requires getting elected.
So far, the Reform Party hasn't gotten a spot on a debate stage. It's a standard Catch-22 for third parties. A candidate must poll at 12.5-percent in statewide polls to get on a stage, but it's hard to poll well without a platform like a debate to introduce yourself to voters. And it's hard to get included in polls in the first place when most outfits prefer testing Gillum and DeSantis head to head.
The two candidates have been quietly canvassing for weeks across Florida. Richardson said he just wrapped up a second trip through South Florida, and will make a third stop the last weekend of the campaign, where he will meet and greet football fans at the Florida Atlantic-FIU game on Nov. 3.
The campaign boasts just $52,823, pocket change in terms of a typical statewide campaign a month out from Election Day.
"It's an uphill battle," Argenziano admitted. "But a lot of people are ready for change." At the very least, she hopes the ticket gets enough votes to convince voters in the future a Reform Party candidate has a chance to win a state like Florida.
One good sign, Richardson said, is that both Democrats and Republicans express angst about the ticket spoiling a path to victory for Gillum or DeSantis. "We're being attacked by both parties," Richardson says. "That tells me we're doing something right."