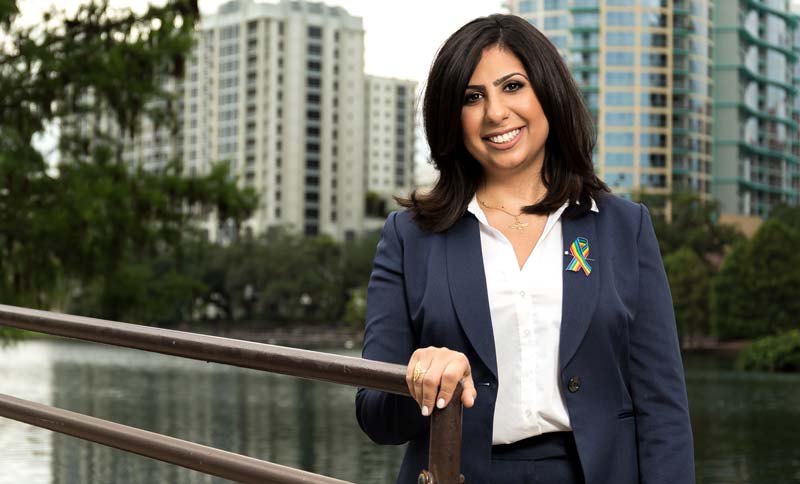 Orlando Democrat Anna Eskamani has hit another major milestone in her bid to flip the seat held by exiting Republican state Rep. Mike Miller blue.
The Planned Parenthood exec and first-generation American has long been the fundraising leader in Orange County's House District 47, and through Oct. 19 she said she had gathered more than $500,000 in support of her candidacy.
Eskamani's new reports haven't been uploaded to the Florida Division of Elections website, though she said in a Tuesday press release that she's now raised $426,891 in hard money and another $73,850 in soft money through her affiliated political committee People Power for Florida.
"Our campaign is fueled by everyday people — Democrats, Republicans, and those with no party affiliation — who are ready to redefine politics in Florida, and elect a first time candidate that is vocal, authentic, and effective," Eskamani said.
"We offer a compelling vision for the future of our state, one that is grounded in our passion for public education, environmental protection, health care access, and gun safety. As a first time candidate with no personal wealth, I am thrilled to have raised $500,000 and will continue to do my part in creating community, building leaders, and facilitating meaningful change," she concluded.
Though her campaign didn't list how much of that cash is still in the bank, Eskamani's financial reports covering Oct. 6 through Oct. 12 showed her with about $63,000 banked between the two accounts.
Her general election opponent, Winter Park Republican Stockton Reeves, had amassed $237,551 through the same date and had $84,371 banked on Oct. 12. Eskamani's mention of personal wealth may have been a jab at Reeve's comparatively lackluster fundraising prowess — 40 percent of his bankroll has come from his own checking account.
The HD 47 contest has taken a negative turn in recent weeks as Reeves and the Florida GOP have slammed Eskamani as "unfit for office" based on her using a handful of four-letter words during public appearances.
Those incidents weren't enough to scare off former President Barack Obama and Orlando mega attorney John Morgan from joining the 70-plus local leaders and orgs already lined up behind her House campaign. She has also brushed off the criticisms by putting out her own ads painting the campaign tactic as a sign of fear among "political insiders."
HD 47 covers north-central Orange County and is vacant due to Miller opting to challenge Democratic U.S. Rep. Stephanie Murphy in Florida's 7th Congressional District rather than seek another term in the state House.
The seat has a slim Democratic advantage in voter registrations and it was held by now-Democratic Sen. Linda Stuart before Miller edged her out by four points in the 2014 cycle. He followed that up with a 6-point win over Democrat Beth Tuura in 2016, when the seat voted plus-11 for Democratic presidential nominee Hillary Clinton.
Election Day is Nov. 6.