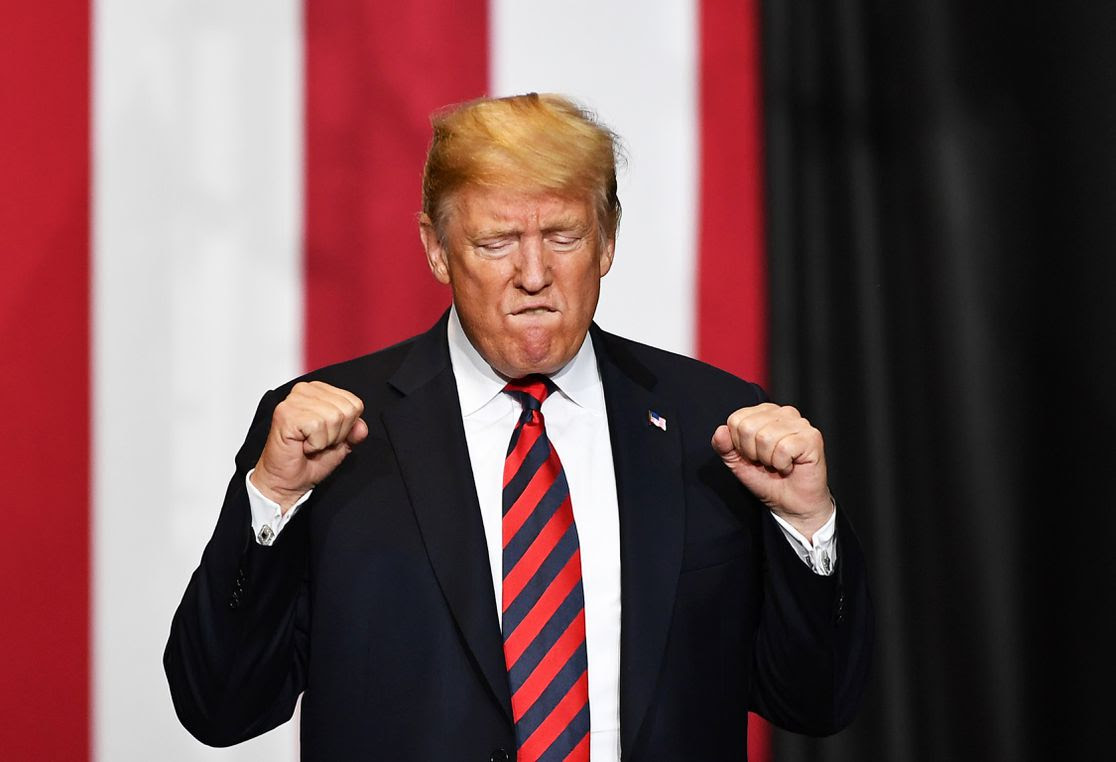 As Cheerleader-in-Chief for his team, Donald Trump is hard to beat. The raucous Halloween night crowd at Hertz Arena in Estero loved the multiple-course helpings of red meat the President served at an old-fashioned style campaign rally with the midterm elections less than a week away.
The President hit all the talking points. Well, shouting points.
Immigration.
Taxes.
The economy.
Security.
Oh, and Democrats — particularly Andrew Gillum and Bill Nelson — are out to destroy the way of life as we know it, let rapists and murders stampede the borders, tax away your life savings, and destroy the economy with those pesky economic and environmental safeguards, also known as regulations.
The crowd loved it. The crowd ate it up.
Thousands waited in line for hours, sometimes a more than a day, to secure seats. The base remains fiercely loyal.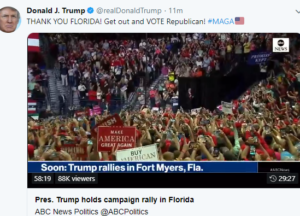 But the substance was nothing, really, we haven't heard from the President or his supporters throughout the campaign, so what difference will it make on Election Day?
I would caution this to Democrats who might be overly encouraged by polls showing Gillum and Nelson ahead in their respective races for Governor and the U.S. Senate. There was a similar feeling of confidence among Democrats at about this point in 2016 when then-candidate Trump kept coming, kept bringing the heat, appeared in Florida, and we know what happened.
Wednesday's rally appeared to me to generate genuine run-through-the-wall enthusiasm by the true Trump believers, and there are a lot of them. Underestimate that at your own risk, Democrats.
The President hit all the right buttons.
He gave shout-outs to key Republicans like U.S. Rep. Matt Gaetz and Gus Bilirakis. He invoked the name of Greg Steube, running in CD 17, and Florida CFO Jimmy Patronis.
He gave face-time to Rick Scott, who, in the thrill of the moment, told the crowd to "make sure we turn this country away … um, around…."
Well, maybe it was just a slip of the tongue but that's the counterattack Democrats use — Republicans, especially the President, are turning this country away from what Ronald Reagan called a "shining city on the hill" into one stressing a blinking red light and a fear of immigrants.
Ron DeSantis got face-time and microphone-time too, reminding viewers for the umpteenth time, "I'm the only guy who can credibly say I'm not under investigation for corruption by the FBI."
The crowd slurped it up and asked for seconds.
It's easy to say that, well, that was gathering of maybe 8,000 true believers who didn't come for anything other than what the President delivered. Maybe. But if Democrats don't know the danger of false confidence by now, they never will.
I'll tell you what I saw in this rally.
I saw motivated people who believe in this President.
I saw enthusiastic support for DeSantis and Scott.
It's accurate to say Andrew Gillum's crowds have been wildly enthusiastic too.
I know what the polls say. Gillum and Nelson appear to have the momentum with time running out.
The polls were wrong before.
Democrats, beware. This race isn't over until the last ballot is counted. To believe otherwise is to invite déjà vu on Nov. 7, and Donald Trump can tell you all about that.