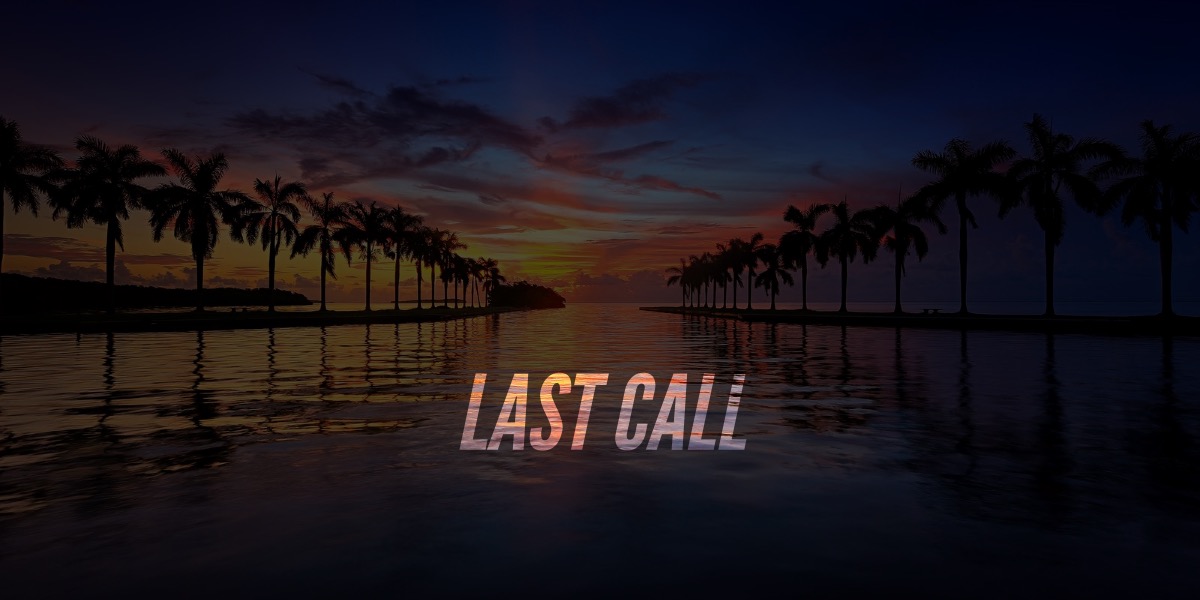 Last Call — A prime-time read of what's going down in Florida politics.
First Shot
News of U.S. Attorney General Jeff Sessions' departure from the Justice Department was heralded by none other than Florida's own John Morgan on Wednesday.
Tweeting words no one expected him to string together, Morgan — who nearly single-handedly got a constitutional amendment passed here allowing medical marijuana — said:
"Thank you President Trump for firing this dude Jeff Sessions. Resign means fired!"
Sessions opposed legalizing marijuana and stood his ground that "federal law remains in effect" despite state moves to even allow cannabis as medicine.
That earned him Morgan's undying enmity. And the trial attorney/entrepreneur/investor never minces words.
"The greatest enemy of #marijuana in this country can go home to Alabama and sit with his wife forever.
"Very bad guy!!" Morgan tweeted. Who knew he would have at least that much in common with Trump?
Evening Reads

"'Please stop saying Red Wave': Inside Democrats' takeover of the House" via Tim Alberta and Alayna Schneider of POLITICO Magazine
"Trump scorns GOP midterm losers who did not 'embrace' him" via Kevin Breuninger of CNBC
"Some who patterned their campaigns after Trump's divisive rhetoric saw the ploy pay off" via Eugene Scott of The Washington Post
"Attorney General Jeff Sessions resigns at Trump's request" via Devlin Barrett, Matt Zapotosky and Josh Dawsey of The Washington Post
"'Soul crushing': Trump wave bewilders Florida Democrats" via Marc Caputo of POLITICO Florida
"Bill Nelson, Rick Scott race headed to recount" via Matt Dixon of POLITICO Florida
"Ron DeSantis win paves way for conservative court" via Llyod Dunkelberger of the News Service of Florida
"A devastating blow to Florida's disenfranchised Democrats" via the Sun Sentinel editorial board
"How an FBI investigation and a broken relationship tanked Andrew Gillum's campaign" via David Smiley of the Miami Herald
"Richard Corcoran, Matt Gaetz among DeSantis transition team chairs" via A.G. Gancarski of Florida Politics
"Agriculture Commissioner race: Nikki Fried readies for recount, hopes to catch Matt Caldwell" via Jacob Ogles of Florida Politics
"Thousands of racing greyhounds in Florida will need new homes by end of 2020" via David K. Li of NBC
"Here's how recount in Janet Cruz, Dana Young race will work" via Janelle Irwin Taylor of Florida Politics
"Los Angeles Mayor hails Hillsborough transit vote on 'Jimmy Kimmel live!'" via Christopher O'Donnell of the Tampa Bay Times
"In Florida, Dems didn't show up. But in Central Florida, they've taken over" via Scott Maxwell of the Orlando Sentinel
Quote of the Day
"Look at what happened in Florida. We did unbelievably well, winning the (U.S.) Senate and the governorship against two talented people." — President Donald Trump, commenting Wednesday on Florida's election results.
Bill Day's Latest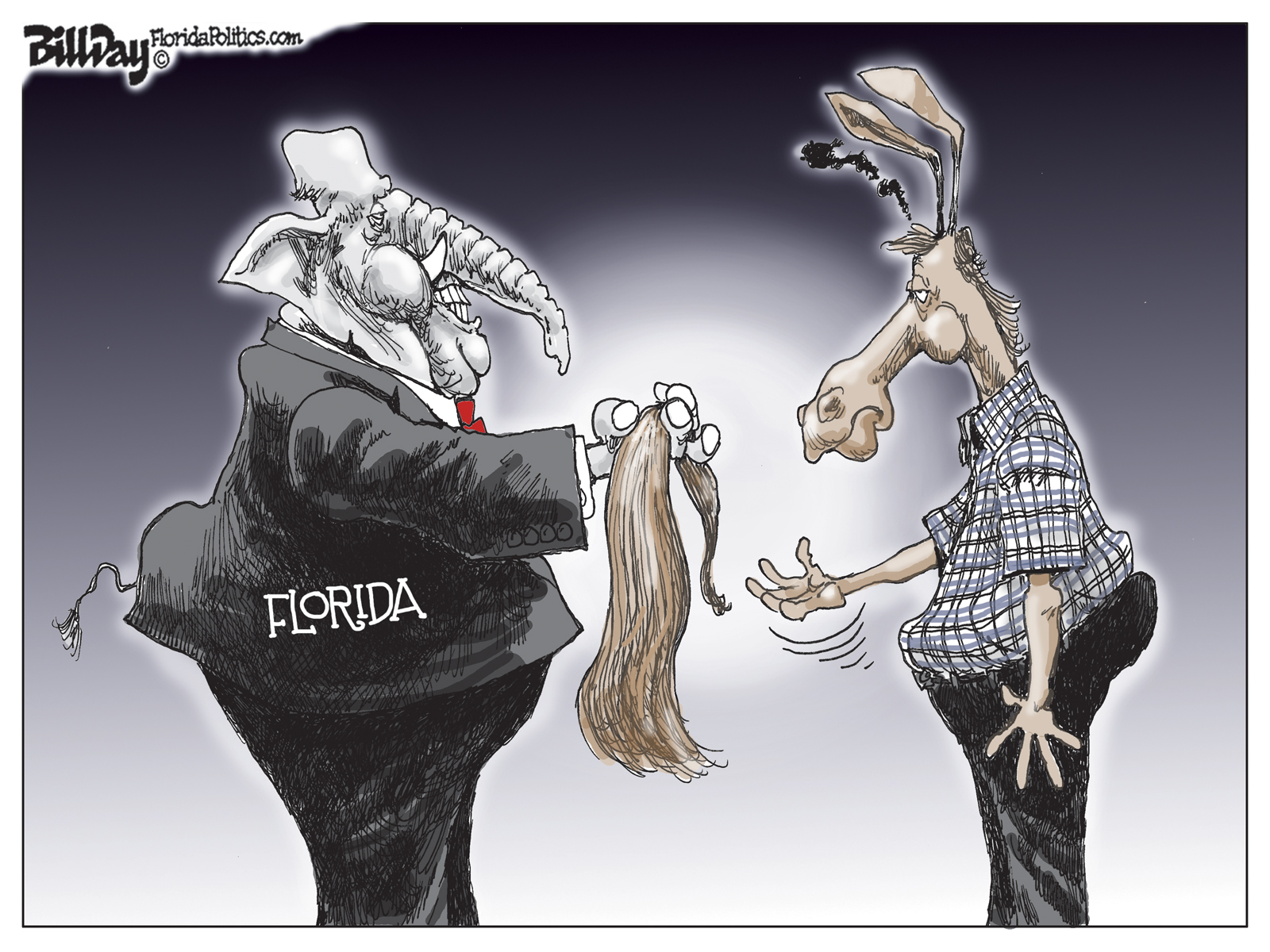 Breakthrough Insights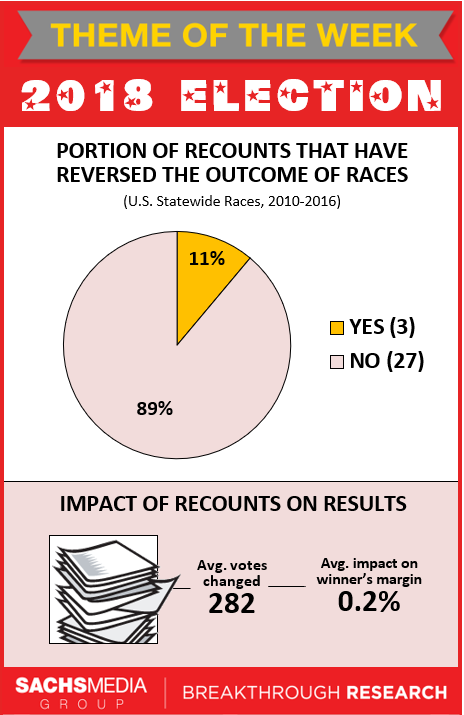 Wake Up Early?
The state university system's Board of Governors will meet. The full board is scheduled to convene around 3:30 p.m., Florida Atlantic University, Student Union, 777 Glades Road, Boca Raton.
The Florida Supreme Court will hear arguments in three cases, including a long-running legal fight about whether the state has properly carried out a 1998 constitutional amendment that requires it to provide a "uniform, efficient, safe, secure and high quality" system of public schools. That's at 9 a.m., Florida Supreme Court, 500 South Duval St., Tallahassee.
U.S. District Judge Robert Hinkle will hear arguments on a request by the Florida Senate to shield it from a discrimination case filed by a legislative aide who alleges she was a victim of sexual harassment and retaliation. That's at 9 a.m., United States Courthouse, 111 North Adams St., Tallahassee.
The Florida Supreme Court Judicial Nominating Commission will continue interviewing candidates for three seats that will open on the Supreme Court in January. That's at 9 a.m., Airport Executive Center, 2203 North Lois Ave., Tampa.
The Florida Supreme Court is expected to release its regular weekly opinions at 11 a.m.
Sen. Aaron Bean, a Fernandina Beach Republican, will speak at a Salvation Army Red Kettle Campaign kickoff event and at the Florida Life Care Residents Association annual conference. The Salvation Army event is 11 a.m., Balis Park in Historic San Marco, Jacksonville; the Life Care Residents event is at 12:30 p.m., Fleet Landing, One Fleet Landing Blvd., Atlantic Beach.
The U.S. Department of Agriculture will release its monthly forecast for Florida's 2018-2019 citrus growing season at noon.