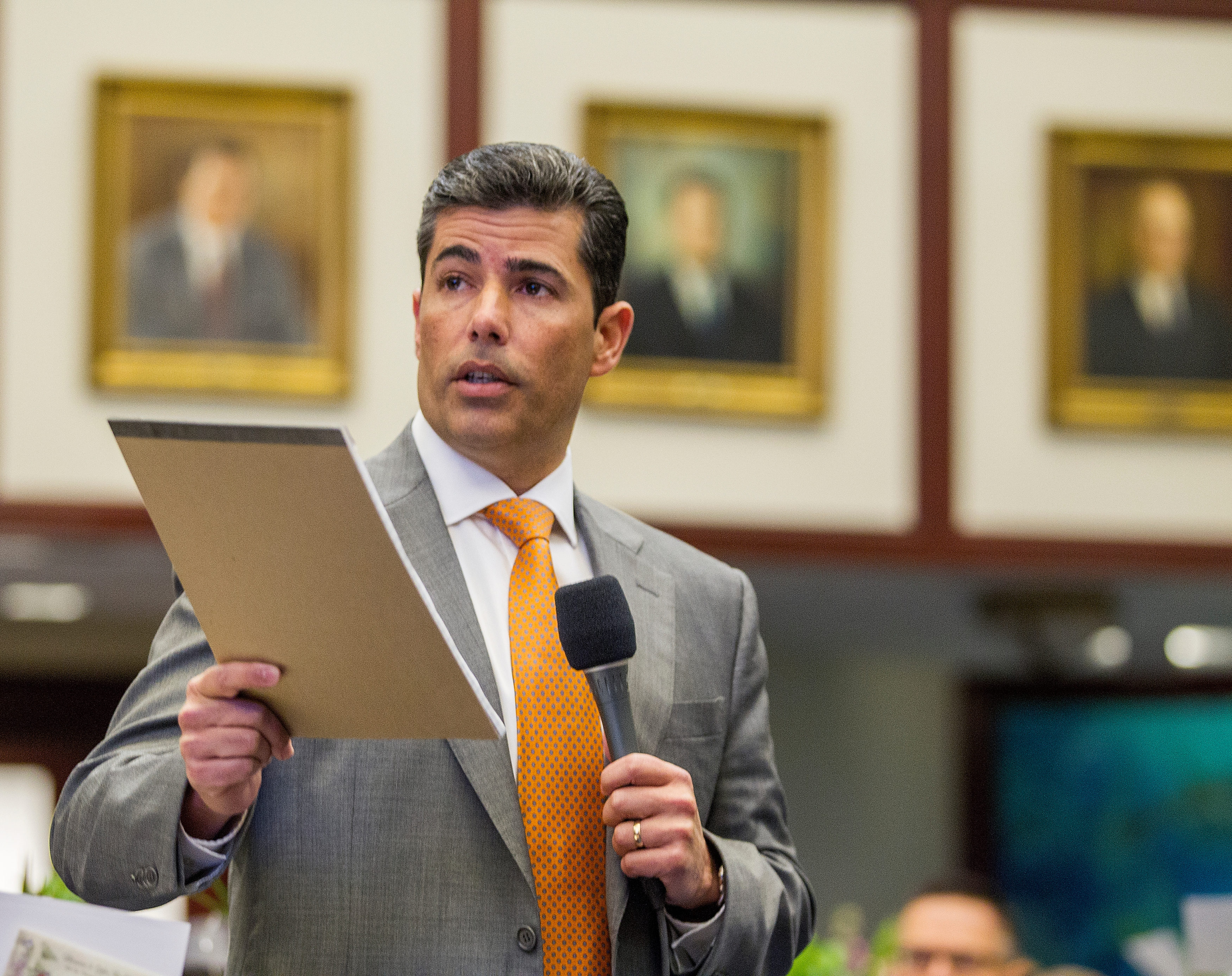 With the election behind them, the Republican-led state House is swiftly organizing.
On Wednesday, incoming House Speaker Jose Oliva, a Hialeah Republican, unveiled the committee structure for the 2019 and 2020 Legislative Sessions.
Filling in as Speaker Pro-Tempore is Rep. MaryLynn Magar, a Hobe Sound Republican. She replaces state Rep. Jeannette Nunez, who was elected Lieutenant Governor alongside Governor-elect Ron DeSantis on Tuesday.
The Republican Majority Leader is Rep. Dane Eagle, a Cape Coral Republican. Eagle replaces Estero Republican Rep. Ray Rodrigues. Rodrigues will instead head the Health and Human Services Committee.
Chairing the powerful Appropriations Committee is state Republican Rep. Travis Cummings, of Orange Park. He replaces former House budget chair Carlos Trujillo, who left the Legislature after being appointed Ambassador to the Organization of American States.
Cummings, elected to the Legislature in 2012, has served through six regular lawmaking sessions. During the 2018 Legislative Session, Cummings was among the 67 other legislators to pass the Marjory Stoneman Douglas Public Safety Act as a standalone bill. At the time, it came with an estimated $400 million price tag. He has yet to file any bills ahead of the 2019 Session.
Cummings received his masters in business administration from the University of North Florida. Before being elected to the Legislature, he served in a variety of roles at the local level in Orange Park, including a stint as Mayor of the town.
Much of Cummings' sponsored bills have sought to benefit the Northeast portion of Florida he inhabits. And this will be the second year in a row in which that part of the state has direct representation in a powerful post in the Legislature. Fleming Island Republican state Sen. Rob Bradley chaired the Senate's budget committee in 2018, helping to secure millions for nearby restoration projects in the St. Johns River and Keystone Heights areas.
Generally well-liked by legislators in both chambers, Sachs Media Group's Public Affairs Director Herbie Thiele, a longtime observer of the Tallahassee's political process, said Cummings "is a great appointment," from Oliva.
And a close relationship with Bradley could mean that Cummings is better-equipped — almost like a quarterback understudy — to handle the budget negotiations in the later days of the upcoming session, Thiele added.
Eustis Republican state Rep. Jennifer Sullivan will take the reins of the Education Committee.
By vote, Sullivan has shown a demonstrated willingness to further expand school choice and charter schools in Florida. In 2017, Sullivan voted in favor of the "Schools of Hope" plan. The eventual law provided for "hope operators," who could set up charter schools within five miles of "persistently" low-performing public schools. It also provided money for traditional low-performing public schools.
In 2018, Sullivan successfully championed two education-reform bills. Among those were HB 731, which provided greater flexibility to family-administered homeschooling programs. Another, HB 1279, changed accountability and transparency mandates for schools, requiring school districts to post financial summaries to their websites, among other things.
Sullivan also supported the House's "Hope Scholarship" plan, a tax-credit funded program that allows students who are victims of bullying or other violence to receive public funding to move to private schools or other public schools.
The next two House Speakers in line also received committee chair appointments from Oliva.
Clearwater Republican Rep. Chris Sprowls, in line to preside over the House beginning 2021, will chair the Rules Committee. Palm Coast Republican Rep. Paul Renner, set to become Speaker in 2022, will chair the Judiciary Committee. Renner is a former Assistant State Attorney.
St. Cloud Rep. Mike La Rosa will chair the Commerce Committee under Oliva's leadership. In the past, LaRosa has sought to change the state's alcoholic beverage laws, including allowing "cooperative" advertising in theme parks. That measure, however, failed to pass in 2018 after reaching the House floor. LaRosa also has championed legislation that would pre-empt local regulation of vacation rentals, though that measure too died after reaching the House floor.
Overall, Oliva commended the talent of lawmakers now leading the chamber's committees.
"I am blessed by a deep bench of talent to pull from when it comes to leading our committees and working with the Senate and Governor-elect DeSantis," Oliva said in a statement. "The chairs named today are men and women of principle, integrity, and an unrelenting desire to serve the people of Florida."
The remaining, all-Republican committee chairs: Hialeah Rep. Bryan Avila, Economic Affairs Committee; Daytona Beach Rep. Tom Leek, Public Integrity & Ethics Committee; Spring Hill Rep. Blaise Ingoglia, State Affairs Committee; and Monticello Rep. Halsey Beshears, Ways & Means Committee.
—
Background provided by Florida Politics Senior Editor Jim Rosica and the News Service of Florida.