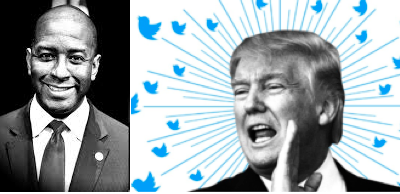 President Donald Trump may have just directed his most damaging tweet yet at Democrat Andrew Gillum. He paid him a compliment.
"Congratulations to Andrew Gillum on having run a really tough and competitive race for Governor of the Great State of Florida," Trump tweeted.
"He will be a strong Democrat warrior long into the future—a force to reckon with!"
While the tone read uncharacteristically kind, the grammar was decided past tense, serving as the latest and loudest of political assessments on the state of Florida's gubernatorial race.
Namely, it's over, whether Gillum concedes soon or not.
As President Trump's words turned gentle, those of fellow Democrats grew increasingly loud. A growing number of leaders within Gillum's party suggest in less subtle ways each day that this race is done.
"Every minute Andrew Gillum doesn't concede at this point he looks worse and worse (or at least he does to me)," Democratic consultant Matthew Isbell tweeted Thursday. "It's over. Move on."
The gubernatorial vote this year did turn out historically close. Republican Ron DeSantis led Gillum by 33,683 votes after a machine recount, about 0.41 percent of more than 8.2 million ballots cast.
But the machine recount netted Gillum just one vote, and the margin, while close, wasn't enough to trigger a hand recount, unlike the five other state elections that went to machine recount.
Gillum himself yesterday continued to urge voters to check on their absentee ballots. A lawsuit connected to the U.S. Senate recount led a judge to grant voters until 5 p.m. to verify their ballots.
But attorneys for the Division of Electionssay some 3,688 vote-by-mail ballots and 93 provisional ballots got rejected statewide for bad signatures. That's not enough to make a meaningful difference in the gubernatorial election.
Gillum spokesman Kevin Cate stressed yesterday that the push to count every vote is about more than finding a path to the governor's mansion for Gillum. "The @AndrewGillum campaign was doing something much bigger than just trying to win an election," he tweeted. "And we did. And we still are."
And Gillum has until the end of the month to challenge the election results.
DeSantis yesterday called results of the machine recount "clear and unambiguous," and he marked the end of the recount by inviting Gillum to join him for a "conversation about the future of our great state."
The only question still outstanding in the Governor's race may be when Gillum feels ready for the talk—and when he finally speaks he will, once again, concede.
https://twitter.com/realDonaldTrump/status/1063833980720504832